British Columbia Salmon Restoration and Innovation Fund
The application intake process is now closed. Details on future opportunities to apply will be updated on this page when available.
Through the federally and provincially co-funded British Columbia Salmon Restoration and Innovation Fund (BCSRIF), we are supporting protection and restoration activities for Pacific salmon and other priority wild fish stocks. We are also supporting projects that will ensure the fish and seafood sector in B.C. is positioned for long-term environmental and economic sustainability.
BCSRIF contributions focus on 3 areas:
Innovation
Infrastructure
Science partnerships
Current priorities for the fund are :
salmon ecosystems
salmon habitats
sustainable fisheries
In addition to these funding priorities, we will prioritize projects that address:
climate change impacts to salmon
priority salmon stocks
Indigenous participation and knowledge
Collaboration
To identify and promote projects of mutual interest, we'll work with the Province of B.C. to engage:
Indigenous communities and organizations
non-governmental organizations
commercial enterprises and industry associations
scientific and academic communities
Funding details
The British Columbia Salmon Restoration and Innovation Fund (BCSRIF) is a contribution program funded jointly by the federal and provincial government. The Government of Canada is providing 70% of the funding, and the Province of British Columbia is providing 30%. The fund will be available to support projects until March 31, 2026.
Funding is available for projects in B.C. that meet the eligibility and assessment criteria.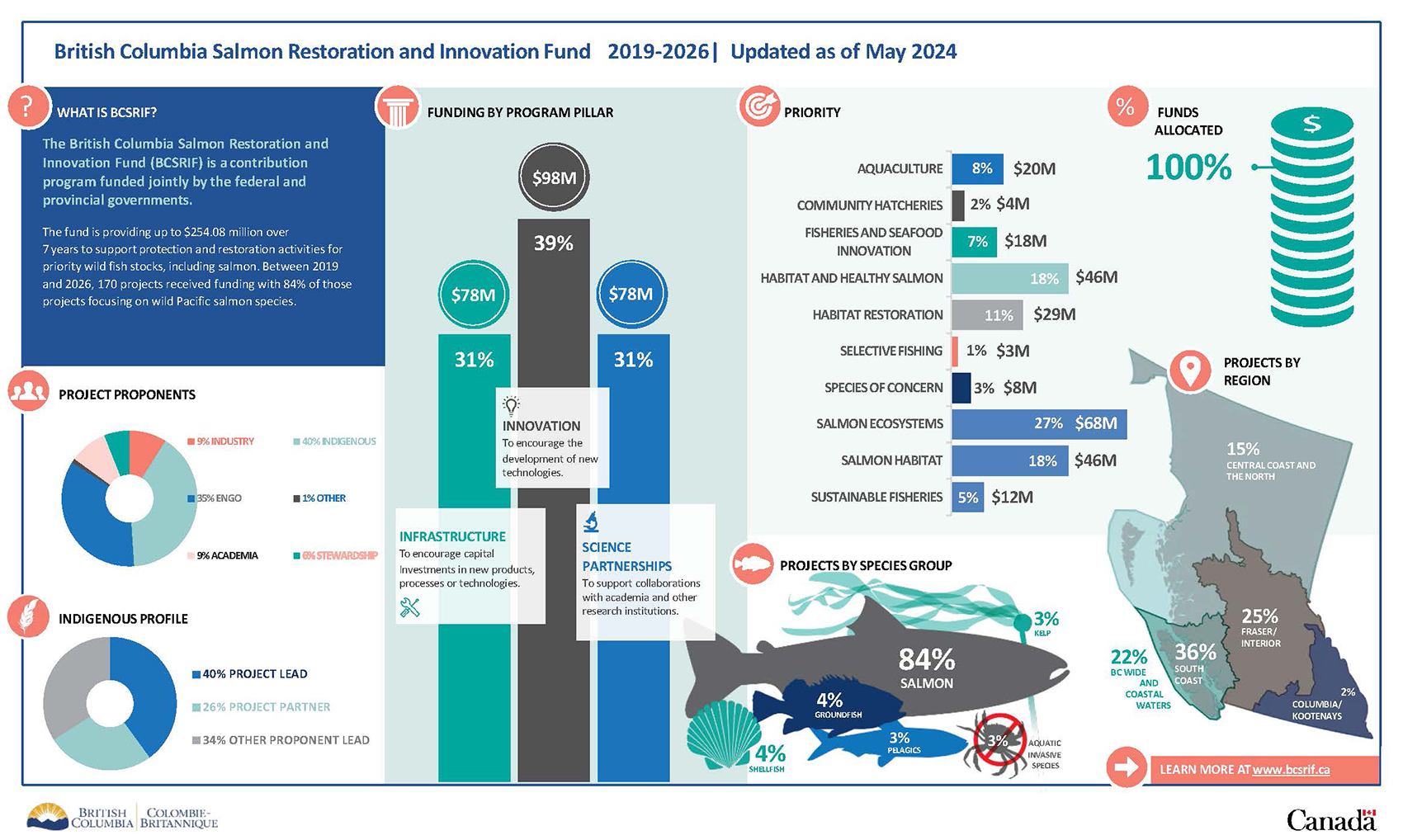 Related links
Contact us