Sea urchin (Stronglyocentrotus droebachiensis) - Newfoundland and Labrador Region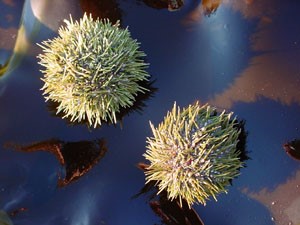 Foreword
The purpose of this Integrated Fisheries Management Plan (IFMP) is to identify the main objectives and requirements for the Newfoundland and Labrador Region Sea urchin fishery, as well as the management measures that will be used to achieve these objectives. This document also serves to communicate basic information on the fishery and its management to Fisheries and Oceans Canada (DFO) staff, legislated co-management boards and committees, and other stakeholders. This IFMP provides a common understanding of the basic "rules" for the sustainable management of the fisheries resource.
This IFMP is not a legally binding instrument which can form the basis of a legal challenge. The IFMP can be modified at any time and does not fetter the Minister's discretionary powers set out in the Fisheries Act. The Minister can, for reasons of conservation or for any other valid reasons, modify any provision of the IFMP in accordance with the powers granted pursuant to the Fisheries Act.
Where DFO is responsible for implementing obligations under land claims agreements, the IFMP will be implemented in a manner consistent with these obligations. In the event that an IFMP is inconsistent with obligations under land claim agreements, the provisions of land claims agreements will prevail to the extent of the inconsistency.
As with any policy, the Minister retains the discretion to make exceptions to, or to change, this policy at any time. It is, however, DFO's expectation and intention to follow the management process set out in this IFMP, with a view to contributing to increased certainty and direction for the Sea urchin fishery in Newfoundland and Labrador.
This IFMP will be in effect until it is replaced. While the elements of this plan will remain in effect indefinitely, quotas are subject to annual review and may be adjusted based on updated Science information. This could include changes to the TAC, as well as adjustments to annexes and website listings.
Signed: Jacqueline Perry, Regional Director General, Newfoundland and Labrador Region
1. Overview of the fishery
In Newfoundland and Labrador (NL), the Sea urchin fishery is a commercial dive fishery. In 1997, Fisheries and Oceans Canada (DFO) publically solicited applications from harvesters in NL wishing to participate in an exploratory Sea urchin dive fishery under DFO's Emerging Fisheries Policy. Lobster Fishing Areas (LFA) were assigned with a fixed number of licences based on one licence per 50 miles of coastline (total 242 licences) which was strongly supported by industry. In 1998, after consultation with industry and stakeholders, it was agreed that the information on stock abundance and distribution was inadequate, and that long term viability and sustainability should be the primary objective for the Sea urchin fishery.
In 2007, the emerging Sea urchin fishery was converted to commercial status. Sea urchins are harvested by scuba divers who are certified as meeting Occupational Health and Safety requirements. Currently, there are 54 licence holders in NAFO Divisions 2J3KLPns. There is no recreational harvest of Sea urchin in NL. Retention of Sea urchin through by-catch is not allowed. Access is available for scientific and/or educational purposes. There is currently no Indigenous Food, Social and Ceremonial (FSC) fishery for Sea urchin.
Harvesting Sea urchin is permitted throughout all NAFO areas in NL. Harvesters are designated to harvest in fishing areas, with a maximum of four divers per license. Only vessels less than 65' are authorized to operate under a Sea urchin licence, with a maximum of three vessels. Each licence holder is permitted to deploy up to two registered auxiliary vessels in addition to their primary vessel. Auxiliary vessels are required to operate within 500 metres of the primary vessel.
There is not a total allowable catch (TAC) established for Sea urchin. Harvest is limited by seasons and the number of licences issued. Sea urchin licences are valid for the Lobster Fishing Area of the licence holder's homeport.
The NL Sea urchin fishery is governed by the Fisheries Act, regulations made pursuant to the Act, and departmental policies. The key regulations and policies that apply include, but are not limited to:
The Fisheries Licencing Policy of Newfoundland and Labrador Region provides details on the various licensing policies that govern the commercial fishing industry in the NL Region. Fisheries and Oceans Canada (DFO) should be consulted for all purposes of interpreting and applying this document.
2. Stock assessment, science and traditional knowledge
Sea urchin are covered in short, sharp, movable spines. This species can be pale green, or greenish tinged with purple or brown on their spines. They move using their spines and hundreds of miniature tube 'feet' located under their body, which have tiny suction cups to grip surfaces. Their circular mouth, also located on its underside, has five teeth. As they crawl along the ocean floor, they scrape fine algae off of hard substrate with their teeth, and also feed on kelp and other seaweeds. Sea urchin on the Atlantic Coast have been known to live from 20 to 25 years of age.
There has not been an assessment of Sea urchin in NL, and there is no Precautionary Approach framework for Sea urchin in NL in place.
3. Economic, social, and cultural importance of the fishery
Sea urchins are harvested throughout Canada. In NL, Sea urchin are harvested by divers, and sold whole and alive.
Sea urchin landings occur in most NAFO Divisions. However, the data cannot be provided by NAFO Division due to guidelines on the release of information, and thus can only be described on a regional basis.
As indicated in Figure 1, Sea urchin landings were highest between 1998 and 2004. Peak landings occurred in 1998 (approximately 928 tonnes landed), while the lowest landings were recorded in 2007 (approximately 157 tonnes). The annual total landed value pattern generally coincides with the landed volume; however, the peak was in 2003 (approximately $1.5M) while the lowest landed value was in 2007 (approximately $176,000). Due to guidelines on the release of information, the 2008 to 2011 data cannot be provided.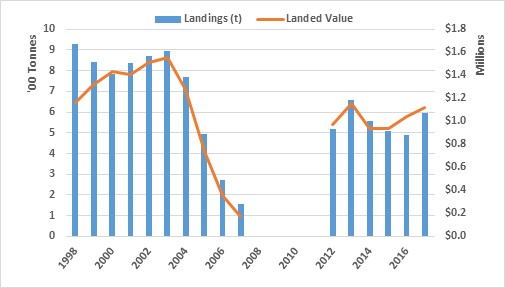 Description

Figure 1: Sea Urchin Landings and Landed Value in the NL Region, 1998 to 2017 and 2012-2017; due to privacy concerns, data for 2008-2011 cannot be provided, and is represented by "x".

| | | |
| --- | --- | --- |
| Year | Landings (t) | Landed Value ($) |
| 1998 | 928.33 | $1,162,796 |
| 1999 | 842.89 | $1,317,078 |
| 2000 | 783.5 | $1,431,168 |
| 2001 | 838.61 | $1,404,173 |
| 2002 | 869.66 | $1,512,350 |
| 2003 | 893.04 | $1,552,027 |
| 2004 | 769.09 | $1,276,188 |
| 2005 | 495.12 | $736,745 |
| 2006 | 273.37 | $353,904 |
| 2007 | 156.76 | $175,907 |
| 2008 | X | X |
| 2009 | X | X |
| 2010 | X | X |
| 2011 | X | X |
| 2012 | 518.66 | $972,269 |
| 2013 | 658.13 | $1,158,998 |
| 2014 | 556.97 | $934,709 |
| 2015 | 507.55 | $940,677 |
| 2016 | 490.46 | $1,043,454 |
| 2017 | 596.21 | $1,122,710 |
Sea urchin is fished from vessels <65' and the majority are typically <40'. In 2017, 22 fishing enterprises had Sea urchin landings which accounted for about 21% of the average enterprises' total fishing revenue. Snow crab accounted for 58%, while the remainder was comprised of smaller amounts of groundfish (e.g., cod and Greenland halibut), pelagics (e.g., capelin) and other shellfish (e.g., shrimp).
According to Statistics Canada, in 2017, Sea urchin exports from NL totaled approximately 147 tonnes with a total export value of about $635,000. Whole, fresh Sea urchin to the United States comprised about 95% of the total Sea urchin export volume and approximately 60% of the export value. Sea urchin roe and milt exports comprised about 5% of the export volume and 40% of total Sea urchin export value. Virtually all roe and milt exports were to the United States, with small amounts to Japan and South Korea.
4. Management issues
4.1 Science uncertainty
There is limited science information on Sea urchin in NL related to the sustainable exploitation rates, mortality, and the impact of fishery on benthic ecosystems. This is an issue for the fishery and concerns have been raised by industry.
4.2 Initiatives in marine conservation
In order to meet targets for marine conservation, the Government of Canada worked with industry, non-governmental organizations, and other interested parties to establish Marine Protected Areas (MPAs) and "other effective area-based conservation measures". Depending on the conservation objectives of these areas, fishing activities may be restricted or prohibited entirely an area. There is relatively little overlap currently between the sea urchin fishery and areas recognized as formally protected under Canada's marine conservation initiative. Most of the marine conservation areas established to date around NL, such as the Laurentian Channel MPA (in which all commercial fishing is prohibited) and the Northeast Newfoundland Slope Marine Refuge (in which bottom contact fishing is prohibited) are in offshore areas where sea urchin harvesting does not occur. However, there are two inshore MPAs in Newfoundland and Labrador in which commercial fishing, including for sea urchin, is prohibited: the Gilbert Bay Marine Protected Area and the Eastport Marine Protected Area. Other protected areas may be established in the future.
4.3 Habitat considerations
DFO seeks to conserve and protect fish habitat that supports Canada's fisheries resource through application of the fisheries protection provisions of the Fisheries Act. A key provision of theFisheries Act is subsection 35 which prohibits the carrying on of a work, undertaking or activity that results in serious harm to fish that are part of or support a commercial, recreational or Aboriginal fishery without an authorization from the Minister.
The Fish and Fish Habitat Protection Program (FFHPP) provides advice to proponents to enable them to proactively avoid and mitigate the effects of projects on fish and fish habitat, undertakes the review of proposed works, undertakings and activities that may affect fish and fish habitat, and ensures compliance with the Fisheries Act and the Species at Risk Act by issuing Authorizations and Letters of Advice, when appropriate, with conditions for offsetting, monitoring, and reporting.
For more information on projects near water please visit the following link.
4.4 Aquatic Invasive Species (AIS)
Seven AIS have been identified as present in various parts of NL coastal waters. These include European green crab, three species of tunicates (vase, goldenstar, and violet), coffin box bryozoan, Japanese skeleton shrimp, and oyster thief. In 3Ps specifically, all species are present in parts of the coastal regions but are not present all throughout. Several of these species can be detrimental to commercial fish habitat as they can displace kelp beds and seagrasses, among other effects. Because the species are not distributed all throughout NL coastal areas, it is extremely important to prevent their spread and movement to new locations within 3Ps and other NAFO divisions.
Best practices to prevent the introduction and spread of AIS include:
being aware of which AIS are present or absent in the waters frequented/fished. Take precautions with respect to vessel traffic and gear movement between affected and unaffected areas to prevent introductions and spread.
routine vessel maintenance (i.e. cleaning the hull and using antifouling paint to prevent biofouling)
clean, drain and air dry gear and ropes to prevent movement between areas by avoiding transportation of water from one location to another
recognizing and reporting any AIS to DFO for early detection
More information about aquatic invasive species in the NL Region can be found on the Aquatic Invasive Species website. Presence/absence maps of all species found in NL can be found on this website within the page titled Identify an aquatic invasive species.
4.5 International issues
The United States (US) is implementing the import provisions of the Marine Mammal Protection Act following court direction. The import rule requires countries exporting fish and fish products to the US to demonstrate that they have regulatory measures in place that are comparable in effectiveness to those of the US for reducing marine mammal incidental mortality and serious injury in commercial fisheries. Countries who fail to obtain such comparability measures to the US for their export fisheries by January 1, 2022, will be prohibited from entering the US market.
Canada is currently working towards demonstrating appropriate measures are in place in all Canadian fisheries.
5. Obectives
DFO strives to manage the Sea urchin fishery based on the principles of stock conservation, sustainable harvest, and ecosystem health and sustainability. Various management measures have been implemented or are being developed that will maximize the benefit of this resource.
Conservation and the long-term sustainability of the Sea urchin stock is one of the most important objectives for DFO. It is vital that the stock grow and provide benefits for all stakeholders in the short and long-term. DFO will work with all stakeholders to ensure this objective is achieved and that the Sea urchin stock supports an economically viable and self-reliant fishery. Harvesting levels will be set that allow for the stock to grow and the mature biomass to increase. Furthermore, the Sea urchin fishery will be managed such that catches are not concentrated in ways that result in high exploitation rates on any of the stock components.
Ecosystem health is essential for effective fisheries management. The sustainability of Sea urchin as a species within the food web will strengthen the long-term health of the ecosystem.
Finally, shared stewardship management recognizes that industry participants and all stakeholders must become involved in fisheries management policy development. It also recognizes that achievement of the conservation objective requires that governments, resource users and other stakeholders share responsibility for the implementation of fisheries management decisions and for their outcomes.
6. Access and allocation
The Minister can, for reasons of conservation or for any other any other valid reasons, modify access, allocations and sharing arrangements outlined in this IFMP in accordance with the powers granted pursuant to the Fisheries Act.
Currently, there are 54 commercial licence holders in NAFO Divisions 2J3KLP. The fishery is managed through input controls with no total allowable catch or individual quota allocations in place.
6.1 Licensing
The recipient of a Sea urchin licence must be a resident of, or have a homeport in, the NAFO Division of the licence. Reissuance of a licence is permitted between:
Independent Core to Independent Core harvesters;
Professional Level I or Professional Level II to Independent Core (apprentice licences are not eligible for reissuance);
Independent Core to Professional Level II as part of a complete Core enterprise (Professional Level II fish harvester must be independent)
Groundfish licences and associated validations may not be reissued from NAFO sub-Division 3Ps to any other NAFO Division.
7. Management measures for the duration of the plan
7.1 Possession size
The minimum possession size of Sea urchin is 48 mm in diameter (inside spines).
7.2 Seasons
Season dates are established according to Lobster Fishing Area (LFA), and with input from fish harvesters. The Sea urchin fishery is generally open from September 1st to April 30th, with the exception of LFA 2, which is open from July to November 30th.
7.3 Closed areas
Fishing for Sea urchin is not permitted within the area bounded by the following co-ordinates as follows: Peter's Cove (Clode Sound), Bonavista Bay:
48 degrees 24 minutes 48 seconds North, 54 degrees 01 minutes 23 seconds West,
48 degrees 24 minutes 29 seconds North, 54 degrees 02 minutes 28 seconds West,
48 degrees 24 minutes 25 seconds North, 54 degrees 02 minutes 28 seconds West,
48 degrees 24 minutes 43.5 seconds North, 54 degrees 01 minutes 26 seconds West.
7.4 At-Sea observer program
The At-Sea Observer Program was designed to collect unbiased fisheries data for science, resource management and compliance and deterrence purposes. This important component of fishery management provides information and an at-sea presence while fisheries are on-going. At-Sea Observers (ASO) observe, record and report detailed biological and fishery data, such as fishing effort and all catch data, fishing gear type, fishing location, etc.
The Sea urchin fishing is subject to at-sea observer coverage. Licence conditions are not valid unless a letter of arrangement from the observer company is attached confirming payment of observer fees. All fleets will contribute to the overall observer coverage for the Sea urchin fishery.
7.5 Logbooks
Completing a logbook is mandatory under Section 61 of the Fisheries Act. Fish harvesters are required to record information about fishing catch and effort, and submit this data as specified in the conditions of licence. Logbooks can be obtained from an approved logbook supplier. Information that should be in the logbook includes location, date, time, sets, gear type, weight of fish caught and by-catch. As well, information must be included on anything else the harvester think may be useful to DFO. Note that marine mammal mitigation measures are now mandatory and you must report all interactions. Failure to submit a logbook may result in enforcement action.
7.6 Species at Risk (SARA)
In accordance with the recovery strategies for the Northern wolffish (Anarchichas denticulatus), Spotted wolffish (Anarchichas minor), and leatherback sea turtle (dermochelys coriacea), the licence holder is permitted to carry out commercial fishing activities authorized under the Fisheries Act that may incidentally kill, harm, harass, capture or take the northern wolffish and/or spotted wolffish as per subsection 83(4) of the Species at Risk Act, and the license holder is permitted to carry out commercial fishing activities authorized under the Fisheries Act that are known to incidentally capture leatherback sea turtles.
Licence holders are required to return Northern wolffish, Spotted wolffish or Leatherback sea turtle to the place from which it was taken, and where it is alive, in a manner that causes the least harm.
Licence holders are required to report in their logbook any interaction with Northern wolffish, Spotted wolffish or Leatherback sea turtle.
8. Shared stewardship arrangements
There are no formal shared stewardship arrangements in the Sea urchin fishery. However as noted throughout the IFMP, DFO officials work closely with the harvesting and processing sectors in all aspects of fisheries management, science, and conservation and protection.
DFO is leading initiatives in integrated oceans management, including MPA network planning within the Newfoundland and Labrador Shelves and Estuary, and Gulf of St. Lawrence Bioregions. This provides a collaborative governance model founded on principles of shared responsibility. As a result, stewardship is promoted by providing a forum for consultation with stakeholders who want to be engaged in marine resource or activity management decisions that affect them.
Aligning integrated oceans management with fisheries management plans will support evidence-based resource use and fisheries management decisions. These decisions will be made with input from multiple interests, including commercial fisheries and other stakeholder groups.
9. Compliance plan
Current Compliance Issues
Compliance issues in this fishery include:
Undersized
Fishing during closed time
Requirement to fish within 500 metres when using greater than one boat, but no more than three boats, as per Condition of Licence (COL).
A primary focus of C&P efforts for the duration of this IFMP will be to ensure compliance with the 500 metres vessel requirement as per COL.
Program Description
The deployment of Conservation and Protection (C&P) resources in the fishery is conducted in accordance with management plan objectives, as well as in response to emerging issues. The mix of enforcement options available and over-riding conservation objectives determine the level and type of enforcement activity.
Work plans at the regional, area and detachment levels are designed to establish priorities based on management objectives and conservation concerns. The monitoring and evaluation elements of enforcement work plans facilitate in-season adjustments should conservation concerns and/or significant occurrences of non-compliance emerge.
Compliance Performance
The C&P program promotes and maintains compliance with legislation, regulations and management measures implemented to achieve the conservation and sustainable use of Canada's aquatic resources, and the protection of species at risk, fish habitat and oceans.
The program is delivered through a balanced regulatory management and enforcement approach. Specifically through the following Pillars:
Pillar 1: Education and Shared Stewardship
C&P officers actively participate in consultation processes with the fishing industry and Indigenous groups to address compliance issues. Informal meetings with stakeholders also occur on an ad-hoc basis to resolve in-season matters, in addition to regular interaction with fish harvesters. The consultative process may include C&P membership on area integrated management planning committees, which are comprised of fish harvesters, representatives from the provincial and federal governments, and other community groups with an interest in fishery conservation issues.
Fishery officers also visit local schools and educational institutions to present and discuss fisheries conservation issues and use this information as part of the C&P planning process.
Pillar 2: Monitoring, Control, and Surveillance
C&P promotes compliance with management measures governing the fishery through:
routine patrols
dockside inspections
at-sea inspections
aerial surveillance

Vessel Monitoring System (VMS) review
at-sea observer deployments
National Fisheries Intelligence Service (NFIS)
Patrols by vehicle, vessel and fixed-wing aircraft are conducted in accordance with operational plans which are developed based on available intelligence.
Each C&P detachment ensures that monitoring and inspections of fish landing activity are carried out on a routine basis. Where a vessel is selected for comprehensive inspection, C&P ensures that catch composition, weight verification and size variation sampling is conducted. C&P also ensures that surveillance flights are conducted on a routine basis.
The VMS system provides real-time data on the location of vessels within portions of this fleet. C&P uses this resource to help determine where the enterprise is fishing, the port of destination and the estimated time of arrival to port. VMS data will also be relied upon for future analysis and comparisons of fishing activity.
At-sea observers are randomly deployed to observe, record and report aspects of the fishing activity. The resulting data is used to compare catch composition of vessels on observed trips vs. non-observed trips. When it is applicable to the fishery, C&P also reviews quota monitoring reports to ensure individual quotas are not exceeded.
C&P supplies best-known available local information to the National Fisheries Intelligence service for processing and uses this intelligence to combat all types of illegal fishing activity.
C&P conducts post-season analysis sessions to review issues encountered during the previous season and to make recommendations on improving management measures. The initial sessions are conducted at the area level, followed by a regional session with other DFO sectors.
Pillar 3: Major Case
C&P recognizes the need to focus attention on high-risk illegal activities that pose significant threat to the achievement of conservation objectives, which usually cannot be addressed through education or routine monitoring. Some individuals, usually motivated by financial gain, persist through various complex and well-coordinated means in hiding illegal activities which put Canada's aquatic resources at risk.
C&P will focus on high-risk illegal activities that pose significant conservation threats. Detailed analysis of licence holders and possibly companies will be completed using:
fishery profiling
targeting of high-risk violators
conducting forensic investigations

accessing the resources of the National Fisheries Intelligence Service
Targeting of high risk violators and / or processing facilities will be also be a primary focus should intelligence gathered warrant such action. Any resulting operations will be conducted in conjunction with NFIS staff, additional field staff and area resources as required.
Compliance Strategy
C&P has developed an operational plan that outlines monitoring and compliance activities that will be carried out by C&P personnel in all management areas. The plan provides guidance for C&P, promotes effective monitoring of the fishery, and enables C&P personnel to effectively maintain compliance with management measures governing this fishery. The objective of the plan is to collect information for ensuring compliance and conducting investigations.
Sources of information used by C&P to fulfil this objective include:
NFIS
vessel positioning data
officer inspection data
fishing logs

DMP records
at-sea observer records
purchase transactions
10. Performance review
A review of the objectives during the planning cycle is an integral part of assessing the performance of the fishery. For fisheries management, the advisory meeting with industry is a formal setting to review both short and long-term objectives. In addition to these formal reviews, DFO officials and industry representatives have an on-going dialogue on the fishery on a year-round basis. These informal discussions provide opportunities to review objectives and identify issues for discussion at the advisory meeting.
DFO NL Region completes an annual internal post-season review with participation from Resource Management, Conservation and Protection, and Science staff. Regional headquarters and area-based staff participate in this process to identify local, area and regional fishery performance issues. DFO undertakes every effort to outline steps to address the issues, including assigning responsibility and setting timelines for completion. Those items not resolved during the post-season review are carried forward to the following year to be addressed.
The Performance Review outlines the activities and controls that are used in achieving fisheries management objectives. Table 1 identifies the specific strategies that are used to achieve fisheries management objectives.
Table 1: Measurable Objectives/Activities and Fisheries Management Strategies.
Objectives
Fisheries management strategies
Conservation and Sustainable Harvest
To conserve the Sea urchin resource to provide commercial sustainability to fish harvesters

Fishing season
Quota monitoring
Limited Access

To mitigate the impacts on other species, habitat and the ecosystem where Sea urchin fishing occurs, protecting biodiversity and ecosystem structure and function

Closed areas
Prohibit the use of monofilament netting material

To promote the development of sustainable fishing practices

Minimum size possession limit

To employ effective monitoring and surveillance tools and mechanisms that ensure compliance with conservation measures and provide scientists with appropriate information and basic data required to manage the Sea urchin fishery

Adequate level of at-sea observer coverage.

Benefits to Stakeholders
To promote the continued development of a commercially viable and self-sustaining fishery

Aboriginal access and allocation formulas are maintained in the IFMP and opportunities for additional access are addressed through the Allocation Transfer Program

To provide fish harvesters with increased opportunity to develop long-term business stability

Stable sharing arrangement
Evergreen management plans

To promote a co-management approach, providing stakeholders with an effective sharing of responsibility, accountability and decision making, within the constraints of the Fisheries Act

Establish an effective consultative process for stakeholders to participate in the decision-making process
Organize and participate in annual advisory meetings
Improve management of fishery through co-management
Fisheries and Oceans Canada (DFO) measures the performance of the fisheries that it manages through the Sustainability Survey for Fisheries (SFF). The survey is published every year and currently includes 170 fish stocks, with more added each year. The fish stocks were selected because of their economic or cultural importance; they represent the majority of total catch of fisheries managed by DFO.
The Sustainability Survey for Fisheries reports on the status of each fish stock and DFO's progress to implement its Sustainable Fisheries Framework policies, a set of national policies to guide the sustainable management of Canada's fisheries.
11. Glossary of terms
Aboriginal Traditional Knowledge: knowledge that is held by and unique to Aboriginal peoples. It is a living body of knowledge that is cumulative and dynamic, and adapted over time to reflect changes in the social, economic, environmental, spiritual and political spheres of the Aboriginal knowledge holders. It often includes knowledge about the land and its resources, spiritual beliefs, language, mythology, culture, laws, customs and medicines.

Abundance: number of individuals in a stock or a population

Age Composition: proportion of individuals of different ages in a stock or in the catches

Anadromous: a species such as Atlantic salmon that spends most of its life at sea but returns to fresh water grounds to spawn in the river it comes from

Aquatic Invasive Species (AIS): Aquatic invasive species are fish, invertebrate or plant species that have been introduced into a new aquatic environment, outside of their natural range.
Once introduced, aquatic invasive species populations can grow quickly because they don't have natural predators in their new environment. As a result, they can outcompete and harm native species. They can even alter habitats to make them inhospitable for the native species. This is especially concerning for species at risk.

Area/Subarea: an area defined by the Convention on Future Multilateral Cooperation in the Northwest Atlantic Fisheries by NAFO, and as described in the Atlantic Fishery Regulations, 1985

Biomass: total weight of all individuals in a stock or a population

Bioregion: a biogeographic division of Canada's marine waters out to the edge of the Exclusive Economic Zone, and including the Great Lakes, based on attributes such as bathymetry, influence of freshwater inflows, distribution of multi-year ice, and species distribution. Canada's marine protected areas network is being advanced in five priority marine bioregions: the Gulf of St. Lawrence, the Scotian Shelf, the Newfoundland-Labrador Shelves, the Western Arctic, and the Northern Shelf.

By-catch: the unintentional catch of one species when the target is another species

Catch per Unit Effort (CPUE): the amount caught for a given fishing effort, e.g. tonnes of shrimp per tow or kilograms of fish per hundred longline hooks

Committee on the Status of Endangered Wildlife in Canada (COSEWIC):  committee of experts who assess and designate which wild species are in some danger of disappearing from Canada

Communal Commercial Licence: licence issued to Aboriginal organizations pursuant to the Aboriginal Communal Fishing Licences Regulations for participation in the general commercial fishery

Discards: portion of a catch thrown back into the water after it is caught in fishing gear

Dockside Monitoring Program (DMP): A monitoring program conducted by a company that has been designated by DFO to verify the species composition and landed weight of all fish landed from a commercial fishing vessel

Ecosystem-Based Management: taking into account species interactions and the interdependencies between species and their habitats when making resource management decisions

Fishing Effort: quantity of effort using a given fishing gear over a given period of time

Fishing Mortality: death caused by fishing, often symbolized by the mathematical symbol F

Fixed Gear: a type of fishing gear that is set in a stationary position. This includes traps, weirs, gillnets, longlines, handlines, bar/beach seines and modified bar seines (known as tuck seines)

Food, Social and Ceremonial (FSC): a fishery conducted by Aboriginal groups for food, social and ceremonial purposes

Gillnet: fishing gear: netting with weights on the bottom and floats at the top used to catch fish. Gillnets can be set at different depths and are anchored to the seabed

Groundfish: species of fish living near the bottom such as cod, haddock, halibut and flatfish

Handlining: fishing using a line with usually one baited hook and moving it up and down in a series of short movements; also called "jigging"

Landings: quantity of a species caught and landed

Longlining: using long lines with a series of baited hooks to catch fish

Maximum Sustainable Yield: largest average catch that can continuously be taken from a stock

Mesh Size: size of the mesh of a net. Different fisheries have different minimum mesh size regulations

Mobile Gear: any type of fishing gear that is drawn through the water by a vessel to entrap fish, including purse seines

Natural Mortality: mortality due to natural causes, represented by the mathematical symbol M

Observer Coverage: carrying a certified at-sea observer onboard a fishing vessel for a specific period of time to verify the amount of fish caught, the area in which it was caught and the method by which it was caught

Otolith: structure of the inner ear of fish, made of calcium carbonate. Also called "ear bone" or "ear stone". Otoliths are examined to determine the age of fish as annual rings can be observed and counted. Daily increments are also visible on larval otoliths

Pelagic: fish that lives in the water column or close to the surface

Population: group of individuals of the same species, forming a breeding unit, and sharing a habitat

Precautionary Approach: set of agreed cost-effective measures and actions, including future courses of action, which ensures prudent foresight, reduces or avoids risk to the resource, the environment, and the people, to the extent possible, taking explicitly into account existing uncertainties and the potential consequences of being wrong

Purse Seine: large net used to encircle fish and equipped with a wire rope on the bottom to draw the net together. A small boat, called a "skiff", participates in manoeuvring the net

Quota: portion of the Total Allowable Catch that a fleet, vessel class, association, country, etc. is permitted to take from a stock in a given period of time

Recruitment: the number of individuals growing large enough to become part of the exploitable stock, e.g. that can be caught in a fishery

Research Survey: survey at sea, on a research vessel, allowing scientists to obtain information on the abundance and distribution of various species and/or collect oceanographic data (e.g., bottom trawl survey, plankton survey, hydroacoustic survey, etc.)

Species at Risk Act (SARA): a federal law enabling the Government to take action to prevent wildlife species from becoming extinct and secure the necessary actions for their recovery. It provides the legal protection of wildlife species and the conservation of their biological diversity.

Spawner: sexually mature individual

Spawning Stock: sexually mature individuals in a stock

Stock: a population of individuals of one species found in a particular area, and used as a unit for fisheries management, e.g. NAFO area 4R Herring

Stock Assessment: scientific evaluation of the status of a fish stock within a particular area in a given time period

Total Allowable Catch (TAC): the amount of catch that may be taken from a stock

Traditional Ecological Knowledge: a cumulative body of knowledge and beliefs, handed down through generations by cultural transmission, about the relationship of living beings (including humans) with one another and with their environment

Tonne: metric tonne, 1000kg or 2204.6 lbs

Trawl: fishing gear; a cone-shaped net towed in the water by a boat called a "trawler". Bottom trawls are towed along the ocean floor to catch species such as groundfish, while mid-water trawls are towed through the water column

Validation: the verification by an observer of the weight of fish landed

Vessel Size: length overall

Year-class: individuals of a same stock born in a particular year, also called "cohort"
Appendix 1 - Map of sea urchin fishing areas
In the of Sea urchin fishery, fishing areas are established according to Lobster Fishing Area (LFA).
Appendix 2 - C&P Enforcement Data for sea urchin
Departmental Violations System (DVS) data for Sea urchin (2013 to 2018):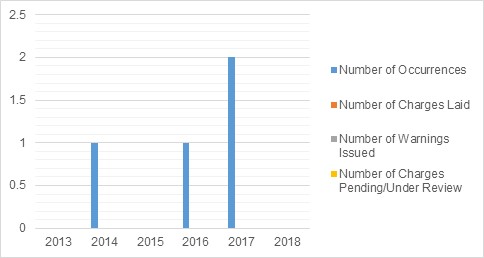 Description

Departmental Violations System (DVS) data for Sea urchin (2013 to 2018)

| | | | | | | |
| --- | --- | --- | --- | --- | --- | --- |
| Type of Occurrence | 2013 | 2014 | 2015 | 2016 | 2017 | 2018 |
| Number of Occurrences | 0 | 1 | 0 | 1 | 2 | 0 |
| Number of Charges Laid | 0 | 0 | 0 | 0 | 0 | 0 |
| Number of Warnings Issued | 0 | 0 | 0 | 0 | 0 | 0 |
| Number of Charges Pending/Under Review | 0 | 0 | 0 | 0 | 0 | 0 |
Distribution of effort (2013 to 2018):
Description

Distribution of effort (2013 to 2018).

| | | | | | | |
| --- | --- | --- | --- | --- | --- | --- |
| Type of Effort | 2013 | 2014 | 2015 | 2016 | 2017 | 2018 |
| Total Work Effort Hours | 74 | 145 | 260 | 324 | 167 | 148 |
| Number of Patrols | 12 | 17 | 34 | 39 | 28 | 31 |
Appendix 3 - Departmental contacts
DFO Newfoundland and Labrador Region Headquarters
P.O. Box 5667, St. John's, NL, A1C 5X1
Contact
Telephone
Fax
Email
Martin Henri
Senior Resource Manager
Resource Management and Indigenous Fisheries
709-772-4911
709-772-3628
martin.henri@dfo-mpo.gc.ca
Annette Rumbolt
A/Regional Manager
Resource Management and Indigenous Fisheries
709-772-4680
709-772-3628
annette.rumbolt@dpo-mpo.gc.ca
Kerry Bungay
Chief of Enforcement Operations
Conservation and Protection
709-772-0468
709-772-4327
kerry.bungay@dfo-mpo.gc.ca
Derek Osborne
Section Head
Shellfish Science
709-772-2076
709-772-4188
derek.osborne@dfo-mpo.gc.ca
Jason Kelly
Manager - FPP Project Reviews
Fish and Fish Habitat Protection Program
709-772-4126
709-772-5562
jason.kelly@dfo-mpo.gc.ca
Frank Corbett
Policy Analyst
Policy and Economics
709-772-6935
709-772-4583
frank.corbett@dfo-mpo.gc.ca
DFO Newfoundland and Labrador area offices – Resource Management and Indigenous Fisheries
Laurie Hawkins
Area Chief (3Ps, 4R)
Corner Brook, NL
709-637-4310
709-637-4476
laurie.hawkins@dfo-mpo.gc.ca
David Small
Area Chief (3KL)
Grand Falls-Winsor, NL
709-292-5167
709-292-5205
david.small@dfo-mpo.gc.ca
Wayne King
Senior Area Representative (2J)
Happy Valley-Goose Bay, NL
709-896-6157
709-896-8419
wayne.king@dfo-mpo.gc.ca
DFO Newfoundland and Labrador area offices – Conservation and Protection
Chad Ward
Area Chief (3KLPs)
St. John's, NL
709-772-5857
709-772-2659
chad.ward@dfo-mpo.gc.ca
Brent Watkins
Area Chief (2GHJ, 3K, 4R3Pn)
Corner Brook, NL
709-637-4334
709-637-4445
brent.watkins@dfo-mpo.gc.ca