Farmed Clams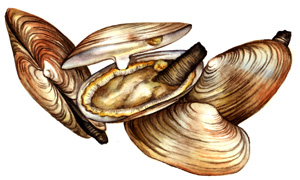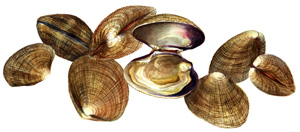 Credit: Brenda Guild
Names:
Manila clam (Venerupis philippinarum), Soft-shell clam (Mya arenaria), Geoduck (Panopea generosa), Hard clam quahog (Mercenaria mercenaria), Littleneck clam (Protothaca staminea), Varnish clam (Nuttallia obscurata)
Locations:
British Columbia, Nova Scotia and Prince Edward Island
Methods:
Ocean floor beds
At a Glance
British Columbia is Canada's major clam producing province with the aquaculture industry farming Manila clam, Varnish clam, Litlleneck clam and Geoduck. Clam culture is also important in Prince Edward Island and Nova Scotia where the industry farms Quahog and Soft-shell clam.
Value
The annual average farm-gate value of clam culture in Canada was $ 9.2 million in the last five years (2011-2015). British Columbia clam culture production represents over 70% of this total. Farm-gate value represents a product's value once it is sold by the producer.
Production
An annual average of 2,700 tonnes of clams was produced in the last five years (2011-2015). British Columbia produced 60% of that quantity.
For more information on aquaculture's impact, consult Aquaculture statistics and reports.
Regulations
Fisheries and Oceans Canada is responsible for issuing shellfish licences in British Columbia. In Nova Scotia, farmers of Quahog and Soft-shell clams are licensed through the Province's aquaculture licence and lease regulations. In Prince Edward Island, a management board with members from DFO, the province, and industry, issues a lease which has a licence attached.
Scientific Research
Scientific research informs the development of, and decisions related to, aquaculture regulations in Canada. Scientific research has also focused on improving the understanding of the basic biology of Geoduck clams as it relates to commercial aquaculture production, as well as the physiological and genetic characteristics that differentiate Soft-shell clam from other clam species. Combined with other research initiatives, these studies are facilitating informed decisions about the feasibility of clam culture in Canada and optimal spat collection, feeding, harvesting techniques, and examining new species such as Basket cockles (Clinocardium nuttallii).