Canadian Aquaculture R&D Review 2013
Table of Contents
Fish Health
Continued market access for Alberta commercial Aquaculture producers through the development of fish health management plans
Alberta commercial fish culturists held discussions with their Provincial government regulators in late 2010, on the topic of compulsory requirements for Fish Health Management Plans (FHM Plan).
The goal of this project has been to cooperatively assist commercial fish culturists in Alberta to complete an accredited Fish Health Management Plan, following the developed template, as well as a document of "Required Elements" (to help explain each section of the FHM Plan) and a background document on related aspects of certification and marketing.
The objectives of the project were to:
1) Set up a new Alberta Fish Health Management Plan by modifying the existing Province of British Columbia's Fish Health Management Plan template.
2) Coordinate the development of Alberta's Fish Health Management Plan with Alberta Aquaculture Association (AAA), Alberta Agriculture and Rural Development, (AARD), Alberta Sustainable Resource Development (ASRD), and Canada Food Inspection Agency (CFIA), maintaining close liaison throughout the process.
3) Assist each fish culturist with fine-tuning of their individual plan.
Alberta's commercial fish culturists now have a completed Fish Health Management Plan for each of its members, and a Template available for new entrants. The updated template will be accessible to aquaculture producers across Canada, in particular, the Prairie Provinces, who may wish to use it for their facility operations.
MAY 2011 – MAR. 2012
Funded by: DFO – Aquaculture Innovation and Market Access Program (AIMAP) co-funded by: Alberta Agriculture and Rural Development
project lead: Mark McNaughton (Alberta Aquaculture Association)
Project team: Mark McNaughton (Alberta Aquaculture Association); Eric Hutchings (Lethbridge Consulting Company)
Contact: msmcnaughton@lincsat.com
www.affa.ab.ca
Innate immunity of teleosts; pattern-recognition receptors and acute phase response
Two plasma lectins, intelectin and ladderlectin, were isolated by their ability to bind to a wide range of infectious agents (PRRs) that cause disease in Rainbow Trout. Ladderlectin was found to have two isoforms and the genomic sequence encompassed six exons and five introns, with exon 2 encoding 14 amino acids that were exclusive to one isoform. Two-dimensional PAGE and western blots demonstrated multiple electrophoretic forms of both lectins. Enzyme immunoassays showed that there was significant group and individual variation in plasma lectin concentrations. Neither lectin was an acute phase reactant nor were the concentrations substantially altered during bacterial infection, however, both lectins were localized by immunohistochemistry in intimate association with microbes in vivo. Both lectins were widely distributed on mucosal surfaces and both were also identified on the cell surface of leukocytes and on trout cell lines. Ladderlectin, but not intelectin, also bound to VHSV, the first demonstration to our knowledge of a virus-binding PRR in fish.
Acute phase proteins were also examined in Rainbow Trout and Walleye using 1 or 2D-PAGE and mass spectrometry. Partial amino acid sequences were identified and 3' RACE was used to isolate cDNA sequences specific to these unknown proteins. A 9.5 kD Rainbow Trout acute phase protein, that underwent a 75-fold upregulation, was found to contain a conserved apolipoprotein A-I domain. A Walleye plasma protein that bound Flavobacterium columnare had 66% similarity to apolipoprotein A-I from Striped Bass (Morone saxatilis). There is therefore evidence indicating that proteins in the apolipoprotein family are involved in the acute phase response and or are PRRs of both fish. These proteins are known to contain lipid-binding domains and may act as PRRs to bind lipid components of fish pathogens during the innate immune response.
MAR. 2004 – ongoing
Funded by: NSERC Discovery and Strategic grants; Chemaphore Inc.; NSERC Fellowship; Ontario Veterinary College Fellowship
Project Lead: John S. Lumsden (U. Guelph)
Project team: Spencer Russell, Karrie Young, Andrew Peterson, Alex Reid, Lowia Al-Hussinee, Adrian Di Natale (U. Guelph); John Pham, Niels Bols, Brian Dixon (U. Waterloo)
Contact: jsl@uoguelph.ca
Epitheliocystis in salmonids
Intracellular gram-negative bacteria associated with epitheliocystis, including several Chlamydia-like organisms, have been found in many fish species. In Ontario, this condition affects Arctic Charr and Lake Trout, and it has also emerged in farmed Rainbow Trout in the last two years. Diagnosis is a challenge as the organisms cannot be cultured and bacterial inclusions are present before clinical signs appear but largely disappear by the time fish are submitted for examination by light microscopy. The histological lesions are fairly consistent, however, and include prominent single-cell necrosis of leukocytes and epithelial cells, in addition to thickening and blunting of lamellae. Identification of the agent from fresh and formalin-fixed gill tissue of affected salmonid species is a priority of this project. Primers described for detection of the 16S rRNA gene of Chlamydiales and 16S rRNA universal bacterial primers have generated a 300 bp and 1500 bp products, respectively. Two sequences have been consistently identified; one with 88% similarity to an uncultured Neochlamydia sp. isolated from a cat with ocular disease and another with 90% similarity to Candidatus brachiomona cysticola, which was also recently identified from Atlantic Salmon with epitheliocystis in Norway. Localization of organisms in affected gills using in situ hybridization and laser microdissection are in progress. Transmission trials and attempts to culture the organism using a Rainbow Trout gill epithelial cell line are also underway.
MAY 2009 – PRESENT
Funded by: Ontario Ministry of Natural Resources (OMNR); Ontario Ministry of Agriculture, Food and Rural Affairs (OMAFRA - AHSI); Chilean Government Graduate Scholarship
Project team: Elena Contrador, Salvatore Frasca, Brandon Lillie, John S. Lumsden (University of Guelph); Paul Methner, Elizabeth Wright (OMNR)
Contact: John S. Lumsden (jsl@uoguelph.ca)
Detection and pathogenesis of Spring Viremia of Carp Virus (SVCV) in Ontario baitfish
Spring viremia of carp is a World Organization of Animal Health (OIE) reportable viral disease. SVCV has been recently isolated from carp in Hamilton Harbour, Ontario, Canada. The first aim of the study is to assess the ability of SVCV to infect Ontario baitfish, including Emerald Shiner, Fathead Minnow, and White Sucker. These fish are commonly moved between watersheds and may spread SVCV to new locations. Experimental infection trials have been performed using the Canadian isolate of SVCV (HHOcarp06) using intraperitoneal injection of fish of interest. SVCV caused morbidity and mortality in Flathead Minnow, Emerald Shiner, Koi, and White Sucker, but not in Rainbow Trout. The pathogenicity of disease is being assessed using histopathology and immunohistochemistry. The second aim is to discover if SVCV is more widespread in Ontario than presently realized. A retrospective study is underway using RT-qPCR to detect viral RNA from numerous fish species collected by the Ontario Ministry of Natural Resources (OMNR) from 2008 to 2012. The sensitivity of the RT-qPCR was assessed in tissues spiked with virus dilutions. In conclusion, at least three Ontario baitfish species are at some risk from SVCV, however, further analysis of tissues and results is required.
MAy 2010 – ongoing
Funded by: OMNR; Ontario Ministry of Agriculture, Food and Rural Affairs (OMAFRA); Egyptian Government Graduate Scholarship; FRST New Zealand Postdoctoral Fellowship; NSERC USRA
Project lead: John S. Lumsden (U. Guelph)
Project team: Ehab Misk, Eva Nagy, Lincoln Tubbs, Adrian Di Natale, Shelby Isaac (U. Guelph); Elizabeth Wright, Kevin Loftus (OMNR); Kyle Garver (DFO)
Contact: jsl@uoguelph.ca
Improved management strategies for bacterial cold water diseases
Bacterial Cold Water Disease (BCWD) caused by Flavobacterium psychrophilum is the most important infectious disease for Ontario Rainbow Trout aquaculture. Several aspects of BCWD have been studied in this research but most are focused on improved management options for farmers. Isolate phenotypic and genotypic variability and antimicrobial susceptibility profiles were compared between Ontario and BC isolates and Ontario isolates were more diverse, however, an association was not found to correlate a bacterial characteristic to clinical presentation. The effect of erythromycin, available only as an emergency drug, was compared with that of florfenicol in a farm trial and both appeared to be equally effective. Autogenous vaccines were trialed on-farm and in the laboratory but they have not been effective. Cold-induced proteins and genes were identified that may be virulence factors and several of the gene products have been cloned and expressed as recombinant proteins for further research. A range of Ontario isolates was used to demonstrate a wide variability in virulence in experimental trials. Morbidity and mortality are being correlated with splenic bacterial colony forming units and quantitative PCR to provide an endpoint before mortality and shorten the length of trials. The breeding program at Lyndon Hatcheries is presently supplying family fish that are being tested for susceptibility to experimental infection with a virulent Ontario isolate. These families are also being examined for MH and immune genes.
MAy 2007 – ongoing
Funded by: Ontario Ministry of Agriculture, Food and Rural Affairs (OMAFRA); NSERC Strategic and CRD (with the Freshwater Fisheries Society of British Columbia and Microtek Inc.); DFO – Aquaculture Collaborative Research and Devlopment Program (ACRDP) (with Lyndon Hatcheries Ltd.); Ontario Veterinary College Fellowship
Project team: Shohreh Hesami, Arman Yazdanpanah, Maureen Jarau, Lowia Al-Hussinee, Paul Huber, Glen Soltes, Jan MacInnes, John S. Lumsden (U. Guelph); Samantha Hodgins, Calvin Kellendonk, Brian Dixon (U. Waterloo); Sean Pressey, Clarke Rieck (Lyndon Hatcheries)
Contact: jsl@uoguelph.ca
Antigen presentation in teleost fish
Antigen processing is the pathway in which proteins from pathogens are targeted by the host immune response. Despite a fairly detailed knowledge of the genes and proteins that are involved in this process in mammals, the proteins involved in this pathway and their specific interactions are unknown. This project has cloned the genes for those genes involved in this pathway which have not been isolated to date, characterized them and has produced antisera for them. Immunohistochemistry and co-immunoprecipitation are employed to investigate the protein interactions within this pathway.
To date in this project calreticulin has been cloned and characterized. It is located in the endoplasmic reticulum (ER) and responds to immune stimulation, but not to ER stress. ERP57 has also been cloned and characterized. This gene is duplicated in salmonids, with one version having what may be a functional ER retention signal, while the other has a nuclear localization signal. This suggests a division of the roles undertaken by mammalian ERP57. Antibodies have also been generated to MHC class I, beta-2 microglobulin, TAP, and Calnexin. The regulation of these proteins during immunostimulation is being investigated, but initial co-immunoprecipitation studies have shown that tapasin and MHC class I interact within the ER of the RTS11 Rainbow Trout macrophage cell line.
Understanding the process by which pathogenic proteins are identified by fish immune systems will assist in designing vaccines that can elicit strong, effective immune responses in fish. This will hopefully prevent losses to disease, enhancing profitability of aquaculture operations.
MAR. 2008 – ongoing
Funded by: NSERC Discovery
PROJECT LEAD: Brian Dixon (U. Waterloo)
Project team: Lital Sever, Niels Bols, Nguyen Vo, Brian Dixon (U. Waterloo)
Contact: bdixon@uwaterloo.ca
Early detection of "Soft flesh" in Atlantic Salmon
Kudoa thyrsites is a marine myxosporean parasite, endemic to the West Coast of Canada, which infects fish and causes post mortem myoliquefaction. Atlantic Salmon are susceptible to infections and this has resulted in significant economic losses to the aquaculture industry. There are several diagnostic tests that can be used to detect infections in fish including molecular tests; however, most of these tests require lethal sampling and results are not available for several days. We proposed to evaluate the sensitivity and specificity of ultrasound for detecting fish infected with K. thyrsites. This technology has been used to detect changes in muscle structure in other animals and provides a rapid assessment of soft tissues. We hypothesize that using computer image analysis of ultrasound images we will be able to identify fish that will develop post mortem myoliquefaction before they develop the condition. If successful this technology has the potential to be used on a large scale at processing plants to identify fish that are not well suited for the "fresh" market.
sept. 2012 – sept. 2013
Funded by: UPEI CERC grant
PROJECT LEAD: Sophie St-Hilaire (UPEI)
Project team: LeeAnn Pack, Tim Burnley, Sohrab Ameli (UPEI); Sonja Saksida (CAHS)
coLlaborators: Centre for Aquatic Health Sciences (CAHS); Marine Harvest
Contact: ssthilaire@upei.ca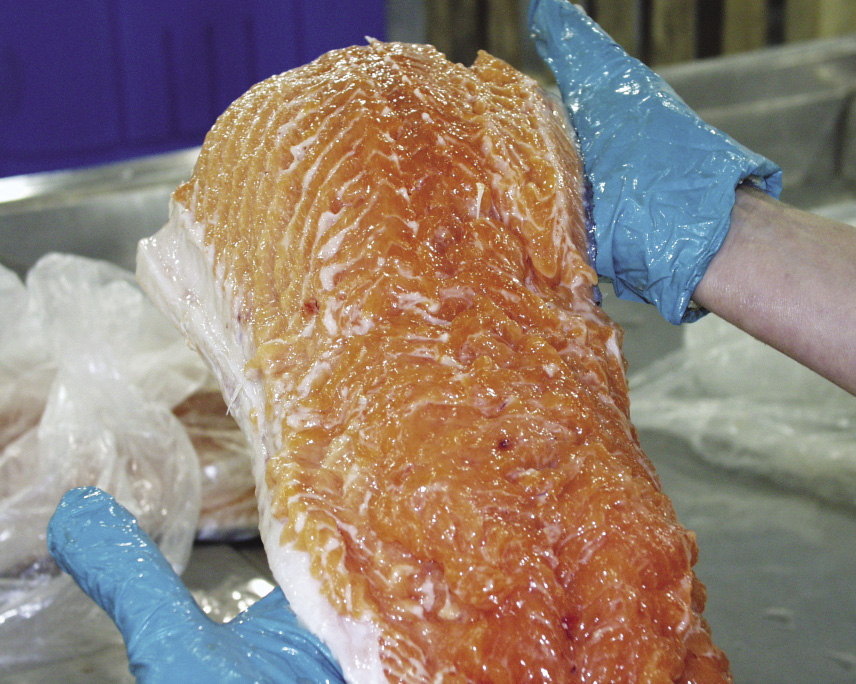 DNA vaccine models against ISA
The goal of this project is to explore the feasibility of new DNA model vaccines against ISAV. It is a novel approach using plasmid constructs expressing ISAV protein subunits combined to an HSP binding sequence, with a suitable linker and signal sequence. Several antigenic ISA proteins and peptides will be selected, from full length protein to single epitopes. The various plasmid constructs will be tested in vivo, and RPS values (relative protection survival) will be determined by comparison to vector alone. To achieve this goal we will: 1) produce recombinant vectors for the expression of specific ISAV genes; 2) prepare sufficient quantities of recombinant vectors for a vaccine trial; 3) do a vaccine trial using different vaccine formulation; and 4) detect DNA vaccine, in situ transcription and measure genomic markers of immune response after vaccination.
july 2009 – dec. 2012
Funded by: DFO – Aquaculture Collaborative Research and Development Program (ACRDP) co-funded by: Atlantic Canada Fish Farmers Association (ACFFA)
project lead: Nellie Gagné (DFO)
Project team: Mark Laflamme, Nathalie Simard (DFO); Lisa Phillips, Kira Salonius (Novartis Animal Health Canada Inc.)
collaborators: Novartis Animal Health Canada Inc.
Contact: Nellie.Gagne@dfo-mpo.gc.ca