Canadian Aquaculture R&D Review 2009
Table of Contents
Miscellaneous
BioCage to control fish farm escapees through genetically-engineered nutritional requirement
A unique study (BioCage) taking place at Laval University in Quebec is looking at a novel way to prevent long-term survival of escaped cultured fish. This would effectively prevent interactions with wild populations of the same or related species, and establishment of feral populations in areas where they are not native. While there has been relatively little demonstrated problem to date with escaped salmon, concerns will inevitably grow as more alien species are added to the aquaculture repertoire. Global warming is also likely to increase the risk of warm-water fish surviving and breeding unchecked in northern areas where they formerly would not have survived.
A team from Laval University, led by Dr. Grant Vandenberg, is developing a line of transgenic Atlantic salmon with an increased requirement for a specific nutrient that cannot be supplied by foods in the natural environment, but could be incorporated into fish feed formulations. Penned fish would remain healthy, but without the extra nutrient in their prepared feed, escaped fish would be unable to reproduce and would soon die due to lack of the missing nutrient.
Specifically, the project is a three-year investigation designed to: 1) evaluate several genetic constructs that would have the effect of increasing the specific requirement for a particular nutrient, 2) use a model species to verify appropriate expression of the modified or introduced genes, and 3) validate the ability of special feed formulations to maintain good growth and health in the modified fish.
Funded through grants from NSERC, the Atlantic Salmon Federation, FQRNT-RAQ and Laval University, the BioCage program is now in its second year.
Duration: Nov '07 – Oct '10
Funded by: NSERC. Co-funded by: Atlantic Salmon Federation, FQRNT, RAQ, U Laval
Project team: Grant Vandenberg (U Laval), Mark Ekker (U Ottawa), Garth Fletcher (MUN), Lyne Létourneau (U Laval), Francois Pothier (U Laval), Rodrigue Yossa-Nouaga, Pallab-Kumer Sarker.
For information contact: Grant Vandenberg ( Grant.Vandenberg@fsaa.ulaval.ca)
Moncton lab validates assay for the detection of ISA and MSX
The National Aquatic Animal Health Program (NAAHP) of Fisheries and Oceans Canada (DFO) comprises a network of laboratories, where fish and shellfish diseases are diagnosed. Many assays are developed in-house. The laboratories are currently implementing ISO 17025, and validating assays on their scope.
Two assays are validated with no gold standard and latent class models at the Aquatic Animal Health Unit of Moncton: the detection of infectious salmon anemia virus (ISAV), which is a pathogen found primarily in salmonids, and Haplosporidium nelsoni (MSX), a pathogen affecting oysters in Canada. Assays for ISAV and MSX include a regular RT-PCR and a real-time RT-PCR assay. For MSX, histopathological detection is validated, and for ISAV, a viral assay is part of the validation.
Assay characteristics such as repeatability (within laboratory) and reproducibility (between laboratory), specificity and sensitivity are determined following the processing of hundreds of carefully selected samples archived or collected for this purpose, and statistical analysis done by epidemiologists at the Atlantic Veterinary College of University of PEI. The assays are used for surveillance, surveys, trade purposes, diagnostics, research, etc. Validation to ISO 17025 standards provides a level of assurance internationally recognized.
Duration: Sep '07 – Sep '09
Funded by: DFO
Project team: Nellie Gagné (DFO), Anne Veniot (DFO), Charles Caraguel (UPEI), Carol McClure (UPEI), Mélanie Robichaud-Haché (DFO), Michèle Maillet (DFO), Crystal Collette (DFO)
For information contact: Nellie Gagné ( Nellie.gagne@dfo-mpo.gc.ca)
DFO project maps sea bed of southern Gulf of St. Lawrence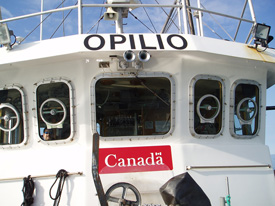 A good understanding of the physical, chemical and biological characteristics of the seabed is a key element in habitat characterisation needed in assessing development of offshore aquaculture. This benthic assemblage has proven to be challenging to evaluate on a large scale.
However, there are some tools presently available that will enable the collection of baseline information. A Wide Angle Sonar Seabed Profiler (WASSP) multi-beam sonar and an OLEX system is being installed aboard the Gulf Region research vessel "Opilio" to gather marine bottom information during every research mission. OlexAS is the developer and manufacturer of the electronic chart systems OLEX.
The real-time 3D seafloor profiler can provide 2D bathymetric contour mapping. Off-shore data from this system on the "Opilio" will be combined with the near-shore data already obtained by the Gulf Region lobster group to complete comprehensive marine bottom maps.
Duration: Sep '08 – Mar '09
Funded by: DFO-PARR
Project team: Leslie-Anne Davidson (DFO), Monique Niles (DFO), Michel Comeau (DFO), Gilles Paulin (DFO), Marc Ouellette (DFO), Mark Newcombe (CMC Electronics), Darryl Landry (DFO-CG), Joanne Kane (DFO-CG), Nigel Hawksworth (DFO-CG)
For information contact: Leslie-Anne Davidson ( Leslie-Anne.Davidson@dfo-mpo.gc.ca)
New tools in development to assess resuspension and transport of aquaculture wastes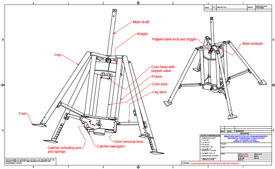 The project team is developing new tools for parameterizing the erodibility of aquaculture wastes and their associated contaminants for use in predictive models and as far field indicators.
A new mini slo-corer capable of preserving the sediment-water interface during sampling is being designed, constructed and tested. Bottom sediment cores collected with this corer are coupled to an in-situ erosion device to quantify resuspension dynamics (i.e., mass eroded, grain size, organic carbon concentrations and trace metal concentrations as a function of shear stress.)
Modeling programs like DEPOMOD deal primarily with the initial deposition of aquaculture wastes but fail to predict their subsequent resuspension and dispersal due to an inability to parameterize erosion shear stress and the grain size of the eroded material. 
The development of predictive models for transport of aquaculture wastes that could be used to assess the potential for far-field impacts requires both concentration and the size of the resuspended material, which this project addresses.
Duration: Sep '08 – Mar '09
Funded by: DFO-PARR
Project team: Brent Law (DFO), Tim Milligan (DFO), Gary Bugden (DFO), Glen Morton (DFO), Fred Page (DFO), Randy Losier (DFO)
For information contact: Brent Law ( Brent.Law@dfo-mpo.gc.ca)
New Brunswick project upgrades habitat data for aquaculture site assessments
Between the early 1990's and early 2000's a series of regional projects were undertaken that sought to identify and map sensitive fishery areas within Southwest New Brunswick in relation to aquaculture development.
Many results still exist in the form of specific project reports and advisory documentation. From the mid-late 1990's, comprehensive approaches to marine habitat mapping (MHM) have emerged globally, primarily applied to date at regional-scale applications.
This project is reviewing existing regional reports and completing two draft technical reports on approaches to aquaculture site monitoring in relation to habitat suitability and sensitivity for invertebrate fisheries resources. All reports identify promising technical approaches from MHM theory and practise that may be applied in developing new integrated aquaculture assessments.
Duration: Sep '08 – Mar '09
Funded by: DFO-PARR
Project team: Peter Lawton (DFO), Fred Page (DFO), Blythe Chang (DFO)
For information contact: Peter Lawton ( Peter.Lawton@dfo-mpo.gc.ca)
BC project builds aquatic science capacity in aboriginal communities
Three model institutions are collaborating on a project called "Towards Building Aquatic Science Capacity in Aboriginal Communities" funded by the BC Ministry of Advanced Education.
On September 27, 2007, the BC Centre for Aquatic Health Sciences (BC CAHS), North Island College (NIC) and New Zealand's National Institute of Water and Atmospheric Research (NIWA) signed a Memorandum of Understanding for the purposes of establishing and furthering academic exchange opportunities, capacity building, and cooperation in the field of aquatic sciences.
The collaborative project aims to develop institutional bases for cooperation and academic exchange and to provide for the exchange of students annually. In addition, the project provides opportunities for the transfer of Aboriginal/Maori educational models. It supports the exchange of aquatic science methodologies and assists in the transfer of aquatic industry expertise. The project is designed to be sustainable beyond the initial funding period.
The partnership is preparing to build on NIC's successful "learning circle" model by forming a group of young aboriginal scientists who will tour BC First Nation Coastal communities acting as role models for success in the area of mathematics and sciences.
Duration: Sep '08 –Ongoing 
Funded by: BC Ministry of Advanced Education
For information contact: Linda Sams ( Linda.Sams@cahs-bc.ca)
Website: http://www.cahs-bc.ca/
Newfoundland information initiative helps manage threat of invasive species
The introduction of invasive alien species (AIS) into Newfoundland and Labrador waters represents a significant potential threat to the Newfoundland shellfish aquaculture industry. Although economically-harmful invasive species have not been found on any aquaculture site in the province, finding invasive tunicate and crab species in NL waters illustrates that the threat to our industry is real.
The current NAIA initiative, funded through the Government of Canada's Invasive Alien Species Partnership Program (IASPP), has been very valuable in providing an extra level of security for industry by proactively dealing with AIS before they become a problem.
The driving force for this NAIA initiative is the continuation of the Newfoundland AIS Advisory Committee, co-chaired with DFO, NL region. The Committee has been essential as a conduit of information between the various groups in Newfoundland that have an interest in the issues surrounding AIS establishment and spread.
Another important and extremely productive part of the project has been the organization of Invasive Species Workshops in 2007 and 2008. These workshops were successful in engaging people from a wide range of backgrounds and interests, and in examining impacts of AIS and current management approaches used here in NL and elsewhere.
Duration: Apr '08 – Mar '10
Funded by: IASPP. Co-funded by: DFO, NL DFA, MI, MUN-OSC, EC, CFIA
Project team: Darrell Green (NAIA), Cynthia McKenzie (DFO), Derek Mouland (NL DFA)
For information contact: Darrell Green ( dgreen@naia.ca)
Atlantic project develops models for drum filters and large diameter tanks
This project is the continuation of recent work on solids removal in recirculation aquaculture systems. It seeks to reduce the production cost of land-based aquaculture systems by focusing on the development of improved design methodologies for rotary drum filters and the scale-up of triple-drain tanks beyond the current maximum size of 11m.
Rotary drum filters are widely used for removing suspended solids in recirculation systems but their design has hereto been performed using rules of thumb. This project is improving the mathematical model developed in the recent work so that it can be used to accurately size drum filters for a variety of applications. The screen coverage per unit mass of solids entering the drum filter, a key input parameter of the model, is being measured in the field using an image analysis technique that will be developed for this purpose.
The team is also developing a computational fluid dynamics (CFD) model for the hydraulic behaviour of large triple-drain fish tanks. As the aquaculture industry strives to reduce cost, there is a growing trend toward large diameter fish tanks but no information is available on the impact of increasing tank size on tank hydraulics and self-cleaning.
The CFD model fills this gap by guiding the development and scale-up of large diameter triple-drain tanks. The drum filter and CFD models are being validated by comparing their predictions with performance data from equipment operating at salmon-smolt farms.
Duration: 2008 – Ongoing
Funded by: CCFI
Project team: Michel Couturier (UNB); Adrian Desbarats (Atlantech); Jake Elliott (Cooke Aquaculture Ltd.); Charlane Hatt (NB DAA) Andy Chapman (CCFI) 
For information contact: Marc Keilley ( marc.kielley@mi.mun.ca)
BC group links fish health management with goals for sustainable aquaculture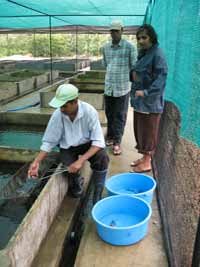 The Centre for Coastal Health, based at Vancouver Island University, has 3 projects on fish health policies and practices and sustainable aquaculture.
In the first project, the team reviewed attitudes and policies in British Columbia salmon farming. They found four main obstacles to sustainability-based health management.
First, salmon farming faces the same challenges as other industries when trying to establish a working definition of sustainability that captures stakeholders' interests. Second, no program is responsible for comprehensively integrating regulations and monitoring efforts to develop a comprehensive view of sustainability. Third, there is inadequate research and social consensus on the criteria to be used to track health for sustainability purposes. Fourth, the regulatory and management paradigm has focused on diseases and pathogens as opposed to embracing a more inclusive health promotion model. A paper is being published in the journal Ecohealth and includes recommendations for steps forward.
The next two projects are ongoing and are taking place in Sri Lanka. One is examining the policy framework for sustainable development of the ornamental fish farming industry while the other is examining needs and opportunities to implement best management practices in ornamental fish and shrimp farming with respect to the avoidance of antimicrobial resistance.
Duration: Apr '07 – Dec '09
Funded by: TCGHF. Co-Funded by: PHAC
Project team: Craig Stephen (CCH), Jennifer Dawson Coates (CCH), Nalaka Munasinghe (U Peradeniya, Sri Lanka), Preeni Abeynayake (U Peradeniya, Sri Lanka)
For information contact: Craig Stephen ( cch@viu.ca) 
Website: www.centreforcoastalhealth.ca
Fatty acid enrichment of microalgae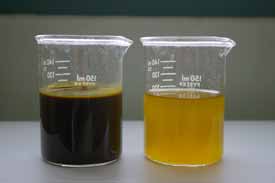 Microalgae are widely used as nutrients in aquaculture. They are the essential nutrients for mollusc culture and are used to nourish zooplankton (rotifers, artemia and copepods) on which the larvae of fish and crustaceans feed, in turn.
Many studies have shown the importance of nutritional quality in successful culture of mollusc larvae, and particularly the essential polyunsaturated fatty acid (PUFAs) levels of microalgae.
The general objective of this study is to determine the optimal production and stabilization conditions for concentrates of live PUFA-enriched microalgae. 
The fat content of various microalgae concentrates (Nannochloropsis, Isochrysis galbana and Pavlova lutherii) were evaluated, as well as a mixture of the three species. The concentrates retained essentially the same nutritional properties after 8 weeks in storage at 4°C. Overall, more than 80% of fatty acids were retained in all species.
In addition, fatty acid enrichment of microalgae was carried out in diatom cultures (Chaetoceros gracilis and Thalassiosira pseudonana) where the PUFA content quadrupled, doubled and tripled (EPA, DHA and AA) respectively.
Duration: 2007 – 2008
Funded by: NSERC. Co-Funded by: RAQ
Project team: Réjean Tremblay (ISMER-UQAR), Diadié Diouf (ISMER-UQAR), Réal Fournier (ISMER-UQAR), Fabrice Pernet (IFREMER)
For information contact: Réjean Tremblay ( Rejean_tremblay@uqar.qc.ca)
Marine bacteria may be source of marine anti-foulant treatment
A New Brunswick team is exploring the potential of developing an antifouling treatment derived from local marine bacteria for use in aquaculture as an alternative to existing antifouling treatments. The approach is based on the identification of marine bacteria which inhibit the early colonization of surfaces by bacteria which promote or permit the settlement of macroscopic fouling organisms.
The project has four objectives. The first is the isolation, identification and cultivation of early bacterial colonizers from selected marine surfaces. The second is to apply in vitro high throughput screening assays for the selection of bacteria from a library of marine bacteria which produce substances that actively inhibit the early colonizers identified in objective1. The third is to formulate extracts from antifouling strains identified in objective 2 into experimental coatings for testing. The fourth is to test the experimental coatings on selected surfaces in vivo and compare with current industry standard products
Panels of nets were deployed during the early fall which have been subsequently retrieved. Bacterial colonies are now being isolated and identified from these surfaces at RPC in Fredericton.
Duration: Jul '08 – Mar '10
Funded by: DFO-ACRDP. Co-funded by: NBSGA
Project team: Shawn Robinson (DFO), Ben Forward (RPC), Caroline Graham (NBSGA)
Clarence Blanchard (Future Nets and Supplies Limited)
For information contact: Shawn Robinson ( Shawn.Robinson@dfo-mpo.gc.ca)
AquaPort creates "First Look" site for future web portal
The effort to develop a web-based knowledge mobilization platform for aquaculture in Canada took a step forward with the development of a demonstration site called "First Look". A talented group of students at Vancouver Island University contributed to its development. Four components have been built in this early stage of development – search, taxonomy, web alerts using tagging and RSS, and an R&D database.
The AquaPort Search Portal was developed using "Google" custom search and deploys full-text / keyword search technology to provide access to the more-than 7000 full-text aquaculture resources that were sourced by students working on the earlier AquaNet-funded portion of the project. The search index that has been built for AquaPort consists of "url patterns" exclusively for aquaculture resources and is thus ideal for building a "vertical" search engine that specializes in only one sector.
The team also developed a custom taxonomy (at this point, a simple hierarchy or "enumerative" taxonomy) for use during Stage 1 of the search portal. The AquaPort taxonomy is an aquaculture-based hierarchy of subjects which means all aquaculture subjects can be placed in and accessed, via browsing, from one place.
AquaPort wanted to demonstrate the potential of tagging, RSS alerts, and RSS aggregation to facilitate rapid and targeted information transfer and knowledge mobilization for the Canadian aquaculture sector. The team created a demonstration of how tagging and RSS feeds could be implemented in a specific program or area of interest in to Canadian aquaculture. Aquatic animal health was chosen as a topic area.
The content of the 2007 Aquaculture R&D Review has been separated into its constituent parts (text and images), and together with relevant metadata, stored in a custom-developed MySQL database. A map-based access has also been developed by "mashing" the location data from the database with the Google Map API (Application Programmer Interface). Users will therefore be able to locate projects by geographical area, and zoom in on the location to view the full project information.
Duration: Jan '08 – Apr '08
Funded by: DFO-ACRDP. Co-funded by: BCARDC
Project team: Tim DeJager (co3), Barbara Thomas (VIU), Linda Hiemstra (Mel Mor Science),
VIU Students: Omar Beltran, Ye Zhou, SiJie Guo, Jas Randhawa, Laura Braden
For information contact: dejagert@co3.ca
BC aquaculture and environment capacity-building initiative continues growth
In 2006, four British Columbia aquaculture scientists were selected to receive BC Aquaculture & Environment Innovation Awards. The goal of these awards is to catalyze the formation of long-term collaborative research that will lead to environmental sustainability solutions for BC aquaculture. These 5-year funding awards are enabling the 4 researchers and their institutions to build critically needed research programs by leveraging funding for numerous research projects.
These programs are being developed in four centres that are growing into important research hubs. Dr. Helen Gurney-Smith, at Vancouver Island University's Centre for Shellfish Research, is focusing on shellfish health and husbandry. Among her numerous projects is a genomics project to develop a health assessment tool for mussel culture.
Dr. Stephen Cross, based at the University of Victoria, is advancing the research needed to develop multi-trophic aquaculture in BC. He is leading a team in the development of the SEA (Sustainable Ecological Aquaculture) system at a site in Kyuquot sound.
Dr Shannon Balfry, at the UBC-DFO Centre for Aquaculture and Environmental Research, specializes in host and pathogen interactions and is leading projects working on a variety of cultured and wild species of fish.
The BC Centre for Aquatic Health Sciences is set to welcome Dr. Luis Afonso to continue the research program that was being developed by Dr. Val Funk to address fish health issues through improved understanding of host-pathogen interactions and host immune mechanisms responsible for preventing disease.
Duration: Apr '06 – Mar '11
Funded by: BCARDC-AE
Project team: Helen Gurney Smith (VIU-CSR), Stephen Cross (UVic), Shannon Balfry (UBC-CAER), Luis Afonso (BC-CAHS)
For information contact: Tim DeJager ( dejagert@co3.ca)
Websites: CSR http://www.viu.ca/csr/ Pacific SEA Lab: http://www.pacificsea-lab.com/ BC-CAHS: http://www.cahs-bc.ca/