Understanding the marine environment to better protect whales
Understanding the stressors impacting our marine environment and the species that live in them is vital to will help us protect its inhabitants for generations to come. This initiative will provide $26.6 million over 5 years to better understand the impact of environmental stressors, more specifically noise, on marine mammals.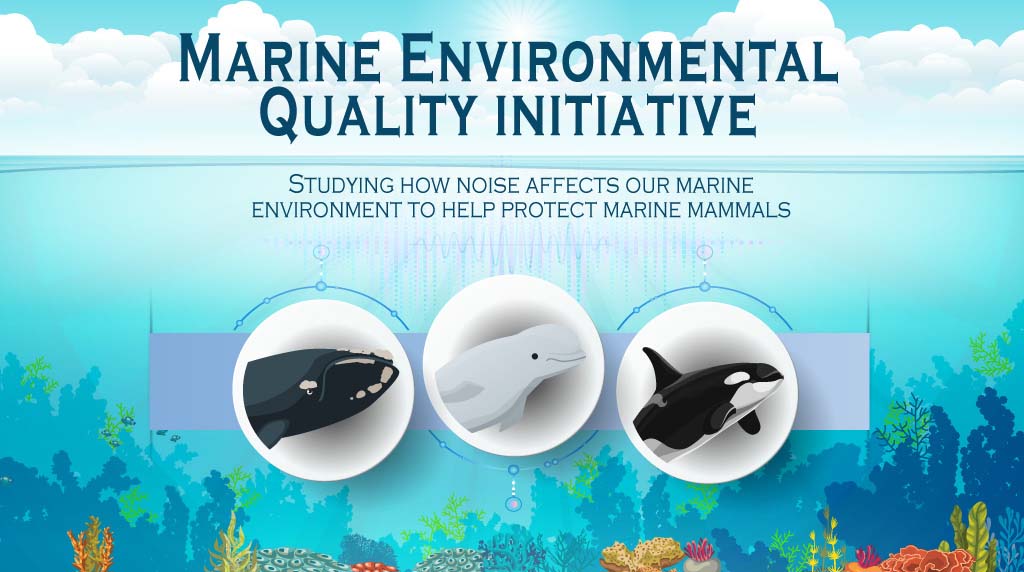 Purpose
Fisheries and Oceans Canada will work with partners to better understand how shipping-related noise affects whales, specifically the endangered North Atlantic Right Whale, Southern Resident Killer Whale, and the St. Lawrence Estuary Beluga.
This will help the Government of Canada identify how to reduce the impacts of these stressors on whales and other marine species.
Expected outcomes
Funding will go toward research projects that will:
establish current ambient underwater noise levels in these whales' habitat; and
explore the impact of ecological stressors on marine ecosystems, including mammals.
Projects
Oceans Protection Plan: Marine Environmental Quality Initiative
Description
Timeframe
Investment

Title: Big data analysis and management of Canadian marine acoustic data sets

Project partner: Dalhousie University (Halifax, NS)

Project summary: This three-year project is supporting important collaboration between underwater acoustics researchers, computer scientists and data managers to drive innovation related to the analysis and management of large underwater noise data sets.

2018 – 21
$305,750

Title: Passive acoustic monitoring in the Outer Bay of Fundy and assessment of communication space loss in North Atlantic Right Whales

Project partner: Eastern Charlotte Waterways (Blacks Harbour, NB)

Project summary: This four-year project is expanding acoustic monitoring in the Outer Bay of Fundy to better understand the impact of underwater noise on North Atlantic Right Whales, particularly how it impacts their ability to communicate with each other.

2018 – 22
$235,850

Title: Strengthening efforts to incorporate passive acoustic monitoring into North Atlantic Right Whale habitat, population models and other risk assessment tools

Project partner: Ocean Research & Conservation Association (ORCA) (Vancouver, BC)

Project summary: This three-year project will develop approaches for incorporating underwater noise data into existing population viability analyses, which are used to determine the probability of a population going extinct in a specific timeframe, and to include whale detections from passive acoustic monitoring in species distribution models, which are used to predict the distribution of a species in a specific area. These new acoustic approaches will help advance research on population-level impacts of underwater noise on the North Atlantic Right Whale.

2018 – 2021
$221,848

Title: Evaluation of foraging behavior of Southern Resident Killer Whales to assess impacts of anthropogenic disturbance

Project partner: National Oceanic and Atmospheric Administration (United States)

Project summary: This four-year project will assess Southern Resident Killer Whale behaviour, including foraging, in relation to noise exposure levels. This project is part of a larger US-Canada study to identify differences in the acoustic environment and foraging activity of the Northern Resident Killer Whale, whose population has been increasing over the past decade, and the endangered Southern Resident Killer Whale, whose population is currently declining.

2018 – 2022
$575,091

Title: Acoustic Monitoring in the Gulf of St. Lawrence

Project partner: Dalhousie University

Project summary: Understanding the location and movements of the North Atlantic Right Whales is key to helping us protect this iconic species. Funding will support Dalhousie University's monitoring efforts of North Atlantic Right Whales in the Gulf of the St. Lawrence and in Roseway Basin, an area off southern Nova Scotia. The university will deploy gliders that use underwater microphones to detect the presence of the whales and how they move through the areas.

$635,000

Title: Ocean Noise Modeling

Project partner: Dalhousie University

Project summary: Establishing the current noise levels in our ocean and how it varies by region, by season and with changes in anthropogenic activities is key to understanding the degree to which noise is a concern for marine mammals. This funding will support Dalhousie University's development of an ocean noise model capable of predicting the ambient or "natural" underwater noise levels (generated by natural wind and rain) in waters inhabited by whales. Combining the natural underwater noise level with noise generated from human activities will increase our understanding of the total sound pressure levels experienced by whales and their impact on their ability to forage for food and communicate with one another.

$22,000

Title: Impacts of marine ecosystem variability on the Southern Resident Killer Whale population in the Salish Sea

Project partner: University of British Columbia

Project summary: Access to adequate food sources has been identified as a threat to the Southern Resident Killer Whale. Declines in the Chinook salmon population have reduced the availability of an important food source. The University of British Columbia will examine how changes in the food web affect the abundance and quality of Chinook salmon in critical habitat areas of the Southern Resident Killer Whale.

$1.1 million

Title: Comprehensive health and condition assessment of Southern and Northern Resident Killer Whale populations

Project partner: Ocean Wise Conservation Association

Project summary: Despite facing similar threats, the Northern and Southern resident killer whale populations are affected very differently. Ocean Wise will conduct comprehensive health assessments of Northern and Southern resident killer whale populations to better understand the impact of environmental stressors, particularly noise and prey limitation, on the different groups. These studies will help researchers identify potential vulnerabilities of the Southern Resident Killer Whale and contribute to the development of mitigation measures to support the recovery of this iconic species.

$942,000

Title: Investigations of Anthropogenic Impacts on Southern Resident Killer Whale and their prey

Project partner: University of Victoria

Project summary: In order to support the recovery efforts of the Southern Resident Killer Whale, the University of Victoria will undertake three projects designed to better understand the behaviour and vulnerabilities of the species and their prey. Studies will look at how underwater noise impacts the whales' ability to use their echolocation to communicate and detect prey. Researchers will also examine how noise impacts Chinook salmon, their primary prey. Work will also focus on understanding the contribution of small vessels to the overall soundscape of Southern Resident Killer Whales.

$935,000

Title: Underwater Listening Station

Project partner: Vancouver Fraser Port Authority

Project summary: The Vancouver Fraser Port Authority's Enhancing Cetacean Habitat and Observation (ECHO) program aims to better understand and manage potential impacts to marine mammals from shipping activities. This funding will to continue the operation of an underwater listening station, located under shipping lanes in the Strait of Georgia, to better understand and measure the noise levels of a wide range of different commercial vessel types, to monitor ambient noise over time and to detect how frequently whales are present in this part of the Salish Sea.

$200,000
Related links