Development of a Cumberland Sound Ecosystem Model as an Ecosystem-Based Adaptive Management Strategy Evaluation Tool for Adaptation to Climate-Change Effects
Description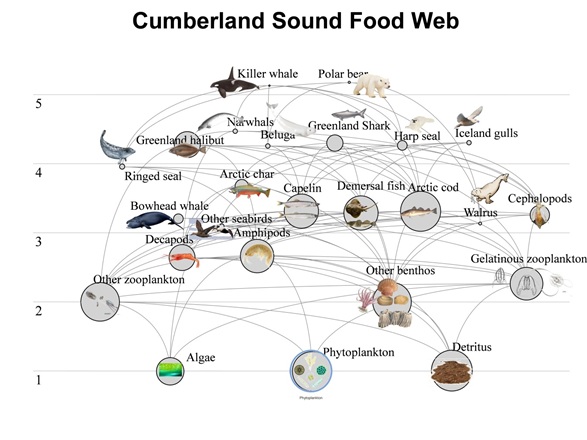 Ecosystem computer models are important tools for exploring the effect of fishing and climate change on the structure and function of ecosystems. Cumberland Sound—a large, deep, biologically productive ocean inlet on the southeast coast of Baffin Island, Nunavut—provides an ideal opportunity to develop an ecological model under climate change scenarios due to emerging fisheries in the region and the small number of other environmental stressors.
The main goal of this project is to develop a computer-generated ecosystem model of the Cumberland Sound marine ecosystem that can be used as an ecosystem-based risk management tool by decision-makers, policy-makers and planners. This will enable fisheries managers and other stakeholders to:
explore the ecological consequences of climate change;
assess the impacts on fishes, fisheries and species at risk such as beluga whales; and
apply this knowledge to the development of adaptive fisheries management strategies, which will contribute to the sustainability and productivity of commercial, recreational and Aboriginal fisheries in the region.
Program Name
Aquatic Climate Change Adaptation Services Program (ACCASP)
Ecoregion(s)
Central Canada: Lake Winnipeg, Nelson River Drainage Basin
Principal Investigator(s)
Ross Tallman
Fisheries and Oceans Canada