Geoduck clam (Panopea generosa): Anatomy, Histology, Development, Pathology, Parasites and Symbionts
Epibionts of the Geoduck clam
When cultured juvenile geoduck clams were maintained in suspension systems (e.g., pearl nets) for several months prior to being planted in the substrate, they acquired a superficial growth of diverse epibionts. The epibionts were attached to the surface of the integument covering the siphon and muscular mantle and on the shell. Although the relationship between the epibionts and their hosts was, in some instances, very close, no pathology was observed. Examples of histological sections through some of the various epibionts on the surface of juvenile geoduck clams (1995 year class) are presented in the following figures.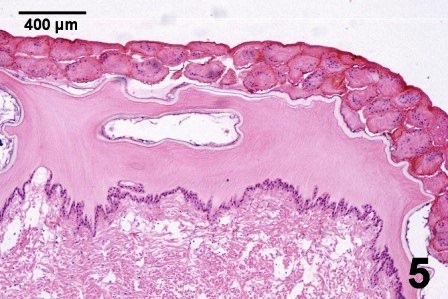 All epibionts were lost soon after the juvenile geoduck clams (seed) were planted in the substrate. Although there was no apparent damage (histopathology) caused by the epibionts, growth data indicated that the epibionts appeared to be direct competitors with the juvenile geoduck clams for planktonic food. The procedure of holding geoduck clam seed in suspension culture for prolonged periods is no longer practiced.
References
Bower, S.M., J. Blackburn and G.R. Meyer. 1992. Parasite and symbiont fauna of Japanese littlenecks, Tapes philippinarum (Adams and Reeve, 1850) in British Columbia. Journal of Shellfish Research 11(1): 13-19.
Cheng, T.C. 1967. Marine molluscs as hosts for symbioses with a review of known parasites of commercially important species. In: F.S. Russell (ed.). Advances in Marine Biology. Volume 5. Academic Press Inc., London, p. 315-335.
Simkiss, K. 1988. Molluscan Skin (excluding Cephalopods). The Mollusca Vol. 11 Form and Function. E.T. Truman and M.R. Clarke. Academic Press Inc. pp. 11 - 35.
Citation Information
Bower, S.M. and Blackbourn, J. (2003): Geoduck clam (Panopea generosa): Anatomy, Histology, Development, Pathology, Parasites and Symbionts: Epibonts of the Geoduck Clam.
Date last revised: August 2020
Comments to Susan Bower