Estuary and Gulf of St. Lawrence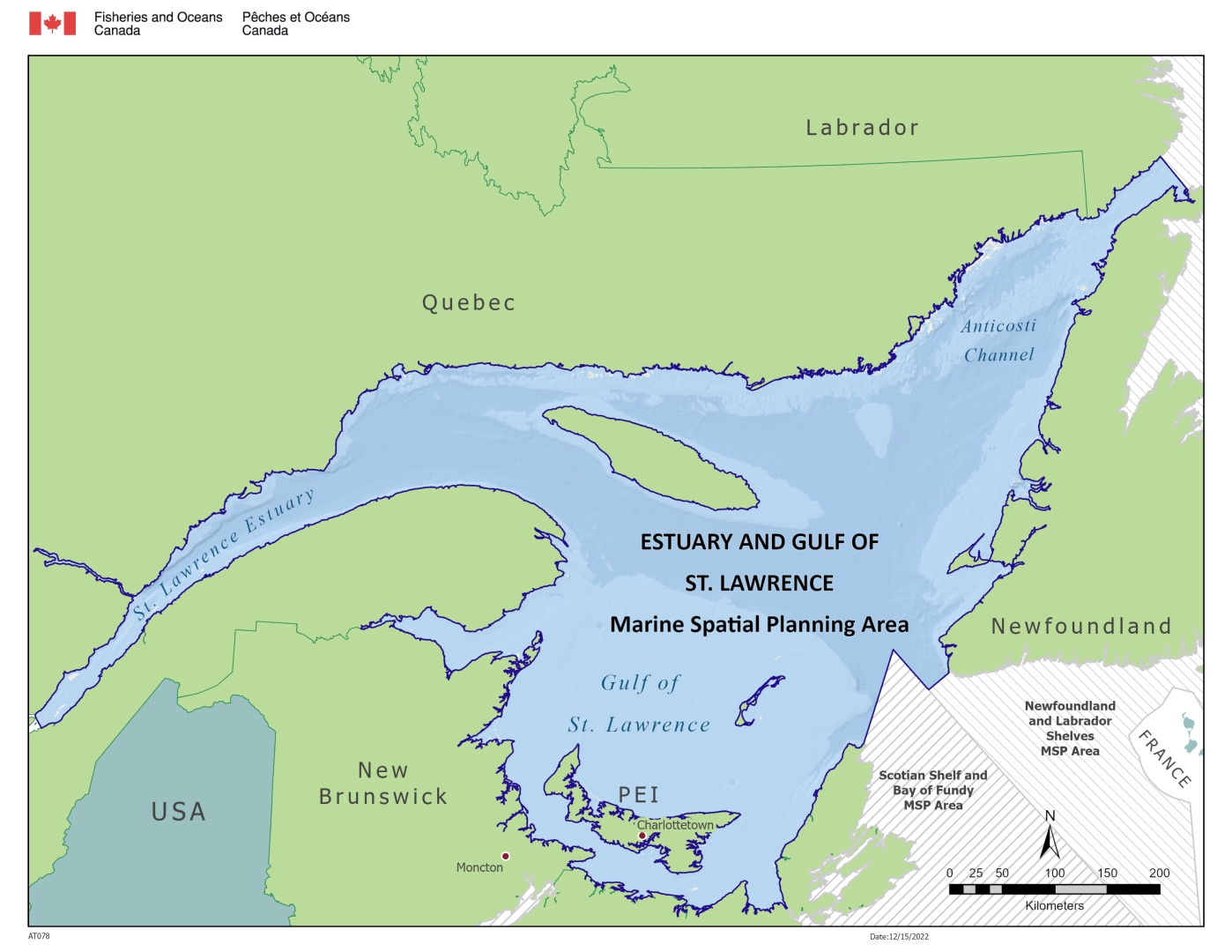 The area represents one of the largest and most productive estuarine/marine ecosystems in Canada and in the world. It includes a wide range of species, for example:
pelagic fish (e.g., mackerel, capelin)
bottom-feeding fish (e.g., Atlantic cod, white hake, redfish)
crustaceans (e.g., lobster, snow crab)
plankton
marine mammals (e.g., beluga, blue and North Atlantic right whales, seals, dolphins)
sharks (e.g., porbeagle, great white)
reptiles (e.g., leatherback turtle)
marine plants (e.g., eelgrass, Irish moss)
cold-water corals and sponges
The planning area includes many conservation areas, including:
Numerous human activities occur either within the system or around its drainage basin. Commercial fishing, such as lobster, snow crab, shrimp and Atlantic herring, has long been a major focus of economic activity and remains the foundation of many coastal communities. Mackerel and several varieties of clams are just a few of the important recreational fishing species. Other industries and activities that drive economic prosperity include:
Aboriginal fisheries
fish processing
shellfish aquaculture
marine shipping
ferry operations
tourism (including cruise ships)
marine transportation
The socio-cultural and economic well-being of communities located along the coast is heavily dependent on the goods and services provided by the Estuary and Gulf of St. Lawrence aquatic ecosystem and on its health.
Governance
Three Fisheries and Oceans Canada (DFO) administrative regions, i.e. Gulf, Quebec and Newfoundland and Labrador, jointly coordinate the Estuary and Gulf of St. Lawrence planning area with other regulatory authorities.
Each DFO region engages and collaborates with various First Nations and Indigenous Groups. Opportunities for collaboration on marine spatial planning (MSP) are also identified through diverse federal and provincial processes. DFO Gulf Region engages with the provinces of Prince Edward Island, New Brunswick and Nova Scotia. The Newfoundland and Labrador and Quebec DFO regions lead engagement with their respective provinces.
Priorities
MSP priorities for this planning area include:
governance
data collection and analysis
knowledge product

Footnote

1 development to support ocean planning and decision-making by regulatory authorities
Linkages continue to be made between MSP and the Gulf of St. Lawrence Integrated Management Plan. This plan identified and prioritized ecological management themes and analyzed interactions between ecosystem components and related human activities.
Contact us
Bioregion
DFO.oceansGLF-oceansGLF.MPO@dfo-mpo.gc.ca
Gulf Region
Moncton – Gulf regional headquarters
Marine Planning and Conservation
Oceans-GLF@dfo-mpo.gc.ca
Newfoundland-Labrador Region
St. John's – Newfoundland-Labrador regional headquarters
Oceans-NL.XNFL@dfo-mpo.gc.ca
Quebec Region
Mont Joli - Quebec regional aquatic ecosystems sector headquarters
Marine Planning and Conservation
DFO.OceansQC-OceansQC.MPO@dfo-mpo.gc.ca