Recovery planning
When wildlife species are listed under the Species at Risk Act as endangered or threatened, recovery strategies and action plans must be created.
Recovery strategies
Recovery strategies are written by recovery teams made up of technical experts from universities, conservation groups, industry and government. These teams review information on each species and also consider the larger ecosystem in which those species reside. If necessary, the strategies can be expanded to include protections for entire ecosystems and not just individual species.
Parties who may be involved in the development of recovery strategies include federal, provincial, and territorial ministers, wildlife management boards, Aboriginal organizations, landowners and lessees.
Recovery strategies outline short-term objectives and long-term goals for protecting and recovering species at risk. They:
describe the particular species and its needs
identify threats to survival
classify the species' critical habitat, where possible;
provide examples of activities that are likely to result in destruction of the critical habitat
set goals, objectives and approaches for species recovery
identify information gaps that should be addressed
state when one or more action plans relating to the strategy will be completed
These strategies must be completed within one year of a species being listed as endangered, and within two years of a species being listed as threatened or extirpated (extinct in Canada).
Action plans
Action plans are created once recovery strategies are complete. They summarize projects and activities to meet recovery strategy objectives and goals, and include information on habitat, details of protection measures, and evaluations of socio-economic costs and benefits.
More specifically, the action plan includes:
an identification of the species' critical habitat (unless it is not possible to do so) and examples of activities that are likely to affect it
proposed measures for protecting the critical habitat
an identification of any portions of the critical habitat that have not been protected
a statement of the steps for implementing the recovery strategy and when they are to take place
an evaluation of the socio-economic costs of the action plan and any implementation benefits
Similar to recovery strategies, action plans are dynamic documents that can be modified over time.
Sydenham River Watershed recovery strategy
The Sydenham River recovery strategy is an excellent example of an ecosystem approach to recovering species at risk. This multi-species watershed recovery strategy is seen as the first of its kind in Canada. Once completed, this strategy may be used as a model to assist similar conservation efforts in other aquatic ecosystems.
About the Sydenham River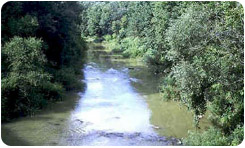 The Sydenham River watershed is part of the Lake St. Clair drainage in southwestern Ontario. The system, which extends over 100 kilometres, averages 38 kilometres in breadth and has a total drainage of 2,735 square kilometres, is home to at least 80 fish species and 34 freshwater mussel species.
The Canadian distributions of these fish and mussels are restricted to the Sydenham River, thus creating a unique ecosystem that many researchers regard as a biological treasure. Yet five of its mussel species are endangered, two of its fish and one reptile species are threatened, and several other fish in the system are of special concern according to COSEWIC.
The threat
Zebra mussels in the Great Lakes have decimated local populations of native mussels, leaving inland streams their only refuge. But these inland streams, such as the Sydenham River watershed, have been degraded by human activity. For most Sydenham River system species, the major threat is siltation and associated turbidity caused by agricultural practices and the alteration of shoreline.
What's being done
The Sydenham River recovery strategy is a six-year strategy (1999-2005) that involves field surveys of mussel and fish species at risk, the development of a database of the watershed geography, and the collection and synthesis of information on land use and water quality in the area. This information is being used to help guide habitat stewardship initiatives that cost-effectively address the complexities of aquatic community conservation.