Scotian Shelf and Bay of Fundy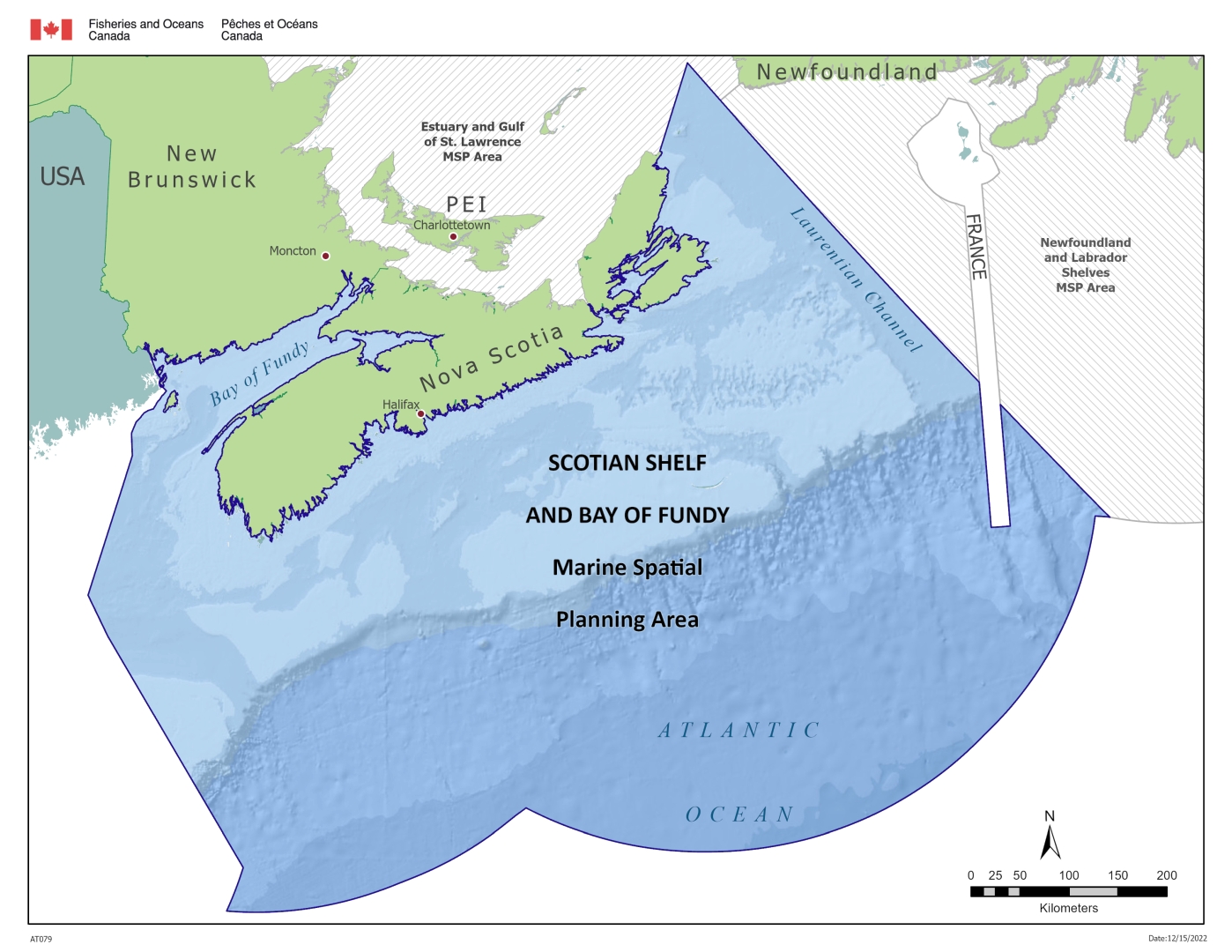 The planning area is ecologically rich and sustains an array of activities with socioeconomic and cultural importance. Coastal habitats, offshore banks and basins, steep slopes, underwater canyons and the abyssal plain provide a broad diversity of habitats.
The area provides important habitat for species of conservation priority, including fish, marine mammals, invertebrates, plants and birds. There are several Ecologically and Biologically Significant Areas (EBSAs)Footnote 1 in the planning area. Environmental changes, such as rising sea-surface temperatures and ocean acidification, lead to impacts on ecosystem function and species distribution.
At the same time, this planning area supports a similarly diverse set of human activities, including:
commercial and Indigenous fisheries
shipping
oil and gas
renewable energy
aquaculture
tourism
land-based activities that interact with the marine environment
Human population growth and needs, including the rights-based use and needs of Indigenous peoples, are also important factors. The planning area includes the need to consider these features and activities.
Governance
We lead marine spatial planning (MSP) in the Scotian Shelf and Bay of Fundy planning area in partnership with:
federal departments
provincial governments
First Nations
Indigenous groups
Engagement with the above is an important element of the regional work to ensure their priorities are incorporated into MSP. Input from marine industry sectors, such as the fishing industry and non-governmental organizations, will also be taken into consideration. The engagement process can take the form of single-sector and multi-sector meetings and workshops. Committees and working groups (both internal and external) have been created to provide expertise, perspective, coordination and oversight for MSP development and implementation. By working together, we will:
promote collaborative planning and management
anticipate and reduce conflict
support diverse marine interests
create tools to support ocean planning and decision-making
Priorities
We have identified the following priorities for the Scotian Shelf and Bay of Fundy planning area:
conservation network planning
Indigenous capacity building
coastal aquaculture planning in Nova Scotia
offshore wind
compiling data and information related to the Minas Basin
create ecological, social and cultural map layers to inform planning
Contact us