Our oceans need you—here's how you can help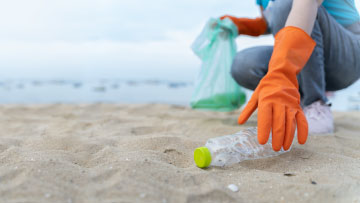 There are many ways you can help protect the ocean. Whether it's by volunteering for a marine conservation group, learning more about the ocean or taking the bus instead of the car, you can have a positive impact on ocean health.
Show your ocean love by participating in some of these local events and projects, funded in part by the Government of Canada.
On this page
Connect to the ocean during Ocean Week Canada's summer events
Participate in an Ocean Week Canada summer-long event. Ocean Week Canada is an annual week-long national celebration of ocean learning and public engagement. It coincides with World Ocean Day (June 8). Each year, several events extend past Ocean Week and take place throughout the summer. Ocean Week Canada is coordinated by the Canadian Ocean Literacy Coalition, together with hundreds of event hosts and partner organizations. It promotes a better understanding of the important role the ocean plays in our everyday lives – no matter where we live in Canada. Ocean Week Canada events inspire community action to ensure a healthy ocean for future generations.
Explore Canada's marine protected areas on a giant walkable ocean map with augmented reality
Did you know all waterways are connected? Follow the flow yourself by walking across the gigantic Ocean, Freshwater, and Us map. The map is 8 meters by 11 meters (full size, or 6m x 8m half size) and highlights the foundational connections between ourselves and the water that surrounds and sustains us. The accompanying augmented reality app includes 360° videos, images, and stories about coastal communities, marine conservation areas, their species, and habitats.
You can experience the map at:
Pressure: James Cameron into the abyss exhibit at Canadian Geographic (Ottawa, ON) - On until September 1, 2023 (Tuesday to Saturday, 12 pm to 5 pm)
To discover the many Ocean Week Canada 2023 events that took place, visit the Ocean Week Canada Event portal!
If you're a teacher you can book the map for your school, free of charge. Download the teacher's guide (PDF, 3.3 MB) to view curricula-linked learning activities on topics such as biodiversity, climate change, marine conservation, and more.
If you're an organization or conference and want to book the map, fill out this form.
You can also experience the map from the comfort of your own home through the augmented reality app. The app allows you to discover Canada's ocean waters and watersheds in a brand new, interactive way! Available on iOS and Android devices.
Toolkits to inspire
Whether you are a student, a teacher, or a community organizer, there are a host of free educational toolkits and resources for you! Explore these resources, curated by the Canadian Ocean Literacy Coalition and the Ocean Week Canada national partner team, to help you and those around you learn more about the ocean and how to help protect it. The toolkits have been targeted to:
Schools
Postsecondary and Early Career
Museums, Science Centers and Aquariums
Libraries and Community Groups
Parks Canada
Find all these toolkits and so much more in the Ocean Week Canada Learning Hub.
Immerse yourself in a unique marine-learning internship
Clear Seas' Indigenous Internship Program supports Indigenous students in pursuing research on a maritime issue that matters to them and their communities. Whether it is conserving marine life, applying traditional teachings to the health and wellness of communities affected by marine shipping or mitigating the effects of invasive species on traditional food sources, this program provides a unique opportunity for Indigenous-led research to advance, combining mentorship from recognized instructors and counsel from traditional leaders and knowledge keepers.
Send a sighting. Save a whale!
Help the Ocean Wise Sighting Network gather data on the occurrence and distribution of cetaceans (whales, dolphins and porpoises) and sea turtles. If you see a cetacean or sea turtle in British Columbia waters, use the WhaleReport App available on iOS and Android devices to report what you see and directly contribute to important conservation-based research.
When you report sightings in real time, large ships in your area are immediately alerted so they can take measures to avoid a ship strike or disturbance.
Volunteer as a trail steward with the Nature Conservancy of Canada
The Musquash Estuary Nature Reserve surrounds New Brunswick's only Marine Protected Area, the Musquash Estuary MPA. The Estuary is a key migration route for many species of birds. Its forests and undeveloped coastline protect valuable marine habitats and nurseries for both wild and commercial species.
Help protect the Musquash Estuary Nature Reserve as a volunteer steward. Conduct important conservation activities such as:
land stewardship and monitoring
coastal trail building and maintenance
coastal garbage cleanup
shorebird surveys
Ways to get involved
Be caring and considerate of the environment
Be considerate when you are enjoying nature, including marine life and their habitats.
Learn from Indigenous Peoples and their knowledge about how to conserve nature.
Get involved in conservation and protection activities.
Report marine mammal disturbances.
Reduce consumption to prevent unwanted substances from entering waterways and oceans
Lower your water consumption to reduce wastewater.
Avoid using toxic chemicals and dispose of them properly.
Recycle and avoid single-use plastics that will contribute to plastic pollution.
Don't dispose of fishing lines, nets or gear in or near water.
Be aware of your ecological footprint – a warmer atmosphere means warmer oceans that negatively impact marine life
Commute consciously by using bicycles, public transit or carpool to reduce automobile pollution.
If you must drive, use a fuel-efficient vehicle and practice fuel-efficient driving techniques.
Use less energy at home and purchase energy efficient products.