Sustainable fish and seafood
The Canadian fish and seafood market meets the highest standards for safety and sustainability. Learn how Canada manages its fisheries and aquaculture in a sustainable way.
Sustainability
Canadian fish and seafood is sustainably managed based on the most current science.
Fisheries and Oceans Canada is responsible for developing and maintaining the regulations that:
support healthy and productive ecosystems
ensure sustainable fisheries and aquaculture
Regulation
Canada's fish and seafood market is responsibly regulated and produced. We require that all products are inspected and controlled to ensure food safety.
The federal government develops and verifies compliance with appropriate product and process standards. These standards contribute to the acceptable quality, safety and identity of fish and seafood products that are:
imported into Canada
processed in federally registered establishments
Importing and exporting
Fish and seafood are some of Canada's largest food exports. Fish and seafood products are strictly regulated to ensure the sustainability of this valuable natural resource. Products must be officially certified for export.
To be eligible for export, fish and seafood intended for human consumption must:
meet defined standards
originate from a registered fish processing establishment
Canada is export-ready and provides export market development support for our country's fish and seafood.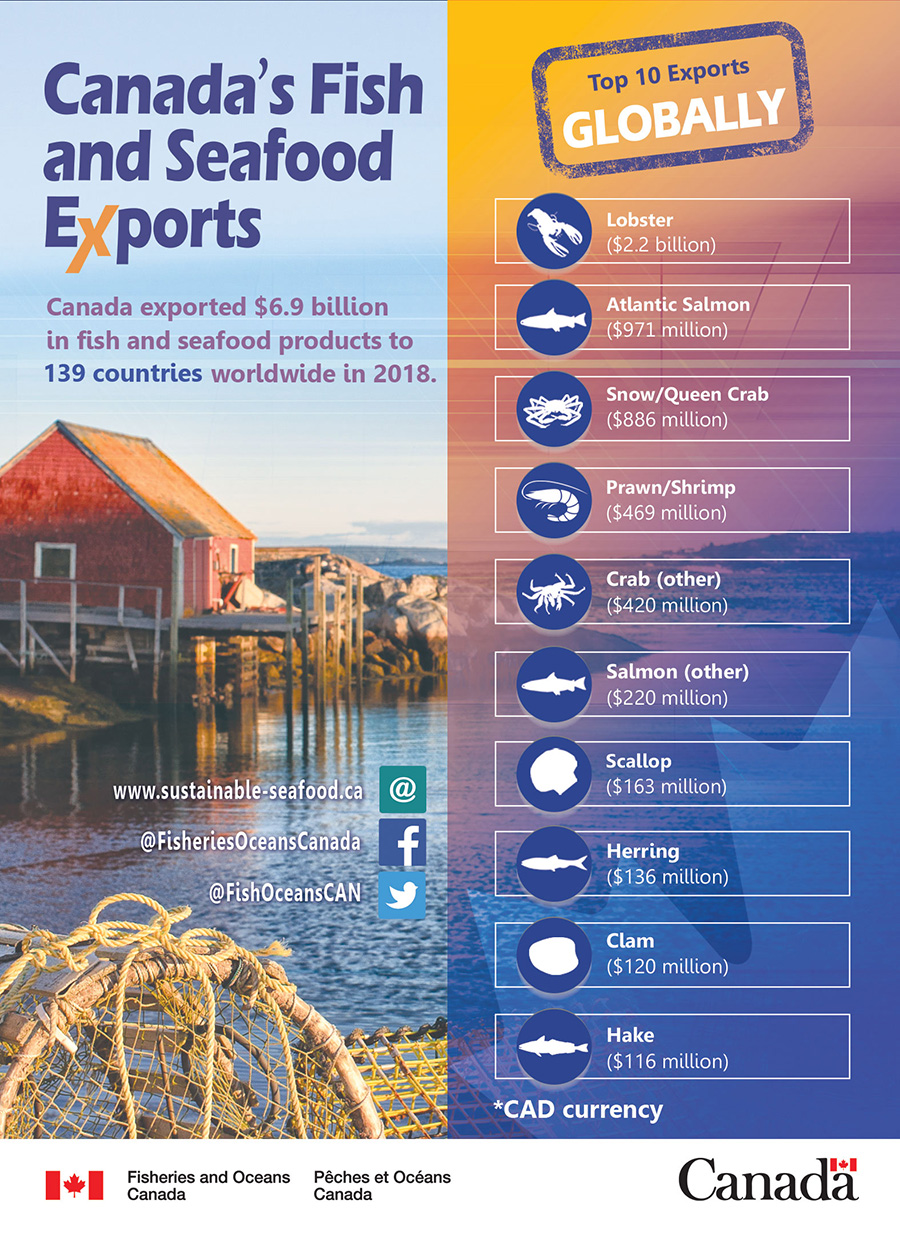 Transcript

Canada's Fish and Seafood Exports

Canada exported $6.9 billion in fish and seafood products to 139 countries worldwide in 2018.

Top 10 Exports Globally

Lobster ($2.2 billion)
Atlantic Salmon ($971 million)
Snow/Queen Crab ($886 million)
Prawn/Shrimp ($469 million)
Crab: other ($420 million)
Salmon: other ($220 million)
Scallop ($163 million)
Herring (136 million)
Clam ($120 million)
Hake ($116 million)

*CAD currency

www.sustainable-seafood.ca
@FisheriesOceansCanada on Facebook
@FishOceansCan on Twitter
Related links
Date modified: