Aquaculture in the Coast of Bays region, Newfoundland and Labrador
The Coast of Bays Region is located on the south coast of Newfoundland and Labrador, and includes the Fortune Bay north shore, Bay d'Espoir and the Connaigre Peninsula. There are over a dozen communities in the region – Pool's Cove, St. Alban's, Milltown, Belleoram, Harbour Breton, Conne River, Hermitage and Rencontre East to name a few – that are positively influenced by the growth of the aquaculture industry.
"In some of our coastal communities I can frankly say that aquaculture has rescued local economies and given them new opportunities. Take the town of Belleoram on the south coast of Newfoundland as an example. Belleoram and its fishing industry date back to the late 18th century but the town had fallen on hard times in recent years.

Unemployment was soaring, social problems were on the rise and it looked as if the town was in danger of disappearing. Now, thanks to a hugely successful aquaculture project, there is close to full employment again in Belleoram. Businesses have reopened and the community is thriving."
Where tradition meets innovation …
Aquaculture production in the Coast of Bays Region has more than tripled since 2003.
The region produced 13,625t of farmed fish and shellfish at a landed value of over $55 million.
There are ~80 finfish sites and 4 shellfish sites licensed in the Coast of Bays Region.
The industry has contributed to 655 direct, full-time jobs.
Additional employment has been created in the supply & service sectors.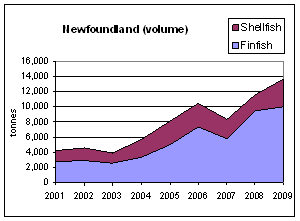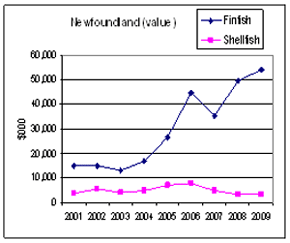 For some 500 years, the commercial fishery has held a place of pride in the Coast of Bays, and the region owes its very existence to this rich resource. Knowledge, experience and innovation within the traditional fishery have sustained the people who have called the Coast of Bays home for hundreds of years. The aquaculture industry is another step toward earning a life from the sea.
Interest in developing the aquaculture industry in the Coast of Bays began in the mid-1980s. Large-scale production in the region successfully took off in the early 2000s. The marine environment of the Coast of Bays presents ideal conditions for farming finfish and shellfish. For example, sheltered bays and inlets offer protected areas for finfish cages and suspended shellfish gear culture. That said, the region can also experience hurricane-level events each fall. Therefore significant technological innovations have been made to improve and strengthen cage design, anchorage and nets to prevent equipment damage and loss of fish. Since 2008, Fisheries and Oceans Canada's Aquaculture Innovation and Market Access Program has contributed toward the development of innovative technologies and management techniques in the Coast of Bays Region.
Investing in places …
The Province of Newfoundland and Labrador has made significant investments to upgrade infrastructure to support a vibrant aquaculture industry in the Coast of Bays Region, such as the construction of new wharves to improve bio-security measures, a salmon hatchery to produce smolt (juvenile salmon) from local broodstock (adult fish used for breeding), as well as a new Centre for Aquaculture Health and Development. Skilled, trained and knowledgeable expertise as well as supplies and services are locally and readily available. Industries that support aquaculture, such as secondary processing, net-cleaning, diving, waste management, composting and feed production, also encourage the potential growth of the aquaculture industry in this region. Today, the region is alive with energy and activity – the sense of pride and confidence is clear.
Investing in people …
Fisheries and Oceans Canada and the Atlantic Canada Opportunities Agency have together invested approximately $24 million into the aquaculture industry in the Coast of Bays region over the last five years. This investment from the Government of Canada has boosted employment and economic opportunities, product diversification and strengthened business growth in secondary industries. The chart below provides a detailed account of the specific projects.
Project details for the years 2006-2010
Year
Dept/Agency
Project
Amount
2006
DFO
ACOA
Investment in people, communities and business growth in rural areas
$4.5 m
$6 m
2008
ACOA
Investment into scientific research and innovation for salmon aquaculture
$9.4 m
2009
DFO
ACOA
Cod Demonstration Farm
$1 m
$500 K
2009
DFO
Wharf construction in Belleoram
$1.9 m
2009
DFO
Investment in cod hatchery
$50 K
2010
DFO
Investment in land-based net washing technology
$400 K
TOTAL
$23.75 m
Scientific research as a cornerstone of discovery…
Fisheries and Oceans Canada dedicates significant resources to further scientific research and development related to aquaculture. Through their laboratory and field work, researchers in the department's Science Branch contribute to a new level of sustainable aquaculture development, through the Aquaculture Research and Development Program (ACRDP) and Program for Aquaculture Regulatory Research (PARR). DFO scientists have contributed to the sustainable growth and management of the aquaculture industry in the Coast of Bays Region through their work over the last several years. View the chart below to learn about some of these specific and innovative projects. Through ACRDP, DFO scientists have worked to improve fish production technology, fish health and improve the industry's environmental performance on the south coast of Newfoundland. ACRDP has funded 26 projects from 2001-2010 investing $4,892,000. Through PARR, DFO scientists conduct research that informs policy makers and addresses regulatory needs.
Aquaculture Research and Development Program (ACRDP) Project titles

| | |
| --- | --- |
| ACRDP Project | Project Title |
| N-01-06-005 | Literature review of the environmental impacts of aquaculture in Newfoundland |
| N-01-09-001 | Harmful phytoplankton and bivalve aquaculture in a cold ocean environment |
| N-02-09-001 | Salmonid aquaculture in the Poole's Cove area |
| N-05-01-003 | Gastric Dilation, Air Sacculitis Syndrome in Farmed Steelhead Trout and Its Association with Maturation, Nutritional Factors, Osmoregulatory and Environmental Stresses. |
| N-05-01-001 | Cod broodstock - genetic selection pedigree program |
| N-05-01-002 | Canadian workshop on harmful marine algae |
| N-05-01-004 | Mussel seed quality & the environment |
| N-06-09-02 | Development of a Heavy Ice Avoidance submerging system for deep water exposed mussel sites |
| N-08-01-001 | Cod Broodstock Nutrition Study |
| N-08-01-003 | Enhancing Sustainable Mussel Industry Production and Growth through Assessment and Removal of Constraints in Seed Supply |
| N-09-01-001 | Comparative performance evaluation of selected mussel seedstocks |
| N-09-01-003 | American Oyster aquaculture development in Newfoundland. Investigations of nursery and growout culture methods in P. Bay and potential seed supply at Port au Port , Nfld. |
| N-10-02-001 | Design of protocols for the ozone disinfection of fish eggs for eradication of vertically transmitted diseases |
| N-10-02-002 | Arctic Char swimming depth preferences and feeding behavior in seawater cages |
| N-10-02-003 | Understanding the effects of long term holding on the blue |
| N-10-02-004 | Reproduction trials between wild and farmed salmon |
| N-10-02-005 | Validation of DEPOMOD with a comparison of visual techniques for observing spatial and temporal variability in the benthos at active and fallowed finfish sites in Newfoundland |
| N-10-02-006 | Support for workshops at Aquaculture Canada |
| N-10-03-007 | Preliminary investigation of the roles of polychaete worms in remediation of finfish aquaculture sites |
| N-01-06-002 | Cod Aquaculture – Strategies for Improved Hatchery Broodstock Management |
| N-01-06-003 | Optimal Cage Depth for Bay d'Espoir Salmonid Aquaculture |
| N-01-06-004 | Furunculosis Vaccine Efficacy for Atlantic Salmon |
| N-02-09-001 | Salmonid aquaculture in Poole's Cove area |
| N-07-01-01 | Improving feeding efficiency of farmed Atlantic salmon and its impact on fish production and near cage environment |
| N-08-01-002 | Monitoring of environmental conditions on salmon sites of the Fortune Bay area and effects of hypoxia on the physiology of Atlantic salmon |
| N-09-01-002 | Exploration of a visual based approach to benthic environmental monitoring of finfish cage culture in southern Newfoundland |
The future is bright …
There is a great deal of potential for the aquaculture industry to grow over the coming years. Officials from the Coast of Bays Economic Development Board estimate that total aquaculture production could reach a sustainable capacity of 40,000 tonnes. Indeed, the future looks bright for the people and communities influenced by the aquaculture industry in the Coast of Bays Region.