An Educational Kit for the Observation of Marine Mammals at Risk in the St. Lawrence
May 2011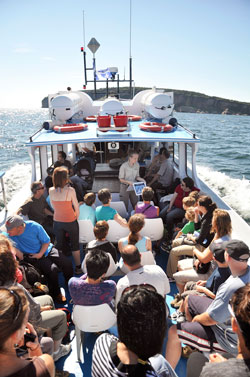 Marine observation activities in the St. Lawrence represent a flourishing industry. In 2008, nearly 600,000 visitors—20% of whom were international tourists—took part in whale-watching activities in Quebec. This being said, disturbance by watercraft can be a source of stress for marine mammals and affect the recovery of species at risk. To raise public awareness about good practices for marine mammal observation, the Réseau d'observation de mammifères marins (ROMM) has developed an educational kit on marine mammals at risk.
This kit consists of a case containing various educational items, including an interpretation binder and information sheets on marine mammals as well as on seabirds, fish, marine invertebrates, the islands of the St. Lawrence, the history of the area and landscape interpretation. Figurines of whales, seals and sharks are accompanied by whale baleen specimens and krill samples. All these items provide opportunities to see and touch. "The nature guides on the boats have a very important role to play as communicators in helping their clients learn about these marine species at risk, their status, vulnerability and the threats they face in order to encourage the public to think about the conservation of these species," explains ROMM's executive director, Esther Blier.
Promoting good practices
The explanations provided in the kit encourage observers at sea to adopt adequate behaviour. On the water, these good practices mean observing speed limits, distance limits, and restrictions on the angle of approach and the concentration of vessels. The practices apply to all types of commercial vessels and pleasure craft, including personal watercraft, kayaks and sailboats. Respectful approach manoeuvres will help prevent adverse effects on species at risk such as the beluga whale, the blue whale, the fin whale and the North Atlantic right whale.
"This is important," explains Esther Blier, "because we often have the impression that a single disturbance of these whales in our waters is not serious in itself. However, we must consider the cumulative effects. Since whales are often found in specific areas, sea excursions repeatedly return to these areas to observe the same animals. Obviously, as the number of visits increases, the disturbance eventually has impacts, especially if we consider that these species are here to feed, rest or give birth." Disturbance could reduce the marine mammals' ability to store energy reserves during the summer. These reserves are essential to their reproductive success and to their survival during periods when feeding is reduced.
"This kit is an invaluable tool for those of us involved in interpretation," explains Mélanie Sabourin, head of the education and conservation service at Quebec's Parc national de l'Île-Bonaventure-et-du-Rocher-Percé. "I think the kit is well designed for boat captains and cruise operators who do not necessarily have training in biology. This interpretation tool helps them to gain a better personal understanding of all this information presented in non-technical language, so that they can pass on relevant information to excursionists."
Most of the members of the Réseau d'observation des mammifères marins have received the educational kit and are aware of good marine observation behaviours. This network is composed of cruise ship operators, excursionists as well as ferry services and marine carriers and, of course, conservation parks such as Bic, Saguenay–St. Lawrence, Forillon and Île-Bonaventure-et-le-Rocher-Percé.
The production of the educational kit on marine mammals at risk in the St. Lawrence has been made possible through a contribution from the Habitat Stewardship Program for Species at Risk, which is managed jointly by Environment Canada, Fisheries and Oceans Canada, and Parks Canada. The Fondation de la faune du Québec also contributed financially.