Protecting the Right Whale in the North-Atlantic Ocean
August 2008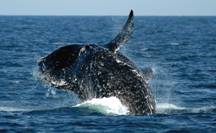 The North Atlantic right whale is one of the world's most endangered large whales. Named the 'right' whale by whalers because it is slow-moving and easy to catch, this whale was hunted to near extinction by the late 1800s. In 1935, the League of Nations banned hunting of right whales in all oceans, but today only approximate 350 individuals survive.
Unfortunately, despite national and international protections, the North Atlantic right whale population is still struggling to survive. Collisions with vessels have been identified as one of the main causes of premature death for the right whale. For this reason, the Canadian Government has led efforts to understand right whale routes and to divert ship traffic from known right whale habitats.
To this end, DFO has been conducting scientific research for a number of years on ship strikes of whales, including the analysis of marine traffic. As well, DFO co-led the recovery team for the right whale: a team made up of representatives from Canada and the United States and including governments, shipping and fishing industries, Aboriginal communities and non-government organizations.
The recovery team identified the high-vessel area of the Roseway Basin, located approximately 20 nautical miles south of Cape Sable Island Nova Scotia, as one of only two known areas where large numbers of north Atlantic right whales gather on a seasonal basis in Canadian waters. They recommended it become an "Area to be Avoided" by large ships during the summer and fall months when right whales feed in this area.
In 2007 the International Maritime Organization agreed. The recommendation was adopted and as of 2008, large ships now avoid this area between June 1 and December 31 each year. This important legislation follows Canada's earlier petition to the International Maritime Organization, which was also adopted, that moved the Bay of Fundy shipping lanes to reduce the potential impact of shipping on the right whale population. It is estimated that this move, which came into effect in 2002, reduced the likelihood of whales being struck by vessels by up to 80 per cent.
This Roseway Basin initiative was implemented following extensive consultations with the shipping community, whale biologists – including the Canadian Whale Institute – environmental groups, and government agencies.