A Whale of a Day for Conservation & Protection in Gulf Nova Scotia
If Minke whales were not known as determined creatures before, they sure are now, at least in the eyes of some Gulf Nova Scotia fishery officers.
On April 27 officers from the Pictou and Antigonish Conservation & Protection detachments spent the day trying to reorient a stranded Minke whale – more than once.
Originally the whale was stuck on mudflats in Merigomish Harbour. With help of fishery officers, it was freed. Then it found its way into Barney's River. Again, fishery officers helped set it free. Hours later, it headed back to the shallow area of the harbour. This time, about 20 people, including volunteer firefighters, sprang into action.
The group put a sling under the whale, carried it beyond the inner part of the harbour, across a road and finally released it into open waters of the Northumberland Strait.
Bravo to fishery officers Jared Crawford, Peter Jowett and Craig MacDonald – on his day off – who helped free the whale. The officers are very grateful for the mammoth efforts by the Merigomish Fire Department and the Marine Animal Rescue Society that day.
Without the firefighters, says Conservation & Protection supervisor Camille Poirier, the animal probably would not have survived. And without their recent marine mammal rescue training and newly-issued equipment, our fishery officers would not have played the role they did.
So far, our 13-foot, warm-blooded friend has not made another return visit to Pictou County. Maybe it didn't like the 'highland hospitality' after all?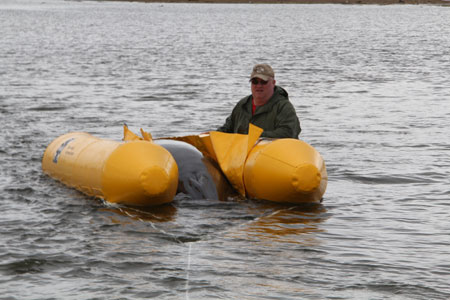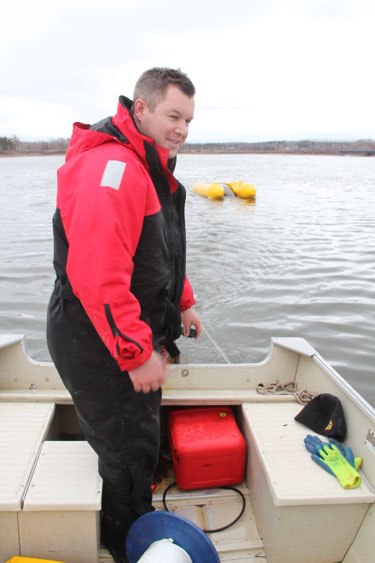 *Important Notice and Disclaimer: DFO does not assume any responsibility for the quality of information, products or services listed in the Web sites provided above. Users should also be aware that information from external sources is available only in the language in which it was provided.