Belugas at large in the Gaspé Peninsula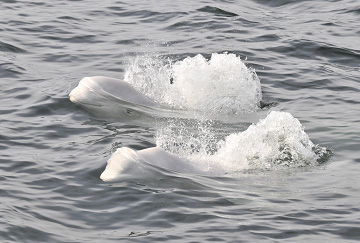 Beluga whales are not usually seen along the Gaspé coast in the summer. However, between July 5 and August 15, 2011, the Quebec Marine Mammal Emergency Response Network received reports of at least eight belugas, two of which developed social behaviour towards humans that required special vigilance and public intervention.
Typically highly social animals, young belugas often develop an unhealthy interest in humans when separated from their pod or family. They become attracted to wharves, buoys, vessels, swimmers and other "objects", leading to curiosity behaviours or a desire to interact. The problem is that if humans reciprocate, the belugas lose their ability to act like proper belugas, reducing their chances of finding a territory, reuniting with their pod and developing normal behaviours. There is also a higher risk of collisions with boats because the belugas become less attentive to these "objects". For a number of belugas reported in the Atlantic provinces and along the U.S. East Coast, the trip ended badly and the whalesg were seriously injured or killed. None returned to their normal range, i.e., the St. Lawrence Estuary.
The "Gaspé duo" of the summer of 2011 was first spotted at Barachois, near Percé, on July 17. It was there that they developed an interest in swimmers and kayakers. A few days later, they were seen along Haldimand Beach at Gaspé, becoming even less afraid of humans. They swam off the coast of the Gaspé Peninsula and Lower St. Lawrence for a month, stopping at several villages and attracting attention with their strange and sometimes bold behaviour, approaching boats, nibbling on mooring lines, and swimming along with swimmers.
Several members of the Quebec Marine Mammal Emergency Response Network, and in particular officers from Fisheries and Oceans Canada, in collaboration with Quebec provincial police officers, Parks Canada wardens and even municipal employees, tried to raise public awareness of how to act in the presence of these social belugas, namely to remain at a distance, to watch them preferably from shore, and not to try to attract, feed or play with them. They also informed the public that touching, feeding or approaching a beluga is illegal, because the species is protected under Canadian legislation on marine mammals and species at risk. These awareness efforts were complemented by telephone contacts with witnesses by agents with the network's call centre and messages broadcast in the media by the network.
Following the story of these curious belugas will be captivating: after an observed stroll in the marina of Rimouski on August 17th, they were seen in Sainte-Luce and then no more news for almost one month. The Group for Research and Education on Marine Mammal (GREMM) team that studies the St-Lawrence belugas and that was providing advice to the responders for follow-up and protection of the two animals were hoping that theses two belugas had finally found their families and would in the future develop more appropriate relations. To everyone's surprise on September 14th: while working off Trois-Pistoles coast, the GREMM team recognized one of the "Gaspé's duo" in a group of thirty or more juveniles. This animal has natural markings which will be useful to recognize him throughout the year, just like the approximately 350 St-Lawrence belugas identified in the family album of the GREMM. In fact, approximately 30% of the belugas of the St. Lawrence can be recognized and identified by natural markings.
A year-round resident of the St. Lawrence, the remarkable beluga is easily identifiable. It is 3 to 5 m long and has no dorsal fin. Adults are completely white, while newborn belugas are grey or dark brown, becoming lighter year after year until they reach the adult stage, at about age 15 years.
The Quebec Marine Mammal Emergency Response Network exists because of the involvement of 15 private and government organizations, including Fisheries and Oceans Canada. They have a mandate to organize, coordinate and implement measures designed to reduce accidental mortalities of marine mammals, to rescue marine mammals in distress and to promote the acquisition of knowledge on animal mortalities in the waters of the St. Lawrence adjacent to Quebec. The Network receives and responds to an average of 350 calls from the public every year.
Written by the Group for Research and Education on Marine Mammals (GREMM), September 2011