Centre for Aquatic Animal Health Research and Diagnostic
Learn about the national Aquatic Animal Health Program and how we develop testing to prevent the spread of aquatic animal diseases.
On this page
National Aquatic Animal Health Program
We must protect the health of Canada's aquatic resources and our multi-billion dollar export market in fish and seafood products. At the Fisheries and Oceans Canada (DFO) Centre for Aquatic Animal Health Research and Diagnostics, we do this by:
preventing the spread of aquatic animal diseases within Canada
guarding against the introduction of exotic pathogens from other countries
Our goal is to:
keep exotic diseases out of Canada
ensure that diseases confined to particular areas don't spread through the movement of fish or fish products
satisfy our trading partners that our exports of fish and fish products:

are free of infectious diseases
have gone through a lot of testing
To reduce the incidence of diseases, we oversee a network of scientists conducting research in support of the National Aquatic Animal Health Program.
The program is regulatory, science-based and co-delivered by DFO and the Canadian Food Inspection Agency. Its mandate is to protect Canada's aquatic resources by preventing the introduction or spread of infectious diseases in wild or farmed aquatic animals.
To support this program, as well as regional aquatic animal health programs overseen by DFO, the centre coordinates:
targeted research
provision of sound scientific advice
development of quality diagnostics
International mandate
Canada's reputation for high quality fish and seafood depends on protecting wild and farmed aquatic animals against serious infectious diseases. International concern for aquatic animal health has increased over the last decade as the trade in wild and farmed fresh fish and seafood products has grown worldwide. With this growth, the risk of transferring serious diseases to new areas has increased.
As a member of the World Trade Organization, Canada must have an aquatic animal health program that meets the World Organization for Animal Health standards.
The National Aquatic Animal Health Program allows us to certify fish and seafood exports free of pathogens of international importance. It also allows us to require similar health certification from countries wishing to export fish and seafood to Canada. This prevents the transfer of pathogens of international concern from Canada to other countries, but also protects Canada from the introduction of pathogens not found here.
The Canadian Food Inspection Agency has developed a list of reportable and notifiable pathogens affecting aquatic animals for Canada. Some of the listed aquatic pathogens are common throughout Canada, while others only occur regionally or are exotic (foreign) to Canada. The World Organization for Animal Health also maintains:
Aquatic animal diseases
Most aquatic animal diseases pose no risk to humans, meaning the affected species are safe to eat and handle. However, they can be economically devastating for aquaculture operations and wild fisheries.
Canada has potential host species for about 42 aquatic animal diseases. These can have an economic impact on:
finfish
shellfish
crustaceans
These aquatic diseases can be:
regional only
exotic (foreign) to Canada
endemic (native) throughout Canada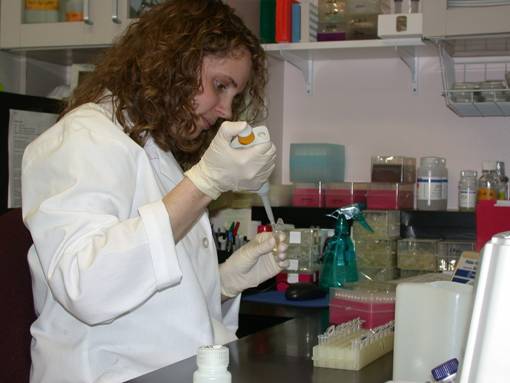 Testing for infectious salmon anemia virus
One such aquatic disease is the infectious salmon anemia virus. This virus can cause mass die-offs in populations, as it did in the mid-1990s to the Bay of Fundy farmed Atlantic salmon.
Common symptoms of this virus include:
anemia
hemorrhaging
congestion of internal organs
inflammation of the liver and spleen
At the Gulf Fisheries Centre in Moncton, New Brunswick, DFO molecular biologist Nellie Gagné developed a new test for this virus. This test detects the presence or absence of a particular part of the pathogen's genetic code in fish or fish samples.
Validating the effectiveness of diagnostic tests
Over 3 years, Gagné collaborated with the Atlantic Veterinary College. They checked the effectiveness of the new test to ensure it measures what it's intended to measure. Key aspects of validation included the test's:
reliability
sensitivity
robustness
repeatability
fit-for-purpose
The validation research involved computer modelling and complex statistical analysis of how the test performed in comparison with other tests for the virus. Results revealed that the new test was more sensitive than other tests for this pathogen, making it ideal for screening populations.
The infectious salmon anemia virus test is now included in a suite of diagnostic techniques used to track the disease in Atlantic salmon populations.
False positives or negatives
Developing quality diagnostic tests and validating their effectiveness is critical considering the consequences of a false positive or false negative to the industry.
A false negative is a test result that incorrectly classifies an animal as free from exposure to or infection with a pathogen when the reverse is true. This is often related to the pathogen being present at extremely low levels.
A false positive is a test result that incorrectly classifies an animal as exposed to or infected with a pathogen when, again, the reverse is true. This is often related to presence of other closely related organisms.
If a test gives a false negative and you move a fish from one area to another, you would be moving an animal that's actually infected.
A false positive could have a huge impact on the export of a particular fish or fish product. Some countries completely ban any imports of certain species if a particular disease is present in the exporting country.
Testing and surveillance for viral hemorrhagic septicemia virus
Viral hemorrhagic septicemia virus is a deadly fish virus in the Great Lakes that's:
causing massive mortalities in many fish species
rapidly increasing its distribution to other waterways
At the Pacific biological station in Nanaimo, British Columbia, DFO research scientist Dr. Kyle Garver developed a new test for viral hemorrhagic septicemia virus. This test overcomes the limitations of other tests, including unsuitability for massive testing.
Dr. Garver's genetics-based test is called the viral hemorrhagic septicemia virus quantitative reverse transcription polymerase chain reaction (VHSV RT-qPCR). It's highly sensitive and fast, enabling us to screen large numbers of samples within a few hours.
In an effort to control the spread of the virus, the National Aquatic Animal Health Program is conducting a surveillance program using the VHSV RT-qPCR test to:
document the spatial distribution of the emerging pathogen
gain insight into the pathways by which the virus spreads
The surveillance is being carried out in consultation with the U.S., where a similar initiative is underway. This bilateral surveillance effort is defining the presence or absence of the virus in aquaculture and wild freshwater fish populations. This will restore trading partner confidence in live fish and fish product trade from regions determined to be free of the virus.
Other research
We continue to develop and validate other diagnostics for regulatory purposes, including:
import and export programs
domestic disease control programs
internal movement between provinces
We're conducting other research to increase knowledge about various pathogens, including information on their genetic makeup and how they spread.
For example, another project involves multinucleate sphere X, a pathogen of major concern in oysters. We're looking at the risk of spreading this pathogen when harvesting mussels from waters in a region known to have oysters infected with and processing those mussels elsewhere.
This type of research will enable us to provide advice to the National Aquatic and Animal Health Program regarding what does and doesn't pose a risk in terms of spreading a particular disease.
In addition to developing diagnostics, we're also developing:
national quality control standards for running tests
support systems for tests, including new advances in molecular techniques
Related links