Federal oversight of aquaculture activities
Learn how Canada oversees aquaculture activities through scientific research, regulations, policies, monitoring, enforcement, engagement and collaboration.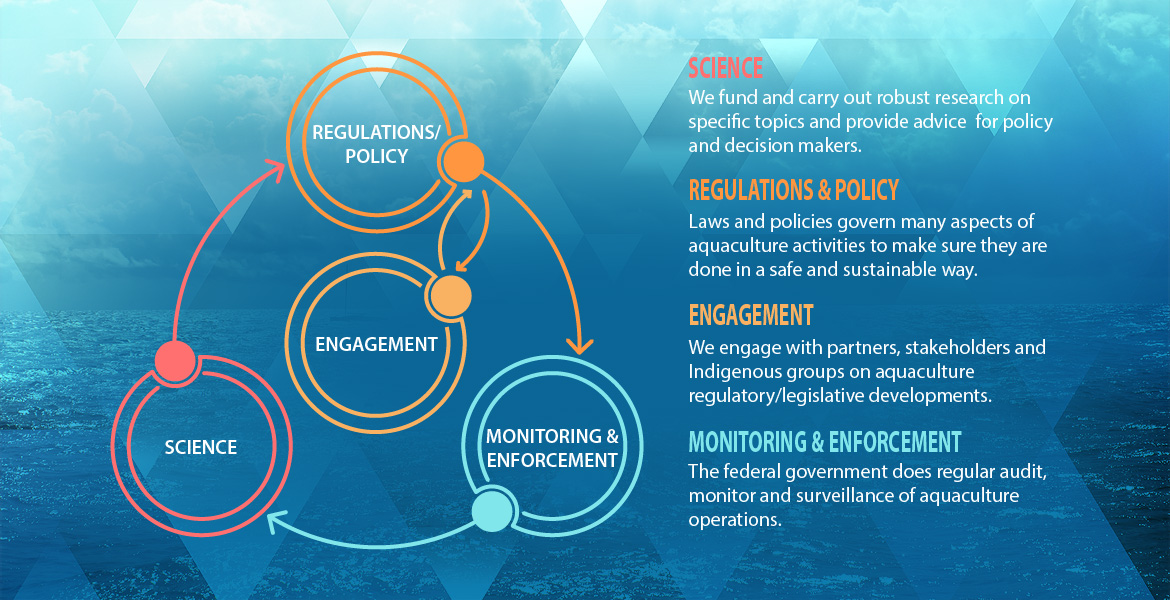 Scientific research
We fund and carry out scientific research on specific topics to provide advice for policy and decision makers for the management of aquaculture activities.
Regulations and policies
We develop regulations and policies to make sure aquaculture activities are done in a safe and sustainable way.
Fisheries and Oceans Canada is responsible for fisheries, including aquaculture across Canada.
The Sustainable Aquaculture Program is a program specific to Fisheries and Oceans Canada. It allows us to deliver on our legislative responsibilities for aquaculture management and represents approximately 40% of our overall spending on aquaculture management.
Sustainable Aquaculture Program I: 2008 to 2013
We launched the Sustainable Aquaculture Program in 2008 when Canada provided $70 million for a 5-year program. This first version of the program was comprised of 4 interrelated areas of work:
governance and regulatory reform
regulatory science
innovation
certification and market access
The results of this program included:
new Canadian organic standards for aquaculture
improved public information on aquaculture sustainability
new support for regulatory and operational decision making, such as:

science knowledge and advice
a risk-based environmental management framework

increased industry capacity to meet market-driven certification programs
a renewed National Code on the Introductions and Transfers of Aquatic Organisms
the National Aquaculture Strategic Action Plan Initiative, which laid out a 2011 to 2015 national blueprint for common aquaculture priorities and enhanced cooperation among partners and stakeholders
The Sustainable Aquaculture Program I program ended in 2013 and was re-designed.
Sustainable Aquaculture Program II: 2013 to 2020
We developed the renewed Sustainable Aquaculture Program with a goal of helping address the sector's challenges to growth by:
streamlining regulations
improving regulatory management
ensuring transparency through enhanced public reporting
increasing scientific knowledge and science-based decision making
Canada funded the new program with approximately $55 million over 5 years to support 3 pillars:
regulatory science
regulatory reform and governance
aquaculture public reporting
This new version of the program has led to several key achievements in setting the conditions for aquaculture industry sustainability, including:
implementing:

multi-year aquaculture licenses in British Columbia
the national Aquaculture Activities Regulations
a renewed code of introductions and transfers of aquatic organisms

improving the quality and strength of economic impact data
advancing Canada-U.S. regulatory cooperation on aquaculture
creating a public-facing Canadian Shellfish Sanitation Program mapping tool
developing an Aquaculture Development Strategy endorsed by the Canadian Council of Fisheries and Aquaculture Ministers
addressing key knowledge gaps related to the environmental impacts of aquaculture with 60 new targeted regulatory research projects
regulatory and sustainability reporting of the program through reports and publications which describe:

compliance with regulatory requirements
changes in the status and trends across the sector on various sustainability issues, such as:

organic loading impacts
the use of drugs and pesticides

strengthening aquaculture related public communications, including the development and implementation of reporting on the Aquaculture Activities Regulations
Engagement
We engage with Indigenous groups, partners and stakeholders on aquaculture regulatory and legislative developments.
Monitoring and enforcement
We regularly monitor aquaculture operations to verify compliance with regulations and policies.