Red Sea Urchin
Latin Name
Strongylocentrotus franciscanus
Group Name
Invertebrates
Habitat
Red sea urchins are found in the Pacific Ocean, from the coast of Alaska and the Aleutian Islands to Baja California in the east, and in the west, from Siberia to the northern reaches of Japan. They prefer rocky, protected areas of the ocean in shallow water close to shore, though occasionally they are found as deep as 100 metres. In Canada, the main fishery is located off the coast of British Columbia.
Species Description
Red sea urchins are spherical, covered with a tough shell bristling with pointy spines. Their colour varies from red to reddish-brown, dark burgundy or purple. They move around using special tube feet underneath their bodies that create suction. Also on their underside is a mouth with five teeth. Their shell-or "test"-can grow to a maximum of about 18 centimetres.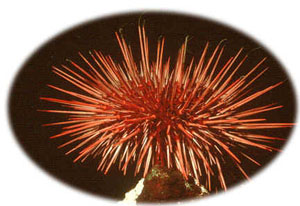 Integrated Fisheries Management Plans
Overview of the Fishery
Contacts
For other sea urchin fishery departmental contacts, please consult the Shellfish Contacts page.
Date modified: