Machinery of Government
How the Department supports you in developing policy, regulatory, legislative, and funding proposals
Purpose
To provide an overview of key Government of Canada machinery relevant to your role as the Minister of Fisheries, Oceans, and the Canadian Coast Guard.
Government by Cabinet: How does Cabinet relate to ministerial decision making?
Memoranda to Cabinet: What are they and what is the process for bringing one forward for Cabinet consideration?
Legislation and Regulations: How are legislation and regulations made?
Budget Cycle: How does the Budget relate to the Government's priorities?
Treasury Board Submissions: What are they and how is government spending authorized?
Main and Supplementary Estimates: What is required for Ministers to proceed with their approved spending plans?
Central Agencies: What is their mandate and role in these machinery of government processes?
Government by Cabinet
About Cabinet
Cabinet sets the federal government's policies and priorities for the country
The Governor General appoints the members of Cabinet on the advice of the Prime Minister (PM)
Typically several Cabinet committees are created, which focus on different issues
How Cabinet works
The PM and ministers make decisions on government policy and initiatives
Cabinet considers proposals brought forward by Ministers, typically in the form of Memoranda to Cabinet (MC)
Cabinet discussions and materials are confidential, as ministers must be able to express their views freely and frankly
Once Cabinet has agreed on a decision, ministers must support that decision in public. This is known as Cabinet solidarity
Ministers' roles
Participate in one or several Cabinet committees, as assigned by the PM
Bring forward proposals to Cabinet to consider, for issues under your purview
Discuss proposals at Cabinet, and make decisions together with your colleagues
Receive confidential advice from the Public Service to support your decision-making at Cabinet
How does DFO support you at Cabinet?
The Department prepares briefing material on items being presented to each Cabinet and Committee meeting you attend, including departmental considerations and speaking points, when relevant.
Memoranda to Cabinet
A MC is developed when a Minister is seeking a Cabinet decision on a policy proposal. MCs are brought forward by individual ministers, or by several ministers working together.
Ministers typically bring forward MCs when they wish to:
advance a new policy or initiative
implement priorities (e.g. Speech from the Throne, Budget) or at the PM's request
propose a substantive change to an existing program or policy
advance a proposal that implicates other Ministers' responsibilities, other jurisdictions, or that may be controversial
submit legislative proposals to Parliament or respond to a parliamentary committee or to private members' bills or motions
How does DFO support you in developing MCs?
The Department works with your office and other parts of the government to develop options for addressing the policy issue or problem, and outlines key considerations
Central Agencies (see Annex) play a key role in making sure MCs are high quality (including MC format). They brief the PM, Minister of Finance, and President of the Treasury Board on all proposals
PCO also briefs the Chair of each Cabinet committee
Ministers typically present MCs to a Cabinet committee for focused discussion. Then the MC moves to full Cabinet for ratification
Range of decisions from Cabinet:
Approve
Not approve
Defer decision
Approve with conditions (e.g., ad referendum to funding decision by the Prime Minister and Minister of Finance)
Legislative development process
Description

The Cabinet stage

Proposed governement policy
Informal and ad hoc review and consultation
Preparation of Memorandum to Cabinet
Cabinet committee considers the Memorandum to Cabinet and prepares a report
Cabinet ratifies the committee's report
Department of Justice drafters prepare the bill
The bill is reviewed by the minister of the sponsoring department and by the Government House Leader
Notice of intent from Government House Leader to introduce bill in Parliament
Description

The Parliamentary stage

Introduction and first reading
Second reading
Committee stage
Report stage
Third reading

When the bill passes these 5 steps in the House of Commons of Senate, it goes to the other chamber

When the bill passes these 5 steps in the second chamber, it is almost law
How does DFO support you in developing legislation?
The Department prepares briefing materials, prepares the MC for your approval and Cabinet consideration, and coordinates speeches for debates.
Governor in Council and Ministerial Regulations
Governments use regulations, which are laws, in combination with other instruments to achieve public policy objectives. The Treasury Board Committee (Governor in Council, (GiC)), ministers, and administrative agencies are given the authority to make regulations through legislation passed by Parliament. The Department utilizes two types of regulations: GiC and Ministerial.
Policy development
Policy development and analysis
Ministerial approval of policy intent/stakeholder engagement Plan
Consultations and impact analysis
Proposed Regulations Canada Gazette, Part 1
Development of regulations and supporting documents
Ministerial approval of the proposed regulatory package
Approval of the proposed regulatory package by Treasury Board Committee (GiC)*
"Pre-publication" for public comment
Consideration of comments received and finalization of regulation
Final Regulations Canada Gazette, Part 2
Ministerial approval of the final regulatory package
Approval of the proposed regulatory package by Treasury Board Committee (GiC)*
GiC regulations are signed by the Governor General
Publication as final
*Only required for GiC Regulations. For Ministerial regulations, only approval by the Minister is required.
How does DFO support you in developing regulations?
The Department develops regulatory proposals, engages stakeholders on the proposed regulatory approaches, and collaborates with the Department of Justice to draft legal text.
Legislation and regulations are linked:
Parliament creates legislation which provides the authority to create regulations
Parliamentary appearances
DFO is associated with two main Parliamentary committees: the House of Commons and Senate standing committees on Fisheries and Oceans. On occasion, DFO will participate in other committees when it is an area of interest for the Department
Generally, you will be invited to appear before a committee for Main Estimates and Supplementary Estimates (House only) and any piece of legislation which you have sponsored (House and Senate)
How does DFO support you?
The Department coordinates your appearances at committees and develops briefing materials for you and your officials.
Question period/written questions/petitions
Question Period occurs each sitting day in the House and is an opportunity for Members to seek information from the Government and to call it to account for its actions
Members of both chambers may request answers to written questions from Ministers seeking detailed, lengthy or technical information relating to public affairs
Petitions, signed by Canadian residents and tabled in the House by Members, are used to draw attention to an issue of public interest and request action
How does DFO support you?
The Department provides information for your use in question period and works with your office to provide responses to written questions and petitions.
Parliamentary secretary
Parliamentary secretaries are members of Parliament from the governing party who are appointed by the Prime Minister to assist Cabinet ministers with their parliamentary duties
The responsibilities of the parliamentary secretary generally fall into two broad categories: (1) House business and (2) department-related duties.

House business includes attending Question Period, steering the Minister's legislation, and supporting the Minister on committee issues and appearing before parliamentary committees
Department-related duties include engaging Canadians and representing Canada internationally. For example, a Parliamentary Secretary may represent the Minister at public events, deliver speeches on behalf of the Minister, and attend international meetings at the Minister's request
Appointments
The Minister of Fisheries, Oceans and the Canadian Coast Guard is responsible for 124 appointments to 31 organizations:
29 Governor in Council (GiC) appointments to eight organizations
95 ministerial discretionary appointments to 23 organizations
Governor in Council Appointments
Notice of Appointment Opportunity is developed with Privy Council Office (PCO) and approved by the Minister
Competitive advertised selection process administered by a Selection Committee comprised of representatives from PCO, the Prime Minister's Office, the Minister's Office, and the Department
Selection Committee provides an Advice Letter to the Minister with a roster of qualified candidates
Minister recommends candidate(s) for appointment to the GiC through an Order in Council (OiC)
Cabinet approval of OiC
Exemptions from a competitive process are permitted for positions reserved for departmental representatives; provincial and territorial representatives; and, Indigenous representatives.
Ministerial Discretionary Appointments
Notice of Appointment Opportunity is developed
Competitive advertised selection process is administered through the Department
Department provides an assessment of candidates and recommends candidate(s) for appointment
Ministerial approval of appointment
How does DFO support you?
The Department designs the Notice of Appointment Opportunity, guides the selection process, and provides highly qualified candidates for your consideration.
The budget cycle
The annual Budget outlines planned government spending, expected revenue, and forecasts economic conditions for the upcoming year.
It is an opportunity for the government to demonstrate concrete actions on platform commitments.
To respond to unforeseen and extraordinary circumstances, funding proposals can be submitted to the Prime Minister and Minister of Finance outside of the annual budget process as off-cycle funding requests.
The Government also usually has a Fall Economic Statement.
How does DFO support you in the Budget cycle?
The Department works with your office and Finance Canada to develop proposals for your consideration. You can then choose from these proposals when responding to the Minister of Finance.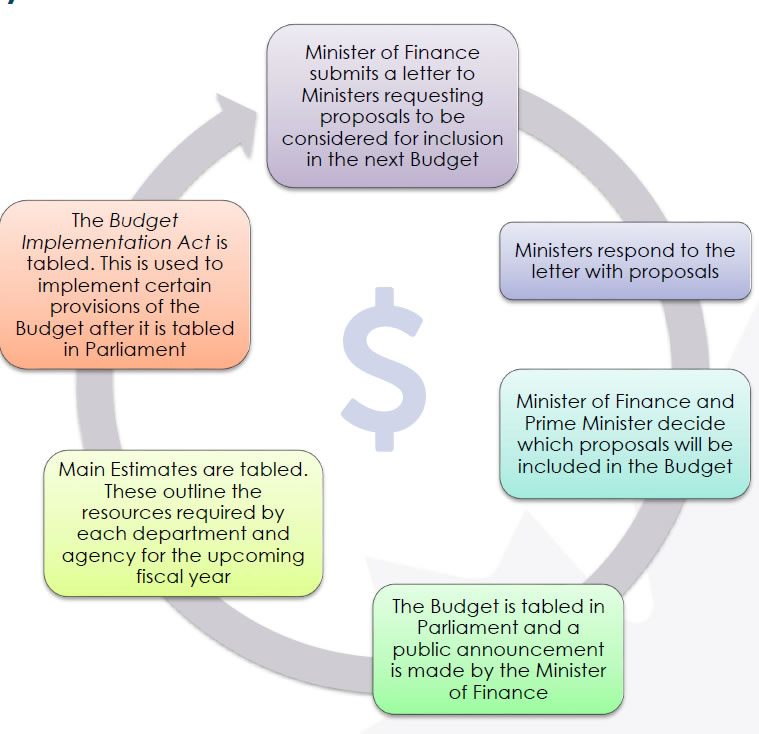 Description

Minister of Finance submits a letter to Ministers requesting proposals to be considered for inclusion in the next Budget
Ministers respond to the letter with proposals
Minister of Finance and Prime Minister decide which proposals will be included in the Budget
The Budget is tabled in Parliament and a public announcement is made by the Minister of Finance
Main Estimates are tabled. These outline the resources required by each department and agency for the upcoming fiscal year
The Budget Implementation Act is tabled. This is used to implement certain provisions of the Budget after it is tabled in Parliament
Treasury Board
Treasury Board (TB) is a statutory Cabinet committee that reviews and approves Government of Canada proposals related to spending, personnel, procurement, transfer payments, and IT projects.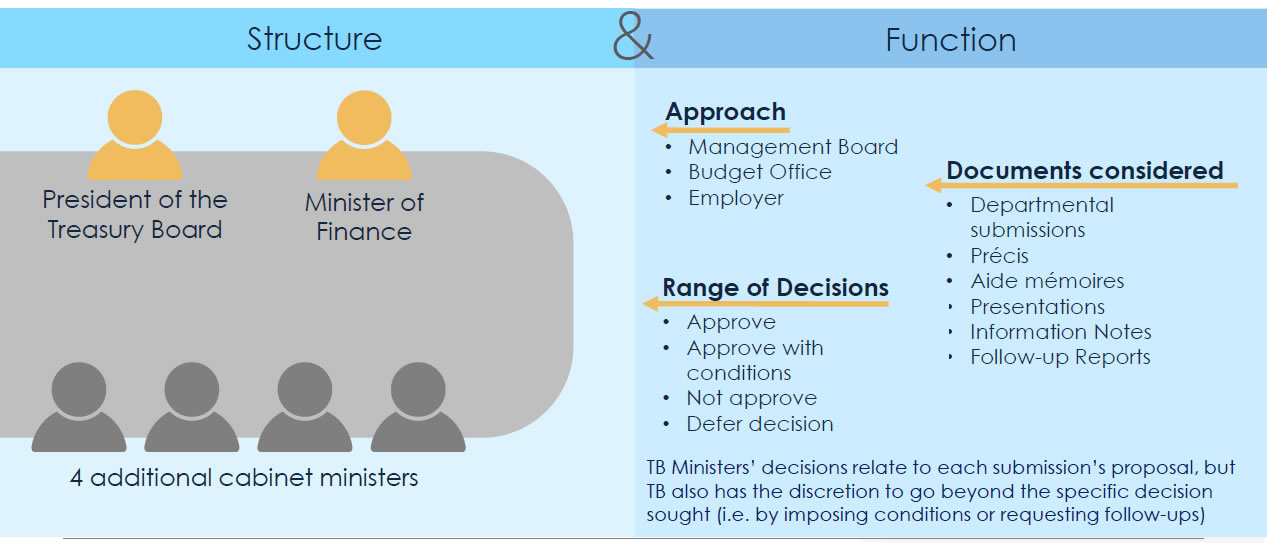 Description

Structure

President of the Treasury Board
Minister of Finance
4 additional cabinet ministers

Function

Approach

Management Board
Budget Office
Employer

Documents considered

Departmental submissions
Précis
Aide mémoires
Presentations
Information Notes
Follow-up Reports

Range of Decisions

Approve
Approve with conditions
Not approve
Defer decision

TB Ministers' decisions relate to each submission's proposal, but TB also has the discretion to go beyond the specific decision sought (i.e. by imposing conditions or requesting follow-ups)
Treasury Board submissions
Official Cabinet documents put forward by a sponsoring Minister to seek approvals from the Treasury Board (TB), usually to authorize the implementation of a program, project or procurement.
Process: Treasury Board submissions follow a specific process to ensure a robust proposal. Similar to MCs, your department will work with other parts of the Government to prepare them and submit them to TB for you. Typically Ministers do not present proposals to TB.
To access previously approved funding
To enter into a contract or undertake a project above the department's authority
To obtain approval of an investment plan
To implement new TB Policies, revise existing policies, or delegate related authorities
To name members to Departmental Audit Committees
To obtain authority to sign collective agreements
How does DFO support you in developing Treasury Board submissions?
The Department works with Treasury Board Secretariat to ensure that proposals are well-substantiated, sustainable, and aligned with the Department's mandate
Main and supplementary estimates
Main estimates provide a breakdown, by department and agency, of planned government spending for the coming fiscal year.
This information is included as a schedule to the Appropriation Act which authorizes government spending. These are required for Parliament to approve for the Government to proceed with its spending plans
Supplementary estimates present information to Parliament on the Government's spending requirements that were not sufficiently developed in time for inclusion in the main estimates.
These will sometimes include urgent but unforeseen expenditures and directly support the Appropriation Act
Parliamentary approval
Funding cannot flow until Parliament grants its approval of the Estimates by passing the related Appropriation Bill. Once Parliamentary approval is obtained, the organization can begin to spend money approved for the new initiative.
How does DFO support you in developing estimates?
The Department works with the Treasury Board Secretariat to ensure that the information included in the Estimates aligns with Treasury Board approved authorities
Annex: Central agencies
Privy Council Office (PCO)
Assists the Prime Minister in strategic policy planning, coordinating the government's policy objectives, and managing major issues
Works with departments on their MCs and challenges departmental submissions to Cabinet to ensure they meet the needs of Cabinet and that they are consistent with the Government's overall policy direction
Finance Canada (FIN)
Advises the Minister of Finance on tax policy, financial sector policy, international trade and finance, and federal-provincial fiscal arrangements
Assists the Minister of Finance in developing the annual budget, where it establishes a fiscal framework within which the government's expenditure system can operate effectively
Provides input on MCs as they are being developed
Treasury Board of Canada Secretariat (TBS)
Assists the Treasury Board in fulfilling its responsibilities
Oversees the management of budget and credits and plays a coordinating role in the preparation of the expenditure budget
Acts as the employer, expenditure authority, and general manager for most of the public service
Provides input on MCs as they are being developed