Atlantic Salmon (Inner Bay of Fundy population)
Salmo salar
SARA Status
No Status


NS

Special Concern


SC

Threatened


TH

Endangered


EN

Extirpated


EX
SARA Status
No Status

NS

Special Concern

SC

Threatened

TH

Endangered

EN

Extirpated

EX
COSEWIC Status
Not at Risk


NR

Special Concern


SC

Threatened


TH

Endangered


EN

Extirpated


EX
COSEWIC Status
Not at Risk

NR

Special Concern

SC

Threatened

TH

Endangered

EN

Extirpated

EX
Description
Atlantic Salmon (Salmo salar) is a finned fish species with a 'trout-like' body belonging to the family Salmonidae. Atlantic Salmon can vary in colour and physical appearance depending on their age and aquatic environment. The main characteristics of Atlantic Salmon are:
young salmon living in fresh water, known as parr, have 8-11 dark vertical bars on sides with a red spot between each bar.
smolts (approximately 15 cm) leaving fresh water for the sea lose their parr marks and become silvery in colour;
adult salmon are a medium-sized salmonid with a pointed head, well-developed teeth on both jaws and a slightly forked tail fin;
adult salmon have a laterally compressed (flattened from side to side) body averaging 60 cm in length for a 1 sea-winter salmon (grilse);
all salmon have a silver belly and a back that varies through shades of brown, green and blue, with numerous black spots scattered along the upper half of the body;
spawning male and female adult Atlantic Salmon become bronze-purple in colour and develop reddish spots on the head and body; and
spawning males develop a hook-like tip of the lower jaw known as a kype.
Inner Bay of Fundy Atlantic Salmon (iBoF Salmon) are genetically different from other Atlantic Salmon populations (sometimes referred to as designatable units) and have some unique life history traits, including a high proportion of individuals that mature as grilse after a winter at sea, a high proportion of females among the grilse, high survival rates after spawning, and local migration.
Habitat
The Committee on the Status of Endangered Wildlife in Canada (COSEWIC) has identified 16 different populations (designatable units) of Atlantic Salmon based on genetic data and broad patterns of life history variation, environmental variables and geographic separation. The range of the iBoF Salmon population includes 50 rivers draining into the inner Bay of Fundy starting with the Mispec River (northeast of the Saint John River) in New Brunswick, around the inner Bay to the Pereaux River (in the Minas Basin northeast of the Annapolis River) in Nova Scotia (light green shaded area on Figure 1). Historically, wild Atlantic Salmon were found in 32 to 42 rivers in this area, but this has been reduced to only a small number of rivers in recent years.
IBoF Salmon, like all Atlantic Salmon, require a variety of freshwater, estuarine and marine habitats to complete its life cycle. Atlantic Salmon are anadromous meaning they spawn in fresh water, but spend much of their life at sea. IBoF Salmon migrate locally; staying mainly within the Bay of Fundy and northern Gulf of Maine as opposed to long distance migrations that are characteristic of other Atlantic Salmon populations.
IBoF Salmon typically spawn in their natal rivers during October and November. Using their tails, females dig a nest called a redd in the gravel on the stream bed at the head of riffles (shallow, fast flowing areas of a stream or river) or at the tail of a pool to deposit eggs. The males will fertilize the deposited eggs with their milt. After spawning, the surviving adult spawners (known as kelts) immediately return to the sea or may remain in the river over winter and migrate to sea in the spring.
The eggs develop in the nest during the winter and usually hatch in April. The young salmon, known as alevins, remain buried in the gravel and receive nourishment from an attached yolk sac until May or June. Young iBoF Salmon, known as parr, live and grow in streams for 2 to 4 years. When the parr are ready to migrate to the ocean, they undergo a physiological change to allow them to live in salt water and assume the silvery colour of the adult salmon. Seaward migration may begin in autumn, but actual movement into salt water normally occurs in May or June. The majority of individuals mature after a winter at sea (known as grilse) before returning to their natal streams. The diet of Atlantic Salmon includes crustaceans and small fish.
When Atlantic Salmon are in fresh water they prefer natural stream channels with rapids and pools, gravel bottoms, in which hatchlings can hide from predators, and cool water that is free from chemical and organic pollution.
Much less is known about the marine habitat preferences of iBoF Atlantic Salmon in the Bay of Fundy. They prefer relatively stable water temperatures between 1℃ and 13℃ year-round, residing and/or migrating throughout the Bay of Fundy and northern Gulf of Maine from May to October.
In 2010, 10 rivers in New Brunswick and Nova Scotia were identified as containing fresh water critical habitat for the iBoF Salmon under the Species at Risk Act (SARA): Gaspereau, Stewiacke, Debert, Folly, Great Village, Portapique, Economy, Upper Salmon, Point Wolfe and Big Salmon. Details on this identified critical habitat can be found in Section 2.5 of the recovery strategy. Under SARA it is illegal to destroy critical habitat. For those portions of critical habitat within Fundy National Park (namely in those sections of the Point Wolfe and Upper Salmon rivers within the park boundaries), legal protection was provided in November 2010 with the publication of a Critical Habitat Description. For the remaining 8 rivers and portions of the Point Wolfe and Upper Salmon rivers outside Fundy National Park boundaries, critical habitat is being legally protected from destruction by the making of a Critical Habitat Order.
A spawning redd is a residence for iBoF Atlantic Salmon under SARA. The redd has the structural form and function of a nest and is used for salmon egg incubation, hatching, and the early rearing of hatchlings (alevins). One redd can contain hundreds to several thousands of eggs from a single female salmon. The female salmon constructs the redd during spawning and invests energy in its creation. A redd is typically occupied from October until late June. They are usually located at the tail end of pools on the upstream side of riffles (shallow fast water section of a river or stream) over a gravel bottom. Under SARA, it is illegal to damage or destroy an iBoF Atlantic Salmon spawning redd. These structures may be located in any of the rivers or streams within the inner Bay of Fundy area.
Threats
Although historical impacts in fresh water may have contributed to the species' decline and current status, a growing body of evidence suggests that the recovery of iBoF Salmon is primarily limited by low marine survival rather than an inability to spawn and live successfully in freshwater rivers and streams. The reason(s) for their low marine-survival rates is/are unknown. The leading marine threats include interactions with farmed and hatchery salmon, changes in prey and predator species and/or their abundances; environmental shifts; and fisheries.
The leading freshwater threats include changes in environmental conditions; pollutants, barriers to fish passage; and depressed population phenomena (e.g., abnormal behaviour due to low abundance, inbreeding).
Although threats in the ocean are believed to be the main threat facing iBoF Salmon recovery, threats in freshwater may also have an impact.
Further Information
IBoF Salmon have been listed as Endangered under the federal Species at Risk Act (SARA) since 2003. The species and its habitat are protected under SARA and the federal Fisheries Act. IBoF Salmon residing in Fundy National Park in New Brunswick are also protected by the Canada National Parks Act.
Atlantic Salmon historically supported economically and culturally significant Aboriginal, recreational and commercial fisheries. The species, regarded by the general public as an indicator of the health of the natural environment and seen by most people in Atlantic Canada as an important natural symbol, remains culturally significant to local communities around the region.
A Recovery Strategy that includes the identification of critical habitat (habitat required for the survival and recovery of the species) has been co-developed by Fisheries and Oceans Canada and Parks Canada Agency in collaboration with the long-standing multi-stakeholder iBoF Salmon Recovery Team. The broad recovery goal is to re-establish wild, self-sustaining populations as required to conserve the genetic characteristics of the remaining anadromous iBoF Salmon. An Action Plan has been developed to support implementation of the Recovery Strategy.
A live gene-banking program involving captive breeding and rearing of iBoF Salmon was initiated in 1998 to reduce the probability of the species' extirpation (total loss of all iBoF Salmon). The program seeks to minimize the loss of genetic differences in the iBoF Salmon population and at the same time minimize the likelihood of domestication (loss of wild behaviour in captivity). Several important populations from inner Bay of Fundy rivers are harboured and protected at the Coldbrook Biodiversity Centre in Nova Scotia and the Mactaquac Biodiversity Centre in New Brunswick. In addition, a number of satellite tagging projects have been initiated by Fisheries and Oceans Canada and Parks Canada Agency to track migration patterns of iBoF Salmon when they leave the rivers to better understand their at-sea migration behaviour. Many other recovery activities have been initiated and are underway by both government and non-government organizations. These activities include:
ongoing research and monitoring activities;
implementation of a High Ancestry live-gene bank program and marine rearing project for Fundy National Park rivers;
ongoing implementation of species and habitat protection and management measures; and
numerous stewardship and outreach activities in local watersheds.
For example, a partnership of conservation and First Nation groups has been formed following the opening of the causeway gates in the spring of 2010 that undertakes stewardship activities on the historically important Petitcodiac River in New Brunswick, including efforts to restore the watershed and the species it traditionally supported, such as the iBoF Salmon.
For more information about iBoF Salmon and to view the recovery documents, visit the Species at Risk Public Registry.
Atlantic Salmon (Inner Bay of Fundy population)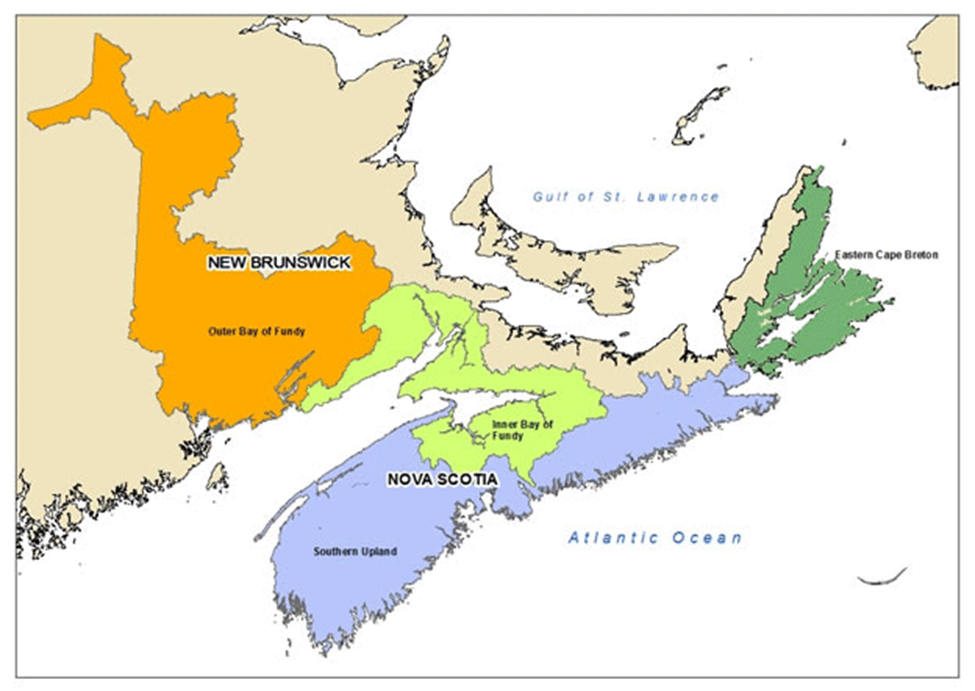 The Atlantic Salmon (Salmo salar), is also called 'the leaper' and King of Fish, due primarily to its ability to jump and swim up waterfalls.
Report a problem or mistake on this page
Date modified: