Blue Whale (Atlantic population)
Balaenoptera musculus
SARA Status
No Status


NS

Special Concern


SC

Threatened


TH

Endangered


EN

Extirpated


EX
SARA Status
No Status

NS

Special Concern

SC

Threatened

TH

Endangered

EN

Extirpated

EX
COSEWIC Status
Not at Risk


NR

Special Concern


SC

Threatened


TH

Endangered


EN

Extirpated


EX
COSEWIC Status
Not at Risk

NR

Special Concern

SC

Threatened

TH

Endangered

EN

Extirpated

EX
Description
The blue whale is a rorqual whale—one of a group that has expanding grooves in the skin of the neck; these allow it to engulf huge volumes of water while feeding on krill. Despite its name, the blue whale is actually coloured dark and light grey; every whale has a unique pattern of markings on their skin, called mottling.
With a potential life span between 70 and 80 years, blue whales reach sexual maturity between 6 and 10 years of age and reproduce every two or three years. Calves at birth can weigh up to two tonnes. The total number of blue whales in the Northwest Atlantic population is unknown, but it is estimated that it does not exceed 250 adults.
Habitat
Northwest Atlantic blue whales are generally found in waters off eastern Canada: in the northern Gulf of St. Lawrence, off the coasts of Nova Scotia and Newfoundland, and in the Davis Strait. They also occur between Baffin Island and Greenland. They usually migrate south for the winter, but some whales may remain at our latitudes all year long.
Blue whales' diet consists primarily of krill, a small shrimp-like crustacean. A single whale can consume as much as four tonnes in a day. Blue whales are therefore regularly observed in areas where krill is concentrated.
Threats
Commercial whaling historically carried out in the Atlantic reduced the population by about 70%. At least 1,500 blue whales were killed before the 1960s in the waters of eastern Canada.
Since the end of commercial whaling, blue whales remain threatened by human activity. Here are some of the threats that have the potential to harm these giant creatures:
Noise pollution;
Reduction of food availability;
Persistent marine contaminants;
Collisions with ships;
Disturbance caused by whale-watching activities.
Further Information
Conservation
The Northwest Atlantic blue whale is listed as endangered and protected under the Species at Risk Act (SARA). A recovery strategy has been developed for this species with the long term goal of reaching a population of at least 1,000 mature blue whales. Furthermore, a moratorium on harvesting forage species, such as krill, has been put in place by Fisheries and Oceans Canada, to protect food supplies of species at risk such as the blue whale. Internationally, blue whales are protected by the International Whaling Commission; the blue whale is also listed by both the International Union for Conservation of Nature and the Convention on International Trade in Endangered Species of Wild Fauna and Flora.
Research
Blue whales in the Estuary and the Gulf of St. Lawrence and their habitat are the subject of research carried out by Fisheries and Oceans Canada in collaboration with the Mingan Island Cetacean Study and the Groupe de recherche et d'éducation sur les mammifères marins (GREMM). This research is focused mainly on understanding diet, foraging behaviour and habitat use of blue whales. It also aims at locating and mapping krill concentration areas which are important feeding grounds for blue whales. In Newfoundland and Labrador, Fisheries and Oceans Canada researchers are using autonomous acoustic recorders to monitor the presence of blue whales throughout the year in locations where they have been sighted most frequently. These acoustic and sightings data will be used to model blue whale critical habitat in this region.
Stewardship
Stewardship initiatives are ongoing through partner organizations with the support of the Species at Risk Habitat Stewardship Program. In Quebec, GREMM and the Réseau d'observation des mammifères marins have been conducting outreach for several years to promote best practices for whale watching. This campaign is targeted at marine wildlife observation tour operators. Additionally, GREMM coordinates the actions of the Marine Mammal Emergency Response Network to implement measures to save animals in trouble in the waters of the St. Lawrence bordering the province of Quebec. You are invited to call 1-877-722-5346 toll free to alert the Network when a marine mammal is in trouble.
Whale Release and Strandings encourages fish harvesters in Newfoundland and Labrador to report blue whale sightings, and educates school children and the general public about blue whales through school presentations and a variety of community events. The Quebec-Labrador Foundation has a marine species at risk observer program where fish harvesters report blue whale sightings. They have also produced educational materials for public outreach and education on blue whales and other marine mammals.
For more information, visit the Species at Risk (SARA) Public Registry Profile.
Blue Whale (Atlantic population)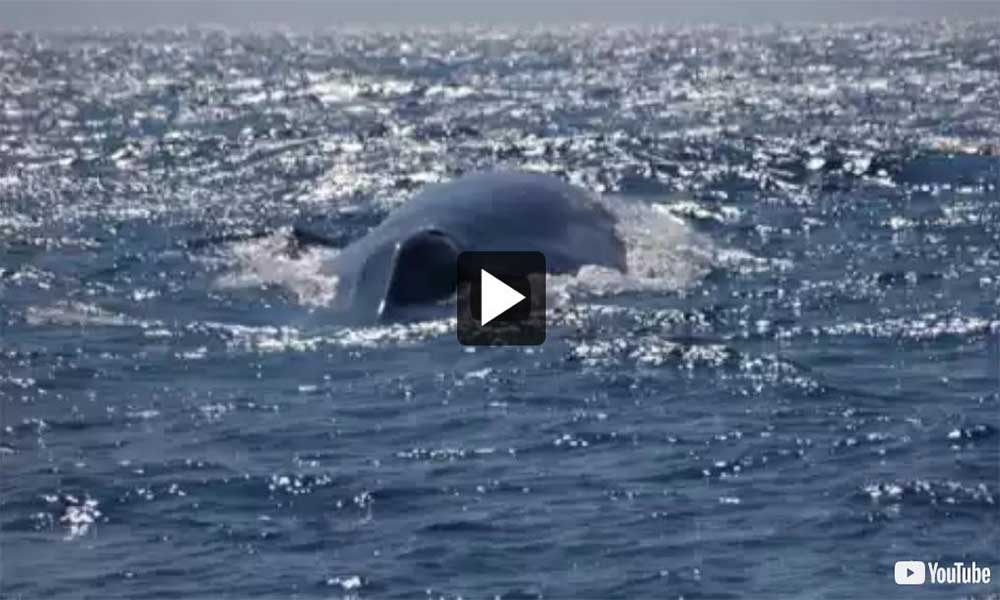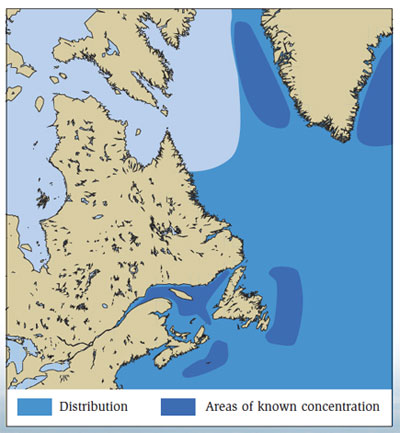 The blue whale is the largest animal on Earth today—and the largest known to have ever existed. The largest adult on record measured 29.5 metres. Lengthwise, the blue whale is equivalent to two city buses. It can weigh up to 200 tons, which is comparable to 8 airplanes or 15 school buses.
Report a problem or mistake on this page
Date modified: