Beluga Whale (Cumberland Sound Population)
Delphinapterus leucas
SARA Status
No Status


NS

Special Concern


SC

Threatened


TH

Endangered


EN

Extirpated


EX
SARA Status
No Status

NS

Special Concern

SC

Threatened

TH

Endangered

EN

Extirpated

EX
COSEWIC Status
Not at Risk


NR

Special Concern


SC

Threatened


TH

Endangered


EN

Extirpated


EX
COSEWIC Status
Not at Risk

NR

Special Concern

SC

Threatened

TH

Endangered

EN

Extirpated

EX
Description
The Beluga whale (Delphinapterus leucas) is a white and toothed whale that belongs to the family Monodontidae. Its name comes from the Russian word for white, 'belukha', and it is also known as white whale, béluga (French), qilalugaq (Inuktitut, Inuvialuktan and Inuinactun dialects) and siqsuaq (Inupiat dialect). This whale's light colouring makes it easy to spot in calm waters, as well as by the following distinguishing features:
prominent and rounded forehead;
medium size, ranging in length from 2.6–4.5 m and weighing up to 1,900 kg;
dark grey colouring as newborns, sometimes with mottling, and lightening to pure-white by adulthood;
thick skinned and lacking a dorsal fin (the unpaired back fin); and
known for being very vocal animals, making a cacophony of sounds to communicate that range from high-pitched whistles to low, repeated grunts.
Habitat
Belugas are circumpolar in their distribution, being found in Alaskan, Canadian, Greenlandic, Norwegian and Russian waters. A total of 22 possible beluga populations have been identified, seven of which use Canadian waters for all or part of the year. The Cumberland Sound population spends its whole lifecycle in Cumberland Sound, an Arctic waterway in Nunavut. From mid- July to mid-September, the population gathers near or in the Clearwater Fiord area at the northern head of the sound and spends the rest of the year in the main waters of Cumberland Sound. Large commercial catches and Inuit harvesting between the 1920s and 60s reduced this population of belugas substantially. Recent estimates suggest there are less than 1,000 belugas in Cumberland Sound today.
Beluga whales typically live in cold, Arctic and sub-Arctic waters, but their habitat use varies with the season and progression of ice breakup and freeze. As the ice begins to break up in late spring, they move in large groups, or pods, along ice edges and leads (large fractures in the sea ice) towards their summer habitat of coastlines, shallow waters and specific river estuaries. In late summer and early fall, they leave the estuarine areas for deeper waters, possibly to feed intensively. From there, the pods migrate to offshore winter areas, sometimes over long distances, where they survive the winter in ice leads and other open areas of sea ice. Beluga whales reach sexual maturity around 10 years of age in females and between 12 and 16 years in males. Like most toothed whales, belugas have a slow reproductive rate: one calf is born every three years to each adult female. Mating occurs in late winter or early spring and gestation lasts 14.5 months. Calves will nurse for up to two years. Belugas are known to live between 15 and 30 years, with some individuals living to 40 years or more.
Beluga Whales are a top-level ocean predator, feeding on more than 50 different small fish and crustacean species. In Cumberland Sound, they feed mostly on Arctic Cod (Boreogadus saida) and Greenland Halibut (also known as Turbot, Reinhardtius hippoglossoides). They also eat Arctic Char (Salvelinus alpinus), shrimp, squid, molluscs and marine worms.
Threats
Belugas rely on echolocation, using the sounds they make to navigate, communicate, locate breathing holes and hunt in dark and murky waters. Masking of these important sounds by noise and disturbance from increasing amounts of vessel traffic in Cumberland Sound is the most serious threat facing this population today. Other possible threats include environmental changes brought on by global warming and pollution, predation by killer whales (Orcinus orca) and polar bears (Ursus maritimus) and commercial fisheries in Cumberland Sound that may compete with belugas for prey, or entangle them in fishing nets.
Further Information
Visit the Species at Risk (SARA) Public Registry.
Beluga Whale (Cumberland Sound Population)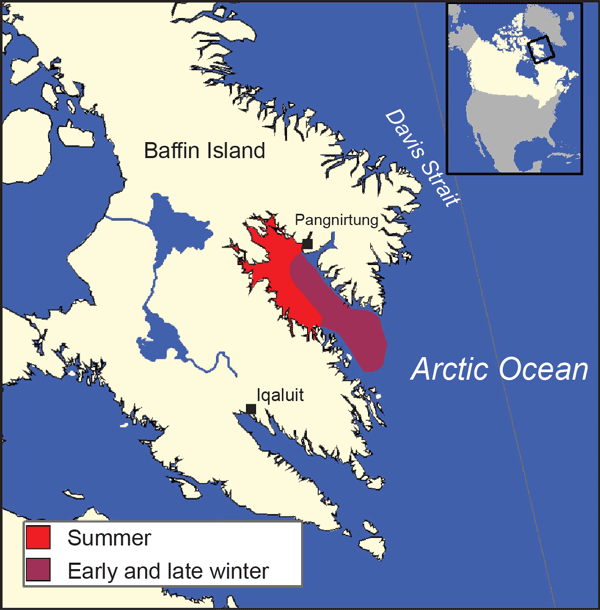 Beluga whales are in the same family as the narwhal (Monodon monoceros). Both of these whales lack dorsal fins, a likely adaptation to life in ice-filled Arctic waters.
Report a problem or mistake on this page
Date modified: