Atlantic Cod (Newfoundland and Labrador population)
Gadus morhua
SARA Status
No Status


NS

Special Concern


SC

Threatened


TH

Endangered


EN

Extirpated


EX
SARA Status
No Status

NS

Special Concern

SC

Threatened

TH

Endangered

EN

Extirpated

EX
COSEWIC Status
Not at Risk


NR

Special Concern


SC

Threatened


TH

Endangered


EN

Extirpated


EX
COSEWIC Status
Not at Risk

NR

Special Concern

SC

Threatened

TH

Endangered

EN

Extirpated

EX
Description
The Atlantic Cod has an elongated body that varies in colour from brownish to greenish to grey with small, dark spots on its back. The cod's pale lateral line is curved above the pectoral fins. It has a single, well-developed barbel – or whisker – on its chin. On average, the size at maturity ranges from 45-55 cm.
Atlantic Cod feed on a variety of fish and shellfish including capelin, herring, flounder and crab.
Habitat
The Newfoundland and Labrador population of Atlantic Cod inhabits the inshore and offshore waters from the northern tip of Labrador to eastern Newfoundland, including the Grand Banks.
Atlantic Cod spawn mainly in the spring and the larvae float on the surface. Of the several million eggs each female produces, only about one egg of each million succeeds in completing the cycle to become a mature cod. Juvenile cod, up to about four years of age, prefer a habitat where there is protection such as near-shore eelgrass. As adults, they have a broad range of habitats and do not seem to prefer a particular depth or bottom type.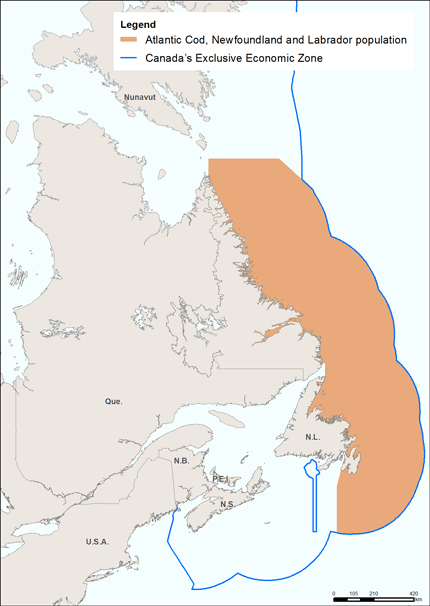 Threats
The main threats to the Newfoundland and Labrador population of Atlantic Cod include:
Natural mortality (sources remain unknown but may include changes in interactions with other species and variation in marine environmental conditions).
Fishing mortality (such as through directed stewardship and recreational fisheries in NAFO areas 2J3KL and as by-catch in 3NO).
Further Information
The Newfoundland and Labrador Atlantic Cod population is protected under the Fisheries Act. A portion of the population, in the Gilbert Bay Marine Protected Area, is also protected under the Oceans Act. There are moratoria in place for commercial cod fisheries in 2GHJ3KLNO and there are management measures in place for the stewardship and recreational fisheries such as gear restrictions, seasons and quotas/bag limits. By-catch limits have been set for Atlantic Cod in all fisheries targeting other species.
Visit the Species at Risk (SARA) Public Registry.
Atlantic Cod (Newfoundland and Labrador population)
Once so thick in the water that John Cabot reported they could be brought aboard by the bucket, Atlantic Cod have been fished in the waters off Newfoundland and Labrador since the late 1400s, and were justifiably known as "Newfoundland currency."
Report a problem or mistake on this page
Date modified: