Guidance and Lessons Learned for Canada's Marine Protected Area Networks
Proceedings of a national workshop held in Ottawa in January 2008
4.0 International Experiences in Marine Protected Areas Network Planning
PRESENTATIONS
Much has been learned in the past several years by those jurisdictions that have taken action to implement MPA networks, fulfill their CBD commitments, and slow the loss of biodiversity. Representatives from four such jurisdictions - New Zealand, Australia, Germany, and California -shared lessons learned in their respective initiatives. The presenters focused their contributions on ecological design criteria, but inevitably conveyed much contextual information about the factors affecting the success of the planning process. Each presenter also participated in small-group discussions about the relevance of each case study to the Canadian situation. The first part of section 4 provides a summary of each case study, based on the presentations given at the workshop. The second part of the section summarizes key points from the small-group and plenary discussions.
4.1 Presentation on New Zealand's MPA Policy and Implementation Plan
New Zealand's Marine Protected Areas Policy and Implementation Plan
Presenter: Simon Banks, New Zealand Department of Conservation
1. Policy Framework and Objectives
In 2006, the New Zealand government released its Marine Protected Areas Policy and Implementation Plan (MPA Policy). A key objective of the MPA Policy is "to protect marine biodiversity by establishing a network of MPAs that is comprehensive and representative of New Zealand's marine habitats and ecosystems."Footnote 13 The MPA Policy is intended to address the objectives and actions of the New Zealand Biodiversity Strategy (NZBS)Footnote 14 and to guide the development of a comprehensive MPA network, using a number of marine management tools.
Key objectives of the NZBS, released in 2000, include:Footnote 15
A 2020 outcome: A full range of marine habitats and ecosystems representative of New Zealand's indigenous marine biodiversity is to be protected.
A 10 percent target by 2010: A target of 10 percent of New Zealand's marine environment is set to be achieved by 2010, with a view to establishing a network of representative MPAs.
Banks presented on four main components of the MPA Policy:
A consistent approach to classification of marine habitats and ecosystems;
Mechanisms to coordinate a range of management tools - a protection standard and planning process for nearshore and offshore;
An inventory to identify areas where MPAs are required; and
A nationally consistent basis for planning and establishing new MPAs - community-based forums.
2. Principles for MPA Network Design and Planning
New Zealand's MPA network design and planning are based on a set of key principles.
MPA network design principles:
Protect examples of the full range of natural marine habitats and ecosystems;
Designate sites on the basis of a consistent approach to classification of habitats and ecosystems;
Ensure that the network is viable;
Set national priorities for additions to the MPA network and review them annually;
Undertake an evaluation program; and
Undertake a monitoring program.
MPA network planning principles:
Designate each site on the basis of its contribution to representation and consistency with the design principles;
Ensure that management meets the protection standard;
Provide for the special relationship between the Crown and the Maori, including treaty obligations and customary use;
Ensure that the establishment of the MPA network is transparent, participatory, and timely;
Minimize adverse impacts on users;
Ensure that management tools provide long-term protection;
Use the best available information in decision making;
Use the precautionary approach in guiding management actions;
Ensure that the management regime is enforceable; and
Plan research effectively and in a coordinated manner.
3. Process for Developing an MPA Network
The process of planning and developing New Zealand's MPA network comprises four main stages (figure 2):
Preparation for implementation: Development of a consistent habitat classification approach, a protection standard, and a map of existing managed areas;
Strategic analysis to set priorities: Development of an MPA inventory and gap analysis, and prioritization of habitats and ecosystems for new MPAs;
Development of an MPA network: Identification of new MPAs on the basis of the priorities identified in stage 2 (through separate processes in near shore and offshore areas); and
Monitoring and evaluation: Measuring progress toward achieving the MPA network policy objective, and establishing new priorities for future implementation of MPAs.
The key aspects of this design process - the approach to classification and the development of the protection standard - are described below in more detail.
Development of a consistent approach to the classification of New Zealand's near shore and offshore habitats and ecosystems is based on the following main features (figure 3):Footnote 16
Coastal and deepwater classification: A different classification system is made for coastal and deepwater areas.
Hierarchical structure: The classification is based on a broad hierarchical structure and follows a progressive scale from large spatial units in the upper levels of the hierarchy (e.g., biogeographical regions and marine ecosystem classification classes) to smaller units in the lower levels (e.g., habitats and ecosystems).
Three-dimensional structure: The classification system is three-dimensional, taking into account surface, water column, and benthic features.
| | |
| --- | --- |
| Coastal Biogeographic Regions | MEC 20 group level |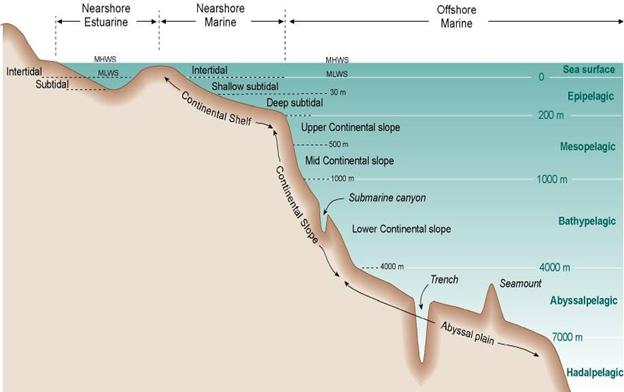 Implementation of the coastal classification system (< 200 metres [m] depth) has been guided at two spatial scales:
Biogeographical regions defined at the meso scale (100s to 1000s of kilometres [km]): Thirteen coastal biogeographical regions have been identified on the basis of the premise that similar physical habitats and ecosystems, if separated by enough space (100s to 1000s of km), will contain different biological communities due to a combination of broad-scale factors, including oceanography, current dynamics, large-scale latitudinal gradients, climate, or barriers to dispersal (figure 4).
Habitats and ecosystems defined at the micro scale (100s to 1000s of m): Nested within the 13 biogeographical regions, the hierarchical classification scheme is divided into two major environment types, estuarine environments and marine environments. This division is based on the premise that depth, substrate, and exposure (wave action, tidal action, and currents) are the main environmental factors that influence community structure.
Implementation of the deepwater marine classification (> 200 m depth) has been guided by the following spatial scales:
Broad-scale variation at the meso-scale (100s to 1000s of km).
Habitats and ecosystems at the local scale (10s to 100s of km). A Marine Environment Classification (MEC) with 20 class levels has been developed as a primary tool for classification in the deepwater marine environment. The MEC uses predominantly physical variables (e.g., depth, sea surface temperature, seabed slope, annual solar radiation) to create proxies for marine environments and groups them into broadly similar areas, referred to as "environmental classes" (figures 5 and 6).
The setting of a suitable protection standard is also to be undertaken in stage 1. These are the key elements of the protection standard:
Maintenance and recovery at the site of the physical feature and biogenic structures that support biodiversity;
Maintenance and recovery at the site of ecological systems, natural species, composition (including all life history stages), and trophic linkages; and
Potential for the biodiversity to adapt and recover in response to perturbation.
In theory, and ideally, information about the following is needed to inform decisions on these elements:
How the marine habitats and ecosystems in need of protection function;
Current and foreseeable human uses of the site; and
The level of biological and physical disturbance that would result in not meeting the biodiversity outcome, and hence breach the protection standard.
In practice, however, understanding of marine habitats and ecosystem processes is limited, as is information on current uses and their effects on biodiversity. This means that, in exercising judgment, the best available information and a precautionary approach will be applied. Minimizing impacts on existing users of the environment when selecting areas for MPAs is a key principle.
Marine reserves will provide the highest level of protection, complemented by a range of MPAs that will include sustainable use. An additional level of protection will focus on benthic protection in particular.
Planning and implementation of the network
While coastal network planning has begun (within 12 nautical miles), the decision was made to defer offshore MPA network planning until 2013, as a result of a Benthic Protection Area proposal that industry put to the New Zealand government.
Coastal Marine Protection Planning Forums (MPPFs) have been established to provide recommendations on areas for protection to the ministers. All members of an MPPF have collective responsibility for its decisions and equal status in discussions. The Minister of the Department of Conservation will appoint a chair or facilitator, agencies will support and facilitate the process, and a range of stakeholders will participate in regional forums of approximately 14 members. These forums will make recommendations on sites for ministers' consideration and for advancement through statutory processes, including other forms of consultation. The forums will be empowered to make decisions, and will be charged with and focus on the establishment of an MPA network.
4. Key Considerations and Lessons Learned
These general lessons were learned in New Zealand:
Planning and developing an MPA network should involve a range of central and local government agencies and marine users, indigenous people, and people with interest in the marine environment.
MPA planning should be guided by the best information available and should not be delayed until perfect data are available.
When implementing New Zealand's MPA Policy, the primary consideration should be achieving its purpose and objective, that is, a comprehensive and representative MPA network.
The following considerations relate specifically to the coastal and deepwater classification:
The hierarchical, bioregional approach facilitates both planning at the regional scale and reporting at the national scale.
The number and level of categories have been problematic. Some stakeholders prefer a smaller number of features (on the understanding that this would lead to fewer MPAs), while scientists may advise finer distinctions and more classes. The "splitting versus lumping" argument persists, but additional information about the values of recommended areas within the classes will be helpful.
Taking a physical proxy approach may not be considered ideal, but that approach has been a pragmatic way to move forward in New Zealand by measuring and reporting on progress toward representativity. Biological data are being used as an important piece of supplementary information to assist in selection of the best representative sites.
Recognition of pelagic habitats is not consistent with the powers the NZ Fisheries Act provides and restricts the ability to achieve pelagic representation.
These considerations relate to the protection standard:
Establishing a clear threshold for the protection standard proved impossible, so a proxy approach was required.
The establishment of the MPPFs and their role required retrofitting of the legislation. Alignment between the legislation and the policy is still a challenge.
These considerations relate to the implementation process:
The 10 percent by 2010 target has been contentious, but it is helpful to keep in mind that the longer term goal is for a comprehensive system, which does not proscribe a specific target. Also, 10 percent of the marine environment can be more clearly communicated to stakeholders by specifying the design goal of 10 percent of each biogeographical region, which must include representative examples within marine reserves.
The forums approach has presented challenges with regard to these issues:

Ensuring that ministers are not seen to be making predetermined decisions on issues;
Ensuring balance within each forum, and a good range of extractive interests and adequate representation of stakeholder and interest groups, including the diversity of fishing interests; and
Achieving consensus.
Questions and Discussion
A question was asked about the role of, relationship with, and obligations toward the Maori. Under the Conservation Act, the Department of Conservation has an obligation to the Maori, and this will be addressed in part by consultation and participation in the MPPFs. As well, separate dialogues will be held as required to consider information pertaining to territorial customary right over areas. Ongoing processes within government are dealing with these rights.
This initiative should complement and form part of the ocean zoning approach included within a previous New Zealand Ministry of Environment-led Oceans Policy. The Oceans Policy will be a tool to help fill the gaps in the offshore areas of New Zealand's exclusive economic zone (EEZ).
A question was asked about the status of the fishing industry proposal on no-trawl areas. This proposal on Benthic Protection Areas suggested closing about 31 percent of the EEZ to habitat-affecting fishing activities (trawling and dredging). These regulations under the Fisheries Act were implemented in November 2007. While these Benthic Protection Areas provide an element of habitat protection, they do not address other activities such as mid-water trawling. The industry designed the proposal to be representative in relation to the MEC, but other factors need to be addressed on an ongoing basis, such as protection of representative areas in the water column. It was subsequently pointed out that these various offshore marine areas were scientifically contentious and raised concern about how such outside-of-the-process initiatives would affect MPA network planning. The delay to 2013 of offshore MPA planning is one example, and at that point it will be necessary to re-evaluate the degree to which those areas achieve representation. There is an expectation that these areas are a start, but work remains to be done, and it is hoped that marine reserves will encompass some of these areas and even add to them. Similar trawl-exclusion areas have been established in California, and the effective change was negligible - industry proposals were based on areas that had never been trawled. It was confirmed that the California approach was essentially the same as that used in New Zealand.
Questions were asked about budget and about land-based activities. When New Zealand's MPA Policy was endorsed, a small funding package was provided, but the Department of Conservation did not receive any additional funding. This has led to an approach of doing planning in four bioregions at a time, which is a limiting factor. The Ministry of Fisheries received some additional funding to assist with implementation. The department and the ministry will be providing the MPPFs with information to consider with regard to placement of marine reserves in relation to land-based activities, such as pollution sources or existing adjacent protection. The onus is also shifting to local authorities to manage their impacts on the coastal environment and in particular on marine reserves.
A question was asked about stakeholder balance on the MPPFs. The approach is to ensure that the MPPFs adequately consider extractive uses. Information about such uses is being gathered to ensure that the best decisions are being made to prevent affecting those uses, which may be seen as compromising the goal of conservation.
A question was asked about the practicalities of working in large bioregions. The North Eastern Region, for example, is so large that it is too costly and impractical to require stakeholders and officials to travel regularly within it.
Key Documents
For further information on the development of an MPA network in New Zealand, see the following:
Workshop presentation by Simon Banks; and
Department of Conservation and Ministry of Fisheries. Marine Protected Areas Policy and Implementation Plan, and Marine Protected Areas: Classification, Protection Standard and Implementation Guidelines: http://www.biodiversity.govt.nz/seas/biodiversity/protected/mpa_policy.html.
4.2 Presentation on Establishing an MPA Network in Australia
Establishing an MPA Network in Australia
Presenters: Zoë Cozens and Robert McKelleher, Australian Department of Environment, Water, Heritage and the Arts
1. Policy Framework and Objectives
A key part of Australia's conservation strategy is to develop a National Representative System of Marine Protected Areas (NRSMPA) by 2012. The primary goal of the NRSMPA is "to establish and manage a comprehensive, adequate and representative system of MPAs that will contribute to the long-term ecological viability of marine and estuarine systems, maintain ecological processes and systems and protect Australia's biological diversity at all levels."Footnote 18 This means the following:
Each distinct bioregion in Australia will be represented in an MPA network.
The design of the MPA network should be sufficient to achieve the conservation of all major ecosystem functions and features.
The MPA network should properly represent the identified habitats and biotic characteristics of each bioregion.
The NRSMPA forms part of an integrated strategy for marine conservation and management and consists of MPAs in commonwealth, state, and territorial waters and some associated intertidal areas.
2. Principles for MPA Network Design and Planning
The development of the NRSMPA is based on the following principles:Footnote 19
Comprehensiveness: The NRSMPA will include the full range of ecosystems recognized at an appropriate scale within and across each bioregion.
Adequacy: The NRSMPA will have the required level of reservation to ensure the ecological viability and integrity of populations, species, and communities.
Representativeness: Those marine areas that are selected for inclusion in MPAs should reasonably reflect the biotic diversity of the marine ecosystems from which they derive.
Highly protected areas: The NRSMPA will aim to include some highly protected areas (IUCN Categories I and II) in each bioregion.
Precautionary principle: The absence of scientific certainty will not be a reason for postponing measures to establish MPAs to protect representative ecosystems.
Consultation: The process of identification and selection of MPAs will include effective and high-quality public consultation with appropriate community and interest groups, to address current and future social, economic, and cultural issues.
Indigenous involvement: The interests of Australia's indigenous people should be recognized and incorporated in decision making.
Decision making: The decision-making processes should effectively integrate both long-term and short-term environmental, economic, social, and equity considerations.
Where different options that meet the goals exist, the following selection principles should be considered in selecting suitable areas for inclusion in the NRSMPA:Footnote 20
The capacity of an MPA to mitigate identified threats to conservation values;
The occurrence of spatially defined habitats for and/or aggregations of threatened and/or migratory species;
The occurrence of ecologically important pelagic features that have a consistent and definable spatial distribution;
The occurrence of small-scale (10s of km) ecosystems associated with the benthic/demersal environment;
Relevant available information about small-scale distribution of sediment types and sizes and other geo-oceanographic variables;
The occurrence of listed heritage sites (where inclusion in the MPA network would improve administration of protection regime); and
The minimization of socio-economic costs.
Once the broad location of MPAs has been determined, the following design principles should be applied to further refine the size and shape of individual MPAs:
Individual areas should, as far as practicable, include continuous depth transects (e.g., from the shelf to the abyss).
Whole seafloor (geomorphic) features should be included.
Features should be replicated (i.e., included more than once) wherever possible within the system of MPAs.
Size and shape should be orientated to account for inclusion of connectivity corridors and biological dispersal patterns within and across MPAs.
Boundary lines should be simple, as much as possible following straight latitudinal/longitudinal lines.
Boundary lines should be easily identifiable where possible and coincide with existing regulatory boundaries.
The size and shape of each area should be set to minimize socio-economic costs.
3. Process for Developing an MPA Network
A marine bioregional plan is used as a platform for the development of an MPA network. Areas suitable for inclusion in Australia's NRSMPA are identified during the marine bioregional planning process.
A marine bioregional plan has been or will be developed for each of Australia's five marine regions (figure 7).
The marine bioregional plan:
Identifies the final regional MPA network, including its boundaries and zoning aspects;
Describes the region's key habitats, plants and animals, natural processes, human uses and benefits, and threats to the long-term ecological sustainability of the region;
Describes in detail the various statutory obligations under the Environment Protection and Biodiversity Conservation Act that apply in any region;
Identifies the regional priorities for protection of conservation values on the basis of an appreciation of threats; and
Identifies how environmental quality and the condition of the area will be monitored in the future.
Each marine region is divided into "bioregions" on the basis of their ecological similarities, species distribution, and oceanographic and seafloor characteristics. These bioregions reflect the understanding of the region's ecology and underpin the planning process (figure 8).Footnote 21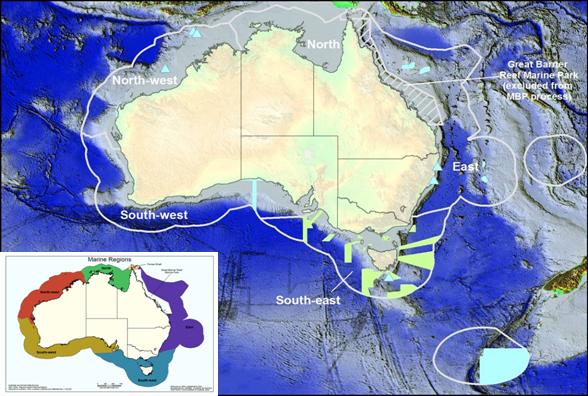 The marine bioregional planning process has three main stages or components (figure 9):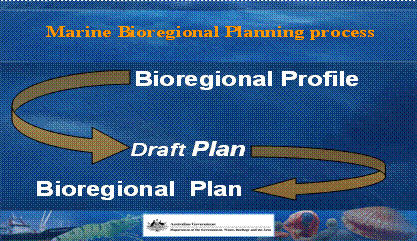 A marine bioregional profile, in which the region's key habitats, natural processes, heritage values, and human uses and benefits are described. The profile also contains an overview of existing conservation measures and other marine spatial management measures such as closures for fisheries. The profile also sets out the objectives for subsequent work to identify an MPA network for the marine regions that will form part of the NRSMPA. The profile is released 12 months before the release of the draft plan.
A draft plan containing a strategic regional assessment of conservation values and current and emerging pressures on the marine environment. The draft plan identifies key conservation and heritage priorities for each marine region and the range of legislative and administrative tools available to manage them. The draft plan is open for public consultation.
A marine bioregional plan completed after public consultation. It identifies conservation values in the region, priorities and measures for the protection of these values, an MPA network, and a set of sustainability indicators that will be used to measure the health of the marine environment into the future.
The bioregional plan for the South-east Marine Region has been completed (figure 10), and the other four plans are in development and will be completed by 2012. A bioregional profile has been completed for the South-west Marine Region.
4. Key Considerations and Lessons Learned
The following are some of the considerations or challenges relevant to the establishment of an MPA network in Australia:
Limited data restrict the application of sophisticated MPA design rules at the scale of provinces.
Benefits of MPAs are long-term and unquantifiable; however, immediate costs are evident and largely quantifiable.
Tension exists between "iconic" and "representative" MPA concepts.
Socio-economic considerations (constraints) should be integrated from the beginning of the design process rather than using them as a discrete filter at the end.
Lessons learned when establishing an MPA network in Australia include the following:
Do not spend years trying to make everyone happy or get the science "perfect"; establish momentum and use political will to achieve the best possible outcome.
Keep MPA "rules" simple, especially where information is poor.
Integrate other measures with MPAs.
Benefit from the existence of legislative authority for developing an MPA.
Key Documents
For further information on the development of MPA networks in Australia, see the following:
4.3 Presentation on Establishing an MPA Network in Germany
Establishing an MPA Network in Germany in the context of OSPAR
Presenter: Jeff Ardron, German Federal Agency for Nature Conservation
1. Policy Framework and Objectives
Among the most important drivers for developing networks of MPAs in Europe is European legislation on nature conservation, part of the EU contribution to implement the 1992 CBD. The two most significant legislative tools are the Birds Directive that dates back to 1979 (Council of the European Communities Directive, 79/409/EEC), providing a framework for the identification and classification of Special Protection Areas (SPAs) for rare, vulnerable, or regularly occurring migratory species, and the 1991 Habitats Directive (Council of the European Communities Directive, 92/43/EEC), requiring member states to select, designate, and protect sites that support certain natural habitats or species of plants or animals as Special Areas of Conservation (SACs). Together SACs and SPAs will create a network of protected areas across the EU, known as Natura 2000. Natura 2000 forms the cornerstone of Europe's nature conservation policy.Footnote 24
The need to fully apply the Habitats Directive and the Birds Directive to the offshore marine environment of the EU, especially with regard to the establishment of the Natura 2000 network, represents a key challenge for EU biodiversity policy in the coming years. The establishment of a marine network of conservation areas under Natura 2000 will significantly contribute not only to the goal of halting the loss of biodiversity in the EU, but also to broader marine conservation and sustainable-use objectives. To date, relatively few Natura 2000 sites have been identified for the offshore marine environment, and this represents the most significant gap in the Natura 2000 network.
The EU Biodiversity Action PlanFootnote 25  calls for efforts to:
Complete the Natura 2000 marine network of SPAs by 2008;
Adopt lists of marine Sites of Community Importance (SCIs) by 2008;
Designate marine SACs and establish management priorities and necessary conservation measures for them by 2012; and
Establish similar management and conservation measures for marine SPAs by 2012.
The German Federal Agency for Nature Conservation (BfN) is a federal authority reporting to the German federal Ministry for the Environment, Nature Conservation, and Nuclear Safety. The BfN advises the ministry on all issues relating to national and international nature conservation, promotes nature conservation activities, supports research projects, and acts as, among other things, the authority to implement Natura 2000 in the German EEZ.
On the Isle of Vilm southeast of Rügen, the BfN maintains a branch office with the International Academy for Nature Conservation, the Biodiversity Unit, and the Marine and Coastal Nature Conservation Unit. The latter unit is responsible for all aspects of marine nature conservation in the German North Sea and Baltic Sea. Among its most recent tasks are the coordination of Natura 2000 research in the EEZ and development of the scientific basis for identifying marine conservation areas.
The BfN proposed 10 Natura 2000 sites that the Environment Ministry nominated to the EU in May 2004. The BfN administers the identified sites. Combined, the 10 areas (8 SACs and 2 SPAs) listed in the report cover about 30 percent of Germany's marine waters in its EEZ. The federal government designated the SPAs in the EEZ on 15 September 2005 as nature conservation areas under the Federal Nature Conservation Act.
2. Principles for MPA Network Design and Planning
The purpose of the Natura 2000 network is: "to preserve terrestrial, freshwater and marine biological diversity." Specific habitat types and species in need of special conservation efforts are outlined in the annexes to the Habitats Directive.
Based on these annexes, criteria applied in selecting appropriate protected areas include:
The importance and density of species populations and habitat types that are present;
Their degree of representativity; and
Their conservation status.
The purpose of designating these protected areas and taking further measures is to maintain the habitats and species or restore them to a favourable conservation status. The competent authorities develop the precise protection and conservation goals for individual protected areas which are to be integrated in a coherent network, with due regard to the different ecological requirements of the species or habitat types concerned. Such conservation goals include, for instance:
The safeguarding of undisturbed areas for resting seabirds, as well as for migrating and feeding marine mammals or for fish species;
The preservation of resting and moulting areas for migratory birds; and
The prevention of by-catch, for example, of harbour porpoise, in fisheries.
Annex I to the EU Habitats Directive lists the natural habitat types of "community interest" whose conservation requires the designation of SACs across Europe at a national level. In the German marine regions of the EEZ, two of these habitat types occur and have been protected: reefs and sandbanks (meaning permanently submerged sandbanks that are not exposed at the low water level).
According to Article 1(e) of the Habitats Directive, the natural habitats must be maintained at or restored to a favourable conservation status. Simply stated, this means the following:
The habitat areas and their natural extent have lasted over many years and should remain unaffected by negative human influences, or even be allowed to expand.
The typical elements (e.g., sediment, salinity, current) of these habitats and specific functions can continue in the long term according to their natural dynamics.
The typical animal and plant populations of these habitats can survive in the long term or even increase.

Footnote

26
MPAs in Germany have been selected on the basis of these ecological criteria first. Economic factors are then considered in the development of the management plans for the MPAs.
3. Process for Developing an MPA Network
In December 2002, the BfN submitted to the Environment Ministry, in the context of the Natura 2000 site proposal procedure, a catalogue of proposed SACs and SPAs within the German EEZ in the North and Baltic seas. Together with the BfN, the Environment Ministry undertook a consultation process with the other concerned ministries of the federal government and with the coastal Länder (states) whose territories adjoin the EEZ, and carried out the public participation process. Under the Birds Directive, the Environment Ministry can protect SPAs through appropriate regulations immediately after providing notification to the European Commission (figure 11). Under the Habitats Directive, SACs undergo an assessment process at the EU level after their proposal by a member state to the European Commission, to ensure the European coherence of the Natura 2000 network. In a second step, under European criteria and criteria of coherence, the member states concerned designate adopted sites as protected areas; for example, the German Environment Ministry has responsibility for German sites.
A detailed explanation of the procedures used to select individual MPA sites, based primarily on existing information, mapping, and expert judgment, is available from the BfN's website.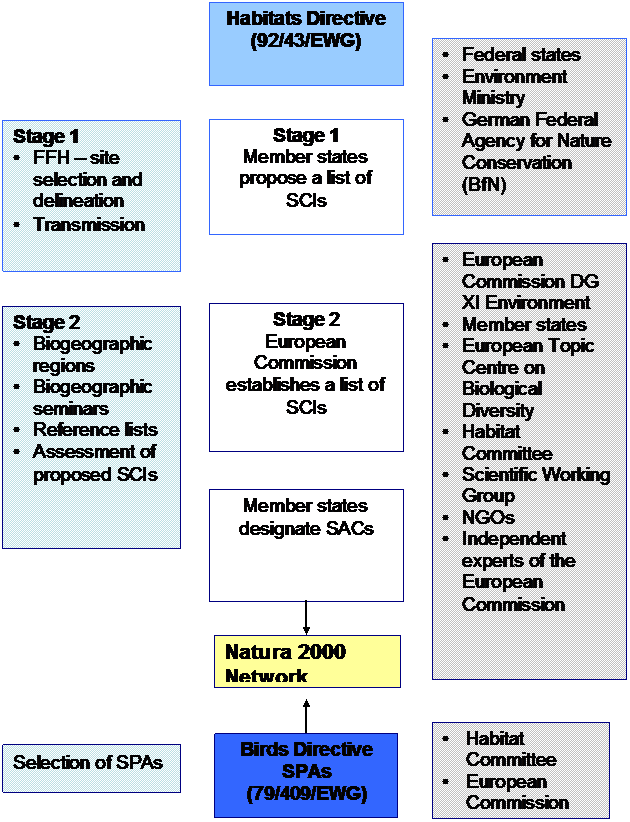 4. Key Considerations and Lessons Learned
The following are two elements of the German approach to planning MPA networks and meeting European commitments:
MPAs are used as a catalyst for an ecosystem approach to marine management, recognizing that marine protection requires more than only MPAs; and
Natura 2000 is used as a basis for broad-scale marine spatial planning (large areas with multiple management, rather than small areas with a feature-specific approach).
Implementing new MPA legislation requires the following:
Leadership: Environmental laws are blunt tools sharpened only through use and precedent. This requires leadership.
Pragmatism: Planning should be done with an eye to future legislation, but action should be taken on what is available now (with all its imperfections). This may mean a less than ideal beginning. Ideals and theory should be balanced with pragmatism and practice.
Realism: "Hard laws" with teeth (e.g., Natura 2000 directives) indeed hasten action but also limit flexibility. "Soft laws" (e.g., international conventions) provide greater flexibility but often at the expense of urgency.
Knowledge: It is important to know what legal instruments are available and be realistic about what can be achieved with them.
These other lessons were learned:
Selecting MPAs for a few species and habitats is manageable using conventional tools and techniques, such as surveys, mapping, and selection, but this does not rule out using more advanced tools, for example, Marxan software,

Footnote

28 when and where required.
Imperfect solutions are (usually) better than nothing; sometimes you cannot protect all of an area (see figure 12).
Key Documents
For further information on the development of an MPA network in Germany, see the following:
Workshop presentation by Jeff Ardron;
Habitat Mare website of the BfN: http://www.habitatmare.de;
OSPAR Convention for the Protection of the Marine Environment of the North-East Atlantic. Guidance on Developing an Ecologically Coherent Network of OSPAR Marine Protected Areas (Reference number: 2006-3);
OSPAR Convention for the Protection of the Marine Environment of the North-East Atlantic.Guidelines for the Identification and Selection of Marine Protected Areas in the OSPAR Maritime Area (Reference number: 2003-17); and
Ardron, J.A. 2008. The challenge of assessing whether the OSPAR network of marine protected areas is ecologically coherent. Hydrobiologia 606 (1).
4.4 Presentation on Implementing the Marine Life Protection Act in California
Implementing the Marine Life Protection Act in California
Presenter: John Ugoretz, California Department of Fish and Game
1. Policy Framework and Objectives

Footnote

29
In 1999, the legislature of the State of California enacted the MLPA, directing the state to re-examine and redesign California's system of MPAs through a comprehensive program and master plan. The legislature recognized the benefits of setting aside some areas under special protection and of ensuring that these MPAs are developed in a systematic manner, with clear goals and objectives, and management plans and programs for monitoring and evaluating their effectiveness. The primary goals of the MLPA are to protect marine life and habitats, marine ecosystems, and marine natural heritage, as well as improve recreational, educational, and study opportunities that marine ecosystems provide.
Rather than focusing on one use or value for MPAs, the MLPA recognizes a wide range of values, including the conservation of biological diversity. Between 1999 and 2004, two efforts were made to implement the MLPA. Both attempts suffered from a lack of adequate resources, and both failed to provide sufficient information to stakeholders, particularly regarding the potential socio-economic impacts of potential MPAs. In the first attempt, the California Department of Fish and Game and theMLPA master plan team developed a set of initial proposals for a statewide network of MPAs without significant stakeholder input, even though the intent was to revise these initial proposals on the basis of public comment, as required by the MLPA. The second attempt was more inclusive of stakeholders but suffered from a lack of staff and funding. After these unsuccessful attempts, state legislators and the department realized that this complex and controversial process required significant resources and time to implement and evaluate it successfully.
In August 2004, the California Resources Agency, the California Department of Fish and Game, and the Resources Legacy Fund Foundation launched another effort to implement the MLPA. The MLPA initiative established an MLPA Blue Ribbon Task Force, together with a Master Plan Science Advisory Team and a stakeholder advisory group, to oversee the completion of several objectives. The first of these objectives was a master plan framework, which included guidance based on the MLPA, for the development of alternative proposals of MPAs statewide, beginning in an initial central coast "study region." The master plan is expected to be an evolving document, which will be modified on the basis of lessons learned in various regional processes and through monitoring and evaluation of MPAs throughout the state.
The MLPA requires review and improvement of California's existing array of MPAs, ensuring that they function as a network. Given California's 1770 km coastline and the varying ecological, social, and economic conditions along the coast, it was decided early in the process to implement the MLPA in a series of stages within geographic study regions. The goal is to establish MPAs in each of several study regions by 2011. The MLPA initiative identified five study regions: the north coast region, the north central coast region, the San Francisco Bay region, the central coast region, and the south coast region. The central coast was selected as the initial study region in which to implement the MLPA.
The MLPA identifies a set of goals for the Marine Life Protection Program, which includes the following:
Conservation of biological diversity and the health of marine ecosystems
Recovery of wildlife populations;
Improvements to recreational and educational opportunities consistent with biodiversity conservation;
Protection of representative and unique habitats for their intrinsic value;
Ensuring that MPAs have defined objectives and effective management and enforcement, and are designed on the basis of sound science; and
Ensuring that MPAs are managed, to the extent possible, as a network.
Although neither statute nor legislative history defines "network," dictionaries specifyinterconnectedness as a characteristic of a network. The first finding of the MLPA highlights the fact that California's MPAs "were established on a piecemeal basis rather than according to a coherent plan." The term "reserve network" has been defined as a group of reserves that is designed to meet objectives that single reserves cannot achieve on their own.Footnote 30 In general, this definition may infer some direct or indirect connection of MPAs through the dispersal of adult, juvenile, and/or larval organisms or other biological interactions. In most cases, larval and juvenile dispersal rates are not known, and oceanography or ocean current patterns may be combined with larval biology to help determine connectivity.
2. Principles for MPA Network Design and Planning
The MLPA notes that a variety of levels of protection may be included in MPAs and that Marine Life Protection Program shall include several elements, including:
An "improved marine life reserve component";
Specified objectives and management and enforcement measures;
Provisions for monitoring and adaptive management;
Provisions for educating the public and encouraging public participation; and
A process for the establishment, modification, or abolishment of existing or future MPAs.
Each preferred regional alternative that the task force submits to the Fish and Game Commission must include recommended no-take areas that encompass a representative variety of marine habitat types and communities across a range of depths and conditions, and must prevent activities that upset the natural functions within reserves. Collectively, the regional alternatives must include replicates of similar types of habitats in each biogeographical region, to the extent possible.
The MLPA itself does not define a network. However, there are two common approaches to MPA networks: MPAs linked biologically and/or oceanographically, and MPAs linked through administrative function. Biological and oceanographic linkages are described in more detail in this section. At a minimum, the statewide network should function at an administrative level that reflects a consistent approach to design, funding, and management.
The science team for the MLPA initiative developed guidance regarding the design of MPA networks. This guidance, expressed in ranges for some aspects such as size and spacing of MPAs, is the starting point for regional discussions of alternative MPAs. Although this guidance is not prescriptive, any significant deviation from it should be consistent with both regional goals and objectives, and MLPA requirements.
The following guidelines are linked to specific objectives; not every MPA will necessarily comply with all guidelines:
The diversity of species and habitats to be protected and the diversity of human uses of marine environments prevent a single optimum network design in all environments.
To protect the diversity of species that live in different habitats and those that move among different habitats over their lifetime, every "key" marine habitat should be represented in the MPA network.
To protect the diversity of species that live at different depths, and to accommodate the movement of individuals to and from shallow nursery or spawning grounds to adult habitats offshore, MPAs should extend from the intertidal zone to deep waters offshore.
To best protect adult populations, based on adult neighborhood sizes and movement patterns, MPAs should have an alongshore extent of at least 5 km to 10 km of coastline, and preferably 10 km to 20 km.
Larger MPAs should be established to fully protect marine birds, mammals, and migratory fish.
To facilitate dispersal among MPAs for important bottom-dwelling fish and invertebrate groups, based on currently known scales of larval dispersal, MPAs should be placed within 50 km to 100 km of each other.
To provide analytical power for management comparisons, and to buffer against catastrophic loss of an MPA, at least three to five replicate MPAs should be designed for each habitat type within each biogeographical region.
To lessen negative impact while maintaining value, placement of MPAs should take into account local resource use and stakeholder activities.
Placement of MPAs should take into account the adjacent terrestrial environment and associated human activities.
To facilitate adaptive management of the MPA network into the future and the use of MPAs as natural scientific laboratories, the network design should account for the need to evaluate and monitor biological changes within MPAs.
The MLPA calls for protecting representative types of habitat in different depth zones and environmental conditions. The science team generally confirmed that all but one of the habitats identified in the MLPAoccur within state waters: rocky reefs, intertidal zones, sandy or soft ocean bottoms, underwater pinnacles, kelp forests, submarine canyons, and seagrass beds. Seamounts do not occur within state waters. The science team also noted that rocky reefs, intertidal zones, and kelp forests are actually broad categories that include several types of habitat.
The science team identified five depth zones that reflect changes in species composition: intertidal, intertidal to 30 m, 30 m to 100 m, 100 m to 200 m, and deeper than 200 m. The science team also called for special delineation of estuaries as a critical California coastal habitat. Finally, the science team recommended expanding the habitat definitions to include ocean circulation features, principally upwelling centres, freshwater plumes from rivers, and larval retention areas.
The MLPA recognizes the role of different types of MPAs in achieving the objectives of the Marine Life Protection Program. The Marine Managed Areas Improvement Act defines three types of MPAs: state marine reserves (SMR), state marine parks (SMP), and state marine conservation areas (SMCA). Each designation provides authority for different levels of restriction on human uses and has various objectives.
3. Process for Developing an MPA Network
A four-step process is being used by the Master Plan Science Advisory Team and the regional stakeholder groups for designing alternative MPA proposals. The overall aim of this process is for the task force to select alternative proposals, including a preferred alternative, and for the Fish and Game Commission to adopt one of the proposals.
The four steps in the process are as follows:
Regional MPA planning: This step begins with the preparation of a regional profile, and continues with the convening of a regional planning stakeholder group and a science team, obtaining additional advice, and identifying alternative approaches to networks and potential MPA sites.
Assembling of draft regional alternative MPA proposals: The regional stakeholder group develops proposals for packages of MPAs, after evaluating existing and new MPAs and other management activities.
Evaluating alternative MPA proposals: The task force evaluates the proposals and forwards a preferred alternative and other alternatives to the Fish and Game Commission. The California Department of Fish and Game conducts a feasibility analysis, comments on alternatives, develops initial regulatory documents based on Fish and Game Commission direction, and forwards this information to the Commission for regulatory review.
Commission consideration and action on the MPA proposals: The Fish and Game Commission prepares regulatory analyses, including a review under the California Environmental Quality Act, and invites public testimony.
The process will be reviewed periodically and revised on the basis of lessons learned. This adaptive use of the master plan will help facilitate future regional processes and statewide implementation.
Figure 13 illustrates the planning process for the north central coast of California, and figure 14 shows the central coast MPA network.
4. Key Considerations and Lessons Learned
These are some of the broad lessons learned from implementing an MPA network in the central coast region of California:
A clear mandate is essential and a specific timeline is beneficial.
Transparency and accuracy are critical for eliciting trust.
Making data readily available is key for truly engaging stakeholders in planning.
Commitment from stakeholders includes risks and huge staff and consultant workload.
Private funds support independent staff and consultants who have a singular focus and an ability to adapt efficiently.
Some concern exists about the lack of long-term commitment and internal capacity.
Flexibility is important as the process evolves - adding to the "lessons learned" is worth the investment and builds credibility.
Key Documents
For further information on the development of MPA networks in California, see the following:
Workshop presentation by John Ugoretz; and
California Department of Fish and Game. Master Plan for Marine Protected Areas: http://www.dfg.ca.gov/mlpa/masterplan.asp.
4.5 Summary of Small Group Discussions on International Case Studies
Following the plenary presentations of the four international examples of MPA network planning and implementation - for New Zealand, Australia, Germany, and California - participants met in small groups to discuss the application of lessons learned from those case studies to the Canadian context. This part of section 4 summarizes the results of these discussions.
New Zealand
New Zealand is applying clear national criteria for the design and selection of a representative system of MPAs in four marine regions, using a bioregional planning approach similar to Australia's. New Zealand is not attempting to implement integrated management of marine areas as Canada is trying to do through its LOMAs. Clearly, New Zealand's priority is representativeness, whereas Canada is applying multiple ecological criteria. New Zealand is using the best available information to design its network with a precautionary approach. Even when information is not readily available, particularly for deep marine waters, the process is moving ahead. A sense of urgency to implement a representative network of MPAs exists in New Zealand. In contrast, Canada has no specific targets, no milestones, and little political will to move the process forward at the same rate and in a similar fashion. Because of the complexity of jurisdictions and management responsibilities, and the advocacy of an integrated management approach, Canada is lagging behind all four countries for which case studies were presented at the workshop. Increased and more effective collaboration among federal agencies, provincial governments, Aboriginal organizations, and NGOs is critical to making progress in Canada.
Australia
Australia's approach to marine bioregional planning was described as being very similar to Canada's Integrated Management of Large Ocean Management Areas approach (the LOMA approach). Australia had very clear goals and principles (some participants noted that Canada needs similar clearly stated goals and principles). Its identification of conservation values was a good beginning and became the basis for moving Australia's representative MPA program forward.
Australia has implemented large marine planning processes and a representative MPA network, at least in its South-east Marine Region, because of a variety of factors. Australians love their oceans; most of the country's population lives near the coast. The GBRMP is a recognized success story that most Australians understand, and, as a result, they recognize the need for large MPAs. As well, Australia's Minister of the Environment is a strong advocate and has a high standing in the Cabinet. His leadership cannot be overstated.
The availability of scientific information was highlighted. Moving ahead with what is available, coupled with a precautionary approach, was described as Australia's general approach. Australia employed a national approach but also tried to involve state governments (although not all Australian state governments would agree with this assertion). First steps are often the most difficult, but movement becomes easier after some momentum is developed. The creation of controversy, that is, putting lines and boundaries on a map, is often a strategy for moving forward.
Australia's approach, unlike Canada's, considers socio-economic effects from the beginning of the process.
Germany
Germany's approach took a different tack. For example, Germany used the shorter list of CBD criteria instead of the IUCN/WCPA checklist. Germany's approach emphasized that "perfection" should not be the enemy of the good, and that the discussions should not be interpreted to be "ideal," that is, the only way possible within different national contexts. There are many ways to accomplish the same objective.
The small group discussions on the German case often focused on "process" and not on individual CBDcriteria. While this fact might be humbling to ecologists, success is often dependent on a successful approach to process and not application of specific criteria.
EBSAs were highlighted as a good place to begin, however they were interpreted. In the German case, though, national legislation constrained Germany's approach. For example, in considering "representativity," Germany looked only at specific habitat types. The discussion emphasized that, depending on the approach to biogeographical classification, different systems will result in meeting representativity targets in different ways. Very often politics gets in the way of science. Different rules often apply to different places. In Canada, the Eastern Scotian Shelf Integrated Management approach to representativity, for example, may not be acceptable in Newfoundland and Labrador.
The application of the "replication" criterion should not be limited by jurisdiction or legislation. Good practice might be to consider the addition of a fishery closure site to an MPA. An approach similar to theLOMA approach might be the best way to obtain replication. Replication can also be achieved in one large area, as well as many small areas spread out over large distances.
Often the best way to measure "connectivity" is by using rules of thumb, for example, looking at gradients from nearshore to offshore, or following depth contours and features. OSPAR has already identified many such rules of thumb.
How do we know when an MPA network is "viable and adequate"? This judgment usually involves indicators, for example, species indicators. However, most measurements of species health are based on inshore environments. Experts can define an MPA network, but quantifying such a network is difficult. We may have to rely on expert opinion to say we have a viable and adequate MPA network. At the end of the day, effectiveness of the management regime may be the most important factor in achieving a viable network.
Finally, the issue of "consultation" or stakeholder involvement was pointed out to be dependent on cultural factors. The "sunshine laws" under which most US regulations are developed would be unusual in most other countries. For example, in Germany the public is used to being told what to do, and the government is expected to know what it is doing. This is neither good nor bad, but rather a reflection of culture.
California
The California experience has many similarities to and differences from the Canadian experience, especially in terms of complex jurisdictional issues. Canada should learn from mistakes made in California, such as the lack of a coordinated federal-state planning process. California had very clearly stated specific objectives for the design of its MPA network and divided its coastal waters into five manageable units. In the small-group discussion, it was pointed out that not all ecological criteria were applicable at all scales and that feasibility and costs should be factored into the design of MPA networks (these factors are not considered in the current Canadian approach). The question of what criteria should be used and at what scale was raised but not discussed further. The point was also made that certain criteria apply only to specific objectives. The new Marine Ecosystems and Management (MEAM) website (http://depts.washington.edu/meam/) was identified as an important source of information on these issues.
As in the discussion of the New Zealand case, the importance of getting started was emphasized. Identifying obvious potential MPA sites from an ecological and feasibility perspective is a way to get started. Success can beget success. Knowledge gaps can be filled through the planning and implementation process. Several participants again emphasized the time required to implement an integrated management process and that the implementation of an MPA network in Canada cannot wait until the LOMA process is completed.
4.6 General Discussion
The issue of competing conservation interests in Canada was raised: some authorities and interest groups are focusing on MPAs, others on ecosystem-based management or integrated management, and all use different criteria and tools. In addition, unresolved rights and unclear ownership and responsibilities are problematic. An assertion was made that no single federal agency can take leadership in Canada while two other federal agencies have a mandate to complete their own networks - and provincial governments are at work designing and implementing their own MPA networks. A suggestion was made to create an ocean commission for Canada that might work at the regional level. The importance of DFO's role in providing leadership in identifying a vision for Canada was emphasized; other institutions could then identify more detailed visions for the regions and define goals and objectives relevant to particular places.
The session ended with a discussion of the benefits of MPA networks. If benefits do not start to accrue until the network is up and running, then politicians will be reluctant to support the idea of creating MPA networks. Expectations of different stakeholder groups will also be difficult to satisfy. Incremental benefits will have to be demonstrated and measured, but how? Existing MPA networks, for example, those in the United States, are expensive to manage and are not providing ecological benefits. Huge gaps exist in the spatial management of species, habitats, and ecological processes. A push should be made for complete, ecologically designed MPA networks. Single, small MPAs in California, however, have produced ecological benefits, such as bigger fish, larger populations, and healthier habitats. Even more benefits should be expected from larger networks.
Several observations were made that the "representative" objective or criterion was the most flexible one to apply to network design. Identifying representative areas and capturing them in a network should be relatively easy to do; iconic areas and features could then be added. Socio-economic costs should be minimized while the goals and objectives of the network are being achieved. On the other hand, one observer pointed out that Canada appeared to be "locked up" with the perception that Parks Canada Agency was the only agency that can apply a representative approach. Everyone was urged to step back and think about the implications of that perception and what it might mean to the future of a system of MPA networks in Canada.
A proposal was made for Canada to select one large marine area, such as a LOMA, that has ecological coherence, and design a regional MPA network through a partnership among the three federal agencies and a provincial government. Designing such a network at the regional level could begin to demonstrate the benefits of a network, as well as opening the door to collaborative planning. All of the pieces are in place for such a pilot project on the west coast of Canada, including the willingness of the province andNGOs to help advance the planning process.
Date modified: