Integrated Management Planning
Placentia Bay, Newfoundland and Labrador
Fisheries and Aquaculture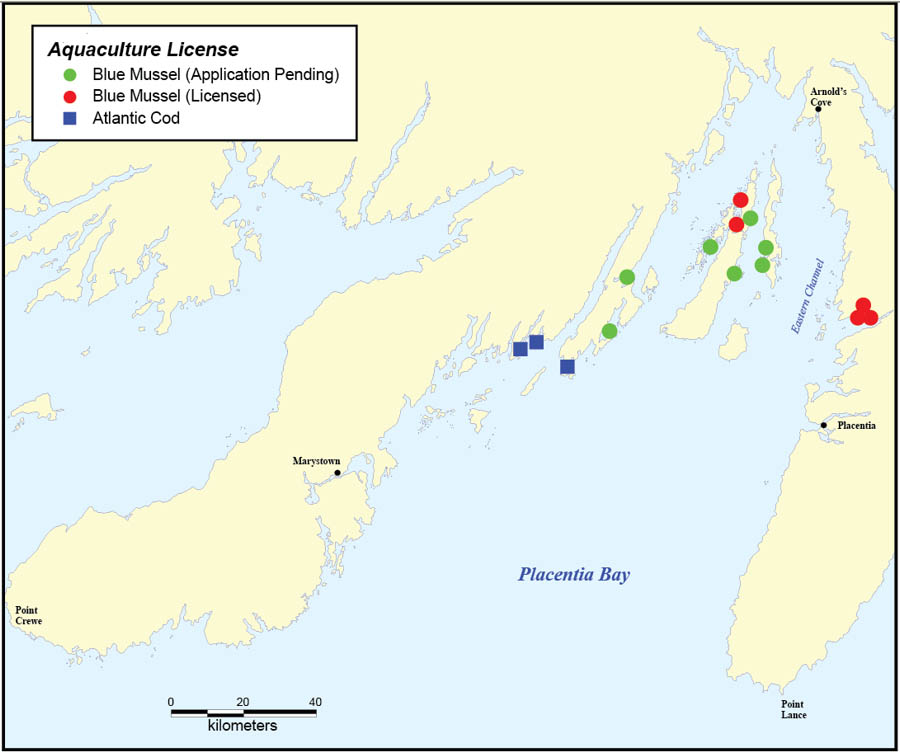 The inshore fixed gear cod fishery has historically been the most important fishery in Placentia Bay.
From 1985-1989, cod made up 67% of the catch by weight in the commercial fishery. Capelin made up 14% of the catch, and snow crab and American plaice made up 10% and 6%, respectively. From 1990-1995, cod made up 60% of the catch by weight, capelin 11%, snow crab 9%, Atlantic herring 6% and lumpfish roe 5%. The fishery from 1995-1999 was still dominated by cod (51%), but the snow crab fishery increased in importance to account for 23% of catches. Over these years, Atlantic herring (8% of catch) and lumpfish roe (6% of catch) remained important fisheries.Footnote 5 From 2000-2005, cod dominated the catch by weight, followed by snow crab and herring, respectively.Footnote 5
Other commercial fisheries in Placentia Bay include American lobster, sea and Icelandic scallops and winter flounder.
In Placentia Bay, the aquaculture industry focuses on blue mussel and cod.Footnote 15 Aquaculture farms tend to be small family run operations and owners typically have other sources of income. No market value estimates are available for the bay; however, in 1999, the total production value was $90,000.Footnote 6 The market value for the province, as a whole, was approximately six times the production value, suggesting that the total Placentia Bay market value was more than $500,000. Placentia Bay 2006 production value remained near $90,000 and there is now interest in developing salmonid aquaculture in the bay. Footnote 1
Recreational salmon fishing takes place in 20 rivers scheduled for salmon angling. An Adaptive Management Strategy has been adopted, based on a river classification system where individual rivers are rated Class I (highest) to Class IV (lowest), according to their ability to sustain angling activity. All rivers in Placentia Bay are classified as III or IV and, in 2008, seasonal bag limits were set at two salmon and hook-and-release, respectively.Footnote 8
Landings, Placentia Bay
Report a problem or mistake on this page
Date modified: