Federal Marine Protected Areas Strategy
Table of Contents
Appendix 3: The Federal Approach to Building a Marine Protected Area Network
Canada's network of marine protected areas will be built in two ways. First, to ensure that progress on the network continues, individual departments and agencies with marine protected area mandates will move forward in establishing areas that have previously been identified as candidate sites in accordance with their mandates and policies. At the same time, collective planning efforts will be undertaken within the context of broader ocean planning initiatives or other strategic planning opportunities to identify a suite of sites which may be added to the network in the future or which may require the application of additional conservation measures outside the purview of marine protected area programs.
The first stage is the identification of ecologically significant areas within the context of integrated ocean or other strategic planning initiatives and areas that are representative of Parks Canada's marine regions. This work will entail the collection, review and analysis of data from widespread sources and may require the input of many levels of government, Aboriginal Peoples, industry, non-governmental organizations, local communities, academia and scientists.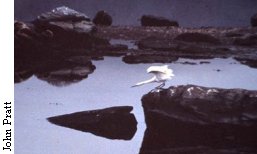 It is important to note that not all of the areas identified during this phase will become marine protected areas. In certain cases, it may be more appropriate to apply other management measures to protect and conserve identified areas. In addition, the resultant list of ecologically significant and representative areas may not be exhaustive, and additional sites may be added as new scientific or traditional ecological knowledge becomes available.
The list of ecologically significant and representative areas identified during the initial planning phase will be reviewed collectively to determine: which regulatory or non-regulatory tool, if any, is needed to ensure the conservation and protection of the area; which department or agency is best suited to implement the proposed protection or management measures; and, what interim measures, if any, are required to conserve and protect the area in the short-term.
For those areas best suited for marine protected area status, specific criteria will be developed to aid in the decision-making process that determines which marine protected area program and associated department or agency will be assigned the lead role. Again, the assignment of lead role does not mean the area will be formally designated as a marine protected area. Individual departments retain the authority to prioritize sites using their own departmental or agency specific criteria and select areas for further assessment, if desired and as resources permit.
The final selection and prioritization of marine protected area candidates remains the responsibility of each individual department or agency. Selection criteria or priority setting criteria have been developed by implementing departments to ensure environmental, social, economic and departmental priorities are all taken into consideration during the decision making process. Where possible, priority will be given to those sites that contribute to the marine protected areas network.
Date modified: