Federal Marine Protected Areas Strategy
Table of Contents
Protecting Our Marine Environment
Canada has the world's longest coastline, stretching over 243,000 km along three oceans, as well as the second largest Exclusive Economic Zone. These marine and coastal areas range from high arctic to temperate climates on three oceans – Atlantic, Pacific and Arctic. They support an astonishing diversity and abundance of marine life and human activities, contribute significantly to the Canadian economy and offer enormous potential for future economic, social and cultural benefits.
In 1997, the Government of Canada brought the Oceans Act into force providing Canada with a framework for modern oceans management. In 2005, the Government of Canada launched a comprehensive Oceans Action Plan (OAP). The OAP is a government wide approach to coordinate and implement oceans activities, and to sustainably develop and manage our oceans. Under the Health of the Oceans pillar of the OAP, several activities are identified to maintain healthy and productive ocean ecosystems to allow Canadians to realize the full economic, environmental, cultural and recreational benefits that their oceans have to offer. Deliverables under this pillar include the development of a Federal Marine Protected Areas Strategy which will guide the establishment of a comprehensive and coordinated network of marine protected areas in Canada.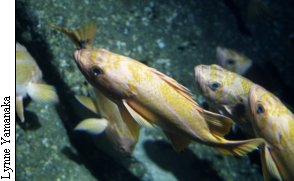 Within Canada there exists a spectrum of legislative and policy tools to establish and manage marine protected areas. Three federal departments and agencies – Fisheries and Oceans Canada, Parks Canada Agency and Environment Canada – have specific mandates in this regard (see Appendix 1) and have developed this Strategy to articulate how they will work together to establish and manage a network of marine protected areas in Canada and provide international leadership in marine protected areas.
Canada's federal marine protected areas network is comprised of three core programs, including:
Oceans Act Marine Protected Areas

Footnote

1 established to protect and conserve important fish and marine mammal habitats, endangered marine species, unique features and areas of high biological productivity or biodiversity.
Marine Wildlife Areas established to protect and conserve habitat for a variety of wildlife including migratory birds and endangered species.
National Marine Conservation Areas

Footnote

2 established to protect and conserve representative examples of Canada 's natural and cultural marine heritage and provide opportunities for public education and enjoyment.
The Federal Marine Protected Areas Strategy defines a marine protected area as:
"Any area of intertidal or subtidal terrain, together with its overlying water and associated flora and fauna, historical and cultural features, which has been reserved by law or other effective means to protect part or all of the enclosed environment" (World Conservation Union IUCN definition).
In addition to these core marine protected area programs, Migratory Bird Sanctuaries, National Wildlife Areas and National Parks with a marine component, are also considered important contributions to the marine protected areas network.
Federal marine protected areas differ in size, scope and design, and they also exist within a continuum of management measures, ranging from legislated mechanisms such as National Marine Conservation Areas which have minimum protection standards and are established in perpetuity, to more voluntary community-based initiatives. While not exhaustive, the following diagram situates the federal marine protected areas network within the broader suite of management measures in Canada.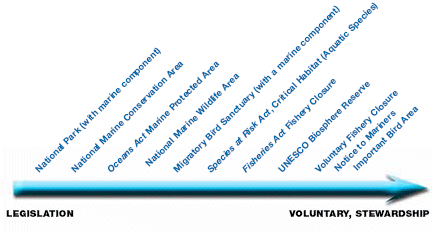 It is important to recognize that the establishment and management of a federal marine protected areas network will involve other federal departments and agencies, many of which are involved in the management of the oceans through policies, programs, services or regulations. With respect to marine protected areas, the federal departments and agencies that have a direct role in the management of activities in the oceans are those that will be most directly involved in marine protected area establishment and management.
In addition, other departments and agencies may play more indirect roles through partnership opportunities that are created by the establishment of marine protected areas (Appendix 2). In many cases, the three departments with a mandate for marine protected areas will be seeking the cooperation of other departments with oceans related responsibilities such as Transport Canada, National Defence and Natural Resources Canada to incorporate the marine protected area objectives into their programs and activities. Furthermore, while this document does not specifically address the involvement of provinces, territories, Aboriginal Peoples and others, such groups will have an important role to play in the establishment of a broader national network of marine protected areas in Canada.
Date modified: