Coral & Sponge Conservation Strategy for Eastern Canada 2015
Table of Contents
Appendix C: Management Measures
There are a variety of management measures employed in Canada to protect corals and sponges. It may be appropriate to use different tools, or a combination of tools, to meet the different goals and objectives for a given area.
As well as the management tools outlined below, public education and outreach programs are important for the success of all management measures. They will help the public gain a better understanding of the conservation measures that have been put in place and the reasons behind them. Different closure mechanisms have varying levels of protection (see Figure 9), ranging from legislated closures, such as NMCA and MPAs, to stewardship and voluntary measures.
C1. Industry Initiatives
Industry initiatives such as voluntary measures, or agreements to avoid certain areas, may be a useful tool where risks to corals or sponges are low, or where compliance with the voluntary measures is expected to be high. They are industry driven and not implemented or enforced by DFO. Therefore, voluntary measures require a high level of cooperation among users.
Voluntary measures include formal or informal agreements by one or more industries to avoid specified areas with corals and/or sponges. Voluntary measures may be recognized through industry Codes of Conduct, Conservation Harvest Plans (CHPs) or Integrated Fisheries Management Plans (IFMPs) developed for specific fisheries in conjunction with regulators. Due to the fact these are non-regulatory measures and not legally enforced, it is difficult to assess how effective the initiative is in protecting corals and sponges.
C2. Regulatory Measures
Fisheries and Oceans Canada
Fishery (General) Regulations
Section 6 of the Fishery (General) Regulations (FGR) under the Fisheries Act permits the issuance of Variation Orders, a legal instrument which allows DFO to vary close times and close areas to specific fisheries. Close times that are subject to this variation are provided in the Atlantic Fishery Regulations by species and/or gear type and/or vessel size class. This tool is used by DFO to impose management measures for gear, monitoring, reporting, harvesting, allocation, catch requirements, etc..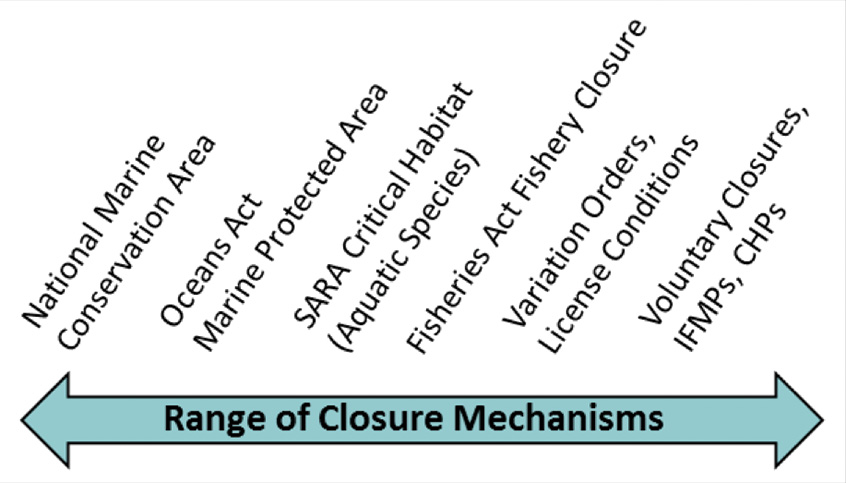 Fisheries Management Measures
The Policy to Manage the Impacts of Fishing on Sensitive Benthic Areas (DFO 2009), provides a framework to employ appropriate management measures for effective conservation of sensitive areas. Available measures include variation orders, licence conditions, IFMPs and CHPs to achieve fisheries closures, gear modifications, and changes to timing of fishing activities.
A key tool for use in the implementation of the Policy is the Ecological Risk Assessment Framework (Appendix D), which outlines a process for identifying the level of ecological risk of fishing activity and its impacts on sensitive benthic areas in the marine environment. The Department has developed this framework specifically for use in managing cold water corals and sponge-dominated communities.
Fisheries Protection Program
Proposed works, undertakings, or activities (non-fishing) that have the potential to harm fish or fish habitat (including corals and sponges) are normally reviewed by the Fisheries Protection Program. If the review determines that the work or undertaking will result in serious harm to fish or habitat that supports a commercial, recreational or Aboriginal fishery, an authorization under section 35 of the Fisheries Act is required. The decision of whether or not to issue such an authorization will consider the contribution of the relevant fish and habitat to a fishery, fisheries management objectives, measures to avoid, mitigate offset serious harm, as well as the public interest.
Marine Protected Areas
Canada's Oceans Act tasks the Minister of Fisheries and Oceans to lead and coordinate the development and implementation of a national network of MPAs on behalf of the Government of Canada, following a collaborative approach. DFO can establish MPAs with prohibitions on specific activities throughout the MPA; within certain zones established in the MPA; or through temporal restrictions. An MPA is a tool that can provide comprehensive protection to coral and sponge communities. MPA designation provides permanent protection while allowing flexibility as management measures may be adapted to new activities or new information while maintaining consistency with the identified conservation objectives for the MPA.
The National Framework for Canada's Network of Marine Protected Areas (GOC 2011) sets out how a network of MPAs will be designed to meet Canada's domestic and international commitments to establish a national network of marine protected areas. This framework which organizes all ocean areas into bioregions, has been prepared in collaboration with federal, provincial, and territorial government agencies that have a mandate to protect marine areas. It presents the government's intended approach to network design, building on international guidance, the experience of other countries, and on the scientific, traditional and community knowledge of Canadians.
Other Government Departments and Agencies
Industry Canada
Industry Canada is the federal department responsible for regulating submarine cable installations under the Telecommunications Act. Cable installations through Canadian waters are subject to Canadian Environmental Assessment Act (CEAA) regulations.
Parks Canada
The Parks Canada has the responsibility for designing a system of NMCAs, and is a federal partner in the development of the national network of marine protected areas. NMCAs are intended to represent the full range of Canada's marine ecosystems. Activities are restricted within these areas.
Nunavut Planning Commission
The Nunavut Planning Commission (NPC) is responsible for the development, implementation and monitoring of land use plans that guide and direct resource use and development in the Nunavut Settlement Area. The NPC consults with government, Inuit organizations and many other organizations but it is the Commission's responsibility to make the final decisions on how land use plans will be developed and how the plans will manage the land in Nunavut. Once these decisions are made the plans are sent to Government for approval. The Nunavut Planning Commission recently prepared a Draft Nunavut Land Use Plan to encourage discussion on land use planning in the Nunavut Settlement Area.
Management of offshore hydrocarbon operation activities
Administration of oil and gas rights in Nunavut and the Arctic Offshore remain under federal authority and the responsibility of the Minister of Aboriginal Affairs and Northern Development The Canada–Newfoundland and Labrador Offshore Petroleum Board (C-NLOPB) is responsible for the protection of the environment throughout all the stages of offshore oil and gas exploration and production, for the territory of Newfoundland and Labrador. The Canada-Nova Scotia Offshore Petroleum Board (C-NSOPB) has the same role for the Nova Scotia offshore jurisdiction. With regard to Quebec, the Government of Quebec and the Government of Canada signed the Canada-Quebec Accord in March 2011 in respect to the joint management of offshore petroleum resources, but this will not come into effect until the two Governments develop the legislative framework.
The National Energy Board has regulatory responsibilities for oil and gas exploration and activities on frontier lands not otherwise regulated under joint federal/provincial accords (e.g. C-NLOPB, C-NSOPB). Regulatory responsibilities, under the Canada Oil and Gas Operations Act and certain provisions of the Canada Petroleum Resources Act, are administered for the Nunavut, Arctic offshore, Gulf of St. Lawrence, a portion of the Bay of Fundy and onshore Sable Island. C-NLOPB and the C-NSOPB have the responsibility for ensuring environmental assessments (EAs) are conducted for exploration projects and any other offshore petroleum projects for which an EA is not required pursuant to the Canadian Environmental Assessment Act (CEAA 2012). EAs required by the C-NSOPB are referred to as Accord Act (DOJ 1987) EAs. This includes all EAs for seismic activity and may include EAs for other forms of exploration. CEAA 2012 applies to exploration drilling, development programs, and some decommissioning programs. For those projects that trigger an EA pursuant to CEAA 2012, the EA would need to be completed prior to receiving approval from the C-NLOPB, the C-NSOPB or the National Energy Board.
Appendix C Citations