International Agreement to Prevent Unregulated High Seas Fisheries in the Central Arctic Ocean
Learn about how Canada and the international community are working together to conserve Arctic marine ecosystems affected by climate change.
On this page
About the agreement
On October 3, 2018, Canada signed an international agreement to prevent unregulated commercial fishing in the high seas of the central Arctic Ocean. This agreement provides a framework for all signatories to cooperate to better understand the area's ecosystems, and to prevent commercial fishing from occurring until adequate scientific information is available to inform management measures.
This agreement provides a framework for Canada and other parties to:
take into account Indigenous and local knowledge
cooperate in science and research in the central Arctic Ocean
establish appropriate conservation and management measures
ensure the engagement and participation of Arctic Indigenous peoples 
Other parties who have signed include:
China
Japan
Russia
Iceland
Norway
South Korea
the European Union
United States of America
Denmark (in respect of Greenland and the Faroe Islands)
All signing parties are expected to ratify the agreement. In Canada, pursuant to the Policy on Tabling Treaties in Parliament, the agreement will be tabled in the House of Commons for 21 sitting days. Following this tabling period, the Minister of Foreign Affairs will be in a position to seek the required authority, through an Order in Council, for the ratification of the agreement.
The agreement will enter into force once all 10 parties ratify it, and will remain in effect for 16 years. It will be automatically extended for additional 5-year periods if the parties agree.
The parties to the agreement will meet at least every two years to review implementation progress and the scientific information developed through a joint program of scientific research and monitoring.
Map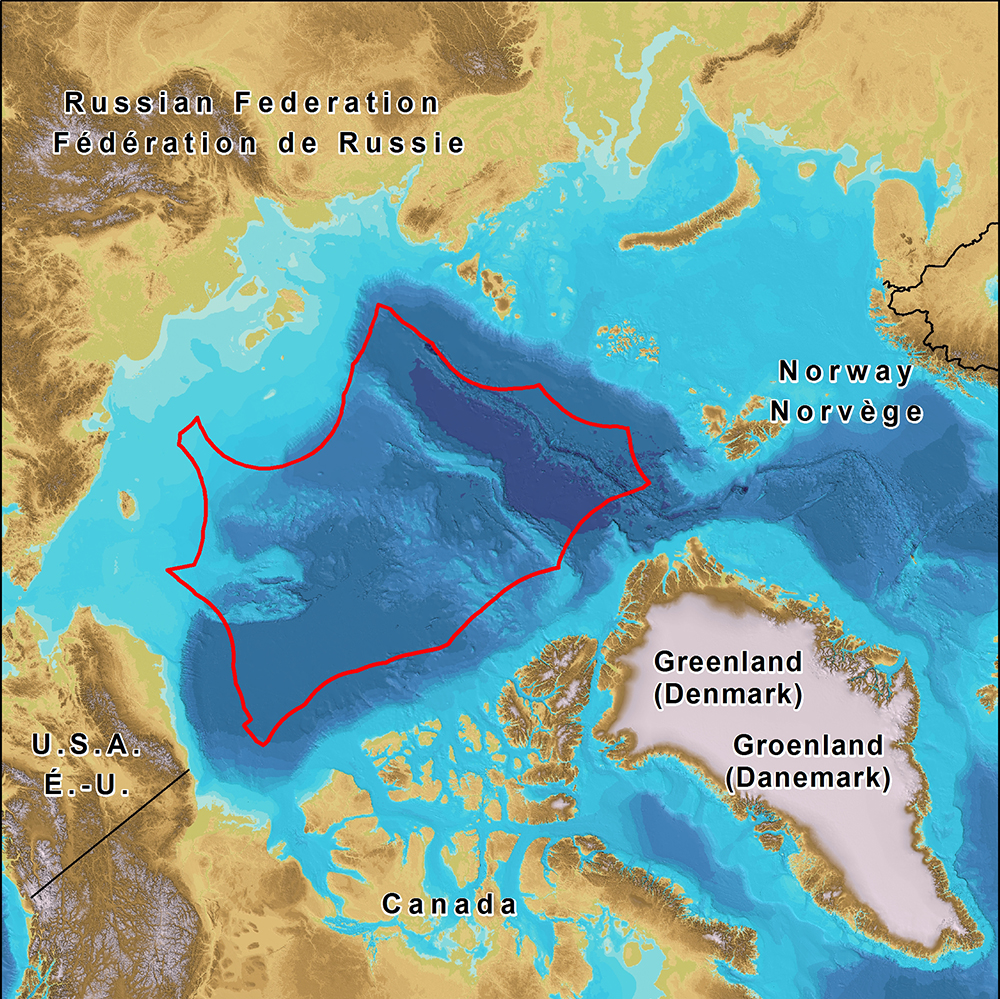 Description

Map showing area covered by the Agreement to Prevent Unregulated High Seas Fisheries in the Central Arctic Ocean.
Climate change
Climate change continues to have a major impact in the Arctic. Melting Arctic sea ice is opening up this once frozen frontier to new interests, such as:
fishing
shipping
resource development
This agreement demonstrates a proactive and precautionary approach to future fishing activities in the high seas portion of the central Arctic Ocean. All parties are committed to a program of joint scientific research and monitoring. This will contribute to a better knowledge of Arctic Ocean ecosystems and improved understanding of Arctic fish stocks. By preventing commercial fishing in the absence of this information, this agreement increases the likelihood that any future commercial fishing activity in this area will be sustainable.
Key partners
We worked with Arctic Indigenous peoples throughout the negotiation process. This included members of the Inuit Circumpolar Council, who were part of the Canadian delegation.
The agreement's final text ensures that Indigenous peoples will be included in the process moving forward, and recognizes:
Arctic Indigenous peoples' interests
the value of Indigenous knowledge in decision making
We also worked with other key stakeholders during negotiations, including:
the fishing industry
environmental groups
territorial governments
Key dates leading to this agreement
July 16, 2015
Signing of Declaration Concerning the Prevention of Unregulated High Seas Fishing in the Central Arctic Ocean by 5 Central Arctic Ocean coastal states.
December 1 to 3, 2015 to March 15 to 18, 2017
In December 2015 initial discussions took place in Washington, D.C., to share information among 10 participants. The U.S. hosted the first formal negotiation meeting in Washington, D.C. in April 2016.
Another round of negotiations continued in Iqaluit, Nunavut in July. In November, negotiations continued among the 9 states and the European Union in Torshavn, in the Faroe Islands, then again in Reykjavik, Iceland in March 2017.
November 28 to 30, 2017
In Washington, D.C., an agreement in principle was reached to prevent unregulated fishing in the high seas of the central Arctic Ocean.
October 3, 2018
The Parties sign the Agreement to Prevent Unregulated High Seas Fisheries in the Central Arctic Ocean in Ilulissat, Greenland.
Date modified: