Snow Crab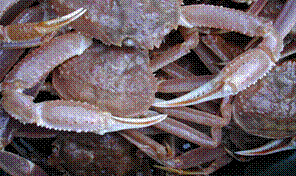 Name:

Snow Crab

Latin Name:

Chionoecetes opilio

Group Name:

Invertebrates

Location:

Northern Atlantic

Fishing Gear:

Traps

Fishing Season:

Varies by area
Species at a Glance
Snow crab, also referred to as Queen crab, are found in the North Atlantic and North Pacific oceans. In the North Atlantic, they are found from Greenland in the northeast Atlantic and from southern Labrador to the Gulf of Maine in the northwest Atlantic. They prefer deep, cold-water conditions. Canada is the world's largest producer of Snow crab, accounting for about two-thirds of the global supply. In 2011, almost 73 percent of all snow crab exports from Canada were destined for the United States. China and Japan are also major markets.
Landings:

In 2013, total landings were 98,065 tonnes and in 2012, total landings were 92,849 tonnes. In 2011 landings were 84,139 mt. In 2010, the total landings in Atlantic Canada were 83,584 tonnes, with total allowable catch set at 87,952 tonnes.

Value:

Snow crab is the second most valuable Canadian fishery export product, with $434.2 million exports valued in 2013, 2012 exports valued at $429.1 million. The 2011 exports were valued at $613.5 million. The 2011 landed value was $459 million.

Abundance Status and Trends:

The size of snow crab stocks is naturally variable and cyclical. Between 1990 and 2002, landings quadrupled from just over 26,000 tonnes to a peak of almost 107,000 tonnes. Since then, landings have fluctuated but remain high. There appears to be a general upward trend in biomass in some areas, although some fishery areas have seen recent declines.

Fisheries:

There are approximately 60 Snow Crab Management Areas in Canada spanning four DFO regions. In 2010, 4,326 snow crab fishery licenses were issued.

Conservation Measures:

The management of the snow crab fishery is based on annual total allowable catch, quotas, effort controls, minimum legal size, minimum mesh size of traps, seasons, areas, and soft-shelled (also known as white crab) protocols.
Species Background
Snow crab are crustaceans with a flat body and five pairs of spider-like legs (the front pair are claws). As they grow, the hard outer shell is periodically shed in a process called molting. After molting, crab have a soft-shell for a period of time and are called soft-shell crab or white crab.
Snow crabs may cease moulting and growing at variable sizes. Males can grow to a size (carapace width) of about 15 centimetres, with largest males growing almost twice as large as the largest females. Only male crabs that meet or exceed the minimum legal size of 95 mm may be harvested. It takes from 7 to 9 years for males to reach legal size for harvesting. Snow crab live from about 14 to 16 years.
Snow crab are mostly found in the estuary and the Gulf of St. Lawrence, around Cape Breton Island, on the Scotian Shelf, on the Newfoundland and Labrador Shelf, and in Newfoundland bays.
For more biological information about the Snow Crab, visit our Snow Crab profile.
Fisheries
Snow crabs are caught in traps placed on sandy or muddy bottoms, in depths ranging from approximately 50 to 600 metres. The harvest is conducted almost exclusively with vessels that are less than 20 metres in length. The fishing season is variable, but generally takes place in the spring and summer in some fishing areas, and until November in other areas.
Distribution of Snow Crab Stocks Harvested in Atlantic Canada
Conservation Measures
The annual crab harvest is managed on the basis of total allowable catches (annual catch limit) that are established through the development of an integrated fisheries management plan for each of the four management regions, based on scientific advice:
Licence holders are allocated a specific tonnage of crab (individual quota) and a maximum number of traps during the fishing season within specific Crab Management Areas.
Only male crabs that meet or exceed the minimum legal size (95 mm carapace width) may be harvested during the fishing season.
Minimum mesh size (13.5 cm) is set to allow females and small crabs to escape. When caught, female and undersized male crabs are returned alive to the ocean. 
There are also soft-shelled (recently moulted crab) protocols:
Within the larger crab fishing areas, grids are used to assess the incidence of soft-shelled (recently moulted) crab. If a high proportion of soft-shell crabs are caught, the fishery will close for the remainder of the season in that particular grid. The closure thresholds differ by management area, but in most cases, when 20 percent of the catch in a grid is comprised of soft shell crabs, that grid is closed.
Snow Crab Landings – Historical View
Population Estimates
Snow crab stock assessments are conducted on a regular basis through the Canadian Science Advisory Secretariat, a scientific peer review process that includes internal and external experts as well as harvesters.
The sizes of snow crab stocks are naturally variable, largely due to effects of ocean climate variation. Regardless of fishing activity, crab populations have periods of higher and lower abundance. Resource levels vary by area.
Newfoundland and Labrador: Multi-species trawl surveys indicate that the overall fishable (exploitable) biomass has recently increased due to recovery in the south, while the north has decreased.
Scotia-Fundy: The fishable biomass has increased in most areas.
Southern Gulf of St. Lawrence: The estimated exploitable biomass in the southern Gulf has been decreasing since 2004. The abundance of pre-recruits observed in the 2009 survey could indicate a possible upward phase in recruitment to the fishery starting by 2012.
Northern Gulf of St. Lawrence: The estuary and northern Gulf of St. Lawrence areas are currently characterized by a stable or slightly decreasing fishable biomass.
Additional Information
Report a problem or mistake on this page
Date modified: