Eastern Canada Sea Scallop (Offshore)
Name:

Sea Scallop

Latin Name:

Placopecten magellanicus Group

Name:

Mollusc

Location:

Northwest Atlantic

Fishing Gear:

New Bedford rakes or dredge

Fishing Season:

Variable
Species at a Glance
Sea or Giant Scallops are bivalve molluscs and are one of Canada's most important commercial shellfish species. The scallop is possibly best known for its beautiful and distinctive circular-shaped shell that can reach up to 20 cm in size.
This fishery is managed in six geographical zones called Scallop Fishing Areas, which range from the St. Pierre Bank off the south coast of Newfoundland to Georges Bank off the southern coast of Nova Scotia. Primary export markets for Sea Scallops are the United States and France.
The Eastern Canada Sea Scallop (offshore) populations are healthy and sustainably managed. Current biomass levels are above their long-term medians and annual fishing quotas are in line with science advice to maintain the future health of the population.
Landings:

From 2000 to 2009 the annual landings averaged around 7,000 tonnes (meat weight, not including shells) in the offshore scallop fishery. Landings and total allowable catches declined from 2000 to 2005 but have been increasing since then. The total allowable catch was set at 6,175 tonnes in 2010. In 2012, the total landed quantity (inshore and offshore) was 6,368 tonnes. In 2011, the total landed quantity (inshore and offshore fishery) was 7,145 tonnes meat weight. Offshore landings (vessels over 90 ft.) amounted to 5,505 tonnes of meat weight.

Value:

The overall value of the inshore and offshore scallop fishery was $113.5 million in 2012, of which $82.9 million was landed in the offshore fishery.

Abundance Status and Trends:

The commercial catch rate remains above the long-term average, as does the estimated biomass. In the George Bank fishing area, where the majority of offshore scallop fishing occurs, an extremely large cohort of pre-recruits (juveniles) was observed in the 2008 survey. These scallops will be of harvestable size in 2010-11, with an expectation of much higher commercial biomass levels at that time.

Fisheries:

The fishery occurs off the Atlantic coast of Nova Scotia and part of the southern coast of Newfoundland. Georges Bank, off the southwest portion of Nova Scotia, accounts for approximately 80 percent of all offshore scallop landings.

Conservation Measures:

The sea scallop fishery management measures include limited entry (no new licences), total allowable catch quotas for each Scallop Fishing Area, meat counts, electronic vessel monitoring, dockside monitoring of all landings, and industry-managed closures designed to protect juvenile scallops and increase yields.
Species Background
Sea scallops are found densely concentrated on sandy, gravel bottoms. Sea scallops can be found in waters at depths as shallow as 10 metres and as deep as 384 metres. The harvestable offshore concentrations are found on banks at depths between 35 metres to 120 metres. On average, sea scallops need four to five years to reach commercial size. Sea scallops can live up to 21 years.
Sea scallops are suspension filter feeders and their diet consists mainly of plankton. Before settling on the seabed, scallop mortality is high as scallop larvae may be eaten by larger organisms, including zooplankton and fish, or transported away from favourable habitats by currents. The main predators of adult sea scallops are sea stars, crabs, lobster and various groundfish.
Fisheries
Offshore scallop fisheries take place exclusively inside Canada's 200-mile economic zone, primarily on Georges Bank (Scallop Fishing Area 27), and also on Browns and German Bank (Scallop Fishing Area 26), the Eastern Scotian Shelf (Scallop Fishing Area 25) and St. Pierre Bank (Scallop Fishing Areas 10, 11 and 12).
Sea scallop fishing is carried out year-round with a few exceptions. For example, the fishery occurs from June to October on German Bank to avoid conflict with the lobster fishery that takes place there from November to May. There are also two specific area closures on Georges Bank: for approximately seven weeks in February and March to protect spawning cod; and for the month of June to protect yellowtail flounder.
The offshore scallop fleet consists of two types of fishing vessels:
wet fish vessels, where the scallops are kept fresh on ice; and
freezer-trawlers, where the scallops are frozen at sea.
Scallop Fishing Areas (Offshore)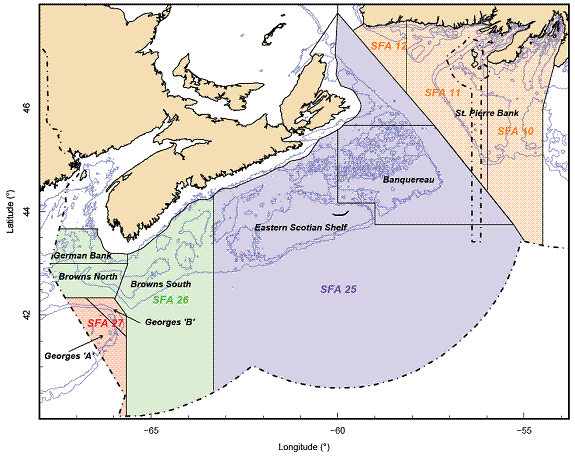 On March 25, 2010, the Eastern Canada Sea Scallop fishery (offshore) received Marine Stewardship Council (MSC) eco-certification as a sustainable and well-managed fishery. This is the first scallop fishery in North America to receive MSC eco-certification.
Conservation Measures
Conservation measures include:
limited entry to licensed operators (no new licences);
annual catch quotas for each scallop fishing area, based on scientific advice;
an enterprise allocation program where licence holders each receive percentage shares of the annual quota;
a meat count measure, which helps ensure only larger-size scallops that have already gone through at least one spawning-cycle are harvested; and
seasonal and area closures.
There are currently six companies that hold offshore scallop fishing licences. Each receives a percentage share (an enterprise allocation) of the annual total allowable catch in each scallop fishing area. These enterprise allocation percentages were originally established based on historical fishing performance and the number of licences held by each company at that time.
The industry manages voluntary closures that protect areas with high concentrations of juvenile scallops. On Georges Bank, by-catch is regularly monitored by independent observers and the fleet continues to pursue ways to reduce by-catch of groundfish species.
Enforcement of conservation measures include at-sea inspections, frequent flyovers by aircraft, at-sea independent observers, a vessel monitoring system and full independent verification of all catch landed.
The Integrated Fisheries Management Plan for this fishery has been in effect since 2000 and is being revised for 2011.
Offshore Sea Scallop landings – Historical View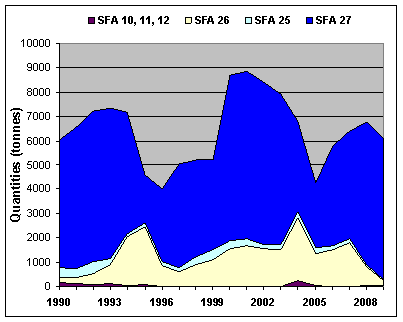 Population Estimates
Overall, the Eastern Canada Sea Scallop (offshore) populations are healthy. Current biomass levels are above their long-term medians and annual fishing quotas are in line with science advice to maintain the future health of the population.
In the Georges Bank area, the biomass of "fully recruited" (adult-sized, available for commercial harvest) scallops was estimated at 18,320 tonnes (meat weight, not including shells) in 2009. This was a decline from the estimate of 20,760 tonnes in 2008, but is well above the 28-year median biomass of 10,405 tonnes.
"Recruit scallops," meaning those ready in the next year for commercial harvest, were also well above the median biomass.
The biomass of "pre-recruit" (juvenile) scallops was estimated to be 19,640 tonnes in 2009, the highest on record since 1981.
The extremely large cohort of "pre-recruits" observed in the 2008 stock assessment survey began to enter the fishery in 2010, with an expectation of much higher commercial biomass levels in the near future. (Science Advisory Report 2010/036).
Currently, Fisheries and Oceans Canada is working to develop new biomass reference points to formalize the precautionary approach for the management of this species.
Additional Information
Date modified: