Pacific Halibut
Name:

Pacific Halibut

Latin Name:

Hippoglossus stenolepis

Group Name:

Groundfish

Location:

North Pacific

Gear:

Hook-and-line

Season:

Mid-March to Mid-November
Species at a Glance
Pacific halibut are the largest flatfish in the world, weighing as much as 300 kilograms and reaching 2.7 metres in length. The Canadian portion of the West Coast Pacific halibut fishery occurs along the entire coast of British Columbia. The resource is jointly managed by the governments of the United States and Canada through the International Pacific Halibut Commission. The stock is considered healthy.
The U.S. market accounts for over 96 percent of Canada's Pacific halibut exports. The majority of the remaining Pacific halibut exports are destined for Taiwan and Japan.
Landings:

In 2013, Canada's Pacific halibut catch was 3,746 tonnes. In 2012, it was 3,694 tonnes. In 2011, the Pacific halibut catch was 4,136 tonnes.

Value:

In 2013 Canada's Pacific halibut export value was $44.5 million and in 2012 it was $38.3 million. In 2011, Canada's Pacific halibut export value was $28.9 million.

Biomass Status:

The commercially fishable (exploitable) biomass at the beginning of 2011 was estimated to be 144 million tonnes coast-wide (including Canada and the United States). The 2011 catch limit for Canada, including both commercial and recreational catches, was set at 3.48 million tonnes. Coast-wide, the limit is 18.67 million tonnes. The commercial portion of that was 3.05 million tonnes for Canada and 18.02 million tonnes coast-wide.

Population Trends:

The Canadian stock (Area 2B) is considered healthy: stock condition indices have increased in recent years. Projections indicate that the commercially harvestable and female spawning biomass will be stable or increase over the next several years.

Fisheries:

The Pacific halibut commercial and recreational fishery occurs along the West coast of North America, including area 2B (British Columbia). There are 435 commercial halibut licences, including those commercial communal licences issued to First Nations.

Conservation Measures:

The Pacific halibut fishery is protected and managed by a Canada-U.S. treaty, the Convention for the Preservation of the Halibut Fishery of the Northern Pacific Ocean. It is also managed by an Integrated Fisheries Management Plan, which applies to all of Canada's Pacific groundfish fisheries. The fishery is characterized by a limited entry licensing regime, a total allowable catch set annually, individual transferable quotas, as well as 100 percent at-sea and dockside monitoring coverage.
Species Background
The average age of halibut in the commercial fisheries is about 12 years old. Females grow faster and live longer than males. The oldest recorded female was 42 years old, and the oldest male was 27 years old.
Pacific halibut are found along the continental shelf in the North Pacific, the Bering Sea and the Gulf of Alaska, but are also thought to migrate long distances to Baja, California. Most adult fish tend to remain on the same grounds, making only a seasonal migration from the more shallow feeding grounds in summer to deeper spawning grounds in winter.
Due to their large size, halibut may be less vulnerable to predation than other marine species.
Read more about the biology of Pacific halibut.
Fisheries
The primary Pacific halibut fishery uses hook-and-line gear. Impacts on sea bottom habitat are significantly reduced by the use of this gear.
Since 1923, this fishery has been protected and managed by an international treaty between Canada and the United States. Every year, the International Pacific Halibut Commission, which provides the forum for bilateral cooperation on Pacific halibut research and fishery management, sets the total allowable catch for each fishing zone along the west coast.
Each year, the commercial halibut fishery starts around mid-March and continues until mid-November. The individual vessel quota system allows fresh halibut to be moved into markets throughout most of the year.
In September 2009, Canada's Pacific halibut fishery (British Columbia) earned Marine Stewardship Council certification for being a sustainable and well-managed fishery. For more details, visit the MSC website.
Pacific Halibut Management Areas:
Conservation Measures
Canada's Pacific halibut fishery is tightly controlled: landings may occur only at designated ports, and vessel masters must complete logbooks that document fishing location and catch, both retained and released. All halibut vessels must also carry a government-certified observer or a video-based, GPS-equipped electronic monitoring system to verify catch composition and fishing location.
All groundfish stocks in Canada's Pacific fishery are managed by a single integrated fisheries management plan. This plan includes:

100 percent at-sea monitoring and 100 percent dockside monitoring for all groundfish fisheries;
individual vessel accountability for all catch of all species (both retained and released);
individual vessel quotas; and
transferability of individual quotas between vessels and fisheries to cover catch of non-directed species.
Under the individual vessel quota system, each commercial halibut licence is granted a pre-determined share of the total allowable catch before the season begins.
A number of measures to reduce and account for bycatch are in place with the Commercial Groundfish Integration Program. As a condition of license, there are specific regulations in place to reduce the incidental catch of seabirds. These include mandatory use of streamer lines or towed buoys when setting and hauling gear to keep birds away from baited hooks, weighted ground lines, thawed bait, additional weights on the ground line, and procedures for the handling of bait and offal discharges to prevent seabird attraction to fishing hooks.
In order to decrease the amount of illegally-caught halibut entering the market, all halibut in Canada, including Canadian-caught halibut landed in the US, are tagged by an observer and certified by Fisheries and Oceans Canada at the point of initial offloading. Each tag has a unique serial number that can be used to trace the fish back to its point of landing.
Canadian Pacific Halibut Landings – Historical View:
Population Estimates
Each year, the International Pacific Halibut Commission assesses the abundance and potential yield of Pacific halibut using all available data, including data from the commercial and recreational fisheries and scientific surveys. Coastwide, the commercially harvestable (exploitable) biomass at the beginning of 2011 was estimated to be 144 million tonnes.
The coastwide assessment estimates commercially harvestable biomass of halibut to have declined by approximately 50 percent over the past decade and that the average size-at-age for all fish has been decreasing -- a trend continuing from recent years. However, due to the very high number of young halibut in the water, which are not yet included in exploitable biomass estimates, it is believed that total halibut biomass is near an all-time high. From the age data available, it appears halibut born in 1999 and 2000 (referred to as year classes) are now entering the fishery at a relatively strong rate. Projections suggest that spawning biomass will increase and exploitable biomass will be stable in the near future.
For more information, visit IPHC website.
Pacific Halibut Exploitable Biomass Coastwide – Historical View: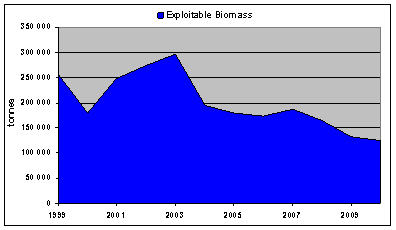 Additional Information
Report a problem or mistake on this page
Date modified: