Recruitment of Policy Leaders
The 2023-2024 Recruitment of Policy Leaders campaign is now accepting applications for candidates self-declaring as an Indigenous person or as a person living with a disability. This supplementary application period will be open from November 2 to November 30 2023.
Indigenous candidates may visit the Recruitment of Policy Leaders 2023-2024 for Indigenous People page to apply.
Persons living with a disability may visit the Recruitment of Policy Leaders 2023-2024 for Persons with a Disability page to apply.
Candidates belonging to one or more of the identified groups need only submit one application: either the open stream or the Indigenous stream or the persons living with a disability stream.
If you already applied to the open stream and self-declared as either being an Indigenous person and/or a person living with a disability, you do not need to apply again.
Please check out our GCWiki page to sign up for webinars that will help answer any questions you may have about the program or application process.
We invite you to visit GC Jobs to learn about other job opportunities in the federal public service.
Looking for a challenging and rewarding career in the federal public service? By becoming a policy leader, you can help develop government policies to address today's key challenges and prepare for tomorrow's.
Policy leaders work on a variety of areas, including:
climate change
criminal justice
digital economy
food security
foreign policy
health
international trade
national security
reconciliation with Indigenous Peoples and more
Become a policy leader
The Recruitment of Policy Leaders program seeks people with diverse backgrounds who have the potential to create positive change and make a significant contribution to the federal public service. This program develops a pool of exceptional candidates who are ready to be hired into a variety of mid- to senior-level policy-related positions in the federal public service.
To be eligible, you must have a strong record of policy-relevant experience, leadership or initiative, and research achievement. We accept applications from all academic and professional fields. Policy leaders are passionate about public policy and prepared to innovate to address Canada's most pressing challenges.
What you could do as a policy leader:
work in the federal public service as a mid-level or senior policy analyst
propose creative solutions to Canada's biggest policy challenges
advise senior officials in a constantly changing environment
work on a variety of issues and shape your career path based on your interests and expertise
be a part of a highly connected network of passionate and motivated alumni
Those selected will join a diverse pool of talented and experienced university graduates, scientists and professionals.
Benefits of the program
access to employment opportunities that match your interests and areas of expertise in various federal departments and agencies
access to mentorship from program alumni who will help you network and guide you through the job search and hiring process
access to a network of professionals who continually seek new challenges and are interested in tackling Canada's most critical public policy issues
access to orientation sessions and regular social events, connecting you to other successful candidates and learning opportunities
Policy leaders may be appointed to intermediate level roles, typically as a senior policy analyst (at the EC-05 to EC-07, or equivalent groups and levels). Salaries may range from $98,299 to $144,055.
Who is eligible
Canadian citizens or permanent residents who live in Canada or abroad
people who live in Canada but do not have Canadian citizenship or permanent resident status may also apply for this program, but preference will be given to veterans first and then to those with Canadian citizenship or permanent resident status, except for positions in Nunavut, where Inuit from Nunavut must be appointed first
review the list of requirements to assess whether you meet program expectations
Diversity, equity, and inclusion
The Government of Canada is committed to fostering a public service culture grounded in diversity, inclusiveness and accessibility and is working diligently to remove systemic barriers to employment equity members in order to build a workforce that truly represents the population we serve. The Government of Canada is committed to hiring over 5 000 people with disabilities by 2025 and a barrier-free Canada by 2040. The Government of Canada also recognizes First Nations, the Métis Nation, and Inuit as the Indigenous peoples of Canada and are committed to building renewed nation-to-nation, Inuit-Crown and government-to-government relationships. We are committed to act with honour, integrity, good faith, and fairness during the course of this selection process and thereafter.
when applying, don't forget to self-declare if you're an Indigenous person, a person with a disability, a member of a visible minority group or if you identify as a woman
at each step of the process, you can submit a request for assessment accommodation measures including:

accessible environment
different format
larger font
adaptive technology
more time
individual testing and more.

accommodation measures are designed to remove barriers to ensure a fair assessment that allows candidates to fully demonstrate their skills.
What to expect after submitting your application
If you meet the requirements of the application process, you can expect to:
receive an invitation for a written assessment
receive an invitation to an interview
have your references checked and provide documents to validate key information provided in your application
Hear from our policy leaders
Program alumni will share more information online and host Q&A information sessions throughout the application period. Visit our GCwiki page for details and registration links.
Alix Dostal, Senior Assistant Deputy Minister, Fisheries and Oceans Canada
"In my role as Senior Assistant Deputy Minister at Fisheries and Oceans Canada I have the opportunity to work on an array of important and fascinating issues, including related to helping ensure healthy and sustainable aquatic ecosystems, with partners from across Canada. The Recruitment of Policy Leaders program has provided many opportunities for me throughout my career in the federal public service and the relationships I have forged through RPL from my early days as a public servant have continued to endure and support me through to today."
Masha Cemma, Policy Advisor, Office of the Chief Science Advisor
"The Recruitment of Policy Leaders program landed me a dream job working with the Chief Science Advisor of Canada, a perfect spot to use my science background and hone my policy acumen. I knew it was the opportunity of a lifetime, because the office was brand new when I joined and I was eager to get in on the ground floor. Two years later, I'm part of a big team working on horizontal science initiatives both in Canada and internationally, like Open Science."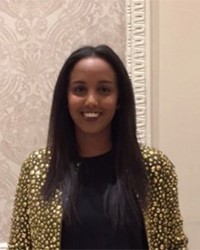 Asha Jibril, Senior Policy Advisor, Canadian Human Rights Commission
"As a Senior Policy Advisor, I provide guidance to investigators, mediators and legal counsel on some of the most systemic and complex human rights issues in Canada. I work with a diverse array of community-based organizations to improve access to justice for marginalized groups, conduct research into issues of public interest, and prepare decision-makers for appearances before Parliament and the United Nations. The Recruitment of Policy Leaders program enabled me to pursue a meaningful career in what I am most passionate about."
Félix Meunier, Director, Unmanned Aircraft Systems, Transport Canada
"My position allows me to play a prominent role in defining the approach to integrate drones in the life of all Canadians — and I'm not only referring to small drones but to very big ones too, that will eventually be used as urban taxis! Where else could I work on such varied issues for Canadians, feel that I make a difference and meet such incredible people?"