Infographic: Canada's fishing measures by year introduced
Release date: February 2021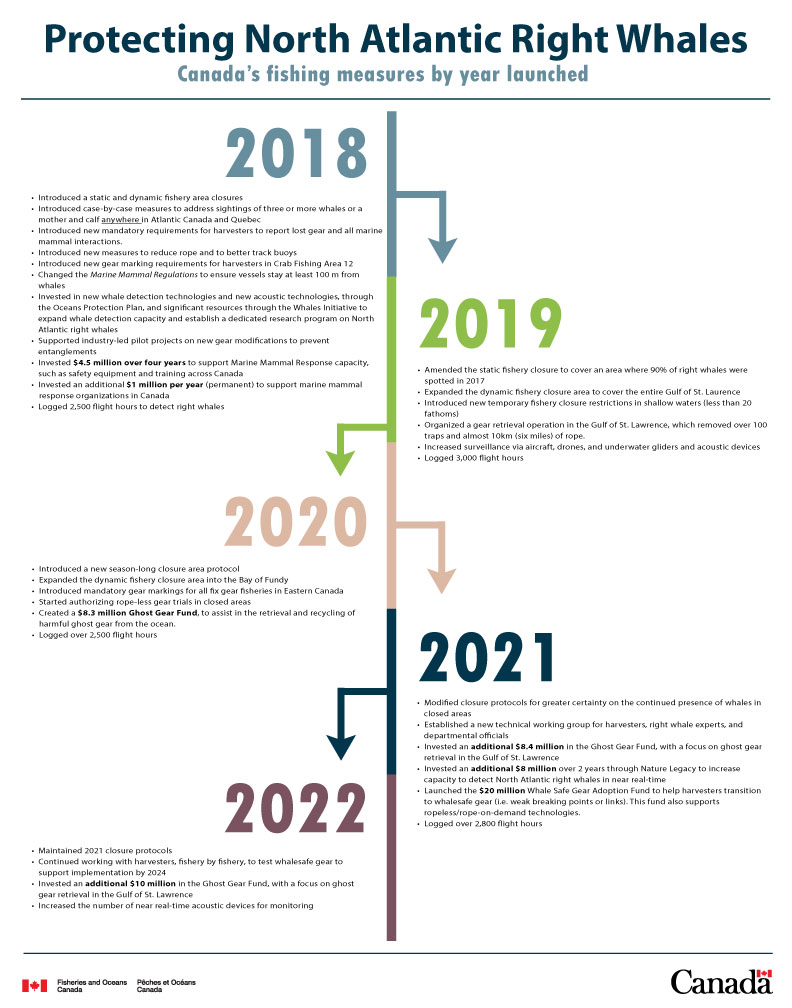 Description: Canada's fishing measures by year introduced

2018

Introduced static and dynamic fishery area closures
Introduced case-by-case measures to address sightings of three or more whales or a mother and calf anywhere in Atlantic Canada and Quebec
Introduced new mandatory requirements for harvesters to report lost gear and all marine mammal interactions
Introduced new measures to reduce rope and to better track buoys
Introduced new gear marking requirements for harvesters in Crab Fishing Area 12
Changed the Marine Mammal Regulations to ensure vessels stay at least 100 m from whales
Invested in new whale detection technologies and new acoustic technologies, through the Oceans Protection Plan
Supported industry-led pilot projects on new gear modifications to prevent entanglements
Invested $1 million per year (permanent) to support marine mammal response activities
Logged 2500 flight hours

2019

Amended the static fishery closure area to cover an area where 90% of right whales were spotted in 2017
Expanded the dynamic fishery closure area to cover the entire Gulf of St. Laurence
Introduced new temporary fishery closure restrictions in shallow waters (less than 20 fathoms)
Organized a gear retrieval operation in the Gulf of St. Lawrence, which removed over 100 traps and almost 10km (six miles) of rope
Invested an additional $1.2 million over four years to support Marine Mammal Response activities
Increased surveillance via aircraft, drones, and underwater gliders and acoustic devices.
Logged 3,000 flight hours

2020

Introduced a new season-long closure area protocol
Expanded the dynamic fishery closure area into the Bay of Fundy
Introduced mandatory gear markings for all fix gear fisheries in Eastern Canada
Authorizing ropeless gear trials in closed areas
Created a $8.3 million Ghost Gear Fund, to assist in the retrieval and recycling of harmful ghost gear from the oceans. This program helped facilitate the removal of 63 tonnes of ghost gear in Atlantic Canada.
Logged over 2,500 flight hours

2021 and beyond

Modified closure protocols for greater certainty on the continued presence of whales in closed areas
Established a new technical working group for harvesters, right whale experts, and departmental officials
Will work with harvesters, fishery by fishery, throughout 2021 and 2022 to:

Implement weak rope or weak breaking points by the end of 2022.
Implement requirements for maximum rope diameters, sinking rope between pots and traps, and reductions in vertical and floating rope after 2022.
Report a problem or mistake on this page
Date modified: