Leatherback Sea Turtle (Atlantic population)
Dermochelys coriacea
SARA Status
No Status


NS

Special Concern


SC

Threatened


TH

Endangered


EN

Extirpated


EX
SARA Status
No Status

NS

Special Concern

SC

Threatened

TH

Endangered

EN

Extirpated

EX
COSEWIC Status
Not at Risk


NR

Special Concern


SC

Threatened


TH

Endangered


EN

Extirpated


EX
COSEWIC Status
Not at Risk

NR

Special Concern

SC

Threatened

TH

Endangered

EN

Extirpated

EX
Description
The Leatherback Sea Turtle is 1 of 7 species of marine turtles in the world. It evolved around 100 million years ago and co-existed with the dinosaurs. The species is named for its characteristic leathery shell, which differs from the bony shells of the other 6 marine turtle species. The shell is shaped like a teardrop with 7 distinct dorsal ridges tapering at the tail. Leatherback Sea Turtles are bluish-black in colour with scattered white blotches and have very large paddle-shaped front flippers. The underside of the turtle, or plastron, is mostly pinkish-white. Each adult has a uniquely patterned "pink spot" on the top of the head, which is believed to play a role in prompting migration by responding to seasonal changes in daylight. The adult Leatherback Sea Turtles that frequent Atlantic Canadian waters have an average curved carapace (shell) length of approximately 1.5 metres and an average weight of approximately 400 kg.
The throat and esophagus in a Leatherback Sea Turtle are covered with spines, which are believed to be an adaptation to assist in swallowing slippery jellyfish prey.
Habitat
Leatherback Sea Turtles are found in the temperate, subtropical and tropical waters of the Atlantic, Pacific and Indian Oceans. They are migratory animals, with adults travelling up to 18,000 km each year between their tropical or subtropical nesting beaches and temperate feeding areas. Atlantic Canada hosts one of the highest densities of foraging Leatherback Sea Turtles in the North Atlantic during the summer, in large part due to a predictable abundance of jellyfish prey. When in Canada, Leatherbacks can be found in coastal, shelf and offshore waters. They spend the majority of their time within the photic zone (the sunlit depths) when foraging; however, the species is capable of diving to much greater depths, mostly within 300 metres of the surface. Infrequent deeper dives of up to 1.2 km have also been recorded.
Leatherback Sea Turtles do not come on shore in Canada. They only ever come ashore to nest on warm tropical and subtropical beaches. An adult female can lay between 60 and 90 eggs at a time and may nest up to 10 times a season. Viable eggs begin to hatch following a 2-month incubation period. Due to a variety of factors, including predation, a very small percentage of hatchlings survive their first year.
Leatherback Sea Turtles also occur in the waters off British Columbia. The Pacific population is listed as Endangered under SARA.
Threats
Anthropogenic threats to Leatherback Sea Turtles include (in no particular order):
entanglement;
vessel collisions;
marine pollution;
acoustic disturbance;
climate change;
poaching;
coastal development; and
artificial light.
The threat of highest concern in Atlantic Canadian waters is entanglement in fishing gear, which can cause lethal or sub-lethal injuries to a turtle. Entanglement can also compromise a turtle's ability to swim, resulting in drowning. Poaching, coastal development, and artificial light are not threats in Canadian waters.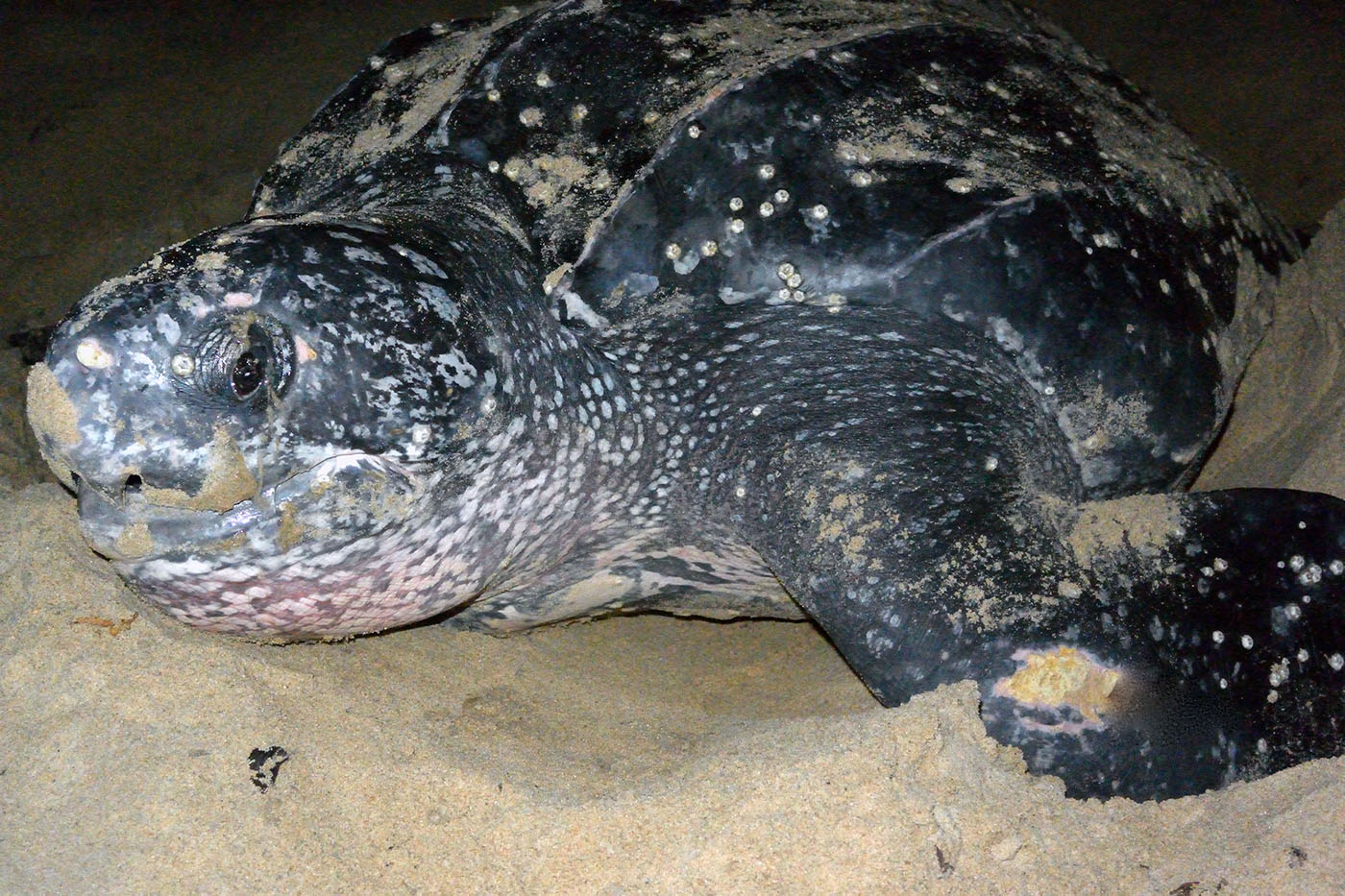 Further information
The final Recovery Strategy for Leatherback Turtle (Dermochelys coriacea) in Atlantic Canada was published on the Species at Risk Public Registry in February 2007 and the Report on the Progress of Recovery Strategy Implementation is also available. The proposed action plan for the Leatherback Sea Turtle was published on the Species at Risk Public Registry on September 27, 2018 for a 60-day public comment period.
DFO works closely with the Canadian Sea Turtle Network and other partners to study the Leatherback Sea Turtle and mitigate known threats. For example, deploying satellite tags on turtles, in Canada and on southern nesting beaches, has been instrumental to our understanding of migratory and foraging behaviours.
To learn more about the scientific research being conducted on the Atlantic population of Leatherback Sea Turtles, watch CBC's Trek of the Titans.
Work is ongoing to better understand interactions between Leatherback Sea Turtles and fishing gear in Atlantic Canada. Creative solutions to minimize the risk of such encounters are being explored with the fishing industry.
To report a Leatherback Sea Turtle sighting, please contact:
Canadian Sea Turtle Network

1-888-729-4667 (toll-free)
info@seaturtle.ca
http://seaturtle.ca
To report a Leatherback Sea Turtle incident (e.g. a dead, entangled or injured animal), please call a toll-free hotline as soon as possible:
In the Maritimes

1-888-729-4667 (Canadian Sea Turtle Network)

In Gulf Region

1-800-565-1633 (Canadian Coast Guard)

In Newfoundland and Labrador

1-888-895-3003 (Whale Release and Strandings-Newfoundland and Labrador)

In Québec

1-877-722-5346 (Réseau québécois d'urgences pour les mammifères marins)
Visit the Bedford Institute of Oceanography in Dartmouth, Nova Scotia to see a life-sized model of a Leatherback Sea Turtle on display.
For more information on the Leatherback Sea Turtle and other species at risk, visit the Species at Risk Public Registry.
Leatherback Sea Turtle (Atlantic population)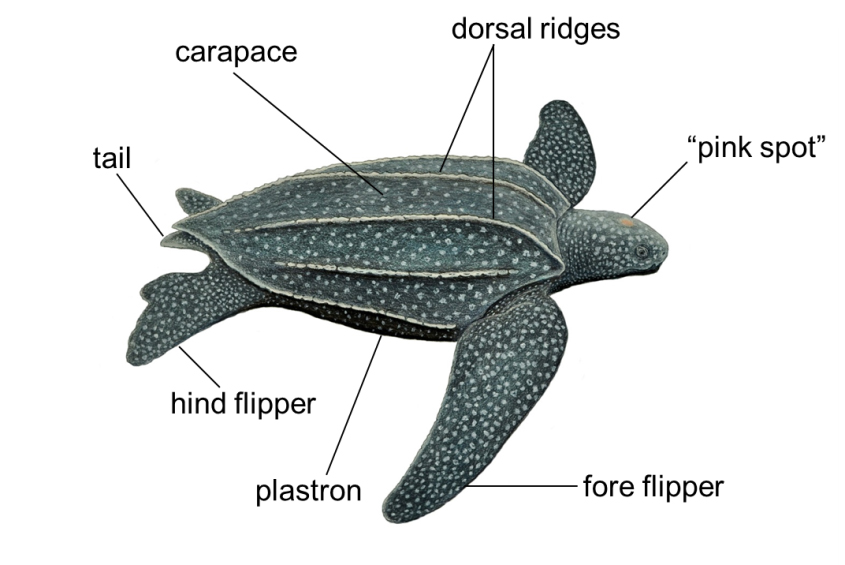 Leatherbacks can maintain core body temperatures up to 18°C warmer than the surrounding water, enabling them to survive in water that is much too cold for other marine turtles. This apparent thermoregulatory ability, which is characteristic of birds and mammals, perplexed scientists. It is thought that the large size of Leatherback Sea Turtles, coupled with several physiological and behavioural adaptations, permit them to regulate their body temperature.