Atlantic Salmon (Gaspé-Southern Gulf of St. Lawrence population - DU12)
Salmo salar
SARA Status
No Status


NS

Special Concern


SC

Threatened


TH

Endangered


EN

Extirpated


EX
SARA Status
No Status

NS

Special Concern

SC

Threatened

TH

Endangered

EN

Extirpated

EX
COSEWIC Status
Not at Risk


NR

Special Concern


SC

Threatened


TH

Endangered


EN

Extirpated


EX
COSEWIC Status
Not at Risk

NR

Special Concern

SC

Threatened

TH

Endangered

EN

Extirpated

EX
Description
The Atlantic salmon has a fusiform body shape that is somewhat compressed laterally and has an average length of about 457 mm. Its back is blue-green, its sides are silvery with several markings that are either round or x-shaped, and its belly is white. During the reproduction period, the Atlantic salmon loses its silver colour and takes on a greenish or reddish hue; a few large, white-edged spots then appear on its sides.
Habitat
Atlantic salmon spawn in fresh water, generally in their native river. Juveniles spend one to eight years in fresh water before migrating to salt water in the North Atlantic. After staying at sea for one to four years, adults return to fresh water to spawn. Salmon rivers are generally clear, cool and well oxygenated, with gravel, cobble and boulder substrates.
Because Atlantic salmon have a high degree of fidelity to their natal rivers and given their adaptation to the stream they frequent (e.g., difference in morphology, life cycle and behaviour), the Committee on the Status of Endangered Wildlife in Canada (COSEWIC) has identified 16 designatables units (DU) of Atlantic Salmon, 11 of which are considered at risk. Atlantic salmon of the Gaspe-Southern Gulf of St. Lawrence population (DU12) reproduce in the tributaries of the river's south shore and of the Gulf of St. Lawrence, more specifically between the Sud-Ouest River in Quebec and the rivers in the northern tip of Cape Breton, Nova Scotia. This population has 78 known salmon rivers.
Threats
The causes of the widespread decline of Atlantic salmon are not well understood. Several major reviews have attempted to identify and prioritize the causes of this situation. The low rate of survival at sea was cited as the primary cause of the decline. The populations are also threatened by climatic changes and environmental changes in the ocean; Aboriginal, recreational and illegal fishing; obstacles in fresh water (e.g. dams); agriculture; urbanization; aquaculture and invasive species. In some cases, the habitat used for freshwater spawning is degraded.
In the Gaspe–Southern Gulf of St. Lawrence population, the number of small (that spent one winter at sea) and large (that spent more than one winter at sea) individuals decreased over the past three generations. This represents a decline of approximately 28% in the total number of mature individuals. This recent decline over the past three generations represents the continuation of a decline that dates back to at least the 1980s. There are still over 100,000 mature individuals but most of them spawn in New Brunswick's Miramichi River. Freshwater habitat quality is cause for concern in some areas, particularly in Prince Edward Island where some remaining populations are maintained by hatchery supplementation. Invasive species and illegally introduced species also constitute a threat that is poorly understood.
Further Information
The Atlantic salmon commercial fishery was closed progressively in Canadian waters from the mid-1980s until the complete closure in 2000. Aboriginal peoples continue to fish in several salmon rivers for food, social and ceremonial purposes. Salmon represents an important cultural tradition to which they attach great value. Lastly, recreational fishing is still authorized. Restrictive management measures are imposed for each river based on abundance estimates. These measures include catch limits, mandatory release of large salmon to the water, and closures of certain watercourses. Salmon habitat is protected under the fish habitat protection provisions of the Fisheries Act.
Visit the Species at Risk (SARA) Public Registry.
Atlantic Salmon (Gaspé-Southern Gulf of St. Lawrence population - DU12)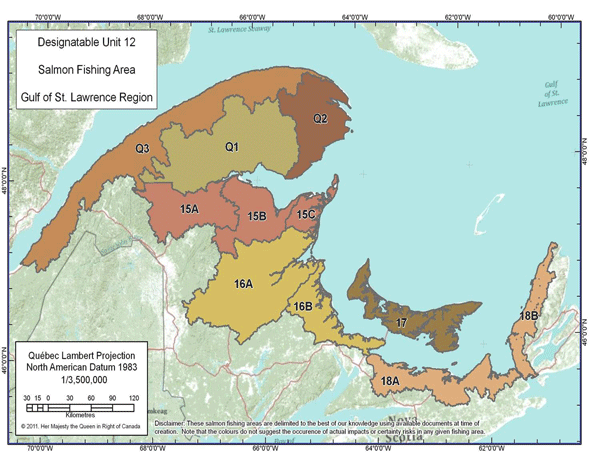 Date modified: