Science Annual Report 2007-2008
Table of Contents
Message from the Assistant Deputy Minister of Science
This year, our shift to an ecosystem approach to science at Fisheries and Oceans Canada (DFO) was well underway. This holistic approach improves our understanding of key ecosystem relationships and linkages to human activities and provides a better foundation for making sound ecosystem management decisions. DFO's Five-Year Research Agenda, 2007-2012 is strongly influenced by this approach, which is detailed in the New Ecosystem Science Framework in Support of Integrated Management.
In support of the ecosystem approach, DFO Science recently established the Centre for Aquatic Habitat Research (CAHR) and launched seven regional ecosystem research initiatives (ERIs) as well as the Climate Change Science Initiative (CCSI). The ERI project operating in the Strait of Georgia is typical of the other ERIs underway. It is a microcosm of the challenges we face in coastal waters, and will provide the Department with a deeper understanding of ocean conditions — from ecosystem shifts to oceanographic changes in general. This will shed more light on a range of other marine issues, from habitat protection and hatchery management, to fisheries planning and species diversity in the Strait. Research priorities under the CCSI include improving predictions of climate change in Canadian waters (both marine and fresh), improving our understanding of potential impacts on aquatic ecosystems and anticipating emerging issues.
An integral part of CCSI research is DFO's contribution to the 4th International Polar Year (IPY). DFO's involvement in IPY provides insight into the state of the polar environments, the major role oceans play in climate change, and how climate change will impact the ecosystems and aquatic animals upon which northerners depend. The findings of this research, carried out in collaboration with northern communities and peoples, will assist in the development of strategies for the management and conservation of species and for adapting to the changing Arctic.
Another priority for DFO Science is recruiting and mentoring new talent. Arctic-based research projects such as Canada's Three Oceans include post-secondary students through the Northern Youth Mentorship Program. We are also working with the Science and Technology Community Secretariat to streamline hiring and leadership programs for future managers of S&T programs. These initiatives will help ensure Canada has the expertise to carry out first-class fisheries and aquatic research in the years to come.
Wendy Watson-Wright, Ph.D.
Assistant Deputy Minister
Science Sector, Fisheries and Oceans Canada
Key Accomplishments
Led six major projects, and collaborated on others, for the 4th International Polar Year in support of two themes: science for climate change impacts, and adaptation and the health and well-being of northern peoples.
Completed charting the inshore route off the Labrador coast to assist in the development of a new chart series and provide valuable information to mariners.
Carried out research to increase knowledge of critical habitat for vulnerable fish species in the Mackenzie Valley, Northwest Territories. The findings will aid in the management of sensitive fish populations and help facilitate sound and timely regulatory review of development proposals.
Successfully tested a low-cost, low-powered unmanned ocean glider for sampling and surveillance of coastal waters.
Developed computer models to predict how ocean circulation and environmental conditions affect the spread of sea lice in the Broughton Archipelago. DFO researchers are evaluating the accuracy of these predictions, and also plan to use the models to examine different farm management approaches and the possible distribution of sea lice from wild sources.
Investigated how environmental factors affect juvenile cod survival.
Results of DFO research prompted scallop harvesters to develop a more sustainable, rotational fishery plan.
Established a marine toxicology and radio tagging laboratory at the Maurice Lamontagne Institute.
Monitored climate change and its impacts in the Labrador Sea, which plays a pivotal role in large-scale ocean climate variability. This research and other monitoring programs will help develop the capacity to predict changes in order to manage Canada's marine ecosystems and resources in the face of climate change.
Carried out surveys of Canada's east coast waters as part of the Trans North Atlantic Sightings Survey of marine megafauna in the North Atlantic. This information is essential to oceans management, and will help quantify the potential impact of human activities on marine populations (including several at-risk species) and their habitat.
Provided advice toward the development of the new Resource Management Sustainable Development Framework, which will guide the future of fisheries management in Canada.
Provided science advice in support of marine protected areas (MPAs), including the establishment of the Bowie Seamount MPA. This work includes identifying candidate sites, providing scientific rationale for new designations and developing monitoring plans for MPAs.
Section 1: International Polar Year
Canada's contribution to the fourth International Polar Year (IPY March 2007-March 2009) encompasses 44 programs in support of two themes: research on climate change impacts and adaptation, and on the health and well-being of northern peoples. The Government of Canada has allotted $150 million for IPY over six years, of which $100 million is for scientific research. This includes six major IPY research projects led by DFO Science that seek to understand climate change in the Arctic and its impact on the ecosystem. DFO is also collaborating with national and international partners on other IPY projects.
DFO vessel-based research programs conducted from Canadian Coast Guard (CCG) icebreakers provided insight into the current state of the polar environment and the major role oceans play in climate change. Other projects worked closely with northern communities and peoples to increase understanding of how climate change will impact the aquatic animals upon which northerners depend. DFO researchers also participated in six other IPY research projects led by other government departments or universities.
The first season of the IPY field research was a very successful one thanks to solid team work and the dedication and professionalism of CCG crews and officers, northern guides and logistics providers. There is much anticipation that science activities will continue long after the second field season officially ends on March 1, 2009. The legacy of the 4th International Polar Year will be a new generation of polar scientists, innovative research, long-term Arctic monitoring networks and an observational system that will continue to deepen our understanding of Canada's polar environment in the years to come.
Canada's Three Oceans (C3O): Climate Change Monitoring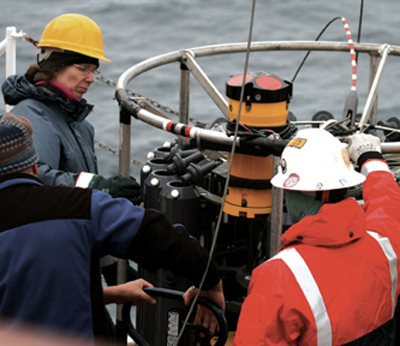 More than 40 investigators and 90 sea-going scientists from DFO and other national and international agencies and universities collected climate change data in 2007 for the "Canada's Three Oceans" (C3O) project — part of Canada's contribution to IPY. Principal investigator Dr. Eddy Carmack of DFO's Institute of Ocean Sciences and a C3O team of scientists from both Canadian and foreign governments as well as academia explored a 15,000-kilometre stretch of marine Canada from the surface to the seabed, from the smallest organisms (viruses) to the largest (whales), and from the Pacific to the Arctic to the Atlantic. The results of this project will reveal the interconnectedness of the Arctic and subarctic oceans and how their boundaries may be affected by a changing climate.
In order to measure change in Canada's oceans, the C3O team is gathering sets of benchmark data from Victoria to Halifax. This will give scientists and policy makers the basic knowledge to practice good governance and address emerging issues such as warming, ice cover retreat, species invasion, hypoxia and acidification. C3O will also help establish a long-term Arctic Ocean monitoring strategy to help study climate changes in the years ahead. The research team hopes to turn over a major portion of C3O monitoring methods to local coastal communities within the coming decade so they can carry out marine monitoring. For more information: www.ipy-api.gc.ca/_docs/ctho_e.pdf
C3O Measures Ocean Temperatures from Coast to Coast to Coast
Northern Youth Mentorship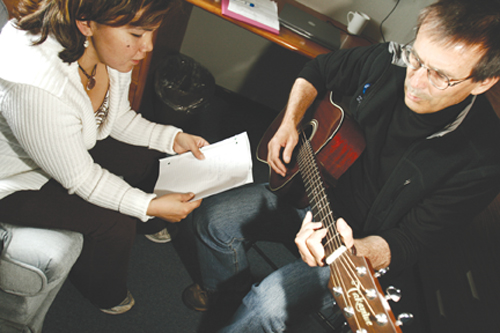 Canadian Archipelago Through-flow Study
In August 2007, researchers from DFO's Institute of Ocean Science and the Bedford Institute of Oceanography worked around heavy ice floes to install specially designed recording instruments for the Canadian Archipelago Through-flow Study (CAT). The IPY project examines the amount of fresh water, sea water and sea ice that passes from the Arctic Ocean to the Labrador Sea through the Canadian Arctic Archipelago.
Led by Dr. Humfrey Melling, CAT is measuring ocean currents, salinity, temperature, ice drift and thickness in four of the ocean gateways between the Arctic and the Atlantic — Nares Strait, Cardigan Strait, Lancaster Sound and Bellot Strait. When the instruments are recovered in August 2009, they will provide valuable data on the freshwater exchange between the world's oceans that is a critical component of global ocean circulation, the hydrologic cycle and climate.
With a warmer global climate, more fresh water will enter the Arctic Ocean from increased precipitation and indirectly via northern rivers. The outflow of fresh water will increase to counteract the stronger inflow, establishing a new balanced freshwater budget for the Arctic. The outflow will ultimately return fresh water to the temperate and tropical oceans where it originated. These changes in the storage and through-flow of fresh water from the Arctic Ocean will likely impact ecosystems of the Arctic and eastern Canadian Arctic waters. Fresh water is less dense and doesn't mix well with saltier, deeper ocean water, forming a "cap" over the surface of the ocean. Impeded mixing will reduce the upward movement of nutrients that nourish plankton, the very foundation of the Arctic food chain. It could also slow down global deep-ocean circulation, which plays a major role in the Earth's climate.
Results from CAT will provide scientists with new insight into the changes that are taking place, and enable them to refine predictions about Arctic climate change and its impacts on Arctic marine ecosystems, human activities and ocean circulation. For more information: www.ipy-api.gc.ca/pg_IPYAPI_028-eng.html
Exploring the Impacts of Severe Arctic Storms and Climate Change on Arctic Oceanographic Processes
As the global climate warms, Arctic storms seem to be growing in strength. As part of Canada's contribution to IPY, a DFO-led research effort is investigating the effects of intense storms and severe weather on oceanographic processes. The findings will provide valuable information about the impact of storms on coastal lands and waters, which play a vital role in the daily lives and culture of northerners. Arctic storms influence waves, surges, erosion and sediment, causing changes that can affect aquatic species, resource development and the Arctic lifestyle.
Under principal investigator Dr. William Perrie of the Bedford Institute of Oceanography, a team of researchers is gathering information on marine winds, waves, currents, ice, storm surges, erosion and sediment transport that work together in the coastal waters of the Southern Beaufort Sea and Western Arctic.
Among other work accomplished in 2007-2008, the team:
assembled data (storm, climate and observational) for the Beaufort Sea and completed preliminary modelling studies; and
began testing model simulations for episodic storms, sediment transport and coastal erosion, ice cover and movement, and ocean circulation for the Beaufort Sea and related waters.
Initial results suggest that varying large-scale atmospheric patterns may strongly affect episodic storms in coastal regions of the southern Beaufort Sea region, including the area around Tuktoyaktuk. These patterns need to be understood through studies of meteorological data archived over the last several decades, as well as detailed computer model studies for climate change. For more information: www.ipy-api.gc.ca/_docs/sor_e.pdf
Keystone Species: Exploring the Effects of Climate Change on Arctic Char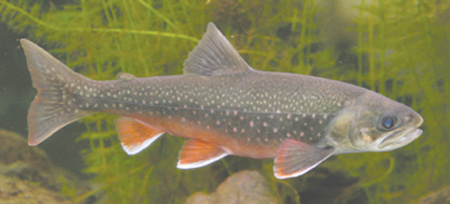 Arctic char are important to the Northern culture and economy, and are considered a keystone species in freshwater and near-shore marine environments. The sensitivity of char to environmental effects at many levels in Arctic ecosystems makes them key indicators of overall aquatic ecosystem health.
Did you know?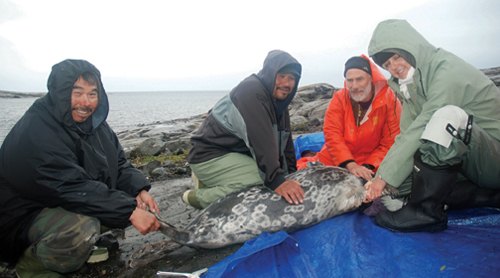 The Arctic char ranges farther north than any other freshwater fish in the world, living at extremely high latitudes north of approximately 75°N. Its circumpolar distribution spans northern streams and lakes of North America, Asia, Europe, Iceland and Greenland. Char is the dominant species along the Arctic coast and an important food source for the Inuit. Although these fish rarely range far inland, there are a few pockets of freshwater char as far south as Newfoundland, New Brunswick and southeastern Quebec. The largest Arctic char on record was caught in Tree River, Northwest Territories, in 1970 and weighed 12.2 kilograms.
Dr. James Reist of DFO's Freshwater Institute is heading a team that is exploring the effects of climate change and variability on the biodiversity of Arctic char. The project, which contributes to IPY, will also study the link between climate change and the bioaccumulation of contaminants. Its findings will aid in the development of conservation and management strategies to ensure the sustainability of the species, its continued supply as a food source, and the vitality of the entire northern aquatic ecosystem. This in turn will help northerners adapt to the changing Arctic.
In the summer of 2007, Arctic char were collected from Lake Hazen and surrounding lakes in Quttinirpaaq National Park, Nunavut. Analysis of the data collected from these fish is ongoing and results will be available soon. This research is aimed at determining the responses of char to variability in water temperatures as well as ecosystem food web dynamics and contaminant levels. The research is also assessing genetic and morphological variation within and between populations. To date, researchers have confirmed the presence of three forms of Arctic char (large, small and benthic) in Lake Hazen, rather than the two forms (large and small) initially thought to occur there. Since Arctic char is the only fish present in fresh waters in this area, the three forms act as distinct ecological species for studying the differential effects of climate change. For more information: http://www.api-ipy.gc.ca/pg_IPYAPI_030-eng.html
Global Warming and Arctic Marine Mammals
Understanding the potential impacts of global climate change on polar ecosystems is key to developing strategies for the conservation and management of Arctic species. For International Polar Year, the Global Warming and Arctic Marine Mammals (GWAMM) project, led by Dr. Steven Ferguson of DFO's Freshwater Institute, is exploring:
how marine mammals will adapt to global warming and the possibilities for future survival;
the relationship between warming temperatures and the habitats of polar bears, seals and whales; and
the potential effects of global warming on reproduction and how many mammals will survive.
In the first IPY year, the GWAMM team developed a community-based monitoring network in the Hudson Bay region of the Canadian Arctic. Through this network, the team is working with local Inuit during their subsistence hunts to collect biological samples from marine mammals. Sample analysis will provide new knowledge about marine mammal genetics, reproduction, foraging ecology, disease and stress.
Preliminary satellite telemetry results reveal that seals take refuge on sea ice in winter to avoid polar bear predation, while bears select areas that increase opportunities to successfully hunt seals in spring. Thus, with warming and loss of sea ice, both species are predicted to do poorly. Inuit knowledge of killer whales indicates that they feed largely on marine mammals and not fish. This suggests that seals may decline in numbers as ice disappears and killer whales become the top seal predator, leading to an eventual loss of the Inuit seal harvest that is an integral part of their subsistence culture. GWAMM findings will inform the development of strategies for species conservation and management, and help northerners adapt to the changing Arctic. For more information: www.ipy-api.gc.ca/_docs/gwam_e.pdf
Pan-Arctic Tagging of Beluga Whales
Using a blend of traditional and western scientific approaches, Dr. Mike Hammill at DFO's Maurice Lamontagne Institute is leading a study on the distribution, movements and critical habitat of beluga whales. The findings of this IPY project will help improve the management of beluga, which are an integral part of Inuit culture. The findings will also provide insights into the state of the Hudson Bay- James Bay ecosystem and how beluga will adapt to climate change. Because of their major role in the Arctic ecosystem, the health of the beluga is important to all Arctic life.
Tracking the belugas by satellite, the team is gathering information about their habitats, migration corridors and over-wintering areas at a fine scale. Telemetry also provides water column temperature and salinity profiles that can contribute to modelling of weather and climate changes. This is combined with traditional knowledge and observational experiences of local people. The researchers are also collaborating with other international beluga tagging programs.
Early results reveal both differences and some agreement between telemetry data and traditional knowledge. For example, in Eastern Hudson Bay, Inuit traditional knowledge indicates that beluga summer close to the coast and some beluga overwinter in that area. However, telemetry indicates that the animals spend considerable time offshore and they all exit Hudson Bay to overwinter in the Labrador Sea area. In that area, beluga whales are associated with a deep channel near Hopedale off the Labrador coast. In James Bay, Cree traditional knowledge suggests that James Bay belugas overwinter in James Bay or southern Hudson Bay. To date the satellite telemetry data also suggest that animals likely overwinter in the James Bay area. These comparisons underline that it is important to consider sampling approaches when evaluating research results. For example, hunters usually remain in coastal areas for safety reasons, so they do not observe belugas in offshore areas. On the other hand, transmitters have only been deployed on a few animals, so extrapolating behaviours to the whole population may not be correct either. The two approaches also indicate that differences can occur between populations, and that is reassuring if two different sampling approaches are in agreement. For more information: www.ipy-api.gc.ca/_docs/pat_e.pdf
Circumpolar Flaw Lead System Study Culminates 20 Years of Polar Oceanography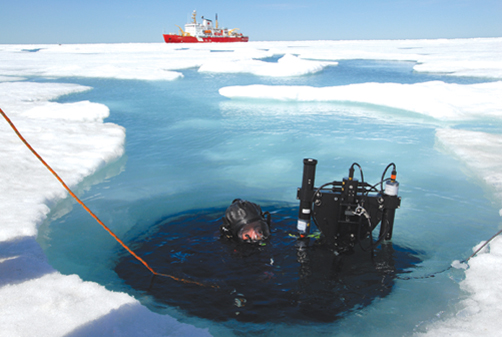 The Canadian research icebreaker CCGS Amundsen and a team of scientists spent the winter of 2007-2008 in the southern Beaufort Sea, in an area of persistent open water known as a flaw lead. They were there to carry out research for the Circumpolar Flaw Lead System Study (CFL), a multidisciplinary IPY project that is examining the importance of climate processes in changing the nature of a flaw lead system, and the effect of these changes on the marine ecosystem, contaminant transport, carbon fluxes and greenhouse gases. DFO senior research scientist Dr. Gary Stern is co-leading CFL, which involves 200 scientists from 15 countries. Professor Dave Barber from the University of Manitoba, Centre for Earth Observation Science, is the project's principal investigator.
The circumpolar flaw lead occurs each year when the central pack ice moves away from the coastal ice creating a "flaw" in the ice surface. This occurs because the central pack ice is mobile and the coastal ice is fixed to the shore. Flaw leads are particularly sensitive to atmosphere and oceanic influences, making them unique laboratories for gaining insight into changing polar marine ecosystems. They also enable the icebreaker to overwinter in the Arctic so scientists can monitor changes over many months.
Dr. Stern's team is focusing on how climate change could alter contaminant transport processes and cycling, contaminant pathways (biomagnification) and levels, and the health of Arctic aquatic ecosystems. Contaminants pose a potential hazard to Arctic fish and marine mammal health, and ultimately to northerners who harvest them as part of their traditional diet.
Results from CFL will help assess the vulnerability of coastal Inuit communities to climate change; project the impacts of climate change on traditional food security and community health; and provide the information that communities, scientists and policy makers need to help develop adaptation strategies. For more information: www.ipy-cfl.ca/
Diving for science — Did you know?
Fisheries and Oceans Canada maintains the largest scientific diving program in Canada, including the National Diving Safety Program and six regional programs that support DFO research priorities and objectives. Scores of DFO research scientists, biologists and technicians with diverse research interests and backgrounds use diving as a tool to study and probe the underwater environment. Diving provides scientists with an opportunity for direct observation and in-water experimentation, and produces essential data that could not be obtained by other means.
Section 2: Science That Matters To Canadians
Building on our previously identified priorities, in 2007-2008 DFO Science continued moving toward an ecosystem approach to science, which improves our understanding of key ecosystem relationships and linkages to human activities. Ecosystem science provides the holistic view essential for making sound ecosystem management decisions related, in part, to fisheries, aquaculture, habitat, ocean resources and the recovery of species at risk. Intergovernmental bodies concerned with aquatic science and management recognize that scientists must try to quantify the effects of fishing and other human activities on the complex interactions of ecosystems. They must also determine whether the effects are reversible, and if so, over what time scales.
DFO's New Ecosystem Science Framework in Support of Integrated Management (www.dfo-mpo.gc.ca/science/Publications/Ecosystem/index-eng.htm) outlines key concepts of ecosystem science, and describes the development and adoption of better tools to monitor and study entire ecosystems. This framework has strongly influenced the 10 essential research priorities and associated areas outlined in the DFO Science Five- Year Research Agenda, 2007-2012 (www.dfo-mpo.gc.ca/science/publications/fiveyear-quinquennal/index-eng. htm), which addresses federal and departmental priorities and public good needs for the next five years.
As we move forward, this approach is being incorporated into ongoing and new DFO Science programs. For example, in 2007-2008 researchers at the St. Andrews Biological Station completed two years of work in support of a new ecosystem approach to managing fisheries. In addition, the multi-species survey, which began in the 1950s, was adjusted in 2007-2008 to collect data for the Ecosystem Research Initiative. This involves gathering detailed information on non-commercial fish and their dietary habits to gain a more thorough picture of the ecosystem.
TARGETED RESEARCH
Tracking Walrus in the Canadian Arctic
Once common on Canada's East Coast, Atlantic walrus now exist only in the Arctic, where they live in widely dispersed groups scattered across the maze of islands. Listed as a species "of special concern" by the Committee on the Status of Endangered Wildlife in Canada (COSEWIC), reports in recent decades suggest that the walrus population is declining.
In collaboration with Inuit communities, researchers in DFO's Central and Arctic Region, led by Dr. Rob Stewart, are using satellite tracking, DNA analysis, and aerial and boat surveys to identify groups of walrus in the High Arctic and off southeast Baffin Island, and to determine if the stocks are robust enough to support the Inuit harvest.
Along with local hunters, the researchers carefully tranquilize a walrus then attach an electronic tag to one of its tusks to track it by satellite. Preliminary results from tracking in 2007 revealed that there are two walrus stocks in Jones Sound, instead of one as previously thought, and that walrus move between Greenland and Baffin Island. Aerial and boat surveys also led to the discovery of several previously unknown "haul outs" where walrus congregate. To examine stock structure, the researchers also collected small skin samples (130 in 2007) for DNA analysis, which will help resolve joint stock issues between Canada and Greenland, and support the interests of Canadian Inuit.
This research is supported by Natural Resources Canada's Polar Continental Shelf Project, and is being carried out in collaboration with scientists from the Geological Survey of Canada, the Calgary Zoo, Canadian universities, the Greenland Institute of Natural Resources and the Danish Ministry of the Environment.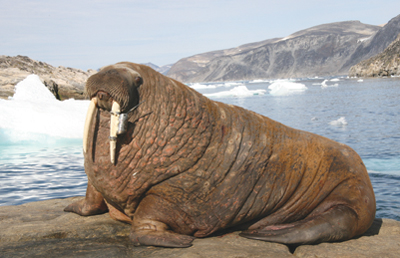 Testing Ocean Gliders for Research and Surveillance
DFO oceanographic staff, led by Terry Curran of the Canadian Hydrographic Service, have partnered with the Canadian Centre for Ocean Gliders (CCOG) to evaluate a low-cost, low-power, unmanned glider for untethered sampling and surveillance of coastal waters. Adaptable to a variety of sensors and unaffected by surface weather, the person-sized (1.5 metres long and 52 kilograms) Webb Research Slocum electric glider can collect comprehensive data from the surface to the sea floor over potentially large areas. Missions can last 15 to 30 days using alkaline batteries, making it ideal for surveillance in waters such as the Bowie Seamount Marine Protected Area.
The model that was tested in 2007-2008 dives and rises continuously to a maximum depth of 300 metres by changing its buoyancy, while travelling at a horizontal speed of about 0.5 metres per second. Since the glider doesn't have continuously active propulsion, it is very quiet and can sample close to the sea surface with much less disturbance than a research vessel.
Deployed from small boats and other vessels, the glider's GPS receiver periodically determines its location at the surface, when data can be telemetered to shore via satellite. In 2007-2008, the glider was equipped with sensors including a Seabird conductivity-temperature-depth instrument and the Aanderaa dissolved oxygen sensor. The team also demonstrated data downloading in near real time during testing in Saanich Inlet and off the west coast of Vancouver Island. In 2008-2009, the team plans to test the glider in the Strait of Georgia near the Ecosystem Research Initiative, where there are moderate ocean currents and marine traffic.
Aquaculture Collaborative Research and Development Program (2001-2007)
Since its inception, the Aquaculture Collaborative Research and Development Program (ACRDP) has devoted more than $56 million to research in partnership with industry. Between 2001-2007, 230 research projects had three key objectives: best performance research into new species for Canadian aquaculture (127 projects); environmental performance studies on interactions between aquaculture sites and the surrounding environment (55 projects); and optimal fish health projects investigating disease resistance, surveillance and detection, as well as pathogens, parasites and general health management of the cultured species (48 projects). For more information visit: Aquaculture Collaborative Research and Development Program.
Tracking the Fate of Fish Farm "Escapees" in the Wild
At the Experimental Lakes Area (ELA) in Northwestern Ontario, DFO's Dr. Paul Blanchfield is leading research into the fate of rainbow trout released from an experimental fish farm to determine their potential impact on native fish. One of the most significant ecological concerns associated with aquaculture is the possibility of farmed fish escaping from open-water net pens into the wild. Their impact on native populations depends on their survival and behaviour.
ELA researchers, led by Dr. Cheryl Podemski, reared 10 tonnes of rainbow trout (Oncorhynchus mykiss) annually in a small boreal study lake using standard commercial farming protocols. Each fall (2003-2007), the trout were released into the lake and monitored for their behaviour, distribution and survival using automated positioning telemetry. Findings revealed that:
once released, the "escaped" farmed rainbow trout had an annual survival rate of about 50 percent in the wild;
most of the released fish concentrated near the aquaculture operation, especially during normal operation when commercial feed was available;
farmed fish were primarily detected in the upper few metres of the water column — even at the cage site where feed accumulates at a depth of 15 metres — making them susceptible to avian predation; and
"escapees" that survived for more than one year continued to rely upon the cage site in their second year.
These findings suggest that the low survival of "escapees" in the wild and their extended attraction to the farm site reduces their potential interaction with native fish. However, wide dispersal, high growth rates and lack of reliance on the cage site by some escaped fish warrants further investigation. The research is part of a whole-ecosystem study funded by DFO's Aquaculture Collaborative Research and Development Program.
Modelling Sea Lice in the Broughton Archipelago
Scientists at DFO's Institute of Ocean Science (IOS) are using computer models to explore how ocean circulation and environmental conditions affect the spread of sea lice in the Broughton Archipelago. Ocean currents play a key role in the life cycle of this parasite, transporting and spreading the planktonic life stages, including the infective copepodid stage.
The research, led by oceanographers Dario Stucchi and Mike Foreman, could shed new light on how much salmon farms contribute to sea lice infestations in juvenile wild salmon. Sea lice are commonly found on returning wild adult Pacific salmon and can spread to farmed salmon. If left untreated, salmon farms can become over-wintering sites for sea lice, which can then infect migrating juvenile salmon and other farms.
The IOS team developed a computer model of sea lice, including larval behaviour and development, and coupled it with an ocean circulation model to predict how surface water movements driven by local tides, winds and fresh water affect the transport and spread of sea lice larvae from known salmon farms. Besides evaluating the accuracy of these predictions, the researchers also plan to use the coupled models to examine different farm management approaches and the possible distribution of sea lice from wild sources.
DFO is supporting multi-year research on sea lice and working closely with the Province of British Columbia to ensure the salmon farming industry is managed in a way that safeguards the environment and wild salmon stocks.
DFO Research Aids International Management of Salmon Stocks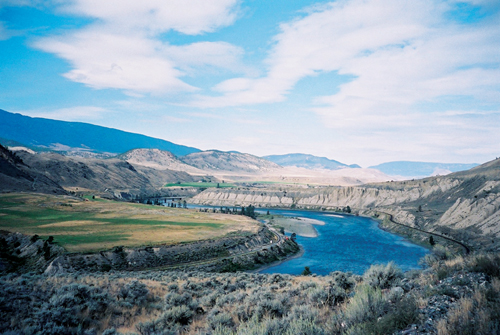 Every year a varying proportion of adult Fraser River sockeye salmon die during their 100- to 1,200-kilometre upstream spawning migration. Currently, the best estimate of migration mortality is the difference between the hydroacoustic estimate of fish abundance at the river mouth and the upstream spawner enumeration estimate (called the "discrepancy estimate"). High losses (>500,000) have been correlated to extreme water temperatures and flows during migration, which is consistent with current research on the impact of high temperatures on migratory failure in Pacific salmon.
Building on this knowledge, researchers from three science divisions in the Pacific Region have collaborated to develop models to forecast river temperature and flow conditions in the Fraser River. These environmental forecasts are used to predict en route discrepancy estimates.
The Canada-U.S. Fraser River Panel, which is responsible for in-season management of Fraser River sockeye, now uses these discrepancy estimates to increase the probability of reaching its management objectives — for example, decreasing the harvest during difficult migration years to compensate for anticipated en route mortality. Different climate scenarios are also being applied to the discrepancy models to predict the future vulnerability of different salmon populations to changing river conditions. For more information, please visit the Fraser River Environmental Watch Program website.
Exploring Deep Sea Coral Crucial to Marine Conservation
During the summer of 2007, senior DFO research scientist Dr. Ellen Kenchington led a research team aboard the CCGS Hudson to explore deep water coral and associated species along the continental slopes of Atlantic Canada. Understanding corals and their inter-relationships with other species in deep-sea ecosystems is crucial in order for DFO to meet conservation objectives under both the Fisheries Act and the Oceans Act.
Fantastic deep sea images from the mission, and the excitement of the scientists at their findings, were relayed in extensive media coverage in Canada and around the world. The project involved scientists from the Bedford Institute of Oceanography, the Northwest Atlantic Fisheries Centre (NAFC), Dalhousie University, and the Memorial University of Newfoundland and Labrador. The coral research off the coast of Newfoundland and Labrador was led by Dr. Kent Gilkinson of NAFC and coordinated by Vonda Wareham.
The team deployed the ROPOS (Remotely Operated Platform for Ocean Science) deepwater submersible in four areas of operation: the Gully Marine Protected Area, the Stone Fence Lophelia Conservation Area and surrounds, the southwest Grand Banks at Haddock Channel, and Desbarres Canyon. The submersible collected more than 3,000 high-resolution digital images, more than 10,000 high-quality frame grabs and many hours of high-resolution colour video. Dives reached previously unexplored depths of 2,500 metres and slightly deeper in some cases.
Coral data have played a key role in the establishment of Sable Gully as Atlantic Canada's first Marine Protected Area (2003) under the Oceans Act. Two additional fisheries closures in the Maritimes Region were established on the basis of coral hotspots: in the Northeast Channel (2002) and at the site of the recently discovered, badly damaged, Lophelia pertusa reef at the Stone Fence (2004). Most recently, coral data from the region played a key role in the establishment of a 12,500 km2 voluntary coral protection zone in the northern Labrador Sea in May 2007. It was initiated and implemented by industry, specifically, the Groundfish Enterprise Allocation Council, the Canadian Association of Prawn Producers and the Northern Coalition. The purpose of the closure is to try and protect large corals known to exist in that area. Additional steps being taken include:
the incorporation of coral monitoring into research surveys conducted by industry;
fishing captains are working cooperatively with independent at-sea observers to collect data on encounters with coral;
fishing captains stop fishing and retrieve their gear if they believe they are in an area where large treelike corals may exist, even outside coral protection zones; and
fishing captains do not fish in coral protection zones already established by DFO.
The Northwest Atlantic Fisheries Organization (NAFO) and Canada created a Coral Protection Area that is closed to all fishing activity involving bottom contact gear for 2008-2012, when it will be reviewed. The area along the continental slope of the southwest Grand Banks falls largely within Canada's Exclusive Economic Zone.
Transboundary Hake Assessment and Ecosystem Research
The Pacific hake fishery is one of the largest fisheries on the west coast of North America, with catches totalling nearly 280,000 tonnes in 2007. Canada and the U.S. share this fishery under the International Hake Treaty at 26.12 percent and 73.88 percent respectively. Since 1992, an international partnership created to assess and manage hake has carried out extensive surveys along the west coast of North America, measuring ocean conditions and acoustically estimating the abundance of hake (Merluccius productus).
The international research team, with Canadian lead Ken Cooke from the Pacific Biological Station, is providing a better understanding of the ecosystem. Its results will help develop new management strategies for highly migratory species such as hake. For example, the surveys reveal that the summer hake distribution clearly shifts in response to climate-related changes in sea surface temperature and coastal upwelling. In 2007, the survey team found hake farther north and closer inshore, resulting in Canadian fish harvesters concentrating their efforts in Queen Charlotte Sound, north of Vancouver Island. The survey also captured 82 jumbo squid (Dosidicus gigas) at depths of more than 300 metres offshore of the continental shelf along Vancouver Island and the Queen Charlotte Islands. These animals have been seen more frequently in recent years, an indication that environmental change is providing favourable conditions for other species to expand their range in Canadian waters. The significance of the jumbo squid range expansion is not yet known but will be monitored during future surveys in partnership with U.S. researchers.
Research Reveals Nearshore Habitats Key to Juvenile Cod Survival
When the Atlantic cod fishery collapsed in the early 1990s, little was known about the effects of environmental factors on juvenile cod survival compared to the effects of fishing. DFO scientist Dr. Robert Gregory of the Northwest Atlantic Fisheries Centre in St. John's, Newfoundland, has been working to address this knowledge gap since the mid-1990s.
Amature female Atlantic cod can produce up to 30 million eggs during one spawning season, yet the mortality rate can be up to 99 percent per day. The odds of survival increase after 60 to 70 days. Gregory's research involves tracking the distribution of cod eggs and larvae, studying the survivors in their shallowwater sanctuaries and their food chain, and mapping coastal eel grass beds that provide the best habitat for survival.
The research has led to a very clear picture of the type of coastal habitat that post-larval juvenile cod need to survive, and provided stock assessment managers with population numbers for the current crop of juvenile cod, which is essentially a preview of future numbers of adult cod. Since the research began, 2007 has been the best year in terms of juvenile cod survival.
Scallop Seeding Project Prompts Development of Rotational Fishery Plan
Research on scallops (Placopecten magellanicus) led by biologists Leslie-Anne Davidson and Monique Niles has contributed to a new vision for managing this resource. The collection of spat (scallop spawn) has increased understanding of the scallop production cycle, and hundreds of hours of video on scallop habitat have helped to better identify seeding sites and to establish more sustainable harvesting strategies. Following industry information sessions based on the research results, fishers have initiated scallop seeding projects in several sectors of the Gulf of St. Lawrence region.
In 2008, sections of a scallop bed in Chaleur Bay (New Brunswick) that had been closed and seeded five years previously were reopened. The first harvest was very abundant, with landings of three tonnes of scallop meat from a three-kilometre-square section. By contrast, reported commercial landings in 2007 totalled nine tonnes from an intensively fished ground of about 57 square kilometres in Chaleur Bay. As a result, Chaleur Bay scallop harvesters recently voted in favour of developing a rotational fishery plan for the entire area, to come into effect in 2010. Under a rotational fishery, certain sections would be closed to scallop dragging to provide a refuge for the growing scallops, as well as to protect other species that could be affected by dredging.
New Lab Explores Contaminants in Marine Life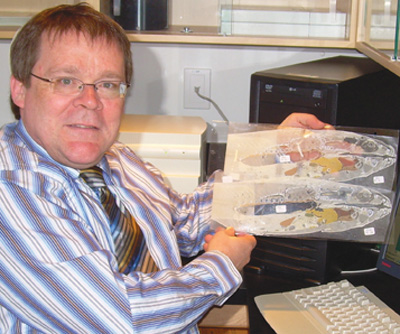 In May 2007, the Maurice Lamontagne Institute, in collaboration with the Institut des sciences de la mer de Rimouski, officially opened a marine toxicology and radio tagging laboratory, the only one of its kind in North America. The Marine Radioecology Laboratory of Rimouski will enable researchers to learn more about the biological effects and fate of contaminants in marine organisms, and to better study the impact of human activities on the health and productivity of aquatic ecosystems. The team has an instrument that enables it to dissect an entire animal into sections thinner than a human hair. A second instrument precisely pinpoints the distribution of contaminants by means of techniques using low levels of radioactivity. The lab is currently studying the accumulation of cadmium in scallops from the St. Lawrence River and the transfer of polycyclic aromatic hydrocarbons from sediments and water to various marine organisms in the St. Lawrence estuary.
Centre for Aquatic Biotechnology Regulatory Research Established
Biotechnology and genomics are important areas of research and development for Canada, and DFO has new regulatory responsibilities for aquatic organisms with novel traits. The expectation is that there will be an exponential increase in the number and variety of aquatic biotechnology products, particularly as proof of concept for genetically engineered (GE) fish has been established and approval is pending for food use of GE fish by the U.S. Food and Drug Administration. DFO created the Centre for Aquatic Biotechnology Regulatory Research (CABRR) in West Vancouver, B.C., to foster world-class research focusing on regulatory science pertaining to genetically distinct aquatic organisms, or aquatic organisms with novel traits. Closely linked to DFO's National Aquatic Biotechnology and Genomics Research and Development Program, the new Centre will increase the coordination and sharing of research results regarding regulatory research.More than 30 species of fish have been genetically engineered to date (e.g., zebrafish, salmon, oysters, prawns) for use in medical research, pharmaceutical production and food production, with two species of fish (growth-enhanced Atlantic salmon and insulin-producing tilapia) being specifically developed in Canada for commercial applications.
Maurice Lamontagne Institute Celebrates 20 Years of Achievement
To mark its 20th anniversary, the Maurice Lamontagne Institute (MLI) organized a number of activities from May to October 2007. Ariane Plourde, Director of the Institute and Regional Director, Regional Science Branch, and Louise Deschênes, Regional Director, Policy and Economics Branch, used the opportunity to meet with clients and partners and take stock of the MLI's 20 years in Quebec. Some 2,500 people took advantage of the open house to learn about the work carried out at the MLI, especially in the areas of fisheries, aquaculture, marine mammals, navigation, environmental management and protection, habitat, and aquatic resources and ecosystems. The Maurice Lamontagne Institute has changed a lot in 20 years, increasing its workforce from 75 employees when it opened in 1987 to 400 in 2007. To learn more about the Institute see: Maurice Lamontagne Institute.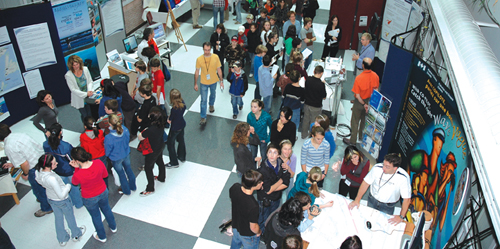 Bedford Institute of Oceanography Open House 2007: Celebrating 45 Years
During the third week of October 2007, the Bedford Institute of Oceanography (BIO) welcomed 18,500 visitors, marking its 45th anniversary. Elementary and high school students from all over Nova Scotia were thrilled to see and touch specimens of living and preserved sea creatures, pan for gold, sit in the Coast Guard rescue chopper, and walk through a giant fin whale exhibit. Some were also able to tour the CCGS Hudson, just back from a research cruise. On the weekend, the doors opened to the public. Local media captured the public's interest in the Open House, especially in the tale of Rex, a lobster as old as BIO; in the up-close opportunity to see and touch specimens of sea life; and the newest permanent display — a 3-D model of Halifax Harbour. The public and media showed special interest in International Polar Year, which was the theme of many of the public lectures.
MONITORING
Voracious Green Crabs Invade Newfoundland Waters
In August 2007, at least 50 years after green crabs invaded the waters of Canada's Maritime provinces, a sharp-eyed fisherman reported the first sighting of the aquatic invasive species (AIS) in Newfoundland at North Harbour in Placentia Bay. Earle Johnson identified the crabs after attending a community AIS presentation. Green crabs are aggressive, fast, prolific breeders, can easily out-compete native crabs and have no natural predators in their adopted waters. This alien invader has already had a significant impact on fisheries in the Maritimes, prompting scientists at DFO's Northwest Atlantic Fisheries Centre to begin preparing for its arrival in Newfoundland about two years ago.
Within days of Johnson's sighting, an 11 person team, led by DFO research scientist Dr. Cynthia McKenzie, headed to Placentia Bay to assess the extent of the infestation. The good news: the researchers found only small numbers of green crab in other areas of Placentia Bay. The bad news: green crabs are expected to spread from the epicentre of the infestation in North Harbour, where the research team discovered a well-established population. The 2007 survey in Placentia Bay created a baseline for monitoring the spread and growth of the green crab, and will shape future research with a view to controlling their population and the damage they inflict.
Argo Surpasses 3,000 Float Target
There were 3,283 Argo floats in the world's oceans as this report went to press — a goal of 3,000 floats by 2007, set in 1999, was achieved in November 2007. Dr. Howard Freeland, of DFO's Institute of Ocean Sciences, chairs the Canadian Argo Program and is co-chair of the international program. Argo floats enable scientists to monitor the changing circulation and heat content of the oceans, and supply data that sheds light on the ocean's role in Earth's climate system. More than 20 countries supply floats that transmit ocean temperature, salinity and current data every 10 days. In June 2008, Argo supplied 9,627 profiles — a rate of more than 117,000 per year. The Argo team hopes to demonstrate the value of Argo data for regional and large-scale oceanography, longer-range seasonal weather forecasting and fisheries management. Learn more at: Argo Canada.
Argo Float #4900072 Goes Against the Flow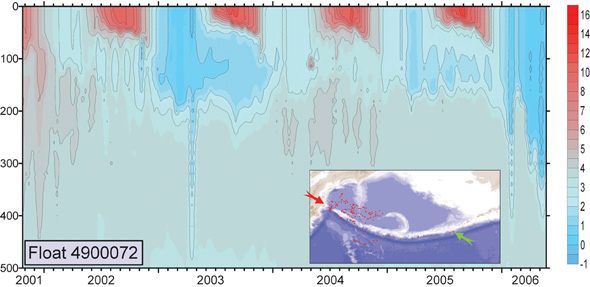 The true value of Argo lies in the simultaneous views of realtime ocean climate provided by the 3,283 floats currently reporting. Some floats, however, lead extraordinary lives. Consider float number 4900072, one of the first launched (see image below) by Canada in 2001. During its five-year lifespan, it floated through a wide range of oceanographic regimes, achieving some of the highest speeds ever reported by an Argo profiler. Launched in the North Pacific Ocean from the CCGS Laurier, float #4900072 zipped by the Aleutian Island chain and, at one point, nearly beached itself. Then it surprised everyone by executing a maneuver thought to be impossible, heading northward through the Kamchatka Pass and into the Bering Sea, against the southward flowing Oyashio Current. Over the next few years, it toured the western Bering Sea encountering deep convection events as seen in the temperature section (below). Eventually, the float headed back to the Kamchatka Pass and, just as it was about to go through in the right direction, it reported its 164th and final profile just short of its fifth birthday.
Monitoring Climate Change in the Labrador Sea
Situated in the northwest Atlantic between the Arctic and the warm subtropics, the Labrador Sea plays a pivotal role in large-scale ocean climate variability while also being vulnerable to climate change. In 2007, DFO scientists at the Bedford Institute of Oceanography continued ongoing monitoring of climate change and its impacts in this important ocean region. Physical, chemical and biological data collected from stations extending from the Labrador Shelf to the Greenland Shelf support DFO's ecosystem monitoring mandate and international research to understand the ocean processes that contribute to regional and global climate variability and change.
Since 1962, BIO has been exploring the regional circulation and the unique deep convection that occurs in the Labrador Sea during severe winters. This circulation is part of the Global Ocean Conveyor Belt — a North-South circulation of ocean water that moderates the Earth's climate. Computer models suggest that the Conveyor Belt will very likely slow down during the 21st century, decreasing the northward transport of heat and potentially moderating otherwise increasing sea surface temperatures in some parts of the northern North Atlantic. A series of severe winters in the early 1990s led to deep convection in the Labrador Sea, creating a uniform pool of 2.8°C water more than two kilometres deep. Since then, these waters have become about 0.5°C warmer and more saline due to exceptionally mild winters.
The recent warming has been accompanied by detectable changes in the oceanographic properties that influence the growth and distribution of biota. For example, a distinct shallowing in the depth of the spring/summer surface mixed layer over the past decade has led to more favourable light conditions for phytoplankton growth. Researchers also observed changes in the nutrients necessary for phytoplankton growth — increases in nitrate (used by all phytoplankton species and essential for protein synthesis) and decreases in silicate (used principally by diatoms for shell construction). Despite this, the surveys have not detected any significant changes in the overall phytoplankton biomass, although the composition of the phytoplankton community may be changing.
The response of the oceans to climate change is expected to be complex and difficult to predict. This research and other monitoring programs will help Canada identify, understand and develop a capacity to predict changes in order to help manage Canada's marine ecosystem and resources in the face of climate change.
Species at Risk Surveys and Critical Habitat Workshop
Fisheries and Oceans Canada is one of three federal government departments involved in protecting species at risk. In collaboration with stakeholders, DFO monitors aquatic species at risk (freshwater and saltwater), identifies critical habitat, and develops recovery strategies and action plans for species identified as endangered or threatened. Activities undertaken by DFO Science toward the protection of species at risk include:
To assist in the implementation of the Species at Risk Act (SARA), DFO organized a National Science Workshop on "Critical Habitat and Recovery Potential Assessment Framework" in August 2007. The workshop provided guidance on best practices for describing and quantifying critical habitat for aquatic species and the further development of the national framework on Recovery Potential Assessments (RPAs) for aquatic species that are listed as "threatened" or "endangered" by the Committee on the Status of Endangered Wildlife in Canada. RPAs prepared by DFO Science provide other DFO sectors, recovery teams and the public with the best science advice possible concerning the feasibility and approaches to recovery for a species at risk. The proceedings of the workshop are available at National Science Workshop on "Critical Habitat and Recovery Potential Assessment Framework"
In 2007, a DFO survey in partnership with the Ausable Bayfield Conservation Authority discovered previously undetected populations of lake chubsucker ("threatened") and grass pickerel ("special concern") in L Lake in Lambton County, Ontario. Data from the survey are currently being used to identify critical habitat for the lake chubsucker. A similar project with the Essex Region Conservation Authority resulted in new records for four species at risk fishes at Turkey Point (Lake Erie), including lake chubsucker, pugnose shiner, warmouth and grass pickerel.
Recent surveys (2005-2007) of the threatened western silvery minnow (Hybognathus argyritis) in Alberta's Milk River — its only habitat in Canada — reveal that the species is more common than previously thought. The surveys extended the known distribution of this species in the river and found it was the second most abundant fish captured, comprising 29 percent of the total catch.
Taking Stock of Canada's Marine Mammals: DFO Supports International North Atlantic Survey
During the summer of 2007, DFO Science contributed for the first time to the international Trans North Atlantic Sightings Survey, a survey of marine megafauna in the North Atlantic coordinated by the North Atlantic Marine Mammal Commission (NAMMCO). It was a world first, due to the geographic scope of the project (from the northeast U.S. coast to northern Labrador, and from the Faroe Islands northwest of Scotland to northern Russia, for a total area of 6 million km2), its short implementation period (one season), and the involvement of more than 20 scientists (and numerous observers) from six different countries (with adjacent surveys in the United States and the United Kingdom).
Jack Lawson of the Northwest Atlantic Fisheries Centre in St. John's is the Canadian coordinator for NAMMCO and is responsible for surveys in the Newfoundland and Labrador Region. Jean-François Gosselin of the Maurice Lamontagne Institute near Mont-Joli, Quebec, coordinated surveys in the Quebec and Maritimes regions. The Canadian components of the study covered the continental shelf from northern Labrador to southern Nova Scotia, including the St. Lawrence Estuary and Gulf. In all, 28 different types of marine animals (12,199 individuals) were sighted.
Using boats and aircraft, experienced spotters carried out sightings and counts of a broad range of species including whales and dolphins (known as cetaceans), seals, sea turtles, sharks, tuna and ocean sunfish. The team spotted 20 cetacean species in all, with the most common being dolphins, as well as humpback, minke, fin and (in the Gulf) beluga whales. Endangered leatherback turtles were also seen in the southern portions of the survey. Coordination over such a large marine area is critical to assessing the distribution and abundance of species that migrate large distances and straddle international borders. This survey will help identify regions with high concentrations of these species in the summer of 2007. Such information is essential to oceans management, and will help quantify the potential impact of human activities on marine populations (including several at-risk species) and their habitat. Data from the survey are now in the final stages of analysis. For more information: www.nammco.no/Nammco/Mainpage/Tnass/.
Increasing Applications for Multi-Species Survey Data
Data collected by DFO's multi-species surveys off the coast of Newfoundland and Labrador are the foundation for determining population trends, assessing stocks, setting catch levels, and monitoring the effects of fishing pressure on various stocks. The surveys, which began in the 1950s, have grown to provide a continuous baseline on the abundance and distribution of many of the major commercial fish and shellfish, dating back to the early 1970s.
A research team from DFO's Northwest Atlantic Fisheries Centre, headed by biologist Bill Brodie, carries out spring and fall surveys to capture data during significant migration and spawning periods. They literally fish for data in "strata" or sample areas of the ocean by towing a net behind the ship at a set speed for 15 minutes. The team then sorts the catch by species and gathers standard information including weight, length, sex, age, maturity, stomach contents, parasites and other health indicators. New applications for the data continue to appear. For example, in 2007-2008 the team began gathering data for the new Ecosystem Research Initiative. This involved collecting detailed information on non-commercial fish species, as well as analyzing the stomach contents of certain species, to gain a more thorough picture of the ecosystem. The survey team packages relevant data for each user's needs, whether to support a research project or fisheries management.
ADVICE
The Canadian Science Advisory Secretariat (CSAS) coordinates the DFO science advisory process in collaboration with the regional Centres for Science Advice. This coordination network is responsible for maintaining high standards of excellence in the provision of peer-reviewed scientific information and advice in support of sound decision-making. During the last year, approximately 70 advisory meetings (peer reviews and workshops) were conducted and more than 200 scientific publications (science advisory reports, research documents and proceedings) were produced. These covered standard stock assessment issues and addressed an increasing number of emerging issues such as ecosystem assessments, species at risk, invasive species, aquaculture impacts and others. During 2007-08, several particularly notable advisory reports were released through CSAS, including reports on cod, snow crab and other species of particular interest, as well as framework reports dealing with species at risk and ecosystem overviews. CSAS publications and research documents, and the CSAS calendar of activities, can be found at Canadian Science Advisory Secretariat (CSAS).
A New Direction for Canadian Fisheries Management
As part of the overall agenda to renew Canada's fisheries, DFO Science provided the science basis to support the development of the new Resource Management Sustainable Development Framework that will guide the future management of Canadian fisheries. Science contributions to the new framework included:
advice on the impact of fishing on sensitive seafloor habitat, which guided the drafting of a new policy to strengthen ecosystem considerations in resource management decisions;
advice on the minimal conservation requirements of the precautionary approach; and
collaborations with Fisheries and Aquaculture Management to develop a sustainability checklist for standardizing the collection of key information on Canadian stocks and fisheries. Once completed, the checklist will serve as a key assessment tool for monitoring progress toward conservation goals and for identifying necessary improvements to support sustainability.
Bay of Fundy Geoscience Surveys to Aid Ecosystem Management Decisions and Improve Navigation Charts
During the summer of 2007, scientists from the Canadian Hydrographic Service (CHS) continued multibeam mapping of the floor and water column of the Bay of Fundy in collaboration with Natural Resources Canada (NRCan). The three-year (2006-2008) program — Geoscience for Management and Economic Development in the Bay of Fundy — is part of NRCan's Geoscience for Ocean Management (GOM) program. The 2007 survey spanned 147 days and was modified to also collect data in the Minas Passage area, which is the proposed site for Nova Scotia's in-stream tidal generation research projects.
CHS will use the data to produce improved navigation charts and a series of products to assist in ecosystem management decisions and the development of future scientific endeavours. The resulting 1:50,000 scale maps will be released as part of a new Canadian national marine map series. For more information: pac.chs.gc.ca/files/session_6/6-2_Parrott_et_al.pdf
Science in Support of Marine Protected Areas
When Bowie Seamount was designated Canada's seventh Marine Protected Area (MPA) in April 2008, it marked the beginning of a new phase of DFO Science work toward the preservation of this rare marine area. Situated about 180 kilometres west of Haida Gwaii (Queen Charlotte Islands) off the coast of British Columbia, this undersea volcanic mountain is one of the most biologically rich in the world, supporting a diversity of microscopic plants and animals, birds, fish and other marine life. DFO is working to help ensure the survival of this fragile ecosystem in collaboration with the Haida Nation, community groups and a multi-stakeholder advisory team including the Province of British Columbia.
Under the Oceans Act, DFO is responsible for coordinating the development and implementation of marine protected areas (MPAs), which were established to protect and conserve key marine habitats, species and features that are ecologically significant and vulnerable. As the federal government works toward expanding the MPA network, DFO Science supports the Oceans Sector by identifying candidate sites for consideration, providing the scientific rational for new designations, and developing monitoring plans to track whether each MPA is meeting its objectives.
In 2007-2008, DFO Science identified the features of the six designated MPAs — as it will for Bowie Seamount — that will require monitoring, and took steps toward identifying a set of indicators for each feature, as well as the monitoring implications. The regions also worked towards identifying areas and species of importance for each "area of interest" using existing information and national guidelines. DFO Science also held a workshop to review new scientific information on the potential impacts of seismic activities on marine mammals, fish and invertebrates.
Exploring Sensitive Fish Habitat in the Mackenzie Valley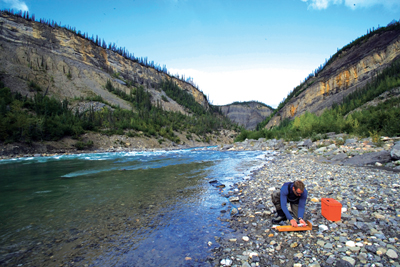 DFO Science is supporting research to increase knowledge of critical habitat for sensitive fish in the Mackenzie Valley of the Northwest Territories. Limited knowledge of how changes in critical habitat could affect certain species increases their vulnerability to the impacts of development activities such as the proposed Mackenzie Gas Project (MGP) and other hydrocarbon developments in the western Arctic.
In 2007-2008, the Sensitive Fish Habitat Associations Program carried out surveys in selected reaches of 14 streams to quantify habitat where fish were captured or observed. The research, which involves northern partners, Canadian universities and the DFO Diving Program, will provide federal regulators and fish habitat managers with key knowledge to facilitate sound and timely regulatory review of development proposals, and to develop effective ways to manage sensitive fish populations. Researchers are also testing methods for detecting groundwater in streams and exploring the importance of groundwater as a factor for survival.
Workshop Explores Closed containment for Saltwater Salmon Aquaculture
To assess the current status of in-water closed containment and waste treatment technologies for rearing salmon, DFO Science held a national peer-review workshop in January 2008. Closed containment has been proposed as one option for the salmon aquaculture industry, which — along with the government departments that regulate it — is under pressure to introduce measures to further reduce the risk of potentially adverse impacts on the surrounding aquatic environment. Closed-containment refers to a range of technologies that attempt to reduce impacts by controlling aquaculture production and restricting interactions between farmed fish and the external aquatic environment.
Outputs from the workshop, which was held in collaboration with DFO's Canadian Science Advisory Secretariat, include a science advisory report (SAR), proceedings, and a series of scientific and technical documents. This information will aid in system integration, experimental design and economic analyses for future research and potential pilot projects. For more information, consult Potential Technologies for Closed-containment Saltwater Salmon Aquaculture.
GIS Tool for American Eel Restoration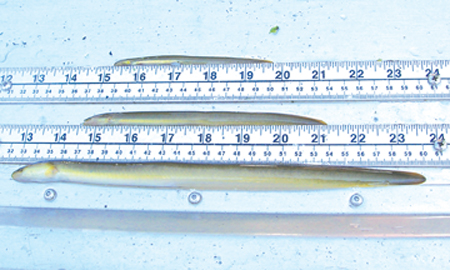 DFO Science and Habitat Management is developing a geographic information system (GIS) tool to help managers and organizations involved in restoring American eel populations decide where to focus mitigation efforts. Listed as species of "special concern" by the Committee on the Status of Endangered Wildlife in Canada, the American eel is vulnerable to freshwater habitat fragmentation due to the incredible scope of its migration. Dams can potentially impact eel populations by restricting access to upstream habitat. The turbines of hydroelectric dams also pose a hazard during downstream passage as they migrate back to their spawning grounds.
The Incredible Migration of the American Eel
Did you know that the American eel spawns in the Sargasso Sea in the Caribbean? Ocean currents then carry its tiny leaf-shaped larvae to coastal areas, where they metamorphose into eels the size of pencil lead and swim up tributaries including the St. Lawrence Seaway. They make their home in shallow lakes, where they grow into adulthood before travelling back to the Sargasso Sea to spawn. DFO is currently conducting an American Eel Barrier Study to identify priority watersheds for mitigating barriers to migration and opening up access to their habitat.
A point-and-click computer-based map will provide users with access to information layers such as the location, type and number of dams in a watershed; a watershed model that rates the suitability of upstream habitat for eels; and an accessibility index that rates how easy or hard it is for eels to pass through a particular dam. Knowing the suitability of habitat upstream from a particular dam, for example, will help managers evaluate whether to undertake mitigation efforts there or not. The tool will also assist in identifying restoration efforts for migratory routes for other species, such as salmon and sturgeon, as they complete their life-cycle. Potential users had an opportunity to discuss their decision-making requirements at a workshop held in March 2008. The tool is being developed in collaboration with DFO's Centre of Expertise on Hydropower Impacts on Fish and Fish Habitats; DFO's Maritimes, Gulf, Quebec and Central & Arctic regions; the provinces of Quebec and Ontario; and Conservation Ontario. For more information about this species, see Underwater World - American Eel.
MANAGEMENT OF DATA AND INFORMATION
Improving International Standards and Access to Data
With the volume of ocean data growing at a rapid pace in recent years, the Integrated Science Data Management (ISDM) Branch continues its efforts to effectively manage, archive and provide access to information collected by DFO Science.
ISDM is the data manager for Canadian programs such as the Atlantic Zone Monitoring Program, BioChem (the water sample and plankton database), the Pacific Ocean Shelf Tracking Program and the national Argo Program, as well as the international Surface Drifter Program. The Branch is also a partner in the Ocean Tracking Network.
In 2007-2008, ISDM generated approximately 6,000 profiles of ocean temperature and salinity from about 100 Canadian-operated Argo profilers. The Branch also processed and exchanged more than 10 million surface drifter records (a doubling in three years), which report ocean surface temperatures, air pressures and other variables around the globe. Other instruments also showed significant growth.
The Branch made progress on several initiatives to provide access to new and existing ocean data. In collaboration with its data management partners in the regions, ISDM:
advanced a pilot project to provide Web access to ocean data and information;
continued development of gridded bathymetry data at 500m resolution for Canadian waters, led by the Canadian Hydrographic Service, and tested a Web delivery of service for these data;
initiated a Web-based query service for the national database for phytoplankton and water samples (BioChem);
established national teams to manage existing data, including those collected on marine mammals and hydroacoustics;
supported the new digital data distribution service for the Canadian Hydrographic Service; and
continued implementation of the Hydrographic Information Network and expansion of the hydrographic production databases into regional offices.
As Canada's support to an international community of ocean data centres, a staff member of ISDM co-chaired a meeting in February 2008 to develop international data management standards. These standards will help streamline access to ocean data from around the world.
ISDM was also instrumental in the development of the IHO S-100 standard for geospatial data, which details the specifications for all new hydrographic-based products such as electronic navigational charts and gridded data.
DATA PRODUCTS AND SERVICES
Milestone: CHS Completes Survey of Labrador Inshore Route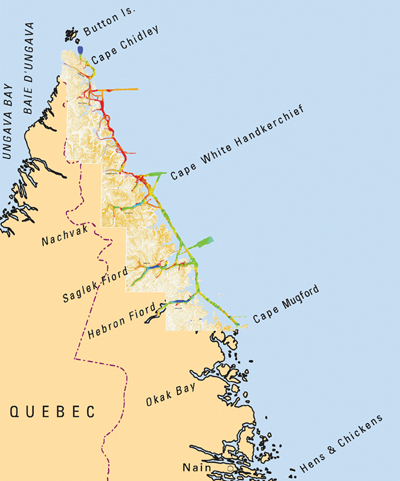 The Atlantic Region of the Canadian Hydrographic Service (CHS) celebrated a significant milestone in 2007 when it completed surveying the inshore route off Labrador's coast, 75 years after the first efforts to chart these waters began. CHS Atlantic has worked diligently for many years to achieve this goal. In 1932, the newly built survey vessel HMS Challenger began survey operations in a southerly direction from Nain. Seventy-five years later, on August 16, 2007, the CSS Matthew headed north from Nain. It was the first day of an unprecedented 22-day stretch of fair weather that enabled CHS to reach a goal envisioned in 1930, when the Colonial Office requested that the British navy hydrographer begin surveying an inshore route north of Newfoundland.
In addition to completing the inshore route, the survey flotilla also charted McLelan Strait and Grenfell Sound, an approximately 20-kilometre passage between the Atlantic Ocean and Ungava Bay that has been rarely travelled, let alone surveyed. The team, led by Mike Lamplugh of DFO, also charted three access routes from the offshore to the inshore route and established about 20 "harbours of refuge." This information will eventually be included in a new series of charts, providing mariners with several options for shelter on the north coast of Labrador. Mariners have had to stay well offshore due to the uncharted rocks and reefs along the coast. The new chart series for the Labrador coast, under development by CHS, will include 11 new charts: three at 1:100,000, one at 1:200,000 and seven at 1:40,000 scales.
Mariner's Workshop Explores e-Navigation
In February 2008, the Canadian Hydrographic Service and the Shipping Federation of Canada, in collaboration with Innovation Maritime, organized the Mariner's Workshop in Montreal with the theme of "ECDIS Carriage Requirements and Technology Supporting e-Navigation." Hosted by Captain Ivan Lantz, Director of Marine Operations for the Shipping Federation of Canada, the workshop attracted more than 120 participants. It was an excellent opportunity for key users and representatives of the navigation industry to discuss their needs and concerns with CHS, which will contribute to the development of better navigation products and services. The Dominion Hydrographer, Dr. Savithri Narayanan, made the keynote address and reaffirmed the commitment of CHS to be part of the e-navigation solution.
High-definition Technology Enhances Electronic Navigation in the St. Lawrence and the Great Lakes
The Canadian Hydrographic Service is contributing to the development of technologies for enhanced electronic navigation in the St. Lawrence River and the Great Lakes. As part of a project to deliver modern shipping products and services, the CHS is helping to introduce the S-100 international standard that will make it possible to provide mariners with high-definition bathymetry (water-depth measurement) for three-dimensional navigation. A prototype of this detailed bathymetry has been completed for parts of the Port of Montreal and the St. Lawrence Seaway.
Optimum use of high-definition bathymetry depends on detailed knowledge and modelling of water levels. This has prompted the CHS to update the chart datum (the datum to which depths on nautical charts, tide predictions and water levels are referred) and develop a system of interpolated water level forecasts (known as SPINE) for the St. Lawrence downstream of Montreal. The SPINE system, which was tested in the fall of 2008, will provide accurate water level forecasts in real time, free of charge, for all points in the St. Lawrence River shipping channel.
Section 3: Recognizing Excellence
AWARDS
Dr. Carl J. Walters — Timothy R. Parsons Medal 2007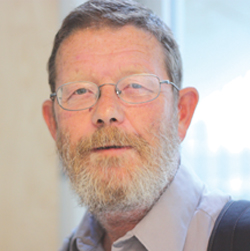 Dr. Carl J. Walters of the University of British Columbia (UBC) received the 2007 Timothy R. Parsons Medal for Excellence in Multidisciplinary Ocean Science. The award honours his career's work integrating mathematics with ecosystem science and fisheries to develop mathematical models and simulations in support of "adaptive management strategies" and policy. His approach spawned Ecosim, a modelling framework used around the world to predict ecosystem changes in response to fishing and marine environmental changes. He has tested his work in marine case studies on the Great Barrier Reef in Australia, the Florida Everglades, and the sockeye salmon fishery of the Fraser River in British Columbia, among others. Dr. Walters has been on the faculty of UBC since 1969 and was recently elected a Fellow of the Royal Society of Canada.
Dr. William (Bill) Crawford: Canadian Meteorological and Oceanographic Society — Applied Oceanography Award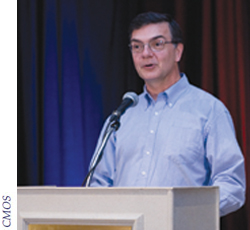 Dr. William (Bill) Crawford, research scientist with the Institute of Ocean Sciences, was awarded the Canadian Meteorological Oceanographic Society (CMOS) Prize in Applied Oceanography for his important contributions to improved tide tables and to increase our knowledge of Pacific coastal and open ocean circulation and dispersal processes. Of the many applications for his research, his thoughtful contributions to discussions about the fate of potential oil spills in the Queen Charlotte Basin and his leadership in the preparation of the annual State of the Pacific Ocean reports have been particularly valuable. Dr. Crawford's contributions to applied marine studies, together with his great integrity, bring credit to his profession.
Dr. Savithri (Savi) Narayanan: Canadian Meteorological and Oceanographic Society — Appointed Fellow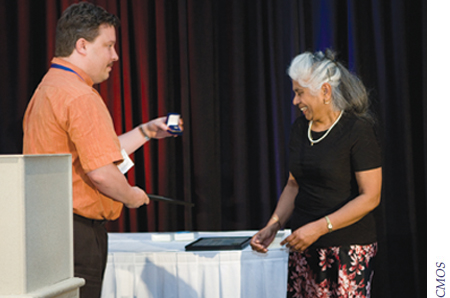 Dr. Savi Narayanan, Dominion Hydrographer and Director General of Ocean Science and the Canadian Hydrographic Service, was appointed a Fellow of the Canadian Meteorological and Oceanographic Society. The award honours her exceptional long term service and outstanding contributions to the science and profession of atmospheric and ocean sciences in Canada. It also recognizes her long-standing support to the programs of CMOS and the Canadian National Committee for the Scientific Committee on Oceanic Research.
Dr. Susumu (Sus) Tabata: Canadian Meteorological and Oceanographic Society — J. P. Tully Medal in Oceanography
Dr. Sus Tabata, scientist emeritus with the Institute of Ocean Sciences in Sidney, B.C., was awarded the J. P. Tully Medal in Oceanography for his dedication to the collection, quality control and evaluation of open-ocean data over the time scales of climate change before the importance of such work was widely recognized. His work has made a significant impact on Canadian oceanography. His seminal contributions to the collection of unique observations at Ocean Station Papa and along "Line P" are particularly recognized by this award. Dr. Tabata was one of the first oceanographers to study both eddy and decadal changes in ocean conditions, and his work has inspired generations of oceanographers to hypothesize and explore explanations for the changes that he revealed. Dr. J. P. Tully was one of Dr. Tabata's mentors.
DFO Scientists — Nobel Peace Prize for Intergovernmental Panel on Climate Change
DFO scientists from the Pacific, Maritimes, and Central & Arctic regions are among those recognized for their contributions to the Intergovernmental Panel on Climate Change (IPCC), a recipient of the Nobel Peace Prize for 2007. The Nobel Committee announced the award on October 12, 2007, to be jointly shared by the IPCC and Al Gore, former Vice- President of the United States, for "efforts to build up and disseminate greater knowledge about climate change, and to lay the foundations for the measures that are needed to counteract such change."
Dr. Ken Denman: North Pacific Marine Sciences Organization — 2007 Wooster Award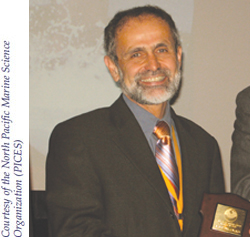 Dr. Ken Denman, research scientist at the Institute of Ocean Sciences in Pacific Region, received the North Pacific Marine Sciences Organization 2007 Wooster Award for significant scientific contributions to North Pacific marine science. He is an internationally respected scientist who helped establish links between physical and biological processes in the upper ocean. Over the years, he has built a biological oceanographic program at IOS with a focus on how oceanographic and environmental factors affect plankton, which supports fish populations. Dr. Denman has authored more than 75 primary journal articles, book chapters or review papers on air-sea interaction, lower trophic-level biological production, and the role of the ocean in the global climate system. He was recently lead author in the Intergovernmental Panel on Climate Change, with which he shares the 2007 Nobel Peace Prize.
Federal Partners in Technology Transfer Award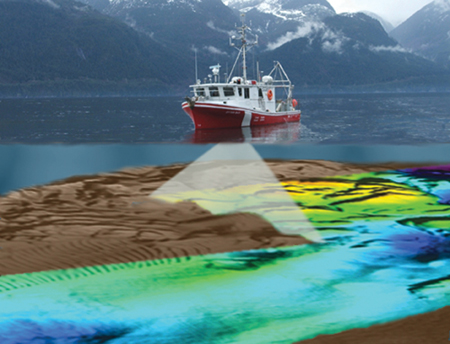 Two teams of DFO Science researchers — one from the Maurice Lamontagne Institute and the other from the Canadian Hydrographic Service — received Federal Partners in Technology Transfer awards in June 2008 for the successful transfer of technology from a federal laboratory to the private sector.
The commercial launch of Autonomous Underwater Recorder for Acoustic Listening (AURAL) was the result of collaboration between research scientists Yvan Simard and Yves Samson of the Maurice Lamontagne Institute in Mont-Joli, Quebec, Université du Québec at Rimouski and Multi-Électronique Inc.of Rimouski. AURAL records high-fidelity acoustic data to monitor ambient ocean sounds, noise pollution, sounds of human origin such as from maritime shipping, as well as natural sounds such as earthquakes or whale songs. Sales of AURAL, launched in 2005, exceeded the initial investment tenfold in the first two years.
Gerard Costello and Michael Lamplugh of the CHS, a division of DFO Science, and Bob Courtney, Vladimir Kostylev, Dick Pickrill and Brian Todd of the Earth Sciences Sector of Natural Resources Canada, were also honoured for the successful development, transfer and commercialization of multibeam seafloor imaging applications. The researchers, who work together at the Bedford Institute of Oceanography in Dartmouth, Nova Scotia, developed software that converts existing multibeam sonar data into digital maps that capture the contours and detailed composition of seafloors. In the fishing industry, the software can be used to more effectively target key species to sharply reduce operating costs and the area of seafloor trawled. As a result, a previously inaccessible fishery was opened off Nova Scotia in 2001, adding $29 million to the economy in the first five years.
Prix d'Excellence - DFO Science Award Recipients
The Prix d'Excellence is DFO's most prestigious award, honouring individuals and teams who have made exemplary contributions to the Department. On June 3, 2008, these employees of DFO's Science Sector received awards.
Dr. Gérald Chaput of the Gulf Region was honoured for "Outstanding achievement in research and scientific writing on North Atlantic salmon populations, as well as invaluable work to strengthen relations between different levels of government and concerned communities in support of fisheries sustainability."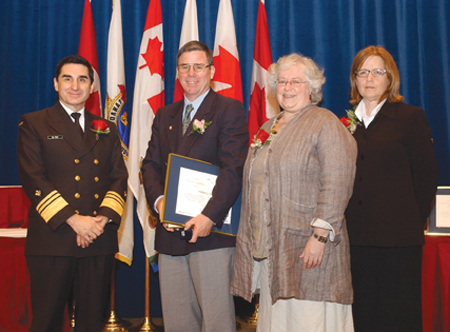 Dr. William G. Franzin of the Central and Arctic Region, was honoured "For outstanding work in support of the Habitat Management program, including his expertise on instream flow needs; valuable contributions to various technical teams, subcommittee and workshops; and exceptional administrative and management skills."

Stratis Gavaris of the Maritimes Region was recognized for, "Development of widely accepted, innovative methods for making an ecosystem approach to fisheries management viable, and the development of innovative stock assessment approaches and software. Also for his dedication to scientific excellence and the economic and social well being of thousands of people who depend on the Atlantic groundfish fisheries."
Drs Richard Beamish, James Christian, Allyn Clarke, Kenneth Denman, Howard Freeland, Robie Macdonald, Humfrey Melling, Ken Minns, Angelica Peña, R. Ian Perry, Trevor Platt, Jim Reist, Igor Yashayaev and David Welch of the Central and Arctic, Pacific and Maritimes regions were honoured for, " Contributions to the Intergovernmental Panel on Climate Change, which was co-awarded the Nobel Peace Prize in October 2007. Fourteen DFO scientists participated in IPCC Working Groups over the past 20 years in a variety of roles. Their contributions demonstrate the international calibre of these researchers and their commitment to global sharing of knowledge."
From the Gulf region, Matthew Hardy, Thomas Landry and Marc Ouellette were honoured for, "Exemplary work as members of DFO's New Brunswick Aquaculture Project Team, which helped establish a sustainable development plan for off bottom oyster aquaculture in eastern New Brunswick."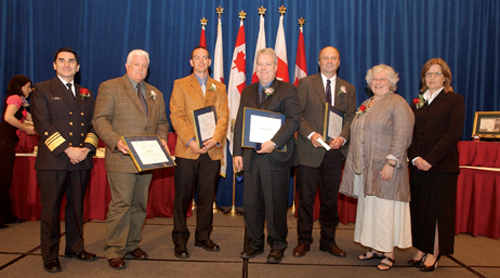 Rod McDonald, Fraser Neave, Brian Stephens, Randy Stewart, William Paul Sullivan, and Dr. Rob Young from the Central and Artic Region, were recognized for, "Outstanding leadership as members of DFO's Sea Lamprey Control Centre Team, and expertise in achieving a significant reduction in predatory lamprey populations and the recovery of native fish stocks in Lake Ontario."
Dr. Robert E. A. Stewart, from the Central and Arctic region, was honoured for "Outstanding contributions to our understanding of the beluga whale and walrus, and for developing a breakthrough technique to test an hypothesis about the structure of beluga teeth. This has led to new knowledge about the beluga's age of maturation, longevity and population growth, which is now being incorporated into beluga management models."
PUBLICATIONS
The Oceans and Climate Change: Key Issues from the Fourth IPCC Report
Over the past 20 years, 14 DFO scientists with world class reputations in climate research have made significant contributions to the Intergovernmental Panel on Climate Change, which was awarded the Nobel Peace Prize in 2007. They are:
IPCC Second Assessment Report, 1995: Angelica Peña, Ian Perry, Trevor Platt and (formerly of DFO) David Welch
IPCC Third Assessment Report, 2001: Richard Beamish
IPCC Fourth Assessment Report, 2007 - Working Group I: The Physical Science Basis — Ken Denman, Jim Christian, Igor Yashayaev, Humfrey Melling, Howard Freeland, Allyn Clarke, Robie Macdonald, (www.ipcc-wg2.org/)
Following are some of the key climate change issues related to the oceans, as detailed in the Fourth IPCC Report:
The oceans have stored more than 90 percent of the heat associated with global warming, to depths of at least 3,000 metres. Even if atmospheric carbon dioxide could be instantaneously set back to preindustrial levels, the oceans would cool very slowly. This means that the observed ocean warming will continue to influence the global climate system for many decades.
Based on a mid-range emissions scenario, the best estimates (1990-2090) are for surface warming of 2.8°C globally. The best estimates for sea level rise are 0.21 — 0.48 metres depending on the scenario, compared with a global mean increase of 0.17 metres during the last century. Possible rapid changes in Greenland and Antarctic ice sheets could cause a much larger rise. Studies since the IPCC report was published predict a sea level rise of at least one metre. Coastal wetlands of Canada, such as British Columbia's lower Fraser River delta and much of coastal Prince Edward Island, would experience more flooding during high tides and be much more susceptible to extreme flooding and wave damage during storm surges.
The oceans are becoming more acidic due to chemical changes that take place as CO2 enters the oceans. Greater acidity will tend to dissolve organisms with calcium carbonate structures such as coccolithophorids (plankton that photosynthesize), and small molluscs or snails that provide food for salmon. Coral will also have difficulty maintaining its structure. In 2007, Debby Ianson of DFO's Institute of Ocean Sciences participated in a joint U.S.-Canada research cruise along the west coast of North America, which revealed that waters acidic enough to be "corrosive" to small molluscs and cold water corals are upwelling onto the continental shelf off Vancouver Island.
With respect to the possibility of abrupt climate change, there is still a significant danger (up to a 10 percent chance) that the Atlantic Meridional Overturning Circulation (MOC) — which moderates the Earth's climate by moving warm surface waters northward and cold deep waters southward — will undergo a large abrupt decrease during the 21st century. A greatly reduced MOC would lessen the northward flow of warm waters in the North Atlantic and cool much of Western Europe, Greenland, Newfoundland and Labrador.
For more information about the work of IPCC, see: IPCC Fourth Assessment Report, 2007 - Working Group I: The Physical Science Basis (www.ipcc-wg2.org/).
Date modified: