Science Annual Report 2006-2007
Table of contents
Message from the Assistant Deputy Minister of Science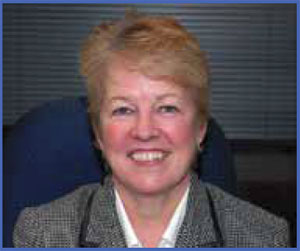 I am fortunate this year to be able to congratulate a very hard-working group of my colleagues on being awarded a Nobel Peace Prize. I am immensely proud of the work achieved by scientists of Fisheries and Oceans Canada in their contributions to the Intergovernmental Panel on Climate Change (IPCC) — co-winners of the prize with former U.S. Vice President Al Gore. Our understanding of the Arctic ecosystem, its climate and oceans, has never been more essential, and these scientists — too many to name in this short message — have made an immeasurable contribution to global science. They have indeed altered the world's knowledge of climate processes and our society's response to those processes. Although the Nobel Prize was announced in October 2007, long past the final date in the fiscal year covered by this report, I could not resist the opportunity to congratulate my colleagues and the IPCC as a whole, and to celebrate their outstanding work. There is more about their contribution in the Recognizing Excellence section of this report. I also urge you to read the IPCC summary report.*
Leading aquatic researchers around the world, many of them Canadian, advocate a dynamic and multi-disciplinary ecosystem approach to managing human impacts on aquatic resources. We believe this approach is suited to interpreting events in Canada's oceans such as ecosystem shifts, oceanographic changes, the collapse of the East coast ground fisheries and fluctuations in returns of West coast salmon stocks, and the management of freshwater ecosystems.
This year the Science Sector of Fisheries and Oceans Canada (DFO) took steps to move further ahead with an ecosystem approach to science, which is outlined for our clients and stakeholders in New Ecosystem Science Framework in Support of Integrated Management. The ecosystem approach focuses on the key relationships in nature, how human activities interact with one another, and how humans affect aquatic ecosystems. Using the ecosystem approach, our scientists will provide essential science-based advice about aquatic ecosystems and the impacts of people on those ecosystems for the integrated management of diverse activities involved in fisheries, transportation, aquaculture, habitat, ocean resources, and the recovery of species at risk, as well as those connected to oil and gas exploration.
Key activities of DFO Science — research, monitoring and advice — are moving toward using this multi-disciplinary, precautionary, rules-based and indicators-based approach, which makes use of risk assessment tools and best practices for the cumulative assessment of ecosystems. Stakeholders inside and outside the department will notice that we will focus more on providing ecosystem data and less on providing information on a single target stock or single human activity. Other core Science activities — managing data and information, and data products and services — support us in this approach, and we continue to provide these to Canadians.
During the year, we continued to establish Centres of Expertise to focus research efforts on high-priority issues where it is most effective to partner both internally and externally with academia, other departments and other governments to achieve results.
I was also pleased to represent DFO at the signing of a Letter of Intent on Scientific Collaboration with Spain for collaborative research projects on ecosystem and fisheries science, aquaculture and genomics, aquatic animal health and aquatic invasive species.
I believe it is vital that Canadians have perspective on the value and relevance of DFO Science. This report is part of that effort, as is Science that Matters, a brochure we created to introduce ourselves to new recruits, to those who would collaborate with us and to all Canadians.
Wendy Watson-Wright, PhD
Assistant Deputy Minister
Science Sector, Fisheries and Oceans Canada
* Learn more at: www.ipcc-wg2.gov
Strategic Role of Science in Fisheries and Oceans Canada
Chart Shows Spending on Science Activities Organized According to Strategic Outcome
Strategic Outcomes of Fisheries and Oceans Canada
Safe and Accessible Waterways (SAW)
Sustainable Fisheries and Aquaculture (SFA)
Healthy and Productive Aquatic Ecosystems (HAPAE)
National Science Themes: State of Aquatic Ecosystems; Impacts of Human Activities; Safety, Security and Sovereignty
SAW Science Activities
SFA Science Activities
HAPAE Science Activities
2006-2007 Actual Spending ($ millions)
Providing products and services for navigation
34.8
Monitoring and assessing the status of fishery resources
88.1
Assessing the impacts of development on aquatic ecosystems
17.2
Supporting maritime safety and security and Canadian sovereignty
3.5
Supporting the assessment and recovery of species at risk
7.0
Assessing aquatic ecosystems and supporting integrated oceans management
44.4
Researching aquatic invasive species and monitoring aquatic animal diseases
20.4
Monitoring, understanding and predicting variation and change of ocean climate
6.8
Supporting sustainable aquaculture and understanding aquacultureenvironment interactions
13.4
Applying genomics and biotechnology to aquatic ecosystems
3.8
Contributing to science management in DFO and the Government of Canada
19.1
TOTAL
Subtotals:
38.3
151.8
68.4
258.5
Science functions necessary to support science activities are: Research, Monitoring, Advisory Processes, Products and Services, Data Management
Science Across Canada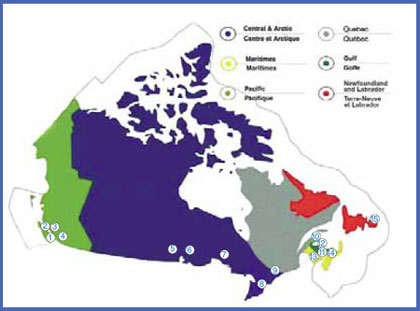 Map of Canada showing locations of Science Institutes, as follows:
Institute of Ocean Sciences (Sidney)
Pacific Biological Station (Nanaimo)
Centre for Aquaculture and Environmental Research (Vancouver)
Cultus Lake Salmon Research Laboratory (Cultus Lake)
Freshwater Institute (Winnipeg)
Experimental Lakes Area (N. Ontario)
Sea Lamprey Control Centre (Sault Ste. Marie)
Bayfield Institute (Burlington)
Canadian Hydrographic Service (Ottawa)
Maurice Lamontagne Institute (Mont-Joli)
Gulf Fisheries Centre (Moncton)
Charlottetown Aquatic Animal Pathogen Biocontainment Laboratory (Charlottetown)
St. Andrews Biological Station (St. Andrews)
Bedford Institute of Oceanography (Dartmouth)
Northwest Atlantic Fisheries Centre (St. John's)
Science on the water
On the water, DFO Science depends on the Canadian Coast Guard (CCG) for the successful delivery of its Science program, including fisheries, biodiversity and habitat research, stock assessment, oceanographic research and hydrographic surveys conducted by researchers from DFO, other government departments and universities. In addition to research trawlers, oceanographic and hydrographic survey vessels and smaller research vessels, CCG icebreakers, such as the flagship CCGS Louis S. St-Laurent, support Canadian and Canadian-led international marine research projects in the Arctic.
SECTION 1: High Priority and Emerging Issues
As part of its mandate, DFO Science provides scientific research, advice and services focused on priority aquatic issues that may emerge suddenly or demand a place at the top of the DFO Science agenda over the long term. This section provides a sampling of issues from across Canada that occupied a priority position on the Science agenda in 2006-2007.
International Polar Year and Arctic Science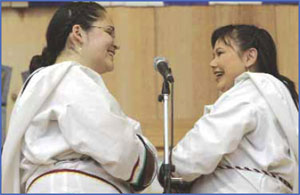 DFO Science is a major participant in the International Polar Year (IPY) 2007-2009, which began March 2007. At that time, the Government of Canada announced $150 million in IPY funding over six years, of which $100 million is for 44 science research projects. The 24 months of IPY provide a unique opportunity to gain greater scientific knowledge of our North and strengthen Canada's position as a global leader in Arctic research. DFO scientists have a prominent role among national and international partners to build an increased understanding of the oceans' role in global climate as well as the impacts of climate variability and change to Arctic marine ecosystems.
IPY is the largest-ever international program of scientific research focused on polar regions, with thousands of scientists and researchers from more than 60 nations participating. Additional information about the Government of Canada's program for IPY can be found online at: http://www.api-ipy.gc.ca
DFO is leading and engaged in several marine research projects, including the following six funded by the Government of Canada for IPY:
| Project | Principal Investigator | Funding |
| --- | --- | --- |
| Canada's Three Oceans | Dr. Eddy Carmack | $6.4 million |
| Canadian Archipelago Through-flow Study | Dr. Humfrey Melling | $3.4 million |
| Climate Variability and Change Effects on Chars in the Arctic | Dr. James Reist | $2.0 million |
| Global Warming and Arctic Marine Mammals | Dr. Steven Ferguson | $350,000 |
| Impacts of Severe Arctic Storms and Climate Change on Arctic Oceanographic Processes | Dr. William Perrie | $500,000 |
| Pan-Arctic Tagging of Beluga Whales | Dr. Michael Hammill | $500,000 |
Many Canadians, and especially students, teachers and academics in related fields, have a strong appetite for detailed information about science initiatives in the Arctic. A good place to go to learn more is the Northern Science portal of http://www.science.gc.ca/
DFO Science prepares a summary of Canadian science initiatives for the Arctic Ocean Sciences Board (AOSB), a non-governmental body that includes members and participants from research and governmental institutions in many nations. This concise report is online at: www.aosb.org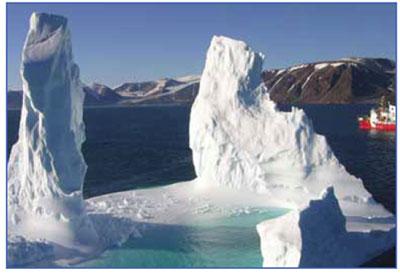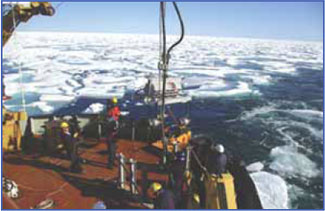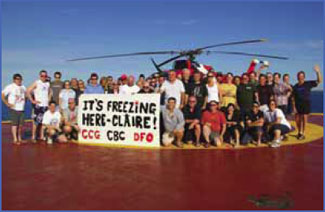 Centres of Expertise Confront Specialized Issues
Some aquatic issues arise quickly and demand expert attention. These may result from extreme change in ocean regimes, invasive species or other natural or human-impact phenomena. DFO Science has recently established Centres of Expertise, which are able to bring to bear specialized science skills related to issues such as potential environmental impacts of pesticides, hydropower impacts on fish and fish habitat, aquatic animal health research and diagnostics, aquatic chemical analysis and more. These experts are called upon to work on priority and emerging issues such as those described in this section. To learn more, visit: www.dfo-mpo.gc.ca/coe-cde/index-eng.htm
How Much Water to Extract for Human Use? Athabasca Oil Sands Water Needs
Domestic, industrial and agricultural water use is rising across Canada, putting many rivers and lakes under increasing strain. The extraction of oil from bitumen in the Athabasca oil sands in Alberta is a noteworthy example of an increasing water need.
DFO's mandate to protect fish and fish habitat results in the department having to make decisions on how much water can be withdrawn while still maintaining natural aquatic ecosystems. This field of science is called Instream Flow Needs, and combines the expertise of hydrologists, engineers and biologists to understand the relationship of fish habitat to flow. A complex array of tools and data is needed to generate hydraulic models that are used to predict the changes in fish habitat in response to altered flow regimes.
DFO's mandate to protect fish and fish habitat results in the department having to make decisions on how much water can be withdrawn while still maintaining natural aquatic ecosystems. This field of science is called Instream Flow Needs, and combines the expertise of hydrologists, engineers and biologists to understand the relationship of fish habitat to flow. A complex array of tools and data is needed to generate hydraulic models that are used to predict the changes in fish habitat in response to altered flow regimes.
During 2007, DFO Science conducted or participated in several workshops on instream flow issues, including advice on the Habitat Management Program Pathways of Effect decision support tool, the Habitat Management Program Practitioner's Guide and Decision Support Tools, two meetings of the joint Centre of Expertise on Hydropower Impacts on Fish and Fish Habitat: Canadian Environmental Assessment Agency working group on hydropower effects on fish habitat, a joint workshop of DFO and the Natural Sciences and Engineering Research Council of Canada (NSERC) on altered flow regimes; as well as a workshop to peer review a draft joint DFO-Alberta Environment water management framework for the Lower Athabasca River in the oil sands region of northern Alberta.
In this latter case, considerable research and data analysis had been conducted by the province of Alberta and DFO, and a draft water management plan had been developed. Scientists from government and academia reviewed the draft plan and examined the conclusions in light of all of the available data and the current state of scientific understanding. Advice was provided to senior management regarding the conclusions of the review in order to assist regulators in making decisions about the oil sands water needs. Proceedings can be found on the Canadian Science Advisory Secretariat (CSAS) website: http://www.dfo-mpo.gc.ca/csas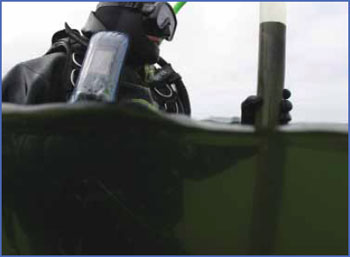 Scientific Review of the Potential Environmental Effects of Aquaculture in Aquatic Ecosystems
The DFO State-of-Knowledge Initiative is a scientific review of the potential environmental effects of aquaculture. The review covers marine finfish, shellfish and freshwater aquaculture. The fourth and fifth (final) volumes of the State-of-Knowledge papers were completed in 2006. The topics addressed in the final two volumes are:
Role of genotype and environment in phenotypic differentiation among wild and cultured salmonids;
Cultured and wild fish disease interactions in the Canadian marine environment;
Trophic interactions between finfish aquaculture and wild marine fish;
Behavioural interactions between farm and wild salmon: potential for effects on wild populations;
Overview of the environmental impacts of Canadian freshwater aquaculture;
Scientific review of bivalve aquaculture: interaction between wild and cultured species.
The State-of-Knowledge review papers written under the direction of DFO scientists provide the current status of scientific information and identify knowledge gaps and research needs. DFO will use this valuable information to help set its future research agenda for aquacultureenvironment interactions. The executive summaries for all five volumes can be found through the following web link: http://www.dfo-mpo.gc.ca/science/environmental-environnement/aquaculture/index-eng.htm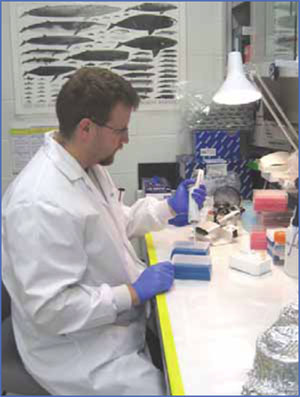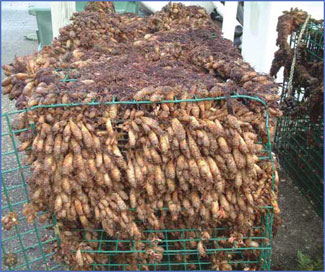 Tunicates: An Aquatic Invasive Species Crisis in Atlantic Canada
Invasive tunicates or "sea squirts" pose a serious threat to the Canadian aquatic environment and economy. These destructive and costly aquatic invasive species displace native species and foul aquaculture equipment, the hulls of vessels and harbour infrastructure. Some tunicates look like smothering blobs of jelly while others resemble leathery clubs. The recent arrival of four tunicate species and their substantial impacts on the mussel aquaculture industry in Prince Edward Island and Nova Scotia is raising concern that the invaders may cause similar problems in other important aquaculture areas, and that the fishing industry in Canada may also be impacted.
In the midst of this crisis, relevant research and monitoring programs on aquatic invasive species (AIS) are being developed to provide advice to industry and government agencies on management strategies. Monitoring activities are focused on early detection and the spread of AIS. All regions on the Atlantic coast are participating and coordinating their efforts to ensure efficient data gathering and sharing. This is supported by a pilot project on coordination and taxonomic support in the Gulf Region. Research activities vary from basic biology to ecosystem interaction and mitigation measures. The information generated from these research activities also contributes to the development of risk analysis and rapid response procedures; these procedures are already being used as part of management strategies and, more specifically, to respond to shellfish introduction and transfer requests.
To assist the mussel industry during this trying period, several agencies are coordinating innovative research and development projects to maximize their collective contributions. Information on the biology of these tunicates has already been used to establish effective guidelines for the movement of mussels and other fish from infested waters to non-infested areas, while minimizing the risk of new introductions or further spread of established AIS.
In Moncton, New Brunswick, Daniel Bourque is leading a research project in collaboration with Jeff Davidson (Atlantic Veterinary College) to determine the risk of spread through the processing plants. This project is providing critical information to the processing sector to minimize the risk of introduction of AIS in the receiving waters. Bourque is also collaborating with Neil MacNair (Prince Edward Island Department of Fisheries and Aquaculture) and Benedikte Vercaemer on a research project comparing the reproductive cycles of Ciona intestinalis in Prince Edward Island and Nova Scotia.
Andrea Locke is leading a research project on the natural dispersion of tunicates with the use of oceanographic models developed by Joel Chassé. This project will contribute indispensable information for the development of risk analysis. Thomas Landry and Chris McKindsey are leading a project that examines the effect of human activities on the ability of invasive tunicates to establish and thrive in Prince Edward Island. These and other research projects on invasive tunicates all contribute to the establishment of a rigorous and effective program on AIS for the benefit of all Canadians.
Biological Risk Assessment of Invasive Tunicates
In view of the significant negative impacts on aquaculture and biodiversity, the Centre of Expertise for Aquatic Risk Assessment undertook a risk assessment, led by Tom Therriault and Matthias Herborg of DFO Pacific, to inform management and policy. Five tunicate species were considered: three colonial (golden star tunicate, Botryllus schlosseri; violet star tunicate, Botrylloides violaceus; Didemnum sp.) and two solitary (club tunicate, Styela clava; vase tunicate, Ciona intestinalis).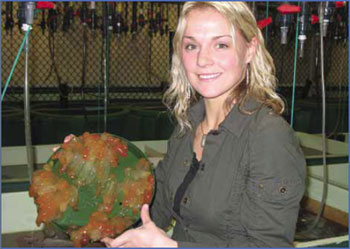 Biological risk assessments were conducted for each species for both the Atlantic and the Pacific coasts using information contained in biological synopses, environmental niche modeling and an expert opinion survey. With the exception of C. intestinalis on the West coast (moderate ecological risk), all species were found to be of high ecological risk on both coasts, whereas the genetic consequences for all were deemed to be moderate. They also considered the risks posed by pathogens, parasites and fellow travellers. The results were peer reviewed by international tunicate, aquatic invasive species and aquaculture experts at a workshop in Charlottetown, Prince Edward Island in March 2007. The comments and decisions from that meeting are currently being incorporated into a final assessment to be published as a CSAS research document.
Japanese Skeleton Shrimp Invade Quebec Waters
In the Gulf of St. Lawrence, Chaleur Bay and the Magdalen Islands, 200,000 individual Japanese skeleton shrimp may occupy a single square metre. The invasive amphipod crustacean, Caprella mutica, is native to the Japan Sea and measures up to 35 mm long. Work carried out at the Maurice Lamontagne Institute by Marcel Fréchette, Bernard Sainte- Marie and Christian Turcotte, in cooperation with Chaleur Bay mussel growers, is designed to improve the understanding of the nature of the interactions between C. mutica and mussels and to develop means for controlling this "epidemic." After a floating larval stage, mussels develop into "spat," a juvenile stage during which they attach to floating surfaces such as seaweed or ropes to mature. The possible mechanisms by which C. mutica could harm the collection and growth of mussel spat include direct predation on mussel larvae or recently established spat, competition for space and food on and around the collectors, and interference with the feeding of young mussels. To date, the work has provided a better understanding of the biology of skeleton shrimp, but the results are inconclusive regarding the effects of C. mutica on mussel spat.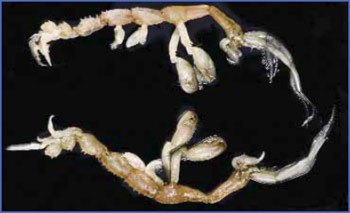 Devil's Lake: Concern about Cross Border Traffic in Freshwater Invasive Species
DFO researchers are currently conducting a fish pathogen and parasite survey under the direction of the International Joint Commission. In keeping with DFO's mandate under the Fisheries Act, the goal is to inform decision making in an intervention to an international dispute between the U.S. and Canada. At issue is the diversion of waters, as of June 2007, from the previously land-locked Devil's Lake into the Sheyenne River via an unfiltered outlet canal constructed by the State of North Dakota. The unfiltered diversion waters enter into the Red River Basin via the Sheyenne River, thus into the larger Hudson's Bay drainage basin, in apparent contravention of the International Boundary Waters Treaty. In Canada there is concern over the potential negative impacts to the freshwater environment, including the inflow of chemical contaminants and heavy metals, and aquatic invasive species, aquatic pathogens and parasites from the diverted waters of Devil's Lake.
For at least 10 centuries, Devil's Lake was cut off from the Red River Basin due to its elevation and water level. In recent years the water level of the North Dakota lake has risen over seven metres, and since the 1990s it has flooded annually. Although the U.S. Government committed to the building of a filtration system in a joint statement issued by both federal governments in 2005, the State of North Dakota put the flood water diversion system into operation without filtration.
National Aquatic Animal Health Laboratories Take Action Against Great Lakes Fish Virus
A deadly fish virus in the Great Lakes is causing massive mortalities in numerous fish species and is rapidly increasing its distribution to other waterways. Viral haemorrhagic septicaemia virus, or VHS, was first detected in Lake Ontario in 2005 and has subsequently been found in all the Great Lakes with the exception of Lake Superior. Additionally, VHS has been identified in inland waters in New York, Wisconsin and Michigan.
Exactly how and when this pathogen entered the lakes is uncertain, although genetic characterizations conducted by DFO scientists at the Pacific Biological Station (PBS) has provided evidence that the virus is most closely related to a strain found in the marine waters off the coast of New Brunswick and Nova Scotia, suggesting an introduction of virus from the East coast of North America. In addition to genetic studies, scientists at PBS are investigating improved viral detection methods as well as how long the virus is stable in various environmental conditions to better understand possible routes of viral transmission.
VHS poses no threat to humans but has serious potential to impact the commercial and recreational fisheries of the Great Lakes and other watersheds throughout North America. In an effort to control the spread of VHS, the Department of Fisheries and Oceans, along with the Canadian Food Inspection Agency under the National Aquatic Animal Health Program (NAAHP), is conducting a surveillance program to document the spatial distribution of the emerging pathogen and to gain insight into viral traffic patterns. The surveillance is being conducted in consultation with officials in the United States where a similar initiative is underway. This bilateral surveillance effort, which is defining VHS-infection status of aquaculture and wild freshwater fish populations in Canada and the U.S., will restore trading-partner confidence in live fish and fish product trade from regions determined free of the virus. For more information, see: National Aquatic Animal Health Program and Viral Hemorrhagic Septicemia (VHS).
Endocrine Disruptor Experiment Answers Critical Question about Impacts to Fish
Municipal sewage contains a mixture of chemicals, including traces of prescription drugs and hormones. Ethynylestradiol (EE2), the main component of birth control pills, is one of these compounds. While EE2 and other drugs are removed with high efficiency by sewage treatment plants, trace quantities may still be released to freshwater-receiving environments. Male fishes living in these downstream waters can have feminine characteristics. This feminization has been linked to the presence of low levels of EE2.
In a project originally headed by Dr. Karen Kidd, researchers at the DFO Experimental Lakes Area, including Drs. Paul Blanchfield, Ken Mills, Vince Palace and Mike Paterson, set out to answer the critical question as to whether these males with feminine characteristics affect the overall reproductive potential and sustainability of these populations.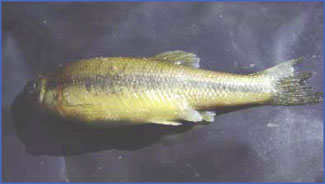 Environmentally relevant concentrations of EE2 were added to Lake 260 at the Experimental Lakes Area from 2001 to 2003. The effects of the EE2 were studied in several species of fish that live in the lake. Biochemical changes were most evident in the minnow species, and the fathead minnow was impacted more than other species. Male fathead minnows quickly developed feminine characteristics and after two years there were very few normal males in the population. Because there were so few normal males, reproduction in this population dropped drastically and the species was almost eliminated from the lake where EE2 was added. Lake trout fatness and survival also decreased, probably because there were fewer minnows to eat.
This Canadian experiment was the first of its kind in the world and showed that low concentrations of contaminants that are discharged from sewage treatment facilities can cause decreases in fish populations. The evidence for this was strengthened when the fathead minnow population quickly recovered in Lake 260 upon terminating EE2 additions.
Potential Impacts of Pesticides on Fish
Applying pesticides to maximize crop yield is recognized as an important part of agricultural practice. In Canada, the use of these chemicals is regulated by the Pest Management Regulatory Agency (PMRA), a branch of Health Canada. In support of these regulations, the Department of Fisheries and Oceans established the Centre for Environmental Research on Pesticides (CERP) at the Freshwater Institute in Winnipeg. The scientists of CERP perform experiments in the laboratory and also study wild fish populations in areas where pesticides are applied to ensure that pesticide regulations are protecting fish and their habitat.
One of the model systems studied by CERP is Twenty Mile Creek, a Great Lakes tributary that originates near Hamilton and flows along the Niagara escarpment, eventually emptying into Lake Ontario near St. Catharines. As it flows, Twenty Mile Creek travels through several types of agricultural land where different types of pesticides are used. Corn, soybeans and wheat are dominant alongside the beginning of the creek, but below the escarpment fruit and vineyards predominate. CERP scientists have been studying reproduction and growth of wild fish and aquatic invertebrates at various locations in the creek, and collaborating with Environment Canada scientists who determine the actual concentrations of pesticides in the water at these locations.
The program emphasizes using and developing non-lethal indicators of effects, so in most cases the fish are evaluated and then released back into the creek. However, due to annual differences in temperature and precipitation — which can impact the rates of pesticide use and the growth and reproduction of fish and invertebrates — working in the field is challenging. Because of this, CERP also performs laboratory experiments that model field scenarios to better understand the links between exposure and potential effects. The results of all of these studies are reported to PMRA to ensure that fish and fish habitat are being protected.
Extreme Weather: Improving Forecasting with Computer Models
Extreme and unusual weather has a huge impact on coastal communities. This was demonstrated in April 2007 when late pack ice trapped more than 100 sealing vessels at sea off the coast of the island of Newfoundland, requiring a major Coast Guard rescue. Hundreds more crab fishing boats were locked in harbours as the ice prevented the industry from getting the fishing season underway.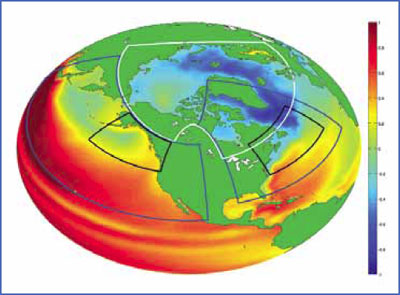 Amidst concerns about extreme weather and climate change in Canada, the Centre for Ocean Model Development and Application (COMDA) of DFO Science is actively collaborating with Environment Canada and other agencies in developing improved computer models for operational atmosphere, ice and ocean forecasting for Canada. In this initiative, referred to as CONCEPTS (Canadian Operational Network of Coupled Environmental Prediction Systems), the ocean prediction system used at the French Mercator Oceanography Centre is being imported and adapted to Canadian needs. COMDA scientists are evaluating the model on domains ranging from the global ocean to the ocean basins and regional seas surrounding Canada.
In conjunction with CONCEPTS, COMDA scientists are also developing computer models for the biogeochemical properties of marine ecosystems. For example, a project coordinated by zones was initiated in 2006 to couple a model for plankton and nutrients to ocean-ice models for Atlantic Canadian waters, for use in detecting, understanding and predicting ecosystem variability.
Sea Lice
Sea lice are found around the world, in every ocean and on many species of fish. They are naturally occurring parasites that are very common on all species of adult Pacific salmon in British Columbia. In recent years much attention has focused on the concern that sea lice that occur on salmon raised in commercial aquaculture farms in open net cages may impact the survival of juvenile wild salmon species that migrate and rear in the same areas. Wild salmon can transfer sea lice to salmon farms and, if left untreated, farmed salmon can transfer sea lice back to the marine environment. Extensive research was initiated under the DFO Pink Salmon Action Plan to address this and other related concerns. In 2006 and 2007 DFO further expanded this research program by partnering with the BC Pacific Salmon Forum, university and independent researchers, and commercial salmon farm companies.

The results have shown that overall sea lice infection rates on wild juvenile salmon vary substantially between years, and also between locations within each year. For example, sea lice were significantly more abundant on both wild juvenile pink and chum salmon in 2004, compared to 2003, 2005, 2006, or 2007. The results indicate that sea lice levels have declined in recent years, and in 2007 were the lowest observed from 2003 to 2007, for both farmed salmon and wild juvenile salmon.
This research is also the first to document infection of threespine stickleback (Gasterosteus aculeatus) by the sea louse Lepeophtheirus salmonis. The sea lice infections observed every year were significantly greater on stickleback than on either juvenile pink or chum salmon. Salmon species and size, location, as well as seawater salinity were all found to be significant predictors of the number of sea lice on juvenile wild salmon. Ongoing DFO research is assessing the impact of sea lice infections on growth rates and mortality of juvenile wild salmon, and on the number of adult salmon that return to spawn in subsequent years. Learn more at: www.dfo-mpo.gc.ca/science/environmental-environnement/aah-saa/lice-pou-eng.htm
Genomics and the Mystery of Late-run Fraser River Sockeye Salmon
Researchers in the Molecular Genetics Lab at the Pacific Biological Station in Nanaimo, British Columbia, are carrying out novel genomics research to unravel the physiological and environmental factors responsible for mysterious shifts in migration timing of adult sockeye salmon returning to spawn. Late-run sockeye salmon historically migrated up the Fraser River in September and October when temperatures in the river are low. Since 1995, these fish have been entering the river in August and migrating through the river during peak water temperatures that are 5 to 6 degrees higher than they are adapted to withstand. These earlier migrations have resulted in generally high levels of migration mortality; in 2001 mortality rates reached 95 percent. This has had a devastating effect on allowable catches and has created significant conservation issues.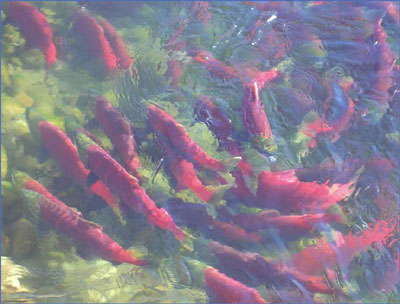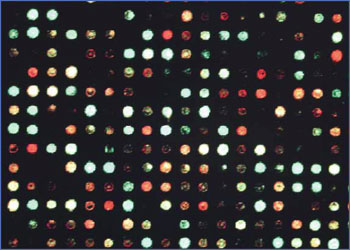 Using a combination of two cutting-edge technologies — telemetry and genomics — Dr. Kristi Miller and her university (UBC and Carleton) and industry (LGL Ltd, and Kintama Research) collaborators have been unraveling the physiological and environmental triggers that cue salmon to enter the river. Furthermore, they have embarked on research to identify whether the physiological condition of the salmon entering the river is contributing to their high levels of mortality. To do this, they insert radio tags and collect non-destructive biopsy samples from salmon as they are migrating down the coast, and then track the migration route of each salmon upon arrival to the river. The biopsy samples are used to assess genome-wide physiology through salmon microarrays — microscope slides each containing an incredible 16,000 genes spotted onto their surface — which assess which genes were turned on or off in fish based on entry-time or fate in the river.
The merging of these novel technologies has resulted in a detailed understanding of the physiological changes and constraints associated with spawning migration. Basically, the salmon have to reconfigure themselves at the molecular level for transition from the ocean back to freshwater conditions. The genomics research revealed strong and consistent shifts in the expression of genes associated with transitioning to fresh water in gill (important for osmotic preparation) and white muscle tissue (important for maintaining energy for swimming and reproductive loading), but found that neither osmoregulation nor energy transitioning could explain the altered entry timing. However, they found that the successful individual salmon who make it through the higher water temperature regions of the river all the way to their spawning grounds was highly correlated with the expression patterns in their gills. Moreover, the physiological link to survival in the river was present in the ocean, over 200 km from the river's mouth.
SECTION 2: Science that Matters to Canadians
DFO Science is moving to an ecosystem approach to science. A key driver to this approach is the knowledge that fishing and other human activities are having marked effects on the structure of aquatic ecosystems, and in particular, on the most productive ecosystems. The structure of these ecosystems developed over long periods of time, through complex interactions. Intergovernmental bodies concerned with aquatic science and management recognize that scientists must try to quantify the effects of human-driven changes in terms of the complex interactions in ecosystem functioning and to determine whether the effects are reversible, and if so, over what time scales.
In the publication New Ecosystem Science Framework for an Integrated Approach to Management, DFO Science outlines key concepts of ecosystem science and describes the development and adoption of better tools to monitor and study entire ecosystems.
To address federal and departmental priorities and public good needs for the next five years, DFO Science developed a Five-Year Research Agenda, 2007-2012, which focuses on 10 essential research priorities and associated research priority areas. These priorities, which highlight basic and applied research needed for developing new knowledge and improving the use of existing knowledge, are strongly influenced by DFO Science's New Ecosystem Science Framework in Support of Integrated Management. See Five-Year Research Agenda, 2007-2012.
A: TARGETED RESEARCH
The Cascading Effect of the Loss of Top Predators
The collapse of the Atlantic cod fishery and the implications of over-fishing are well known to most Canadians, but the big question remained: "If the cod fisheries have closed, why aren't cod stocks regenerating?"
To gain insight into that question and to understand what happened in the ecosystem of the Eastern Scotian Shelf, Dr. Ken Frank and colleagues at the Bedford Institute of Oceanography analyzed ecosystem data. They discovered that the loss of top predators such as cod, due to over fishing, and the impacts of climate change, have caused a cascading effect throughout the trophic levels of the food chain, influencing the lower levels and causing deep and possibly permanent changes to ocean ecosystems. While it cannot be stated definitively, the results of the study suggest that the ecosystem is operating in a new way, and that fishery closures may not succeed as a strategy for the cod stock's regeneration. The DFO report State of the Eastern Scotian Shelf Ecosystem created a wave of interest on the international scene and led Dr. Frank to publish an article about the work in the journal Science. See the report at: www.dfo-mpo.gc.ca/csas/ csas/status/2003/ESR2003_004_E.pdf
Until recently, most biologists believed that the marine food chain was fixed in a bottomup fashion, and that it was "primary production" of the smallest organisms — phytoplankton — that determines the operation of the system. If primary production were the main governing factor, it would be only a matter of time until the cod fishery bounced back. However, the cod fisheries were closed over a decade ago and there has been no major recovery.
Researchers analyzed 64 different indicators of the ocean's ecosystem, such as sea surface temperature, salinity, contaminants, heavymetal presence, wind patterns, plankton abundance, fish size and condition, and commercial catches, and linked changes across the ecosystem and at different trophic levels, going back to the 1970s. What they proved, for the first time in ocean waters, was a "top-down" cascade of changes driven by fishing and complicated by changing water temperatures.
The decimated cod stock ate fewer shrimp, small crab, herring, sand lance and the like, which became the dominant predators that ate more of the large zooplankton, which in turn declined (zooplankton includes cod eggs and larvae). This intensified predation works against cod recovery. The decrease in zooplankton eased predation on algal phytoplankton, which then increased. Phytoplankton now consumes more of the nitrates in seawater, which have fallen. In short, the changes from heavy commercial fishing cascaded right down to the level of primary production and nutrients.
People in Atlantic Canada's coastal fishing ports who have lived off cod for centuries are adapting, and today take larger than ever catches of valuable crab and shrimp. But Dr. Frank warns that is no guarantee of future abundance. He notes that intensive fishing down the food chain, at a lower trophic level, can be just as dangerous as depleting the top level.
The Eastern Scotian Shelf study also demonstrates why ecosystem-based management systems have been proposed to solve some of the problems inherent in conventional management. His study clearly shows that ecosystems are highly dynamic, and that exploitation is also a driver of change. The analysis points to the need to understand marine ecosystem functioning in order to replace marine exploitation with the sustainable use of marine resources.
DFO Science and University Researchers Collaborate to Study Ecosystem Change, Capelin and Seabirds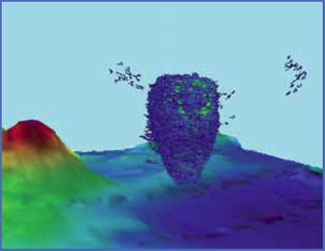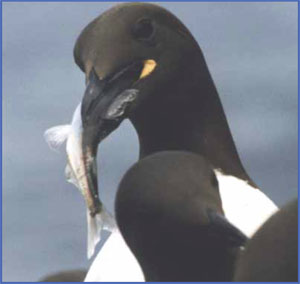 The northwest Atlantic is undergoing extensive ecosystem changes associated with both oceanographic conditions and overfishing. Recent research suggests that seabirds have the potential to be quantitative indicators of the status of fish such as capelin (Mallotus villosus) — a key forage fish species in the northwest Atlantic ecosystem, and a primary prey for large predators including cod, seals, whales and seabirds.
DFO researchers Drs. John T. Anderson and Mariano Koen-Alonso, and university professors Drs. Bill Montevecchi, Gail Davoren and Brad de Young, led a collaborative research program with commercial fish harvesters to investigate mechanisms underlying changes to the biology and behaviour of capelin. The program utilized state-of-the-art multibeam technology operated by the Canadian Hydrographic Service, which provided a detailed benthic map of the marine habitat.
Although capelin typically spawn on beaches in waters off the coast of the island of Newfoundland, this research was spatially centered on Funk Island, home of many seabird colonies. The research identified and characterized 11 off-beach capelin spawning sites in nearby inshore waters. A comparison of beach and off-beach sites showed that capelin egg development strategies differed. Integrated results from hydroacoustics and biological sampling suggested that daily vertical movements of capelin and its zooplankton prey are correlated and vary with capelin size. These patterns influenced the daytime feeding schedules of seabirds.
Meanwhile, observations of seabird distributions, surveys of capelin availability, and colony-based measures of seabird diets revealed that seabirds were selective foragers that expanded their foraging ranges when capelin were less available in certain years. Changes in the diets of seabirds, such as the common murre, can be linked to changes in the availability of capelin larger than 100 mm in size, suggesting that seabird diets have the potential to become a quantitative indicator of capelin status. Overall, this type of research framework is important for moving toward ecosystem approaches to fisheries.
Research Behind the Scenes of Snow Crab Stock Assessment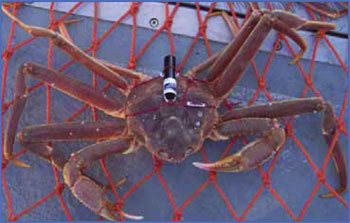 The snow crab fishery is an economically important one restricted to male crabs — but protecting females does not guarantee stock renewal. Overexploiting mature males could result in a lack of mating partners for mature females. The Moncton-based population biology team of Renée Allain and Candy Savoie has been monitoring mating and reproductive performance by observing the quantity of sperm reserves in the females' spermathecae, as well as the total number of fertilized eggs. This is a long and painstaking project requiring huge patience. However, it will develop a better understanding of the dynamics of the snow crab population and the stock condition. For an understanding of the snow crab, it is equal in importance to a biomass estimation by trawl survey.
Snow crab larvae hatch in May in the southern Gulf of St. Lawrence. The planktonic phase lasts approximately 12 to 16 weeks. After the last larval molting (megalopae) it becomes a tiny snow crab and settles on the ocean bottom. The megalopae generally inhabit the area underneath the transition layer between the mixed layer of water at the surface and the deep water layer known as the thermocline. Based on recent study, the snow crab fisheries research team of Michel Biron and Christine Ferron hypothesized that the best larval settlement areas for snow crab may be on the hard-bottomed regions where the thermocline is close to the ocean floor. Their hypothesis is based on results obtained on the sediment type, larval abundance by stage and the abundance and distribution of post-larval crabs. Protecting favourable larval settlement sites may lead to better protection and management of the stock.
By-catch Survival and Conservation
Many commercial fisheries are unable to perfectly target for their desired or regulated species and sizes of fish, and incidentally capture undersized individuals as well as those from other species. The live release of these incidentally captured fish — commonly known as "by-catch" — is often used as a simple conservation measure. In Atlantic Canada, for example, undersized halibut and species at risk, such as spotted wolffish, are released. However, the practice is effective as a conservation measure only if the fish survive on release.
Biologists Hugues Benoit and Tom Hurlbut in DFO's Gulf Region are investigating the potential post-capture survival of fishes released during commercial fishing operation in order to establish effective conservation measures. They are using a combination of data collected by at-sea observers during a large number of actual commercial fishing trips and simulated fishing conditions using a vessel with live-fish holding facilities. Determining survival under conditions relevant to commercial fishing operations is not straightforward and therefore, to date, has been done for a limited number of species and to varying degrees of accuracy.
Factors affecting the likelihood of survival of by-catch include: environmental ones, such as water and air temperatures; those related to the fishing operations themselves, such as the gear used and how long fish remain out of water; plus differences in resilience between species. The study results will allow researchers to better determine the conditions under which post-capture release is a viable option and those where avoiding the by-catch is the only conservation option toward minimizing fishing-induced mortality.
Research Mission in the Sargasso Sea
In March and April 2007, DFO researcher Martin Castonguay of the Maurice Lamontagne Institute participated in an international mission in the Sargasso Sea on the breeding biology of eels. Spearheaded by Denmark, the mission brought together scientists from five countries. It involved two vessels, a Danish oceanographic vessel, and a Canadian commercial trawler on which Martin Castonguay, mission head, was aboard. DFO provided a financial contribution in the form of a grant under the International Governance Agenda.
The mission achieved its main objective: to collect eel larvae samples in order to shed light on fundamental questions relating to the population genetics of the American eel and European eel. However, due to a variety of technical difficulties, researchers were unable to achieve the objective of capturing adults on the spawning site. A workshop was held in August 2007 in Copenhagen to discuss the focus of the scientific articles that will result from the research program.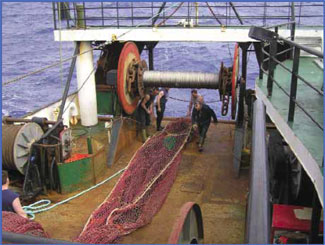 Integrated Multi-Trophic Aquaculture in the Bay of Fundy: Continuing to Evolve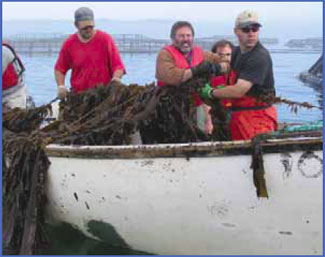 Developing new techniques for the evolution of aquaculture-based seafood is the goal of the Integrated Multi-Trophic Aquaculture (IMTA) program at the St. Andrews Biological Station and the University of New Brunswick in Saint John.
Under the leadership of Drs. Shawn Robinson (DFO) and Thierry Chopin (UNBSJ), the program promotes the practice of recycling waste by-products from one species to become inputs, such as fertilizers and food, for another. In this way, the entire operation becomes more socially acceptable, economically profitable and environmentally benign. The concept of a balanced system combines fed fish species, such as salmon, with natural biofilters like mussels and seaweeds on a single farm site, so that fewer of the nutrients originating from the highenergy fish food are wasted. The seaweed extracts inorganic byproducts like nitrogen and phosphorous out of the water, and the mussels thrive in an environment enriched with concentrations of food and waste particles. The research has been ongoing in the Bay of Fundy with the salmon industry for six years.
Seaweed such as kelp, and shellfish such as mussels are key components of the project, as are equipment development and harvesting techniques. Economics and marketing — keys to the industrial success of the project — are being directed by Dr. Neil Ridler (UNBSJ) in close collaboration with Cooke Aquaculture. Water flow dynamics through the IMTA sites are being studied by Dr. Fred Page of DFO, while the general health of the sites is being monitored by Dr. Les Burridge, also of DFO. Gregor Reid, a postdoctoral researcher on the project, has developed computer models to evaluate the amount of nutrient recovery from the IMTA system.
It would appear that by adding kelp to the sites, it is possible to recapture up to 40 percent of the nutrients available during its growing season, while mussels can recapture up to 50 percent of the fine particulates released from the salmon cages. This extra food and energy these species receive results in growth rates about 50 percent faster than normal. Additional species are also being investigated.
In the next five years, the program will be supported by the Atlantic Innovation Fund of the Atlantic Canada Opportunities Agency, along with industrial partners Cooke Aquaculture Inc. and Acadian Seaplants Limited, and governmental partners Environment Canada (EC), the Canadian Food Inspection Agency (CFIA), and the New Brunswick Department of Agriculture and Aquaculture (NBDAA). The team is working to promote and advance the IMTA concept across Canada and beyond with research partners such as the Pacific SEA-Lab Research Society.
Atomic Bomb Radiocarbon Shows Beluga Whales Live Twice as Long as Previously Believed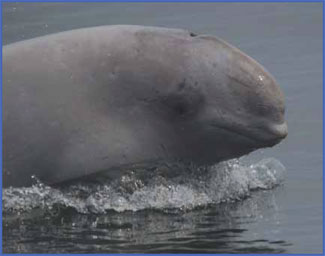 In disproving the old assumption that beluga had semi-annual growth layers in teeth, a DFO research team, led by Dr. Rob Stewart of the Freshwater Institute, proved that the whales live twice as long as previously believed — altering our understanding of beluga population dynamics. The researchers validated the ages of beluga based on datespecific incorporation of atomic bomb radiocarbon into tooth growth layer groups (GLGs). The research confirmed that GLGs form annually in beluga and provide an accurate indicator of age up to at least 60 years old. Radiocarbon assays of dentinal layers formed in belugas harvested between 1895 and 2001 indicated that radiocarbon from atmospheric testing of nuclear weapons was incorporated into growing teeth and retained for the rest of the animal's life.
The team included Steve Campana, Cynthia Jones and Barbara Stewart. Learn more in the December 2006 issue of the Canadian Journal of Zoology at: http://article.pubs.nrc-cnrc.gc.ca/RPAS/rpv?hm=HInit&journal=cjz&volume=84&afpf=z06-182.pdf
Aquatic Biotechnology Research and Development Program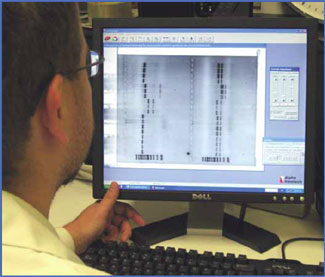 Fisheries and Oceans Canada is linking innovative biotechnology and genomics science with higher-level policy making and on-the-ground fishery and aquatic ecosystem management decisions through its Aquatic Biotechnology R&D Program. There are four research themes in the DFO Aquatic Biotechnology & Genomics R&D Strategy: Biotechnology and Aquatic Resource Profiling, Biotechnology and Aquatic Animal Health, Biotechnology and Aquatic Ecosystem Health, and Regulatory Science for Aquatic Animals with Novel Traits. Read more about the strategy online at: www.dfo-mpo. gc.ca/biotech-genom/docs/abgrds_e.htm
A prominent example of research conducted under the theme of Regulatory Science for Aquatic Animals with Novel Traits is the recently published study looking at the interaction between the genetic make-up of fish and the environment in which the fish were raised. DFO has conducted research to investigate questions about genetically engineered (GE) fish from a regulatory point of view, and this continuing research is taking place in closed, biocontained facilities.
DFO researcher Dr. Robert Devlin and his team, Drs. Fred Sundström, Mare Lõhmus and Wendy Tymchuk, compared the effect of rearing GE and non-GE salmon in contained semi-naturalized streams and under hatchery conditions. The GE salmon showed decreased growth in the semi-naturalized streams when compared with those raised in hatchery conditions, while wild-type fish were much less affected by the rearing environment.
Research showed that GE salmon from hatchery environments, when put into contained semi-naturalized streams, have a greater impact on prey than non-GE salmon. However, it was also found that the rearing environment can have a strong effect on predatory behaviour: genetically engineered fish reared in semi-naturalized streams were not only smaller, but were also not as predatory as hatchery-reared GE fish of the same size or age.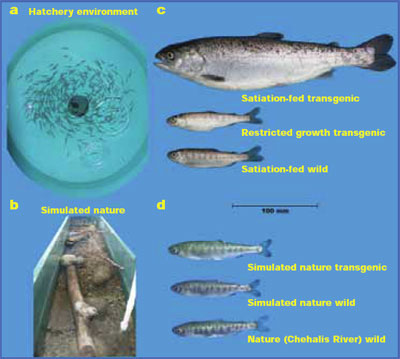 Dr. Devlin and his team also looked at the predation behaviour of GE-fish that were reared in hatchery conditions but not fed unlimited amounts of food. These fish were fed a restricted ration (that is, an amount of food that was the same as that desired by wild-type hatchery-raised salmon) and didn't grow as large as the GE-salmon that had unlimited food. Surprisingly, when these fish were examined for their predation behaviour in the semi-naturalized stream, the restricteddiet GE fish consumed more prey than either the wild-type or the unrestricted-diet GEsalmon. When this result is compared to the reduced predation that was seen in the GEsalmon reared in the semi-naturalized streams, it is clear that predatory effects are not just determined by the size of the fish or that the fish is transgenic — it is likely a combination of how the fish were reared and their genetic make-up.
The results from this study demonstrate that the rearing environment can dramatically change how fish behave in that environment as well as how fish grow and develop. This "uncertainty" can lead to either an underestimate or an overestimate of risk. This research is particularly important to regulators as it suggests that results from experiments using GE fish reared or studied under hatchery conditions may not be applicable to how a given fish type may behave or grow in the wild. An English-language article describing this topic more fully is found online in the journal for the Proceedings of the National Academy of Sciences of the United States of America (PNAS) at: www.pnas.org/cgi/ content/abstract/104/10/3889
Marine Studies of Pacific Salmon
Canada maintains two research programs on factors that regulate the early marine survival of Pacific salmon. These studies are essential for separating the effects of fishing and freshwater habitat change on salmon production from natural variations in oceancarrying capacity. Furthermore, Canada's Salmonid Enhancement Program (SEP) annually releases over 300 million Pacific salmon in coastal waters. Understanding how SEP-produced salmon interact with the wild Pacific salmon and affect the ocean-carrying capacity for Pacific salmon are important questions for effective conservation and provision of sustainable fisheries.
Strait of Georgia Study
Juvenile salmon surveys have been conducted in the Strait of Georgia during July and August for the past 10 years. Information collected during these surveys includes fish length, distribution and diet of juvenile Pacific salmon and other non-salmonid species, and information on the early marine survival of juvenile salmon in the region. This information is being used to assess the impact of changes in the ocean climate on Pacific salmon. Recent research has been focused on understanding the decreasing marine survival of coho salmon in the Strait of Georgia.
The percentage of Canadian hatchery coho salmon in the Strait of Georgia increased from almost zero in the early 1970s to an average of 70 percent in the late 1990s, but between 2000 and 2006 the percentage declined to only 30 percent. The recent decline may result from several factors: an overall reduction in the number of hatchery coho released to the Strait during the year, and the continued release of hatchery coho during May, which unfortunately coincided with an earlier-thanusual May "spring bloom" of prey production in the Strait of Georgia. Adding to the story, there has been a recent increase in abundance of wild coho salmon in the Strait that has not yet been explained. Research has shown that hatchery and wild coho salmon differ in their response to early marine conditions, but more adequate explanations are needed. Those explanations are among the objectives of a new initiative studying the broader ecosystem in the Strait of Georgia.
High Seas Pacific Salmon Program
Under this program, DFO has been collecting oceanographic data, juvenile salmon and associated species along the West coast of British Columbia and Alaska since 1998 to assess the effects of ocean conditions and climate change on the distribution, migration, growth rate and survival of Pacific salmon. These surveys are normally conducted during spring/summer, fall and winter over two- to four-week periods. One of the more unexpected findings has been the link between salmon growth and the quality of the food they prey upon. Even small changes in prey quality have been seen to have a large effect on the growth trajectory and ultimate survival of juvenile coho salmon.
The program also has strong international linkages. Salmon and ocean systems do not respect political boundaries. The High Seas team collaborates with similar research programs in the United States to develop an integrated picture of salmon behaviour and the conditions that affect their survival. Their research is also relevant to the work of the North Pacific Anadromous Fish Commission, which brings together scientists from Japan, Russia, the United States, Korea and Canada to share resources and results related to fisheries research.
B: MONITORING
National Aquatic Monitoring in Canada: Report of the Implementation Team
In 2006 the DFO Science Monitoring Implementation Team published Aquatic Monitoring in Canada. This report was the result of a major review of aquatic monitoring programs in order to identify new requirements, areas needing improvement and potential savings. The report can be viewed on the Canadian Science Advisory website at: http://www.dfo-mpo.gc.ca/csas/Csas /Proceedings/2006/PRO2006_003_E.pdf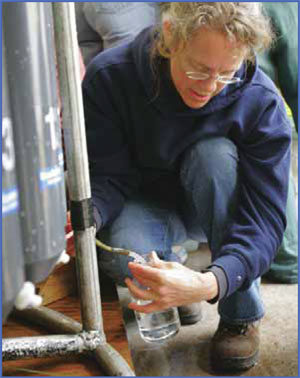 Monitoring provides the underpinning for all scientific advice provided by the department. About two-thirds of the $56 million spent by DFO on aquatic monitoring is invested in activities that support sustainable fisheries and aquaculture. The remaining one-third is invested in monitoring to maintain healthy and productive aquatic ecosystems. Partners spend an additional $30 million on monitoring, mainly of fish stocks on the Pacific coast.
The area requiring the most improvement is monitoring in the Arctic and Canada's large boreal region. There are few systematic monitoring programs of ecosystem health, particularly in near-shore, coastal areas. Fish habitat, invasive species, food webs, species at risk, integrated management initiatives, marine protected areas and any effects of cumulative anthropogenic impacts are not well monitored. Almost all of our marine observations are made from ships, yet the number of available sea days has declined by half and the costs have doubled over the past two decades.
Improvements could also be made with information access and integration. The team remarked that the public lacks information on the importance of aquatic monitoring that would provide data on climate warming, loss of biodiversity and invasive species. Currently aquatic monitoring comprises a collection of regional initiatives. Taken together, these initiatives provide the basis for the implementation of a national monitoring program.
New requirements and areas in need of improvement identified by the team include:
New technologies, such as automated drogues for collecting physical and chemical properties of the sea, could be used to reduce the demand and cost of vessels. The Government of Canada fleet could conduct more monitoring if equipped with appropriate data-gathering instruments.
Partnerships could be expanded. Monitoring, however, is a long-term investment and the role of charities, academics and governments needs to be clear. Fisheries sampling is one potential area for more partnerships.
Protocols for data acquisition, archiving and access are being improved.
A standardized nation-wide reporting of aquatic ecosystems is being considered as well as ecosystem report cards that would help to identify ways to improve monitoring and the state of our knowledge.
A clear commitment toward a national monitoring program is being developed to protect future investment in this area.
Monitoring requires a higher profile among the science-based federal departments. Lately, there has been emphasis on innovation, excellence, creativity and new technologies, but it could be argued that these themes fall more into the domain of universities, whereas knowledge of the state of Canada's environment would be more the responsibility of federal science and technology departments. A visible aquatic monitoring program would be a key factor toward meeting this objective.
The team recommended the creation of a well-defined and integrated national aquatic monitoring program and noted that a useful model is the Atlantic Zone Monitoring Program and its link to the national, Marine Environmental Data Services.
A Model Monitoring Program
The Atlantic Zone Monitoring Program (AZMP) was implemented by DFO in five Atlantic provinces in 1998, with the aim of describing and understanding oceanic variability in the Atlantic zone. AZMP comprises: seasonal sampling of physical (temperature, salinity), chemical (nitrate, nitrite, phosphate, silicate, oxygen) and biological (fluorescence, chlorophyll a) variables along 13 sections; higher-frequency sampling of the same variables at six fixed stations; single samples of the same variables from more than 1,000 locations in multi-species trawl surveys; remote-sensing of sea-surface temperature, ocean colour and primary productivity and data from continuous plankton recorder lines (Scotian Shelf and Western Atlantic); sea-level at nine locations; the long-term near-shore temperature monitoring network; harmful algae monitoring; and meteorological data from Environment Canada. All data are validated, archived and accessible to the public at the AZMP website: http://www.meds-sdmm.dfo-mpo.gc.ca/isdm-gdsi/azmp-pmza/index-eng.html
Monitoring in Northern Canada
For decades scientists have collected valuable data on specific Arctic locations through DFO's Arctic research programs. In 2006-2007 DFO Science made strong progress in establishing a broader, sustained Arctic aquatic monitoring program modeled on DFO's Atlantic Zone Monitoring Program. In the offshore domain, DFO participates in a variety of programs to monitor factors such as ice thickness, oceanographic conditions and other climate indicators.
A unique co-management arrangement in the Canadian Arctic under Land Claims agreements has resulted in community-based resource sampling programs. Local residents, including youth and elders, participate in basic collections to address objectives common to local populations and resource managers and the broader scientific community. This is a consistent and cost-effective program for collecting basic variables over time, including marine mammal tissue samples from local harvests, basic biological parameters from subsistence fishing, and basic observations of change to the aquatic freshwater and marine ecosystems where they live.
Marine mammal surveys and community-based observation and tissue collections in key locations of the eastern and western Arctic underpin research on aquatic resource management. The programs are an important element in detecting changes in the ecosystem and guiding research projects specific to the needs of the local resource users. Community sampling programs also take place in the inshore lakes and rivers of importance to local fisheries and in areas of high resource development. All programs are being enhanced through strengthened relationships and understanding of common objectives under climate change scenarios and the rapidly changing environments in the Arctic.
The Many Benefits of Ocean Modeling and Ecosystem Applications
Dr. Guoqi Han leads a team of experts who are modeling ocean currents. To complement the DFO Atlantic Zone Monitoring Program, to explore implications of ocean circulation and hydrography for biology and fisheries, and to benefit offshore hydrocarbon exploration activities, he and his team of scientists developed a suite of state-of-the-art ocean models for circulation and dispersion off Newfoundland and Labrador. For the first time, the model solutions provided high-resolution, monthly mean, observationally based and dynamically consistent ocean currents, temperature, salinity and turbulence fields for the Newfoundland and Labrador Shelf and Slope. They were extensively validated against historical current metre data, vessel-mounted Acoustic Doppler Current Profiler data and satellite-tracked drift data.
Dr. Han's work exemplifies the ecosystem approach and has many management benefits. The study significantly advances the knowledge of the seasonal and interannual variability of the Labrador Current, its crossand along-shelf changes, and its forcing mechanism. The model current fields were used in the design of the offshore drilling, in the assessment of marine renewable resources and in a geographic information system for fisheries. The circulation and hydrography can influence and at times control the biological and fishery productivity. The model current fields also helped to quantify characteristic time scales of biological importance for the Flemish Cap ecosystem.
Alternative ballast water exchange zones off the coast of the island of Newfoundland were assessed and recommended based on model circulation and turbulence solutions. Model simulations were conducted to clarify cross-shelf exchanges of zooplankton after over-wintering over the Labrador Slope. The model circulation fields were helpful to explain white hake recruitment and abundance over the Grand Bank and the spread of snow crab disease over the northeastern Newfoundland Shelf.
Monitoring Canada's Waters from Space
Through the Canadian Space Agency, DFO researchers have access to data from the Medium Resolution Imaging Spectrometer (MERIS) aboard the European satellite Envisat. A project led by Dr. Jim Gower of the Institute of Ocean Sciences uses MERIS to detect plankton blooms in western Canadian coastal waters and to distinguish between species groups (coccolithophores, diatoms, blue-green algae, etc.). The MERIS data are used to image both offshore waters and the narrow coastal inlets where fish-farms are located. Damage to the aquaculture industry from harmful blooms, or "red tides," is assessed at several million dollars per year.
By chance, the optical radiance data research also identified extensive lines of floating Sargassum seaweed in the western Gulf of Mexico. This was the first time that Sargassum had ever been detected by satellite, in spite of frequent reports since the time of Columbus and earlier that it covered large areas of the Atlantic Ocean in the Sargasso Sea. The research also led to detection of ice in Antarctica that appears to be coloured by significant concentrations of algae, forming a type of bloom referred to by observers in the 1970s as "superblooms" because of a high density of phytoplankton.
The greater significance of the bloom detections, Sargassum observations and algae in ice is that the work by Jim Gower and his colleagues adds new tools for monitoring the primary productivity of the ocean — a factor in climate change prediction. Marine primary production is the process by which floating vegetation, such as phytoplankton and seaweed, absorb atmospheric carbon dioxide through photosynthesis and convert it into organic carbon. By absorbing half of the carbon dioxide emitted into the atmosphere, the oceans have a profound influence on climate, making them major areas of interest for climate modelers. On a more technical level, the work confirms the importance of the 709 nm band of MERIS, a band that is not included in other similar present or planned satellite instruments.
MERIS and the Red Tide Investigation
MERIS data are also being used in southwestern New Brunswick where personnel from the Ocean Sciences (OSD) and Ecological Research Divisions (ERD) at the Bedford Institute of Oceanography (BIO), and the St. Andrews Biological Station (SABS), are collaborating in the use of remote sensing for studying toxic algal blooms.
The Bay of Fundy has a long history of red tide, but predicting its onset and duration has not been possible. With access to the MERIS data researchers hope to develop the first species-specific remote sensing algorithm for Alexandrium, the phytoplankton responsible for red tide. MERIS data are enabling the researchers to associate multi-spectral satellite images with measurements of cell numbers, water column optical properties and particle size distributions during this year's Alexandrium bloom. As red tide occurs in coastal waters, a complicating factor for developing remote sensing algorithms is the presence of sediment in the water, since its amount and size distribution affect remote sensing reflectance.
Over the course of the bloom, measurements of water column properties are being made by Gary Bugden of OSD and Ed Horne and Brent Law of ERD. An in-situ laser particle size analyzer (LISST) is being deployed with a digital floc camera to give complete size spectra for suspended particles. At the same time, measurements of the optical properties and plant pigments are being made, and cell counts determined, by Jennifer Martin of SABS. This experiment marks one of the first times that the size spectra and other details of the suspended particulate matter were measured at the same time as plant pigments and cell numbers. It is hoped that these complementary measurements will aid the development of a species-specific algorithm, something which has — up to now — proven elusive.
Long-term Monitoring Shows Dramatic Shifts in the Composition of the Southern Gulf of St. Lawrence Ecosystem
Since 1971, a standardized multi-species bottom trawl survey has tracked the abundance of the main groundfish resources in the southern Gulf of St. Lawrence. This longterm dataset has become an invaluable tool for monitoring changes over time in species abundance and composition, and thus the overall health of the southern Gulf ecosystem.
Species composition has been in steady flux over the 36-year time series. The abundance of large demersal fishes has declined and has been at a low level since the early 1990s. In contrast, the abundance of small-bodied forage fishes and many unfished macroinvertebrates increased to high levels in the 1990s. Changing biogeographic composition of the fish community suggests an effect of climate variation on species composition. For example, increases in the abundance of Arctic species in the mid- to late-1990s likely reflect the cold bottom waters occurring during the 1990s. However, direct and indirect effects of fishing also appear to be a major cause of these changes in species composition. The availability of such a wealth of data is a boon to researchers past and present, and will continue to be used in innovative ways by DFO Science.
Development of a Satellite Buoy Network for Real-time Acoustic Localization of Whales in the St. Lawrence
An integrated system of intelligent acoustic buoys has been developed to detect, identify and localize whales in real-time in their environment, and to communicate this information to land-based stations or ships via satellite, Internet and radio frequency (RF) communications. This low-cost portable buoy network can be used as a marine mammal observatory to gather continuous space-time series of vocalizing animals over large basins, or as early warning systems for improving whale protection on navigation routes or around moving or fixed platforms during threatening high-level acoustic activity. The buoy system is easily adapted to various tasks and is designed to accommodate future developments. It can be deployed as a drifting network, or anchored to the bottom or the ice sheet. The first sea trials were in August 2006 in the St. Lawrence. There is more information (French language only) at: http://www.uqar.ca/uqar-info/010407/Bouees_YSimard.asp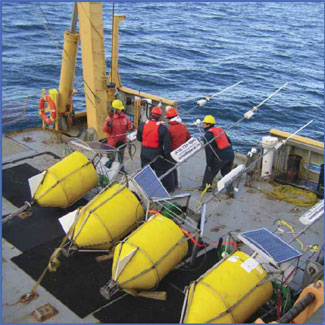 Aquatic Invasive Species in the Great Lakes
Monitoring activities directed toward aquatic invasive species (AIS) in the Great Lakes were carried out in 2006 in the St. Marys River (Lake Huron) and Hamilton Harbour (Lake Ontario). The surveys were planned at Great Lakes' Areas of Concern to complement ongoing studies of fish (electrofishing) and invertebrates to support DFO's commitment to the international Great Lakes Water Quality Agreement. Great Lakes Areas of Concern (AOCs) are defined by the Canada-U.S. Great Lakes Water Quality Agreement as "geographic areas that fail to meet the general or specific objectives of the agreement where such failure has caused or is likely to cause impairment of beneficial use of the area's ability to support aquatic life." The two federal governments identified 43 such areas: 26 in U.S. waters, and 17 in Canadian waters (five are shared between U.S. and Canada on connecting river systems). Two of the 43 sites have been delisted.
As part of the AIS project, led by DFO Science staff Christine Brousseau, Tom Pratt and Lisa O'Connor, multiple fishing gear types were evaluated and compared to electrofishing for their efficacy in detecting new species in coastal waters of the Great Lakes. Results indicated that a multi-gear survey protocol is needed because of the diversity of habitats being surveyed (near-shore coastal, harbours, rivers and interconnecting channels). In the St. Marys River, five invasive species were caught. Found in Hamilton Harbour were eight invasive species, including: rudd (Scardinius erythrophthalmus); bigmouth buffalo (Ictiobus cyprinellus), a species at risk; and two previously unrecorded fishes. DFO Science staff working with Mohi Munawar also monitored Hamilton Harbour lower trophic levels (plankton and benthos) and samples are currently being processed. These results will be used to design and implement an AIS monitoring program in 2007 and beyond.
Groundfish Monitoring and Assessment in British Columbia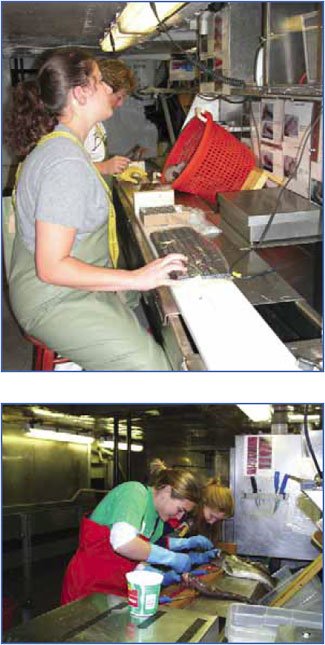 Fishing surveys targeting groundfish species on the British Columbia coast have been widely attempted over time, with approximately 680 undertaken by DFO in the Pacific Region over the last 60 years. Early surveys during the 1940s and 1950s were largely exploratory and focused on discovering new fishing grounds. During the 1980s and 1990s, surveys primarily evaluated the effects of commercial fisheries on the abundance of single groundfish species. These latter surveys were funded exclusively by the federal government.
The groundfish trawl fishery on the Pacific coast is a multi-species fishery with over 200 species caught, but only about 20 species stocks have been assessed to date. To meet the more complex demands on assessment, and to increase efficiency where resources were limited, it became necessary to find a new approach. In 2003, scientists at the Pacific Biological Station developed a coast-wide plan for multi-species surveys that encompasses every area on the Pacific coast, with each area surveyed every two years. Major funding for this work was provided jointly by the commercial fishing industry, DFO and stakeholders who helped design the surveys as well as participate in them. The surveys are designed to meet the requirements for fisheries management, to address recommendations of the recent Stock Assessment Review, to provide support for legislation contained in the Species at Risk Act, and to facilitate an ecosystem approach to stock assessment.
A report written in 2006 (Stanley et al. 2007) evaluated the results, costs and expectations of the surveys. A survey simulator was used to examine the accuracy of the surveys for tracking fish populations over time and to explore cost-effectiveness of the current survey design. Data analysis results for about 40 species indicated that the surveys provided adequate to excellent tracking for most, and that the current configuration and frequency of the surveys were the most cost-effective. Survey design will be re-examined prior to the 2009 surveys when additional data are available. See a review of the Queen Charlotte Sound Groundfish Bottom Trawl Survey (2003-2005) in Can. Tech. Rep. Fish. Aquat. Sci. 2709: viii + 59 p.
Developing New Technologies for Visual Surveys for Rockfishes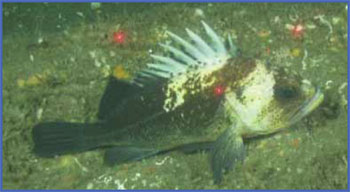 Observation and assessment of many demersal rockfish species on Canada's Pacific coast present some unique challenges to DFO Science researchers, particularly with hard bottom surveys in the mid to deep (20 to 200 metre) range. Traditional acoustic methods and survey techniques are not effective sampling tools for studying fish living on or near rough steep terrain. Survey tools of choice for biologists include manned submersibles and remotely operated vehicles (ROVs) equipped with underwater cameras. Visual data can provide information on abundance, species interaction, and behaviour of fishes; however, observations are limited to a few metres — or they could be misleading because fish have avoided the approaching vehicle.
The Applied Technology Section at the Pacific Biological Station (PBS) proposed linking the proven technology of the Dual-frequency IDentification SONar (DIDSON) with underwater cameras to increase the range of target detectability and to monitor fish behaviour in response to an approaching ROV. Long hours in the electronics shop and at dockside by the dedicated technical team, and careful maneuvering of CCGS Vector during survey operations, translated to 33 successful transects. Preliminary analysis of the DIDSON images showed little to no reaction by rockfish — or avoidance by other species — to the approaching ROV.
The science crew, comprising 10 from PBS and one from BIO (Halifax), benefited from the opportunity to test ROV survey modes and techniques and receive ROV pilot training. Additional work is planned to further evaluate the DIDSON system as a tool to help identify and measure sizes of observed targets.
C: ADVICE

The Canadian Science Advisory Secretariat (CSAS) coordinates the DFO Science Advisory process in collaboration with the regional Centres for Science Advice. This coordination network is responsible for maintaining high standards of excellence in the provision of peer-reviewed scientific information and advice in support of sound decision-making.
Advice in Support of the Species at Risk Act in the Great Lakes
Fisheries and Oceans Canada is responsible for the protection of all aquatic species and enforcement of certain provisions of Canada's Species at Risk Act (SARA). DFO Science Sector provides several types of advice in support of SARA.
DFO Science provides a peer review of all available data and internal and external information holdings on priority species prior to assessment by the Committee on the Status of Endangered Wildlife in Canada (COSEWIC), after which COSEWIC reviews the assessment reports. For example, a silver lamprey pre-COSEWIC assessment was held this year. DFO Science also gives advice on Recovery Potential Assessments carried out by COSEWIC for species being considered for listing under SARA.
By far, the greatest number of aquatic species listed under SARA originates in the Great Lakes ecosystem. In the Great Lakes basin, 16 fish species are listed under Schedule 1*, five under Schedule 2, and nine under Schedule 3. Eight freshwater mussel species are listed under Schedule 1. A Recovery Potential Assessment for Lake Ontario Atlantic salmon and Lake sturgeon was undertaken this year.
* See a complete explanation of SARA schedules at: http://www.dfo-mpo.gc.ca/species-especes/faq/faq-eng.htm
Assessments for these freshwater species require further work on critical habitat before they are completed. Research has also continued on a number of these species in support of their recovery and, in some cases, a better understanding of their status.
Killer Whales of Newfoundland and Labrador: Assessment of Distribution and Social Structure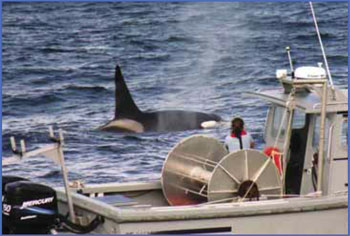 Most Canadians know about the killer whales in Canada's Pacific waters. However, killer whales native to our Atlantic waters are not yet as famous. In 2006-2007 DFO researchers Jack Lawson, Tara Stevens and David Snow undertook the first comprehensive study of killer whales of Newfoundland and Labrador.
Knowledge of killer whales in Atlantic Canada has been largely based on opportunistic encounters and they have been noted to occur along the Canadian Atlantic coast, including the Gulf of St. Lawrence. To assess the status of killer whales in this region, and therefore their susceptibility to human impacts and threats, DFO is gathering information on their abundance, distribution and life history (e.g., how large is their home range and what are their movement patterns within it?).
Systematic monitoring of Atlantic killer whales in the past has been deficient. Recently, with the increased public awareness of this species due to public education efforts— and DFO interview surveys to collect data for SARAlisted species such as blue whales (Balaenoptera musculus) and leatherback turtles (Dermochelys coriacea)— more reports of killer whales have been received. As it has in the northeast Pacific, this information for Atlantic Canada can be gained through a combination of photographic identification, directed and opportunistic sightings collection, and genetic and acoustic sampling. Early evidence from David Snow's photographic collection of near-shore killer whales in this region suggested that some of these whales exhibit a geographically transitory pattern. Building on this information, Dr. Lawson and Ms. Stevens gathered thousands more images, and constructed a large-scale photographic catalogue to conduct a more in-depth investigation of killer whale residency and social structure. The catalogue has allowed the team to identify 64 individual whales, with images of hundreds of individuals yet to be identified. The new catalogue has also shown that some are returning to the same areas over multiple months and years.
Although the researchers have found evidence of approximately 13 pods of whales — most ranging in size from three to seven whales — it is unknown if these are long-term affiliations. The researchers also discovered large-scale (more than 600 nautical miles) intra- and inter-annual movements by known individuals. Killer whale sightings are predictable off the southern mainland coast in the late summer, and elsewhere in Atlantic Canada in the summer and fall. Killer whales have even been observed in pack ice on the North coast of the island of Newfoundland in winter — perhaps feeding on harp seals.
The research paper on Atlantic killer whales, "Killer whales of Atlantic Canada, with particular reference to the Newfoundland and Labrador Region," is scheduled to be posted on the DFO CSAS website in 2007.
Eastern Canadian Arctic Bowhead Whales: Population Assessment
The status of the eastern Arctic bowhead whale (Balaena mysticetus) was upgraded by COSEWIC in May 2005 from "endangered" to "threatened." Subsequent peer review meetings by DFO Science supported the development of a SARA Recovery Strategy for the two Davis Strait-Baffin Bay and Hudson Bay-Foxe Basin bowhead populations. DFO also provided advice to Fisheries Management and the Nunavut Wildlife Management Board related to the management of bowheads and quota size.
In 2006 results of a monitoring program of bowheads caused DFO researchers to determine that a single population of eastern Arctic bowhead whales exists — not two stocks as previously believed — and that they number about 7,000.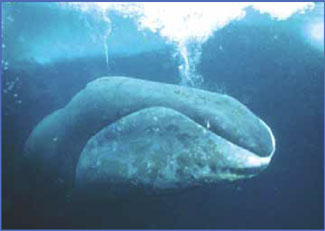 During a 10-month study, DFO researchers used relatively recent technology to tag and monitor the movements of nine bowhead whales. The results confirm that the bowheads are one population, capable of long-range movements, that their migration routes are variable, and that whales from different areas of the eastern Canadian Arctic share common summering and wintering areas. The success of the tagging program exemplifies the value of using up-do-date technology to remotely monitor the movements of marine animals and to address important management issues. Further work is ongoing to investigate, define and identify important habitat preferences of bowhead whales.
The right of the Inuit to hunt bowhead is enshrined in the Nunavut Land Claims Agreement, so it is important to understand the stock's ability to support a harvest. Issues of stock identity and structure, including a range that crosses regions and international boundaries, are important considerations in providing advice on hunt allocations to communities in Nunavut and Nunavik.
In May 2007 the International Whaling Commission accepted a tentative re-definition of the eastern Canadian Arctic bowhead whale population, based on this work and similar work conducted in Greenland (with whom the population is shared.) DFO's bowhead whale research has been the subject of three television documentaries, most recently as part of CBC Television's 2006 National news specials from the Northwest Passage. Links to the CBC videos (in English only) are at: www.cbc.ca/news/background/northwest-passage/
A Study of Resident Seal Populations and Oil Drilling Operations in the Beaufort Sea
The objectives of this study were to identify and evaluate any potential impacts of offshore industrial activities on the resident seal populations, with a view to providing advice on any mitigating measures and monitoring studies that might be employed effectively in the future.
The study area was around Devon Canada Corporation's Paktoa site in EL420 in the southeast Beaufort Sea. The first three years of the study (2003, 2004, 2005) were conducted prior to industry activity at Paktoa, while the fourth year (2006) was conducted during the latter part of a single exploratory drilling season when Devon Canada tested and abandoned their exploratory well, demobilized the rig, and constructed and maintained an ice road and airstrip. DFO study methods included ice surveys using trained detection dogs, satellite tagging and tracking of 20 individuals, year-round aerial surveys during the seals' basking period, and collection of 62 specimens to examine body condition and reproduction of individuals. Over the four years of the study, the work was greatly enhanced by the involvement of 19 Inuvialuit field technicians.
The distribution of subnivean lairs and breathing holes, and the behaviour and distribution of tagged seals, were not significantly different among the non-industry and industry years studied. Natural abandonment of seal structures ranged from 21 to 26 percent in 2003, 2004 and 2005, with a lower rate (10 percent) in 2006 being attributed to the significantly later date of freeze up in that year. The collected specimens showed the ringed seals in this area to be in good body condition with ample fat stores, in normal reproductive status, with zero or negligible levels of polycyclic aromatic hydrocarbons, and 74 percent with prey in their stomachs. There was a significant increase in the densities of basking seals near the floe edge compared to farther from it, but no detectable relationship between the distribution of basking seals and the Paktoa site in any year.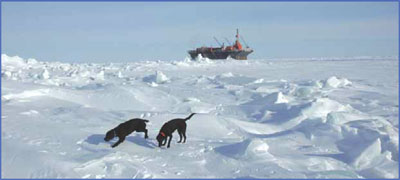 Overall, the study provided important baseline information on the use of the near-shore Beaufort Sea by ringed seals during spring, and is a benchmark for any future studies involving multiple or longer term drilling operations. The results suggest that one season of drilling by industry at the Paktoa site had no detectable effect on ringed seals in the study area. The effects of longer exposures to industrial activity, or exposure to multiple industrial sources, remain unknown.
Science Advice on Arctic Populations of Narwhal, Greenland Halibut, Beluga
DFO Science provided science advice in response to requests from DFO Fisheries and Aquaculture Management and the Nunavut Wildlife Management Board with respect to the review and potential increase of quotas for northern Hudson Bay narwhals, an inshore Greenland halibut exploratory fishery, and crab harvests in North Atlantic Fisheries Organization (NAFO) Division 0. In 2006, there were two beluga entrapment events, one in the Husky Lakes and one in Cumberland Sound. Science advice was provided to support decisions in both of these cases, as well as for the development of a closed area in NAFO Division 0A to protect narwhal over-wintering grounds, which would also protect deep-sea corals in the same area.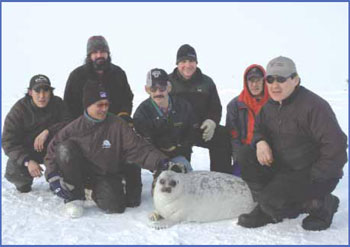 Oceans Action Plan: Science in Support of Integrated Management
In 2004 Canada's Oceans Action Plan established five Large Ocean Management Area (LOMA) initiatives: Pacific North Coast Integrated Management Area (PNCIMA), Beaufort Sea Integrated Management Planning Initiative (BSIMPI), Gulf of St. Lawrence Integrated Management Area (GOSLIM), Eastern Scotian Shelf Integrated Management Area (ESSIM) and Placentia Bay/Grand Banks (PBGB). To support integrated management in the LOMAs, DFO Science developed a national approach and produced Conservation Objectives, science-based objectives related to the status of the non-human components of the ecosystem.
In January 2007 a nationally consistent approach to Conservation Objectives was established. Conservation Objectives are intended to guide participants in the integrated management process by setting boundaries within which social, cultural and economic objectives are established in the LOMA, thus ensuring that the nature and magnitude of human impacts on ecosystems are sustainable. Conservation Objectives are based on the following four sources: ecologically and biologically significant areas, ecologically significant species and community properties, degraded areas, and depleted species.
Read more in the CSAS Science Advisory Report Guidance Document on Identifying Conservation Priorities and Phrasing Conservation Objectives for Large Ocean Management Areas at: www.dfo-mpo.gc.ca/csas/Csas/status/2007/SAR-AS2007_010_E.pdf
Ecosystem Overview and Assessment Report on the Beaufort Sea
The Beaufort Sea is a complex marine ecosystem. The productivity of the region, particularly the near-shore, has been an important resource for human occupation. In support of the Beaufort Sea LOMA, DFO Science and co-management partners provided expertise and advice in the development of the Beaufort Sea Ecosystem Overview and Assessment Report, for use by DFO Oceans Sector.
In Volume 1, the overview describes the structure and function of the ecosystem and any gaps in knowledge. In Volume 2, the assessment identifies and evaluates the ecological impacts of human activities (present and future) and serves as an aid to government, industry and Inuvialuit in decision-making processes. The report also identifies areas, species and community properties of ecological and/or biological significance. Some of the conclusions and recommendations were developed with the intent of balancing economic development and ecosystem integrity.
Science and research are integral components in achieving this balance toward developing effective monitoring systems and mitigation/management strategies, and a Canadian technical report on this topic is being prepared. Read more about Canada's Oceans Act of 1997 at: www.dfo-mpo.gc.ca/oceans-habitat/oceans/ oap-pao/index_e.asp
Mapping Species at Risk: New Tool for Conservation and Habitat Management
The Great Lakes Laboratory for Fisheries & Aquatic Sciences (GLLFAS) research division of DFO Science has collected fish and mussel distribution data within Ontario to update historical records and to obtain an accurate picture of the current distribution of species at risk. In 2003, a useful mapping tool was developed for a project carried out by Habitat Management and its partners, with funding from the national SARA program. The project's goals were to:
assemble and validate fish and mussel distribution data in Ontario
develop a web-mapping application for Ontario Great Lakes Area (OGLA) staff related to species at risk
develop an atlas with supporting documentation for partners
update a web-mapping application with valid, current data
Nick Mandrak and Carolyn Bakelaar of GLLFAS and Debbie Ming and Peter Brunette of Oceans and Habitat (OGLA) collaborated to develop the tool (a series of maps) for OGLA and partner agencies, including Conservation Authorities, Ontario Ministry of Natural Resources, and Ontario Ministry of Transportation. Each map uses a 3-colour scheme based on SARA status, and identifies the presence of species at risk within a stream segment. For example, red segments represent the presence of extirpated, endangered and threatened species currently listed in SARA Schedule 1. These mapping applications are useful for determining OGLA's level of involvement in the referral process (i.e., landbased or in-water activities that could impact fish habitat).
In June 2006 a draft version of the mapping tool was distributed to OGLA partners as an "atlas" of 143 maps — available digitally in a CD and via the DFO Intranet in a webmapping application — and in June 2007 Version 1 was officially released. This project will continue throughout the coming years as risk status changes for different species and as new distribution data are collected.
Aquatic Invasive Species Assessment: Northern Snakehead in Canada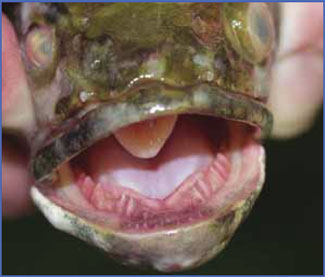 Northern snakehead is an extremely hardy freshwater fish and a voracious predator of other fishes. It grows rapidly to attain sizes of greater than 1.5 metres. There are up to 36 species of snakeheads native to Eurasia and Africa, many of which are notorious for their ability to breathe air and move on land. Some snakehead species are used for the aquarium and live food trades. They can withstand being out of the water for several hours — even days — and are shipped in wet burlap. Northern snakeheads have also recovered from being frozen solid!
Researchers Nick Mandrak and Becky Cudmore assessed the biological risk of northern snakehead and found the risk of introduction and its consequences to be high in Canadian waters. Read more at: www.dfo-mpo.gc.ca/csas/Csas/Publications/ResDocs-DocRech/2005/2005_075_e.htm
Canada-U.S. Pacific Hake Agreement
In January 2007 an agreement between Canada and the U.S. came into effect that provides for joint stock assessment, management and research on the harvest of Pacific hake (Merluccius productus). The offshore Pacific hake stock ranges from Baja California to southeastern Alaska, with the West coast of Vancouver Island being the northern limit of its commercial abundance. This is the most plentiful of three stocks in the northeastern Pacific Ocean that support international, joint venture and domestic fisheries in Canadian and U.S. waters. From 1966 to 2004 these fisheries have averaged 190,000 metric tons (t) annually.
Recent work regarding Pacific hake generated the following results:
The joint hydro-acoustic survey showed that expansion/contraction of the stock is probably related to variations in environmental factors, particularly temperature.
Larval work suggests substantial interannual spatial variability in the transport of larvae, with larvae reaching the outer shelf in some years but not others.
Scientists are examining information on the relative abundance and productivity of hake prey to consider plausible bounds on the total hake biomass in the California Current.
Analysis of age composition data indicates that some cohorts appear to grow at different rates than others sampled in the same year.
Older (age 5+), larger, and predominantly female hake migrate into the Canadian zone. During El Niños, a larger proportion of the stock migrates into Canadian waters, apparently due to intensified northward transport during the period of active migration (Dorn 1995).
Range extensions to the north also occur during El Niños, as evidenced by reports of hake from southeast Alaska during warmwater years. During the warm period experienced in the 1990s there have been changes in typical patterns of distribution.
Spawning activity has been recorded north of California, and frequent reports of unusual numbers of juveniles from Oregon to British Columbia suggest that juvenile settlement patterns also shifted northward in the late 1990s. Because of this, juveniles may be subjected to increased predation from cannibalism and to increased vulnerability to fishing mortality.
Subsequently, La Niña conditions apparently caused a southward shift in the centre of the stock's distribution and a smaller portion was found in Canadian waters in the 2001 survey.
Identifying the Biological Diversity of Pacific Wild Salmon under the Wild Salmon Policy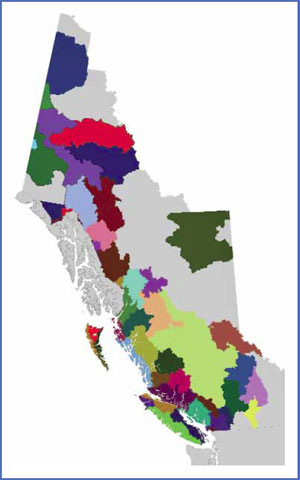 The six principles of the Wild Salmon Policy (WSP) are aimed toward identifying and protecting the biological diversity of Pacific wild salmon, and taking an inventory of the units of diversity that require conservation. Identification of these conservation units (CU) within British Columbia is very near completion, and the description of units in Yukon and Northwest Territories will proceed once their ecological zones are mapped.
An approach first developed by the U.S. National Marine Fisheries Service was modified to characterize diversity in Pacific salmon along three major axes: ecology, life history and molecular genetics. (See R. Waples et al, 2001, Characterizing diversity in salmon from the Pacific Northwest. J. Fish. Biol. 59: 1-41.) The three axes are used to map local adaptation in a variety of ways. The first stage in the delineation of CUs is based solely on ecology. These "ecotypes" characterize nearshore marine environment and associated watersheds.
The second stage applies life-history and molecular genetics — and any further ecological information about Pacific salmon — to group or partition the first-stage units into the CUs. There was a high degree of agreement between ecotypic, biological (life history) and genetic characterizations of intraspecific diversity, suggesting that the CUs describe real and important adaptive diversity.
In addition to the pragmatic advantages of a method that uses all available information to describe intra-specific diversity, an ecotypic approach has benefits stemming from characterizations of salmon habitat in its broadest sense. Importantly, the method supports the intent of the WSP to use CUs for the conservation of both pattern and process in Pacific salmon and their ecosystems. Pattern is the diversity that currently exists. Process refers to the evolutionary processes that create and maintain diversity. (See C. Moritz, 2002, Strategies to protect biological diversity and the evolutionary processes that sustain it. Systematic Biology 51(2): 238-254.)
One general conclusion from this exercise is that Pacific salmon in Canada are very diverse, as reflected in the estimated numbers of CUs by species: Pink salmon, 21-22; Chum salmon, 29; Coho salmon, 45-48; Chinook salmon, ~50; Sockeye salmon (lake rearing), ~250; and Sockeye salmon (river/sea rearing), 30-35.
D: MANAGEMENT OF DATA AND INFORMATION
Archiving 1 Million Observations per Month and Growing!
The Integrated Science Data Management (ISDM) branch of DFO Science is the data manager for the Atlantic Zone Monitoring Program, the Aquatic Invasive Species Program, the Aquatic Animal Health Program, the Pacific Ocean Shelf Tracking Program, and Argo, as well as the many different kinds of oceanographic data collected by DFO Science. The volume of ocean data continues to grow — for certain types of data, ISDM archives are expanding by about 1 million observations a month, a factor of 3 increase in the last five years.
The measurement coverage and sampling rate of the world's oceans has been increasing in recent years, and temperature and salinity observations are more and more available in real-time using satellite technology. Since its inception, ISDM (previously MEDS) has been responsible for controlling ocean data quality in real-time and disseminating and archiving the data collected by Canadian and international programs. This year, ISDM, in relation with a recently established Centre of Expertise — the virtual Centre for Ocean Model Development and Application — has taken things a step further by enabling integration of all available temperature and salinity data in the production of real-time, three-dimensional ocean fields.
E: DATA PRODUCTS AND SERVICES
During 2006-2007 the Ocean Sciences- Canadian Hydrographic Service (OS-CHS) division of DFO Science continued to provide support for a broader and more comprehensive national ocean science and charting authority responsibility. OS-CHS also revised its earlier data management strategy in mid-2006, which included a more detailed implementation plan. Since late March 2007, the CHS, through a negotiated agreement with Nautical Data International, has been wholly responsible for the production, marketing, sales and distribution of its digital charts and data, including the licensing of value-added resellers and dealers.
To continue to support safe and accessible waterways throughout 2006-2007, CHS conducted field survey operations, provided products and services for navigation, and supported maritime safety and security and Canadian sovereignty.
CHS promoted safe navigation to the public and many boating clients through activities in Marketing and Client Liaison (Outreach), Discover Boating events, boat shows, Canal Days, and World Hydrography Day with the Spirit of Canada, and through involvement with the Canadian Safe Boating Council and Canadian Power & Sail Squadron.
GeoPortal
ISDM operates GeoPortal, a web-based application that follows international standards for portraying and combining geographic information from different sites in DFO. In practical terms, as an example, it means that maps of lobster catches, bottom water temperatures and bathymetry can all be overlaid on demand even though such information is served from different regions in DFO. ISDM uses facilities in GeoPortal to support an online, standards-based data inventory to describe all of the diverse DFO Science data that are freely available to anyone. The initial inventory is running in a test mode, with more open access anticipated in the coming year. Visit GeoPortal at: http://public.geoportal-geoportail.gc.ca/
United Nations Convention on the Law of the Sea (UNCLOS)
The Canadian Hydrographic Service and the Geological Survey of Natural Resources Canada are collaborating with the Danish Geological Survey to acquire bathymetric data about the Lomonosov Ridge, a submarine mountain range located in the Eastern Arctic between Canada's Ellesmere Island and Denmark's Greenland. Canada has until 2013 to submit evidence to the United Nations under the U.N. Convention on the Law of the Sea (UNCLOS) to support the establishment of territories beyond the 200-mile exclusive economic zone, based on the outer limits of the continental shelves.
Innovative New Mapping Tool Introduced at CHS

The vision of the Canadian Hydrographic Service is to be a world leader in hydrography and a proactive supplier of hydrographic products. In line with that vision, CHS has introduced a new technology for the production of paper and electronic marine charts that is revolutionizing the work of hydrographers.
This new tool, CARIS HPD software, serves as a single database-sharing source data to be used for various mapping products. The software eliminates task duplication in the production of charts of a given geographic sector at different scales. The digital and paper products are produced using the same data, thereby ensuring greater consistency between the two versions.
Once the database is loaded — a preliminary step that requires a substantial initial effort — task duplication can be eliminated. The source data are analyzed only once, and their representation is applied to the products affected. This new technology allows for increased efficiency in subsequent editions because the data used to produce the charts are managed in a seamless database.
Because the source data and product data are unified, the production of the paper and electronic charts is synchronized within shorter timeframes. For the first time, the electronic and paper charts can be released almost simultaneously.
At the Canadian Hydrographic Conference held in Halifax in June 2006, Canada, Chile and Mexico jointly announced the publication of a marine chart using this Canadian technology. The first Canadian chart produced using CARIS HPD is the Port of Quebec City. The simultaneous production of the paper and electronic versions is a world first and confirms the leadership of CHS among the world's marine chart-producing countries.
World Hydrography Day
With the endorsement of the United Nations and the International Hydrographic Organization, World Hydrography Day — established in 2006 and celebrated on June 21st — was created to promote hydrography. CHS worked with the Canadian Safe Boating Council and Canadian Power & Sail Squadron to promote safe navigation to the public and many boating clients on this special day.
Ocean Sciences-Canadian Hydrographic Service on the International Scene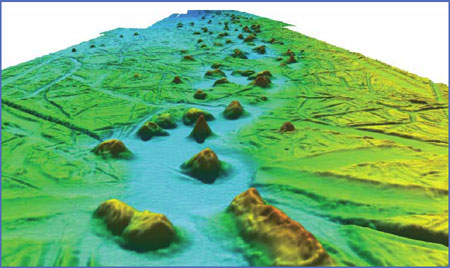 OS-CHS, to further support and promote Canada's involvement internationally in the ocean sciences and nautical charting community, is actively involved in the following organizations:
the Intergovernmental Oceanographic Commission of UNESCO, which provides United Nations member states with a mechanism for global cooperation in the study of the ocean;
the Global Ocean Observing System (GOOS), a permanent global system for observing, modeling and analyzing marine and ocean variables to support operational ocean services worldwide;
the International Hydrographic Organization (IHO), an intergovernmental consultative and technical organization established in 1921 to support safety in navigation and protection of the marine environment and its established committees; and
the International Maritime Organization (IMO), a United Nations agency established to maintain a regulatory framework for shipping. Its mandate includes safety, marine pollution, legal matters, technical cooperation, maritime security and the efficiency of shipping.
Strategic Science Outreach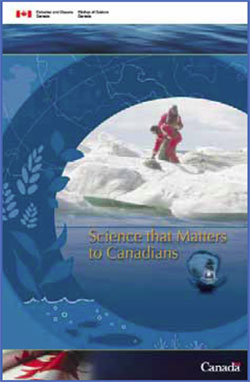 The Strategic Science Outreach (SSO) unit of DFO Science takes a strategic approach to building awareness of Canada's federal aquatic science program. It is a small unit with a major goal: to ensure that aquatic science is valued. Its work is in keeping with the Knowledge Advantage advocated by the federal Science and Technology Strategy, which states that Canadians must be positioned at the leading edge of the important developments that generate health, environmental, societal and economic benefits.
Through the production of science stories, lectures, videos and publications both in print and on the Internet, SSO promotes the importance of aquatic science and the work of DFO researchers to a wide range of audiences. The unit prepares exhibits for use at national science centres and manages outreach activities with non-governmental organizations that contribute to science learning and curricula. SSO assists the Assistant Deputy Minister of Science to implement advice from the external Science Advisory Council, a group of ex-officio science and science communications experts who advise the DFO Science management team during the year. The unit also provides strategic leadership to regional staff on outreach to enhance open houses, major events and anniversary celebrations that engage the community.
The SSO unit produces the popular DFO Science Feature stories series, which are available online at: www.dfo-mpo.gc.ca/science/Publications/article/index-eng.asp. Anyone can subscribe to the stories online by sending an email with "subscribe" in the subject line to: sciencebulletion@dfo-mpo.gc.ca
Among recent publications produced by the unit are this report and Science that Matters, a brochure about DFO Science Sector.
SECTION 3: Recognizing Excellence
Publications
Operated by DFO Science, the Canadian Science Advisory Secretariat (CSAS) coordinates the peer review of scientific publications for the department. CSAS works with the regional organizations of DFO to develop integrated overviews of issues concerning fish stock dynamics, ocean ecology, and use of living aquatic resources, and to quickly identify emerging issues. In 2006 approximately 200 publications were produced through the CSAS Science Advisory process. See them at: www.dfo-mpo.gc.ca/csas/
In 2004, the latest year for which the most complete Canada-wide bibliometric data are available, DFO researchers produced 27 percent of all Canadian peer-reviewed science publications in marine biology and hydrobiology and 31 percent of publications in oceanography and limnology.
Individual papers are often very influential, both to science and policy. For example, "Evolutionary response to size-selective mortality in an exploited fish population," by Douglas Swain, Alan Sinclair, and J.M. Hanson (2007), was published in the Proceedings of the Royal Society of London (Series B. DOI: 10.1098/ rspb.2006.0275). The authors innovatively use a 30-year time series of backcalculated lengths-at-age to test for a genetic response to size-selective mortality in the wild in a heavily exploited population of Atlantic cod (Gadus morhua). The study stresses the need for the development of management regimes that take into consideration the evolutionary consequences of fishing. The paper was highlighted in Conservation Magazine and on the Faculty of 1000 Biology website, which features the most interesting papers in biology based on the recommendations of 1000 leading scientists. One reviewer asserted, "This is so far the most serious attempt to empirically demonstrate that size-selective fishing can cause growth rate to evolve."*
* Mikko Heino: Faculty of 1000 Biology, 27 Mar 2007 http://f1000.com/1071957.
Marine Mammal Research - An Overview
DFO Science occasionally publishes overview reports about specific areas of science. In February 2007 the Centre of Expertise on Marine Mammals (CEMAM) released Marine Mammal Research - An Overview, a fully illustrated publication about the research conducted by the members of the CEMAM within DFO. CEMAM is working on a variety of innovative scientific projects to obtain information on the dynamics, ecology, habitat, migration and health of marine mammals. The publication includes information about the endangered beluga in the St. Lawrence, the right whales in the Bay of Fundy, the killer whales in the Pacific, and the research done on narwhal, bowhead and many more marine mammal species. Print copies of the 80-page publication are available by request and the PDF version of the publication is online at: http://waves-vagues.dfo-mpo.gc.ca/Library/326785_en.pdf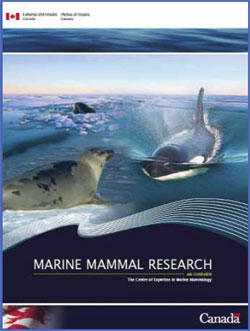 An Arctic-wide Impact Assessment of Climate Change
With respect to impacts on evidence-based policy — and to public understanding of climate change in general — a powerful illustration of the high quality of DFO scientific contribution is that being made on climate change in the Arctic. In 2000, two working groups of the Arctic Council — Conservation of Arctic Flora and Fauna and the Arctic Monitoring and Assessment Programme, and the International Arctic Science Committee — were charged with developing an Arctic-wide impact assessment of climate change. DFO scientist Dr. Jim Reist, a member of the international Steering Committee, played a key role as a co-author and synthesizer of material, soliciting authors and acting as lead author for the chapter on Freshwater Ecosystems and Fisheries. Of the three co-lead authors, 12 contributing authors, and 10 consulting authors on this chapter, six are DFO staff: Jim Reist, Richard Beamish, Jackie King, Robie Macdonald, Brian Dempson, and Ross Tallman. Findings were published in the highly influential 2004 Arctic Climate Impact Assessment (ACIA) Overview report, a 140- page summary of the science for policy makers and governments, of which Reist was a coauthor. Final delivery of the background science and the impact assessment occurred at an international conference in 2005 with the publication of the full report. In addition to the Freshwater Ecosystems and Fisheries chapter, other DFO staff were contributing or consulting authors to other chapters within the ACIA report, notably the Marine Systems chapter (Eddy Carmack, Ken Drinkwater and Fiona McLaughlin) and the Fisheries and Aquaculture chapter (Jim Carscadden and George Lilly). Read the ACIA material at: www.acia.uaf.edu/pages/scientific.html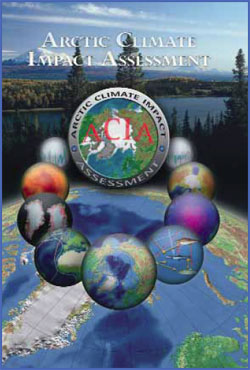 In 2006, Reist and co-lead authors Drs. Fred Wrona and Terry Prowse of Environment Canada reformatted the Freshwater Ecosystems and Fisheries chapter from the ACIA Scientific Report and published it as 10 articles in the primary literature journal Ambio to enhance delivery of the findings to the scientific community, government scientists and policy makers. See the Ambio articles at: http://ambio.allenpress.com/ambioonline/?request=get-toc&issn=0044-7447&volume= 035&issue=07
The impact of the various ACIA products has been, and continues to be, immense. It has resulted in a shift in government policy of all Arctic nations with respect to climate change; contributed to a global shift in attitude with respect to climate change from an emerging threat to a real and present danger; modified and influenced Canadian government policy with respect to the Arctic, and contributed directly to decisions by Canada to fund the largest national research program of all Arctic nations for the 2007-2010 International Polar Year (IPY).
Moreover, the substantive regional results from ACIA for the Arctic have recently been used by the Intergovernmental Panel on Climate Change (IPCC) to support its reassessment of global climate change impacts, to serve as a model for future regional assessments, and to continue to influence adaptation and mitigation of climate change effects in Canada and globally. Within Canada, ACIA has also served as a model for the ongoing re-assessment of climatic impacts and adaptation on a regional basis. Led by Natural Resources Canada, with contributions by DFO scientists, this re-assessment is slated for publication in October 2007. The IPCC website is located at: www.ipcc.ch
Nobel Peace Prize to Intergovernmental Panel on Climate Change
In October 2007, as this report was reaching its final stages, DFO Science learned that the IPCC was co-awarded the 2007 Nobel Peace Prize with former U.S. Vice President Al Gore. DFO Science congratulates the following DFO scientists who contributed to the IPCC and all who assisted in this effort:
IPCC Second Assessment Report, 1995: Angelica Peña, Ian Perry, Trevor Platt, and (formerly of DFO) David Welch
IPCC Third Assessment Report, 2001: Richard Beamish
IPCC Fourth Assessment Report, 2007 - Working Group I: The Physical Science Basis Ken Denman, Jim Christian, Igor Yashayaev, Humfrey Melling, Howard Freeland, Allyn Clarke, Robie Macdonald, (https://www.ipcc-wg1.unibe.ch/)
Working Group II: Impacts, Adaptation and Vulnerabilities Jim Reist, Ken Minns (http://www.ipcc-wg2.org/)
Awards
Dr. Ken Denman and Dr. Trevor Platt — Timothy R. Parsons Medal 2006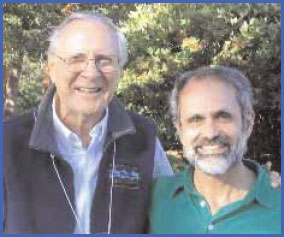 Dr. Ken Denman of DFO Pacific Region received the Timothy R. Parsons Medal in honour of his career-long contributions on the influence of physical processes on ocean productivity, and for pioneering integrated physical-chemical-biological oceanographic research. Dr. Denman has many influential publications to his name, notably landmark papers pioneering the study of physical/biological interactions in the lower food web, and the coupling of climate systems with biogeological cycles. He is a renowned expert in modeling marine ecosystems and climate, with monumental contributions to climate change science through his identification of processes by which marine ecosystems respond to and feed back on climate. Dr. Denman is among the DFO Science contributors to the International Panel on Climate Change, which was co-awarded the 2007 Nobel Peace Prize. Dr. Denman is employed at both the Canadian Centre for Climate Modelling and Analysis at the University of Victoria, and by the DFO Institute of Ocean Sciences in Sidney, British Columbia.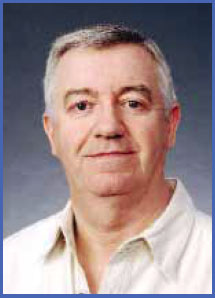 Dr. Trevor Platt received the award in honour of his outstanding contributions to the fields of biological oceanography and marine ecology, the thermodynamics of the open ocean ecosystem and an ecosystem approach to fisheries management. Dr. Platt is a leader in interdisciplinary oceanographic research, a pioneer of new quantitative methodologies and the use of satellite remote sensing data for measuring ocean processes. He is a prolific scientific author, with over 285 publications. He is a major influence internationally, serving with the International Geosphere-Biosphere Program, the Scientific Committee on Ocean Research, the Joint Global Ocean-Flux Study and the International Ocean Colour- Coordinating Group. Dr. Platt is employed by DFO at the Bedford Institute of Oceanography in Dartmouth, Nova Scotia, and is an adjunct faculty member at Dalhousie University, Halifax, Nova Scotia.
Dr. Eddy Carmack — Massey Medal of the Royal Canadian Geographical Society
The Massey Medal recognizes outstanding personal achievement in the exploration, development or description of the geography of Canada. For his leading role in ocean science, Dr. Carmack, a climate oceanographer with the Institute of Ocean Sciences in Sidney, British Columbia, was awarded the 2007 Massey Medal. Dr. Carmack is leading an important International Polar Year project, C3O — Canada's Three Oceans. Two Canadian Coast Guard icebreakers, whose current mission tracks encircle Canada, will obtain a snapshot of large-scale ocean and ecosystem properties, and thus establish a scientific basis for sustained monitoring of Canada's sub- Arctic and Arctic seas in the wake of global warming. In all, approximately 12,000 km of ocean track will be covered. Read more at: http://ipy-api.gc.ca/pg_IPYAPI_032-eng.html
Dr. R. Allyn Clarke — Canadian Meteorological Oceanographic Society (CMOS) — Appointed Fellow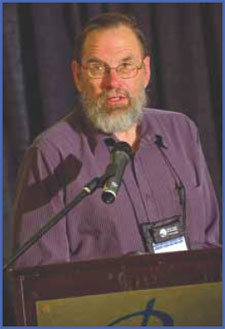 Dr. R. Allyn Clarke, a DFO Scientist Emeritus working at the Bedford Institute of Oceanography in Dartmouth, Nova Scotia, was appointed a Fellow of the Canadian Meteorological Oceanographic Society (CMOS). CMOS exists for the advancement of meteorology and oceanography in Canada. Dr. Clarke was recognized for his major contributions to the physical oceanography of the North Atlantic and to global climate studies through research, management and leadership at both national and international levels.
Dr. Howard Freeland — Canadian Meteorological Oceanographic Society (CMOS) — President's Prize
Dr. Howard Freeland of the department's Institute of Ocean Sciences in Sidney, British Columbia, was awarded the Canadian Meteorological Oceanographic Society (CMOS) President's Prize in recognition of his outstanding leadership in the development of a global array of drifting Argo floats — a major advance in observational oceanography. Along with co-author Patrick Cummins, Dr. Freeland's work is documented in the paper, "Argo: A new tool for environmental monitoring and assessment of the world's oceans, an example from the N. E. Pacific." The President's Prize is awarded by the Society for a recent paper or book of special merit in the fields of meteorology or oceanography.
Dr. James Gower — Pan-Ocean Remote Sensing Conference (PORSEC) — 2006 Distinguished Science Award
Dr. James Gower is a researcher at DFO's Institute of Ocean Sciences in Sidney, British Columbia. At the bi-annual Pan-Ocean Remote Sensing Conference (PORSEC) in November 2006, Dr. Gower was recognized for his outstanding work in the advancement of science in this field.
Dr. David Higgs — Aquaculture Association of Canada — Research Award of Excellence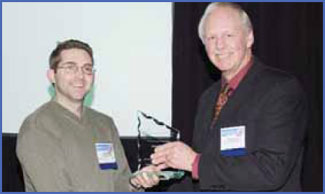 Dr. David Higgs is head of the Fish Nutrition Program at DFO and the University of British Columbia (UBC) Centre for Aquaculture and Environmental Research in the Pacific Region. Dr. Higgs works collaboratively with universities and/or industry in three main subject areas: improving hatchery operations, minimizing environmental effects of salmon farming, and fish nutrition. In November 2006 Dr. Higgs received the Research Award of Excellence from the Aquaculture Association of Canada for his research accomplishments and contributions to advancing our knowledge on fish nutrition.
Dr. Zbigniew "Bob" Kabata — Order of Canada
Dr. Bob Kabata, a Scientist Emeritus at the DFO Pacific Biological Station in Nanaimo, British Columbia, and a world-renowned parasitologist, was appointed to the Order of Canada in 2007. He was inducted into this prestigious and select group of Canadians for a lifetime dedicated to scientific research on fish parasites. A video entitled Kabata: Evolution of a Scientist is available online at www.science.gc.ca
Jerome Keen and David Haight — Great Lakes Fishery Commission — 2006 Vern Applegate Award
Jerome Keen from the Sea Lamprey Control Centre in Sault Ste. Marie, and David Haight, now retired from DFO, were presented the 2006 Vern Applegate Award by the Great Lakes Fishery Commission for going above and beyond their regular positions and enhancing the profile of DFO's Sea Lamprey Control program throughout the region.
Dr. Simon J. Prinsenberg — Canadian Meteorological Oceanographic Society — J.P. Tully Medal in Oceanography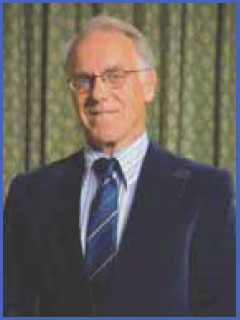 Dr. Simon Prisenberg, with the Bedford Institute of Oceanography in Dartmouth, Nova Scotia, was the recipient of the J.P. Tully Medal in Oceanography. Dr. Prisenberg was recognized for his outstanding ability to conceive of new instruments required to perform unique measurements in harsh environments that have led to breakthroughs in our understanding of both oceanic and glacial processes that influence the northern environment.
Dr. Michael Sinclair — Vice President of International Council for the Exploration of the Seas (ICES)
Dr. Michael Sinclair, the Regional Director of DFO Science in the Maritimes Region, located at the Bedford Institute of Oceanography in Dartmouth, Nova Scotia, was elected the inaugural Vice President of International Council for the Exploration of the Seas (ICES). ICES coordinates and promotes marine research in the North Atlantic and acts as a meeting point for a community of more than 1600 marine scientists from 20 countries around the North Atlantic.
Dr. Denis Gilbert, Hypoxia Advisory Panel
The Science Advisory Board of the U.S. Environmental Protection Agency's Office of Water (OW) evaluates the complex scientific and technical issues that affect the causes, location, magnitude and duration of the hypoxic zone in the Northern Gulf of Mexico, as well as the priority and feasibility of management and control options in the Mississippi River Basin and Gulf. Canada's hypoxia expert, Dr. Denis Gilbert, of the Maurice Lamontagne Institute, is the only non- U.S. citizen to be invited to serve on this committee.
Deputy Minister's Award for the Oceanographic Buoy Network
Bernard Pettigrew, Roger Pigeon and Pierre Larouche of the Maurice Lamontagne Institute earned a Deputy Minister's Award for developing a buoy measurement system to validate colour satellite images of the marine environment of the St. Lawrence. The buoy network is an important component of the Atlantic Zone Monitoring Program, which obtains continuous measurements of the marine environment. Because there were no commercial systems that met operational requirements, the three employees developed a new high-performance oceanographic system. The system was installed on a standard navigation buoy obtained from a local company, tailored to the marine conditions of the St. Lawrence Gulf and Estuary, and resulted in substantial savings in manufacturing costs. With the technical knowledge it acquired, the local company involved in the development of the buoys was able to market its own buoys.
Oceans Directorate Award Presented to CHS Hydrographers
At a meeting of the regional Oceans Directors in Charlottetown, Céline Gaulin, Director General of the Oceans Directorate in Ottawa, recognized the work done by hydrographers by presenting a certificate of appreciation to teams from the Canadian Hydrographic Service that work in the shadows at both the national and regional level. The certificate recognized the team's contribution throughout the last decade, particularly their professional conscience in supporting various initiatives such as Canada's Oceans Strategy and Canada's Oceans Action Plan. New multibeam technologies enable hydrographers to scan and view large parts of the seabed in 3-D and to classify the benthic environment. Each of these techniques contributes significantly to scientific knowledge of Canada's submerged lands with a view to integrated ecosystem management. Richard Sanfaçon, data acquisition manager, accepted the award on behalf of his team members, Roger Côté and Louis Maltais, of the Quebec Region.
Canadian Hydrographic Service (CHS) — American Society for Quality (ASQ) Canada — Quality Recognition Awards to Canadian Hydrographic Service
In April 2006 The Honourable Kevin O'Brien, Minister of Business, Government of Newfoundland and Labrador, presented this award to the CHS Newfoundland District Office in recognition of the successful implementation of a Quality Management System that meets the requirements of the ISO 9001:2000 international quality management standard. ASQ Canada has been active in Newfoundland and Labrador since the early 1990s to advance learning, quality improvement and knowledge exchange. This is the first presentation of Newfoundland and Labrador ISO 9000 Quality Recognition Awards. CHS Central and Arctic also received a Commitment to Quality award at the 2007 Public Sector Quality Fair for its effort at preparing and maintaining standards of quality through the CHS Levels of Service initiative.
Prix d'Excellence — DFO Science Award Recipients
The Prix d'Excellence is DFO's most prestigious award honouring individuals and teams who have made exemplary contributions to the department. On May 31, 2007, awards were made to these employees of DFO Science Sector:
Award Recipient
Area of Excellence
Region
Reason for Award
Theresa Carolyn Dugas
Values and Ethics
Maritimes
Outstanding individual achievement in support of 60 employees of Canadian Hydrographic Service.
Sherry Niven
Judy B. Simms
Valuing and Supporting People
Maritimes
Achievement as members of the Regional Diversity Advisory Committee and the creation of a healthier working environment for all DFO staff.
David Victor Gillman
Service Delivery
Central and Arctic
For leadership in conservation, stewardship and protection of national fishery resources by promoting ecosystem principles and watershed management approaches.
Richard D. Stanley
Service Delivery
Pacific
As part of the Integrated Groundfish Team for work to ensure the Pacific groundfish fisheries are biologically sustainable and economically viable.
Annette Anthony
Christine Lemay
Gordon Miller
Pamela Olson
Lynne Post
Elva Simundsson
Service Delivery
All Regions
The Council of Fisheries and Oceans Librarians — for the innovation of "Waves," an online public information database.
Dr. Michael Chadwick
Policy and/or Science
Gulf
For outstanding leadership in fostering a thriving research community and collaboration with stakeholders to foster collaborative solutions among academia, industry, government and First Nations in the interests of marine life in the Gulf region.
Dr. Martin A. Bergmann
Donna Laroque
Oksana Schimnowski
Vera Williams
Policy and/or Science
Central and Arctic, Pacific, National Capital Region
In conjunction with colleagues from Communications Branch, Human Resources, Coast Guard and Transport Canada, these DFO Science employees were honoured for their work facilitating a week-long broadcast of nightly newscasts and associated feature stories by CBC Television's The National from the 2006 Arctic expedition of the icebreaker, CCGS Louis S. St-Laurent.
Michael F. O'Connell
Policy and/or Science
Newfoundland and Labrador
For his work as the pre-eminent authority on Atlantic salmon fisheries and its lasting beneficial impacts and for his contributions to aquatic environmental science.
Sarah Cosgrove
Policy and/or Science
All Regions
As a member of the Bill C-45 Core Team, for its work to present a new bill to Parliament to update the Fisheries Act.
Coming in the 2007—2008 Science Annual Report, a report on the Deep Water Coral Project
During the summer of 2007, senior DFO research scientist Ellen Kenchington led a research team aboard the CCGS Hudson on a 21-day mission to increase knowledge of deep water coral and associated species along the continental slopes of Atlantic Canada. The excitement of the scientists at their findings and the fantastic deep sea images were communicated in extensive media coverage in Canada and around the world. Researchers from the Bedford Institute of Oceanography, the Northwest Atlantic Fisheries Centre and Memorial and Dalhousie Universities took part.
The ROPOS deepwater submersible was deployed in four areas of operation: the Gully Marine Protected Area, the Stone Fence Lophelia Conservation Area and surrounds, and on the southwest Grand Banks at Haddock Channel, Halibut Channel and Desbarres Canyon. The submersible collected more than 3000 high resolution digital images, over 10,000 high quality frame grabs and many hours of high resolution colour video.
Date modified: