Special Projects
-


Trans North Atlantic Sightings Survey
Two of the key types of information needed to assess the status and risks to marine fauna are reliable measures of abundance and distribution. Yet, many species under the Department of Fisheries and Oceans jurisdiction (e.g., blue whales, beluga whales, harbour porpoise, and leatherback turtles) are distributed in ranges extending over wide areas of the north Atlantic. While DFO has conducted relatively small-scale aerial surveys of nearshore areas in Atlantic Canada), better coverage was needed, particularly in offshore waters.
In 1987, 1989, 1995 and 2001, European countries carried out North Atlantic Sightings Surveys, which consisted in co-ordinated international surveys designed to provide updated data for use in the continued monitoring and assessment of the distribution and abundance of whale stocks and other megafauna. Complementary surveys to the south of Atlantic Canada were conducted in synchrony with the North Atlantic Sighting Surveys conducted by the United States.
These surveys have suffered a lack of completeness for the north Atlantic area by not having coverage in adjacent Canadian waters. In 2007, Canada contributed to the multinational surveys, which was thus entitled the Trans North Atlantic Sightings Survey.
Objectives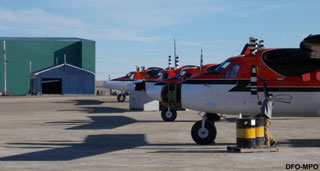 Estimate the abundance of cetacean populations in the entire north Atlantic
Assess the distribution and abundance of the Canadian north Atlantic marine megafauna (including cetaceans, seals, sea turtles, large shark, tuna, etc.)
Contribute to the multinational surveying effort by generating new data that will be integrated with the European and American surveys to provide coverage for virtually the entire north Atlantic
Surveyed area
Aerial line-transect surveys were conducted from Cape Chidley, northern Labrador, down to the Scotian Shelf to meet the U.S. study aerea. The Canadian components of the TNASS provided full coverage of the Atlantic Canadian coast for the first time, covering areas of the eastern coast of Canada that have not been surveyed completely, if at all, in earlier surveys. Important information on the distribution and abundance of marine turtles and basking sharks were also obtained from these surveys.
Date modified: