A Fisheries Act for the future
Fulfilling our mandate to restore lost protections and incorporate modern safeguards

Canada needs a strong Fisheries Act to protect fish and their habitat for future generations. We're proposing changes that will safeguard fish, protect the environment and benefit our communities.
---
Current consultations
Get involved in regulation consultations under the Fisheries Act. Feedback will help shape changes to existing regulations under the act.
---
Video transcript

We're proposing changes to the Fisheries Act that would protect all fish and their habitat, take early steps towards reconciliation with Indigenous peoples, provide clarity for development projects, quickly address urgent threats to species and ecosystems, strengthen how we protect biodiversity, keep the benefits of fishing with harvesters and their communities. We're proposing a Fisheries Act for the future.
Introducing the proposed Fisheries Act
Overview of proposed amendments, including restored protections for fish habitat, enhanced marine protection and habitat restoration, better management of projects, preserving independent inshore fisheries and a strengthened Indigenous role in project reviews, monitoring and policy development.
---
---
What we heard from you
Proposed amendments to the Fisheries Act were made with Canadian views in mind. We sought feedback from stakeholders, partners and Indigenous peoples on restoring lost protections and adding modern safeguards through online public consultation, in-person meetings and written submissions.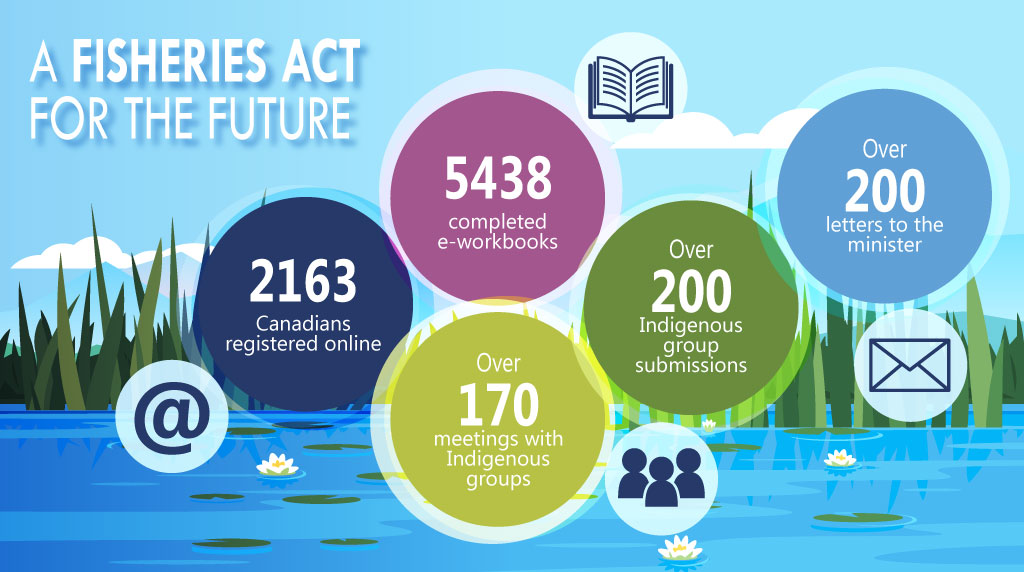 Infographic summarizing consultations on the Fisheries Act

2163 Canadians registered online
5438 completed e-workbooks
Over 170 meetings with Indigenous groups
Over 200 Indigenous group submissions
Over 200 letters to the Minister
---