Canadian Aquaculture R&D Review 2015
Miscellaneous
PHYSIOLOGY OF TRIPLOID FISH
Understanding the physiological limitations of triploidy will allow for improvements in their culture protocols for commercial production. This will benefit the aquaculture industry in two ways: by eliminating early maturation of production fish and by ensuring that escaped fish cannot breed in the wild.
Triploidy is the only management tool currently available for ensuring reproductive sterility of farmed fish. Sterile populations can be of direct benefit to industry, since sexually mature fish often have reduced flesh quality and poor disease resistance. Sterility also addresses the risk of escaped fish breeding in the wild. However, triploids are rarely used in aquaculture because of performance limitations. We are investigating the effects of triploidy on key physiological processes to determine whether changes in cell size and number associated with triploidy affect the ability of these animals to withstand chronic stress. Our research currently focuses on red blood cell structure and function, aerobic capacity, bioenergetics and environmental tolerances. We have adopted Zebrafish as a model species for some of this research due to the availability of stocks with fluorescent cells that are ideal biomarkers for cell location and function. Additional research is being done with Brook Charr, as a model salmonid that is easy to keep in our small-scale aquatic facility at the UNB campus. Research results will be extended to Atlantic Salmon.
Ongoing
Funded By: Natural Sciences and Engineering Research Council (NSERC) Discovery
Project Lead: Tillmann Benfey (UNB)
Project Team: Chris Small, Nicole Nader, Kathleen O'Donnell (UNB)
Contact: benfey@unb.ca
FISH-KELP CO-CULTURE: A FEASIBILITY STUDY FOR THE COMMERCIAL SCALE INTEGRATION OF KELP CULTURE WITH FINFISH PRODUCTION IN COASTAL BRITISH COLUMBIA
This research will provide a detailed technical and socio-economic assessment for the development of a kelp aquaculture sector in coastal British Columbia.
This project critically evaluates the commerical-scale production potential for Laminaria kelps adjacent to the fish farm facilities in coastal British Columbia. Historical water quality data and performance trails at 15 farm sites will be used to assess growth rates, tissue quality, and annual extrapolated production capacity among the farm sites given available tenure space. The analysis will include production capacity, product positioning and markets, product value, capital and operating costs, secondary industry support requirements, staffing and training needs, business models, and sector growth potential. Initial (Year 1) farm trial results indicated a 38% enhanced growth of kelp cultured within the nutrient plume downstream of a fish farm, supporting the anticipated and additional benefits of environmental impact mitigation using this basic, Intergated Bi-Trophic Aquaculture approach.
Jul. 2013–Jun. 2018
Funded By: Natural Sciences and Engineering Research Council (NSERC)
Project Lead: Stephen Cross (NIC – CARTI)
Project Team: Nicholas Sherrington (UVic)
Collaborators: Creative Salmon; Marine Harvest Canada; Grieg Seafood; Cermaq; SEA Vision Group
Contact: Stephen.Cross@NIC.bc.ca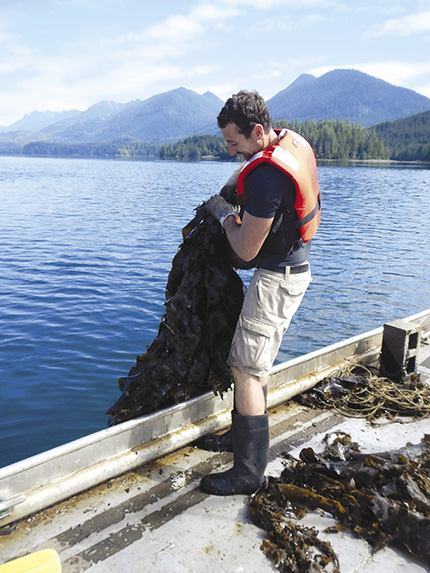 HIGHER TROPHIC LEVEL RESPONSES TO SHELLFISH AQUACULTURE HABITAT MODIFICATIONS
These findings will indicate how, and to what extent, juvenile salmonids and intertidal fish are utilizing shellfish aquaculture structures as habitat with potential implications for shellfish aquaculture practices and regulations. They will also provide information on the potential value of shellfish aquaculture structures as rearing and feeding habitats for juvenile Pacific salmon in this region.
Intertidal shellfish farms are prominent on the shoreline of Baynes Sound, British Columbia. In this region, approximately 50% of Manila Clams and 30% of Pacific Oysters produced by the province are grown. Additionally, many rivers and streams run into this area, providing valuable Pacific salmon spawning habitat from which juvenile salmon then emerge and use the nearshore areas to feed and grow. The goal of this project is to determine the habitat value of intertidal shellfish aquaculture tenures for juvenile salmonids and intertidal fish communities. During the spring/summer of 2014, juvenile salmonids and intertidal fish were sampled at shellfish leases and nearby reference sites. Fish species, abundance, and stomach contents will be analyzed for spatial and temporal trends. Site attributes such as habitat complexity and vegetation will also be investigated. Fish community parameters to be compared include, juvenile/adult ratio, species diversity and richness, body size by species, and functional diversity. Functional diversity is essentially a measure of ecosystem integrity based on the characteristics of the individuals found in the selected habitat. Given the increased shoreline complexity associated with shellfish aquaculture, we expect shellfish tenures to provide significant habitat value to fish.
Sep. 2013–Aug. 2015
Funded By: Canada Research Chairs Program Co-Funded By: Canada Foundation for Innovation; British Columbia Knowledge Development Fund; Vancouver Island University; University of Victoria, Natural Sciences and Engineering Research Council (NSERC)
Project Lead: Sarah Dudas (VIU)
Project Team: Robert Bourdon, Brenna Collicutt (UVic, VIU); Katie Davidson (VIU)
Collaborators: Francis Juanes (UVic)
Contact: Sarah.Dudas@viu.ca
http://www.ecologicalinteractions.com/
THE FARMS OF OPPORTUNITY PROGRAM – AN INTEGRATED WATER QUALITY MONITORING AND MANAGEMENT NETWORK FOR COASTAL AQUACULTURE
Development of an autonomous water quality monitoring network will result in the collection and compilation of valuable spatial and temporal data that will be able to support aquatic animal health assessments as well as regional issues that may arise as a result of coastal climate change.
In the 1970's, DFO Science initiated a program that opportunistically gathered open ocean data by placing instrumentation in the bows of freighters that routinely travelled between Asia and Vancouver – the Ships of Opportunity Program (SOP). With todays rapidly changing climate, the impacts to our oceans and specifically to our coastal waters may have serious implications to aquaculture production. Using the SOP concept, this project is developing a Farms of Opportunity Program that will collect consistent, high-quality water quality information from a network of farm sites located at selected (if not all) aquaculture farm sites in coastal British Columbia. The project team is designing a web-controlled (programmable) water quality profiling station that can be secured at an optimal location on each farm. Powered by solar energy, the individiual stations will be linked, via a localized telemetry network, to a single regional base station that will relay data to/from a central data archive and management platform using satellite or cellular protocols. The project is developing and testing system and network components (hardware and software) at four farm sites as a demonstration initiatitve.
Jul. 2013–Jun. 2018
Funded By: Natural Sciences and Engineering Research Council (NSERC)
Project Lead: Stephen Cross (NIC – CARTI)
Project Team: Steve Morgan (Island Telemetrics)
Collaborators: Creative Salmon; Marine Harvest Canada; Grieg Seafood; Cermaq; SEA Vision Group; Island Telemetrics
Contact: Stephen.Cross@NIC.bc.ca
BRINGING THE FARM TO THE CITY: AN INTERACTVE LIVE VIDEO PLATFORM FOR PUBLIC AWARENESS AND EDUCATION INITIATIVES
Development of an interactive, live video feed that supports public education for aquaculture represents an important social aspect for the sustainable development and growth of the sector in Canada. These tools will also be valuable to ongoing curriculum development in the classroom…from high school through university.
Operating, for the most part, in remote coastal locations, particularly in British Columbia, the general public has little opportunity to visit and understand how aquaculture facilities work. In an effort to make aquaculture accessible, a web-based viewing platform is being developed to allow user control (web-based interface) of remote cameras situated in a cross-section of locations across industry – both above and below water. We will trial these systems for use in the classroom (North Island College, University of Victoria), and as "interactive" features in long term aquaculture displays such as those developed in the Comox Valley Visitors Centre, the Ucluelet Aquarium, the Campbell River Discovery Passage Aquarium, and the Vancouver Public Aquarium. The attraction of a "joystick" that allows camera movement, including deployment into a cage of fish and along the outer edge of a stack of oyster trays, will engage a public that generally has a limited perception of what aquaculture is all about. If a picture is worth a thousand words then a live video feed can only be considered "priceless".
Jul. 2013–Jun. 2018
Funded By: Natural Sciences and Engineering Research Council (NSERC)
Project Lead: Stephen Cross (NIC – CARTI)
Project Team: NIC- Remote Web-Based Science Laboratory (RWSL)
Collaborators: SEA Vision Group; Odyssey Shellfish; Creative Salmon; Marine Harvest Canada; Grieg Seafood; Cermaq
Contact: Stephen.Cross@NIC.bc.ca
TECHNICAL, ECONOMIC, AND REGULATORY GUIDES FOR PART-TIME MARINE AQUACULTURE FISHERS IN THE îLES DE LA MADELEINE AND THE GASPÉ PENINSULA
The purpose of this tool is to set up new marine aquaculture enterprises in the maritime regions of Quebec and to increase marine aquaculture production volume for these areas. The fishery is a major economic resource for maritime regions of Quebec and it is currently facing challenges that can harm its profitability. In this sense, the fishery needs to be consolidated and in parallel, aquaculture is an economically viable activity that is developing in the same areas.
The objective of this project is to create a technical-economic tool to add to the business plans of fishers who want to culture scallops and mussels in the Gaspé Peninsula and les Îles-de-la-Madeleine. The primary goal is to determine best production scenarios through a comparative technical-financial feasibility analysis. Production costs and additional investments will be assessed by setting reasonable production volumes to complement the traditional fishing activities by marine aquaculture. Our goal is to implement business models that differ from the models currently in place where most marine aquaculture enterprises look after collecting spat until the final marketing stage. The project is focused on the culture grow-out aspect.
Apr. 2014–Mar. 2015
Funded By: Ministère de l'Économie, de l'Innovation et de l'Exportation du Québec Co-Funded By: Ministère de l'Agriculture, des Pêcheries et de l'Alimentation du Québec
Project Lead: Jean-François LaPlante (Merinov)
Project Team: Estelle Pedneault, François Bourque, Claude Forest
Collaborators: Regroupement des pêcheurs propriétaires du sud de la Gaspésie; Culti-Mer; Grande-Entrée Aquaculture; Moules de culture des Îles
Contact: Jean-francois.Laplante@merinov.ca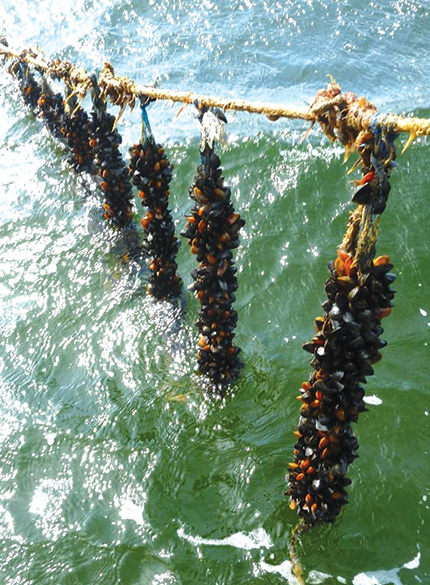 INTEGRATION OF A GENETIC SEX MARKER INTO BREEDING PROGRAMS TO PRODUCE SINGLE-SEX POPULATIONS OF FISH
The use of a genetic marker for sex will greatly facilitate the production of all-female populations of fish, whether for use as fertile diploids or sterile triploids.
In many species of fish, all-female populations can be produced by crossing functionally masculinized genetic females ('neomales') with normal females. This approach is hampered by the difficulty of distinguishing neomales from normal males. The aim of this project was to demonstrate how a Rainbow Trout sex-determining gene (sdY) can be used to identify neomales in other species of fish, using Brook Charr as a model. DNA was collected from 25 adults and coded to disguise their sex. Using traditional end-point PCR to check for the presence or absence of sdY, all fish were assigned to the correct sex. The same test was then performed on a population of fish exhibiting typical male secondary sexual characteristics following androgen treatment during early development, and separate families created from males confirmed to possess the sdY marker and males confirmed to lack the marker. All families sired by males possessing the sdY marker had sex ratios not significantly different from 1:1, whereas all fish sired by males lacking the sdY marker were females, thus confirming that the Rainbow Trout sdY marker can be used to identify neomales in other salmonid species for the sake of integrating them into breeding programs to generate all-female populations.
Sep. 2013–May 2014
Funded By: Natural Sciences and Engineering Research Council (NSERC) Partnerships Program – Engage Grant
Project Lead: Tilmann Benfey (UNB)
Project Team: Debbie Plouffe, Matthew Bryenton (CATC)
Collaborators: Center for Aquaculture Technologies Canada (CATC)
Contact: benfey@unb.ca
CERES: A RELATIONAL DATABASE MANAGEMENT PROGRAM
A relational database management program decreases opportunity for human error, provides a secure location for data storage, and reduces time to analysis by storing all data together while facilitating simultaneous export for analysis in external statistical programs or reporting purposes. Ceres also provides quality control, quality assurance, and auditing capability (key features when working towards traceability).
Large-scale, multi-year research programs tend to collect volumes of data that can be difficult to manage to allow timely and effective analysis and decision-making. Ceres was developed as a relational database management program that tracks individual fish and families over innumerable measurements/challenges from egg to plate. The Main Application exists on a secure server to hold all data from various types of sampling efforts. Flexibility is provided to the Data Manager by creating data collection specific forms. The Disconnected Application facilitates data entry from any remote location. Created data files are encrypted on export and uploaded to the Main Application where Quality Control is performed prior to transfer. Changes to data entries are recorded and available for Quality Assurance. The Main Application allows technical staff viewing with no data manipulation capability. Additional features include: uploading of archived data as .csv or tab delimited text files, real time calculation with alerts to signal if data entered are out of range, counts (e.g., count number of fish per treatment/tank), autofill (e.g., family identification while PIT tagging), auto-increment (e.g., individual fish numbering), direct scanning from PIT tag readers, and ability to export data directly into different formats (Excel, .csv, .pdf) while entering data.
Oct. 2011–Sep. 2015
Funded By: Atlantic Canada Opportunities Agency – Atlantic Innovation Fund (ACOA – AIF) Co-Funded By: New Brunswick Innovation Foundation; Huntsman Marine Science Centre; Aqua Bounty Canada; Center for Aquaculture Technologies – Canada (CATC)
Project Lead: Amber Garber (Huntsman Marine Science Centre)
Project Team: Gilbert Babin, Susan Hodkinson, Chris Bridger (Huntsman Marine Science Centre)
Collaborators: Dawn Runighan (Aqua Bounty Canada); Debbie Plouffe (CATC)
Contact: agarber@huntsmanmarine.ca
THE HISTORICAL AND SOCIAL DIMENSIONS OF SALMON AQUACULTURE SCIENCE
This project is providing a better understanding of how salmon aquaculture science has developed in relation to the growth of the industry in its varied environmental and social contexts.
Salmon aquaculture has been a focus of environmental research for over two decades. In this project I am applying the tools of environmental history and science and technology studies to understand how this research has developed and the roles it has played in public discussions regarding the industry. Several more specific objectives are also being pursued. First, I am writing an environmental history of salmon aquaculture science. This history will explore the relations between scientific research and the evolving environmental, social, and political dimensions of the industry. Second, I am examining how the diverse institutions engaged in environmental research (e.g., governments, universities, industry, and public interest organizations) have shaped research priorities, research results, and the application of these results. Third, I am investigating the movement of scientific knowledge of salmon aquaculture between research sites in Canada, Norway, Ireland, and Scotland. Fourth, I am examining the prospects for effective science, that is able to contribute to resolution of controversies regarding this industry. While this project is examining the full range of environmental science relating to salmon aquaculture, a special focus is on research relating to sea lice.
Jun. 2007–Jul. 2016
Funded By: Social Sciences and Humanities Research Council of Canada (SSHRC)
Project Lead: Stephen Bocking
Contact: sbocking@trentu.ca
http://people.trentu.ca/sbocking/Bocking-Salmon.html
PHYSIOLOGICAL INDICES AS INDICATORS OF ECOSYSTEM STATUS IN SHELLFISH AQUACULTURE SITES
The purpose of this project was to assess three bivalve physiological indices as potential indicators of ecosystem status: (1) condition index (static); (2) tissue mass growth rate (dynamic); and (3) shell length growth rate (dynamic). Ecosystem status in shellfish aquaculture sites has been commonly studied using the well-known concept of carrying capacity. Given the potential top-down pressure that bivalves can exert on phytoplankton populations and the role of phytoplankton as the base of the trophic web, carrying capacity determinations typically use phytoplankton concentration as a benchmark. Our underlying premise was that there is an inherent feedback mechanism in shellfish farming, one that reduces growth performance due to food depletion when shellfish are over-stocked within a system. A modelling exercise carried out in Tracadie Bay, PEI, showed significant relationships among phytoplankton abundance and the three tested physiological indices. It demonstrated the potentiality of using bivalve physiological measurements in monitoring programs as indicators of ecosystem status. The model suggested that shell length growth rate is the most sensitive indicator of phytoplankton abundance, followed by tissue mass growth rate and then condition index.
Apr. 2011–Mar. 2014
Funded By: DFO – Program for Aquaculture Regulatory Research (DFO – PARR)
Project Lead: Ramón Filgueira (DFO)
Project Team: Luc Comeau, Thomas Guyondet (DFO)
Collaborators: Thomas Landry (DFO); Jonathan Grant (Dalhousie U)
Contact: Ramonf@me.com
OMEGA-3 FATTY ACIDS FROM SALMON PROCESSING WASTE PRODUCED FROM NEWFOUNDLAND AQUACULTURE INDUSTRY
Newfoundland's aquaculture industry is dominated (95%) by salmonid production, worth $115 million/year. Processing of salmon generates large amounts of solid wastes, up to 45–50% of the body weight of the processed salmon. Currently, Newfoundland and Labrador has limited capacity to handle this waste in terms of composting, mink feed, rendering, and landfilling. The salmon waste has the potential to produce approximately 1600 tons of oil annually in Newfoundland and Labrador. Atlantic salmon and its processing by-products contains 2–15% lipid content and they are the one of the major sources of eicosapentaenoic acid (EPA) and docosahexaenoic acid (DHA). The omega-3 fatty acids possess various functional and biological properties including: prevention of atherosclerosis, arrhythmias, blood pressure, diabetes, manic-depressive illness, asthma, chronic obstructive pulmonary diseases, cystic fibrosis, cardiovascular disease, and improved learning ability. From our small scale study which we carried out at the CASD, Marine Institute, we determined that the omega-3 and omega-6 present in salmon by-products were 4–5 and 10–11 times higher, respectively, compared to salmon fillets. The higher EPA, docosapentaenoic acid (DPA) and DHA were present in the oil of the by-products which suggests that the oil can be utilized for various nutraceutical applications.
This work will result in increased awareness to the Newfoundland aquaculture producers and processors about the market potential of processing discards to generate high value-added products including omega-3 fatty acids.
Mar. 2013–Mar. 2014
Funded By: Canadian Centre for Fisheries Innovation (CCFI) Co-Funded By: Marine Institute of Memorial University of Newfounland
Project Lead: Deepika Dave
Project Team: Vegneshwaran Ramakrishnan, Julia Pohling, Sheila Trenholm, Heather Manuel, Wade Murphy
Contact: Deepika.Dave@mi.mun.ca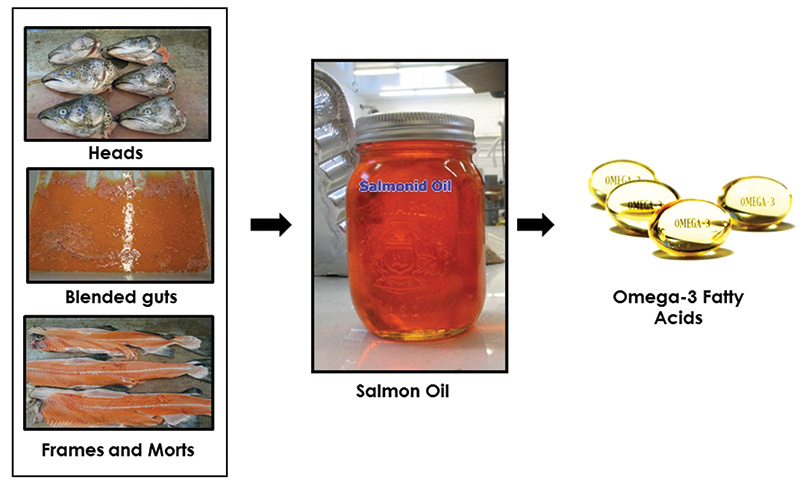 WAVE POWERED LAND-BASED INTERGRATED MULTI-TROPHIC AQUACULTURE
This research project being conducted by the College of the North Atlantic in Lord's Cove, Newfoundland, has the overall goal of developing a sustainable land-based integrated multi-trophic aquaculture system utilizing wave energy. This will lead to diversification of the economy in coastal communities.
There are many coastal towns and villages that are significant distances from ideal sea-based aquaculture sites. While shore-based aquaculture would be possible in many of these communities, the profitability of the industry is limited by the cost of pumping water to and through the shore-based infrastructure. Many existing coastal settlements do have an abundance of energy available in ocean waves. The harnessing of this energy to pump water on shore at low cost will enable the development of profitable shore-based aquaculture methods that will provide sustainable long-term economic activity for these communities. Shore-based aquaculture has the additional possibility of containing and directing effluent from the production of one species to another that can use it as a feed source (e.g., fish effluent delivered to filter feeders). This effectively "bio-filters" the fish production effluent while producing other marketable product (e.g., scallops and seaweed) at little or no extra cost.
Sep. 2011–Sep. 2016
Funded By: Natural Sciences and Engineering Research Council (NSERC) Co-Funded By: Research Development Corporation Newfoundland and Labrador
Project Lead: Leon Fiander (CNA)
Project Team: Mike Graham
Collaborators: Municipality of Lord's Cove, Newfoundland
Contact: Leon.Fiander@cna.nl.ca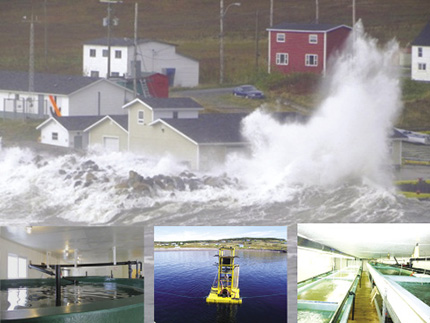 USE OF THE OILSEED CAMELINA SATIVA AS A SOURCE OF LIPID AND PROTEIN IN DIETS FOR RAINBOW TROUT, ATLANTIC SALMON, AND ATLANTIC COD
The Camelina Project will provide information that can support the potential use of camelina in the Canadian aquaculture industry, which will provide opportunities for feed cost reduction through a nutritious, sustainable, made-in-Canada crop.
The Camelina Project was established in 2010, and four years of research has shown that camelina oil is a viable alternative to fish oil in diets for salmonids and cod. Consistently, camelina oil-containing diets produced fish with similar qualities compared to fish that were fed fish oil. Feeding trials replaced between 80–100% of fish oil with camelina oil in salmon smolts, salmon parr, Rainbow Trout, and cod. Growth performance was not affected in salmonids with 100% oil replacement; however, in cod the maximum replacement of fish oil with camelina oil was 80% before differences in growth performance were seen. In contrast, cod tolerated a 15% inclusion of camelina meal while salmon could only tolerate 8%; trout tolerance was in between. While fatty acid composition of the fillet is reflective of the diet, fish were capable of selectively retaining omega-3 fatty acids as well as synthesis of some eicosapentaenoic acid (EPA) and docosahexaenoic acid (DHA) from precursors provided in the diets. Other key results include: positive health and immune responses; equivalent nutritional yields; and optimal marketable traits such as taste, colour, and texture. In comparison to other plant-based fish oil replacements, camelina oil's unique biochemical composition is highly compatible with fish health, performance, and product quality.
May 2010–Mar. 2015
Funded By: Atlantic Canada Opportunities Agency Co-Funded By: Genome Atlantic, Research and Development Corporation of Newfoundland and Labrador
Project Leads: Christopher Parrish, Matthew Rise (MUN); Derek Anderson (Dalhousie U)
Project Team: Stefanie Hixson, Xi Xue, Marije Booman, Tyler Brown, Tiago Hori (MUN); Chang Lin Ye, Stephanie Collins, Jing Lu, Jamie Fraser, Christina Bullerwell (Dalhousie U)
Collaborators: Claude Caldwell (Dalhousie U); Isobel Parkin, Dwayne Hegedus (AAFC); Cara Kirkpatrick, David Spurrell, Kim Johnstone (Genome Atlantic)
Contact: cparrish@mun.ca
http://www.genomeatlantic.ca/projects/view/1-Camelina
RESILIENCE OF COASTAL ECOSYSTEMS TO GREEN CRAB INTRODUCTION AND REMOVAL
Non-native species threaten biodiversity and, in the oceans, can decrease the productivity of farmed and wild fisheries. While removal of non-natives is a common remediation approach, it does not guarantee that a site will return to its pre-disturbance state. If eradication or reduction of non-native species is not accompanied by mitigation strategies to increase population resiliency, a site may convert to an alternate stable state with decreased productivity.
In the northern Atlantic, oysters and eelgrasses provide essential habitat for many ecologically and commercially important fisheries (e.g., halibut, Soft-Shelled Clams, Rock Crab, salmon, oysters, and mussels). The non-native Green Crab (Carcinus maenus) may threaten these habitats by consuming molluscs, including reef-forming oysters, and by digging and degrading the quality of eelgrass beds. The resilience of these ecosystems to Green Crab disturbances is unknown.
Using field surveys along the existing gradient in Green Crab densities in PEI, we will test the hypotheses that: (1) Green Crabs are reducing the densities and health of eelgrass beds; (2) recovery of eelgrass density and health will be fastest when eelgrass and oysters are in close proximity; (3) eelgrass wasting disease (WD) is inhibiting the recovery of eelgrasses; and (4) WD prevalence is greater where oysters do not co-occur.
We propose to quantify the impacts of Green Crabs on coastal marine habitats and evaluate the effects of a new Green Crab fishery on the recovery of these systems.
May 2014–Apr. 2015
Funded By: Canada Excellence Research Chair (CERC) – Aquatic Epidemiology, UPEI
Project Lead: Sophie St. Hilaire (UPEI)
Project Team: Maya Groner, Ruth Cox (UPEI)
Contact: ssthilaire@upei.ca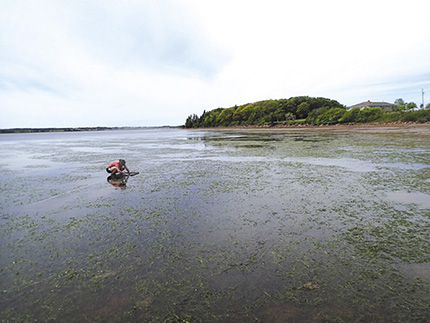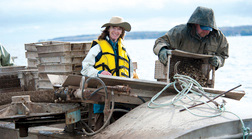 CAPTURING SOCIAL VALUES IN OCEAN MANAGEMENT AND PLANNING: NEW TOOLS FOR NEW TIMES
Healthy marine social-ecological systems, including aquaculture and fisheries, are significant to the social and economic wellbeing of coastal communities. However, marine social-ecological systems are threatened by human-caused pressures. A common response to these pressures has been an increase in participatory management and planning processes, intended to accommodate and integrate input from all sectors. One of the key challenges to this happening is the current reliance on economic values as proxies for human socio-cultural values and/or the omission of key social and cultural considerations. While most agree that social values are important, gathering information on people's values regarding the ocean has proved to be challenging. We completed a pilot study using the "Q-method" to capture social values in the seafood sector in Campbell River, B.C. The Q-method combines qualitative and quantitative information and is increasingly used to explore subjective understandings of people in resource management contexts. This research aimed to capture and categorize people's social values/preferences relative to seafood and the ocean. The results illustrate the complexity and inter-relatedness of values, that values do no align neatly with sub-sector (e.g., harvesting, processing, fisheries, aquaculture, etc.), and the importance of context to social values related to seafood and the ocean.
We found that differences are not polarized into opposing "for" or "against" positions but are complex and nuanced. Our study also demonstrates that individuals' social values do not align within seafood sub-sectors (e.g., fishing, aquaculture, processing, retail, etc.) but rather cut across sets of preferences.
Nov. 2011–Dec. 2013
Funded By: Social Sciences and Humanities Research Council (SSHRC)
Project Lead: Patricia MacDonald (VIU)
Project Team: Grant Murray, Michele Patterson (VIU)
Collaborators: Jim McIsaac (BC Commercial Fishing Caucus); Heather Coleman (Pacific Marine Analysis and Research Association)
Contact: Grant.Murray@viu.ca
http://sites.viu.ca/icr/research/aquatic-foods-initiative/seafood-governance/
DEVELOPMENT OF DIET AND FEEDING REGIMES FOR COPPER ROCKFISH LARVAE
Copper Rockfish, Sebastes caurinus, are native to British Columbia and have excellent potential for aquaculture. There are, however, hatchery production problems that need to be resolved before commercial rockfish aquaculture can be undertaken. In this regard, there is a need to establish reliable protocols for the rearing of larvae from parturition to the juvenile stage. This project examined a variety of culture techniques for rearing larval Copper Rockfish, including different live feed enrichments (Cyclop-eeze, Ori-culture, Ori-green), lighting, and tank design.
Larvae that were fed live feed enriched with the Cyclop-eeze supplement (frozen copepods mixed with flake food) exhibited the best survival rate, with some larvae surviving to day 52. Larvae development (progression through larval stage) was fastest in larvae fed the live feed enriched with Ori-green, followed closely by those fed the Cyclop-eeze treatment.
This project was successful in the capture and initial rearing of Copper Rockfish larvae, and has greatly increased the understanding of the effect of different feeding regimes on the survival and development of these larvae. Research into alternate enrichments and combinations of treatments is ongoing. Future research will attempt to complete the lifecycle of this species, by transferring juveniles to a farm in order to demonstrate the full potential of this species to be cultured. The information gained through this research will be helpful in providing the basis for a sustainable commercial culture of this valuable and marketable fish.
Apr. 2011–Mar. 2013
Funded By: DFO – Aquaculture Collaborative Research and Development Program (DFO – ACRDP) Co-Funded By: Totem Marine Farms Inc.
Project Lead: Ian Forster (DFO)
Collaborators: Totem Marine Farms Inc.
Contact: Ian.Forster@dfo-mpo.gc.ca
www.dfo-mpo.gc.ca/aquaculture/acrdp-pcrda/index-eng.htm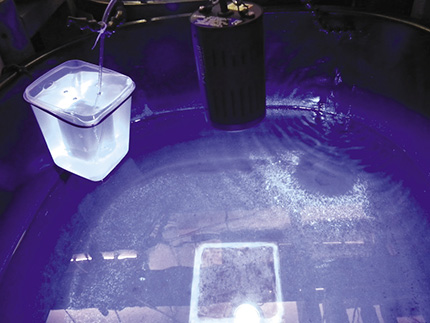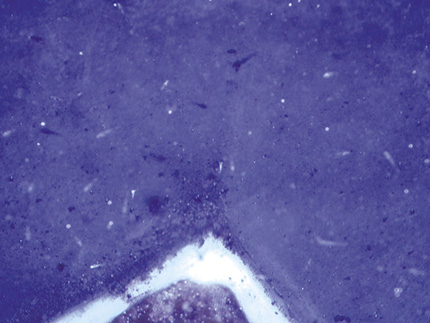 SHELLFISH MICROBIAL ELIMINATION THROUGH THE AQUALIFE FACILITY
Aqualife North America Inc. (ANA) a Canadian company, currently operating the Aquaport shellfish facilities in Avonport, Nova Scotia, is engaged in transporting live shellfish between North America and Western Europe through the Maersk Line. The company features patented Aqualife technology that utilizes specialized refrigerated containers for live shellfish purification, transporting, and trans-loading. To ensure that the live seafood for export to Europe are free of microbial contaminants and biotoxins that may affect the health and well-being of consumers, ANA had established a project collaboration with the research group of Jesse Ronquillo at the Faculty of Agriculture, Dalhousie University (formerly Nova Scotia Agricultural College). The objective was to put in place a system and test protocols to standardize the detection of shellfish microbial pathogens that are processed from the Aquaport facility, and to develop a method for eliminating microbial contaminants including the use of microalgae with bioactive compounds and rich in omega-3 fatty acids to improve shellfish nutritional quality and safety. The research results showed that the Aqualife technology eliminated potential microbial pathogens from bivalve molluscs that were destined for export. Escherichia coli or coliform bacteria were not detected from the shellfish samples processed at Aqualife facility.
The research project demonstrated that ANA Aquaport facility can be utilized as a shellfish depuration facility that can pass the rigid standards of Canadian Food Inspection Agency (CFIA) for export. It will assure European consumers of the safety and healthful quality of bivalve molluscs exported from the Maritimes using the Aqualife technology.
Feb. 2012–Aug. 2012
Funded By: Nova Scotia Economic and Rural Development (NSERD) – Productivity and Innovation Program
Project Lead: Jesse Ronquillo (UBC)
Project Team: Audrie-Jo McConkey, Sadish Srinivassane (Dalhousie U)
Collaborators: Bernhard Benkel, Katherine Rutherford (Dalhousie U); Gordon Neal (Aqualife North America, Inc.)
Contact: Jesse.Ronquillo@ubc.ca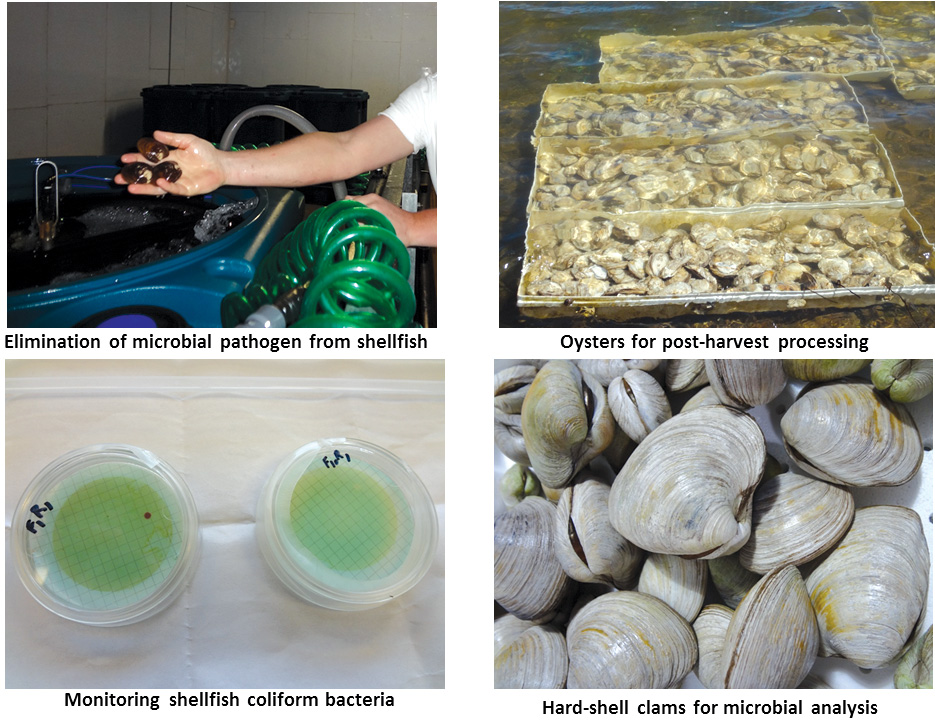 CENTER FOR AQUACULTURE TECHNOLOGIES CANADA AQUACULTURE RESEARCH FACILITY
Currently there are no dedicated, privately held aquaculture research facilities operating to a high level of regulatory compliance in Canada. The completed construction of the Center for Aquaculture Technologies Canada (CATC) aquaculture research facility will enable new fish health and nutrition products to come to market sooner and will provide high quality R&D support for the aquaculture industry.
CATC is a contract research organization supporting the application of technology to enhance the productivity and sustainability of aquaculture. CATC has decided to expand their operations and are currently planning a 20,000 square foot facility to be constructed in Kings County, Prince Edward Island. The new facility is designed to enable in vitro and in vivo testing. Approximately half of the wet lab space is dedicated to projects requiring pathogen containment (AQC3). Wet lab area outside the containment zone is committed to maintaining research lines and for studies not requiring pathogen containment, such as the evaluation of: animal performance, diets, and novel feed ingrediets. Individual wet labs in all areas will contain dedicated air handling and water recirculation systems, which provide inward directional air flow and fresh or saline ground water at temperatures ranging from 8–16°C. A well-equipped molecular laboratory supports the development and application of genetic tools including PCR-based diagnostics, SNP genotyping, and genomics applications. The facility has been designed to meet the regulatory requirements of Canadian Food Inspection Agencies Office of Biohazard and Containment Safety and Public Health Agency of Canada. Construction and commissioning are expected to be complete by the end of Q2 2015.
Sep. 2014–Jun. 2015
Funded By: Prince Edward Island Co-Funded By: ACOA; Center for Aquaculture Technologies Canada (CATC); Regis Duffy Bioscience Fund
Project Lead: Debbie Plouffe (CATC)
Project Team: Matt Bryenton (CATC); John Buchanan (Center for Aquaculture Technologies)
Contact: dplouffe@aquatechcenter.com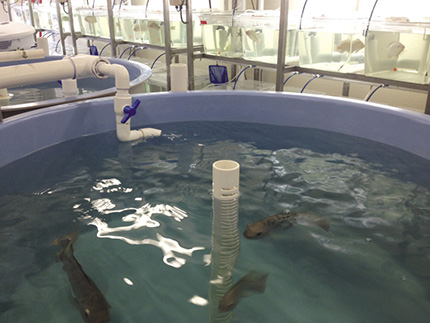 OPTIMAL PROGRAM: LAYING THE GROUNDWORK FOR AN INTEGRATED APPROACH TO DEVELOPING THE CULTURED ALGAE INDUSTRY IN QUEBEC
This program will have a structuring effect, helping to establish ties between sectors that, to date, have been separate (aquaculture and nutraceuticals). In addition to supporting efforts to diversify the mariculture industry in Quebec, the program innovations will generate benefits for communities in three regions (Gaspé Peninsula/Îles-de-la-Madeleine, North Shore, Chaudière-Appalaches) as well as potential spin-off benefits in Mauricie and Montérégie. Development of this integrated approach will also help to foster an environment conducive to the emergence of new businesses in both the marine and the biotechnology sectors.
Many Canadian companies are involved in the development and exploitation of marine macroalgae, a highly innovative field that has generated interest in its industrial potential across a broad range of sectors, including cosmetics, bio-food, medicine, textiles, and energy. In Eastern Canada, options for harvesting from seagrass beds are significantly restricted, whereas algae aquaculture offers numerous advantages. Kelp, a family of brown algae, has been subjected to extensive and conclusive culture testing in Quebec. Marine aquaculture enterprises (mussels, scallops) are currently ready to incorporate algae into their production schedules, while one marine hatchery has already taken its first steps in algae culture. It is against this backdrop of mariculture diversification that Merinov, the Centre collégial de transfert de la technologie (CCTT) of Cégep de la Gaspésie et des Îles, and Oléotek, the CCTT of Cégep de Thetford, propose to establish a joint work program targeting development of an integrated approach to developing the cultured algae industry. The OPTIMAL program has three focuses: (1) improving algae culture productivity; (2) developing high value-added products (foods and active ingredients); and (3) recovering residue from algae processing in the form of byproducts (energy, packaging, food, textiles) from a zero-waste perspective.
Jun. 2014–May 2019
Funded By: Natural Sciences and Engineering Research Council – College and Community Innovation (NSERC – CCI) Program Co-Funded By: FRQNT – Programme Regroupements stratégiques, Ressources Aquatiques Québec (RAQ)
Project Lead: Michel Larrivée (CÉGEP de la Gaspésie et des Îles)
Project Team: Aurélie Licois, Grégory Hersant, Eric Tamigneaux, Karine Berger
Collaborators: Roxane Bernier, Jean-Claude Blais, Daniel Bourdages, David Fortin, Isabelle Gendron-Lemieux, Marie Lionard, Henryette Michaud, Lisandre Solomon, Marie-Pierre Turcotte
Contact: Mlarrivee@cegepgim.ca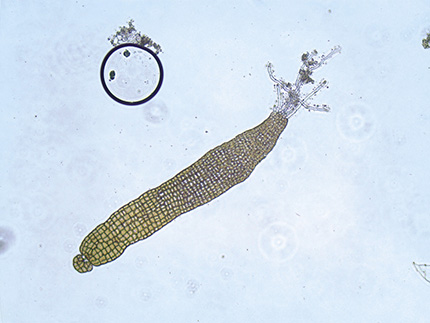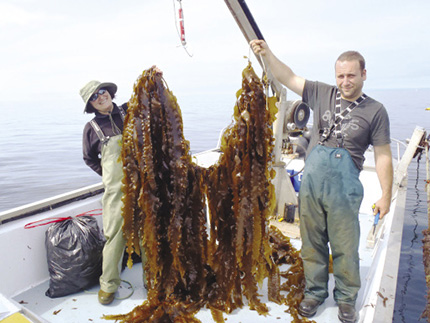 UTILIZING ALTERNATE WAVELENGTHS TO INCREASE LEVELS OF THE OMEGA-6 ARACHIDONIC ACID (ARA) IN MICROALGAE
The result of this study will help improve the efficient production of arachidonic acid (ArA) using microalgae for human health and for use in aquaculture feeds.
Selected microalgal species from the classes Prasinophyceae (Isochrysis galbana, Pavlova lutherii, Pseudoisochrysis paradoxa), Coscinodiscophyceae (Tetraselmis striata, T. sucecia, T. chuii) and Prymnesiophyceae (Skeletonema dohrnii, Thalassiosira pseudonana) were grown in triplicate under different light wavelength environments of red (680 nm), blue (425 nm), green (550 nm), and a standard fluorescent light to determine if growth and the lipid content of arachidonic acid (ArA) (20:4n-6) would be altered. The role of ArA is linked to several health benefits with a particular association to the human nervous system. Supplementary diets have been produced including ArA for products such as baby formula and aquaculture feeds. Growth for all tested classes was found to be greatest under the influence of red wavelengths (p=0.001), followed by blue, then green and the standard, respectively. Wavelength was validated using a spectrophotometer (HACH DR2700). After a growth curve was established, the cultures were inoculated so that samples could be drawn and analyzed during the exponential phase under each wavelength. The levels of ArA were determined through gas chromatography. Algae grown at both the red and blue wavelengths exhibit greater cell density as well as an increase in levels of ArA compared to the standard or green wavelength.
Mar. 2007–Nov. 2013
Funded By: Atlantic Canada Opportunities Agency – Atlantic Innovation Fund (ACOA – AIF)
Project Lead: Audrie-Jo McConkey (Dalhousie U)
Project Team: Jesse Ronquillo (UBC)
Contact: amcconkey@dal.ca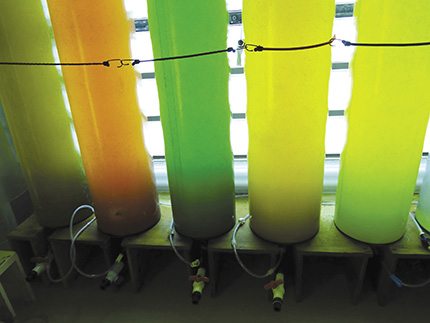 IDENTIFYING CRITICAL ECOLOGICAL THRESHOLDS FOR TUNICATE INFESTATIONS ON MUSSEL FARMS
Bio-fouling is a well-documented shellfish aquaculture industry challenge and the recent introduction of several invasive tunicate species has greatly inflated its impact. The PEI mussel aquaculture industry has been particularly affected by the introduction of four new tunicate species: Clubbed Tunicate (Styela clava) in 1998 in the eastern end of the province; Golden Star Tunicate (Botryllus schlosseri) in 2001 and 2002 and Violet Tunicate (Botrylloides violaceus) were both reported on the north coast of PEI; and in 2004, the Vase Tunicate (Ciona intestinalis) was first reported on the east coast of the island. Efforts to control the spread of these tunicate species have been relatively successful, but presently most mussel producing areas in PEI are infested with at least one tunicate species. Currently, high pressure water spray is the main technique used by the mussel industry to control tunicate fouling. Lime dipping is also used to control tunicates, particularly the Clubbed Tunicate, on mussel socks. Efforts to develop the most cost-effective treatment strategy are continuing while specific ecological thresholds are not yet established. The establishment of both economical and ecological thresholds are key to the sustainability of the mussel industry in PEI and could lead to the creation of the first Integrated Pest Management approach for Aquatic Invasive Species. The goal of this project is to investigate the ecological impact of tunicate treatment with the following objectives: (1) develop a method to estimate the tunicate biomass on mussel farm structures; (2) develop a model to predict the impact of tunicates fall-off, pre- and post-treatment, on the benthic environment; and (3) assess the impact of tunicate filtration and biodeposition on ecosystem productivity. Results from this project will also provide information on timing and coordination of treatment.
Apr. 2011–Mar. 2014
Funded By: DFO – Program for Aquaculture Regulatory Research (DFO – PARR)
Project Lead: Thomas Landry (DFO)
Project Team: Jeff Davidson, Thitiwan Patanastienkul (AVC-UPEI); Luc Comeau, Andrea Locke, Thomas Guyondet, Daniel Bourque, Monique Niles, Chris McKindsey (DFO); Aaron Ramsay (PEI Department of Fisheries, Aquaculture and Rural Development)
Contact: Thomas.Landry@dfo-mpo.gc.ca
ASSESSING THE EFFICIENCY OF A MACROALGAE BIOFILTER IN REGULATING NITRATE AND PHOSPHATE CONCENTRATIONS IN TANKS AT THE MONTRÉAL BIODÔME, IMITATING THE ECOSYSTEM OF THE GULF OF ST. LAWRENCE
The development and scale-up of a working algae biofilter prototype would provide marine farms using intensive recirculation with a biological treatment system to complement existing bacteria filters. An algae biofilter would also be a useful tool for water treatment at public aquariums.
In intensive circulation systems, high concentrations of dissolved nitrogen or phosphorus can become significant stressors for aquatic organisms. A sulphur denitrator is currently being used in the live collections tanks at the Montréal Biodôme to control nitrate levels. However, this system has a number of disadvantages (oxygen consumption, production of hydrogen ions and sulphate), which has led us to seek an alternative solution for controlling phosphorus build-up. Certain phylloid marine macroalgae, which benefit from a high surface area-to-volume ratio, have the capacity to quickly absorb nitrogen nutrients as well as phosphate and carbon dioxide to produce oxygen. In addition, some species with high growth rates are easy to cultivate in tanks.
The objective of the project is to develop a macroalgae biofilter that is efficient at nitrate and phosphate removal under experimental conditions similar to those created in the marine ecosystem at the Montréal Biodôme. To this end, the denitrification and dephosphorylation of two indigenous species, Ulva lactuca and Palmaria palmata, are evaluated under the same operating conditions (9 g/L, 28 PSU, 9°C and 13°C, N-NO3: P-PO4 of 40:4, 50:6, 60:8 mg/L) at the ÉPAQ facilities in Grande-Rivière.
Jan. 2014–Apr. 2016
Funded By: Société des Amis du Biodôme de Montréal (SABM); MITACS Accélération Fonds de recherche du Québec – Nature et technologies (FRQNT); Fonds d'amorçage et de partenariat UQAR-Merinov (FAP) Co-Funded By: Natural Sciences and Engineering Research Council (NSERC) Industrial Research Chair for Colleges in the Conversion of Marine Macroalgae; Montréal Biodôme; OrganicOcéan Inc.; Ressources Aquatiques Québec (RAQ)
Project Lead: Nathalie Le François (U Laval)
Project Team: Anne Tremblay-Gratton (U Laval)
Collaborators: Éric Tamigneaux (ÉPAQ); Jean-Christophe Boussin (Montréal Biodôme); Grant Vandenberg (U Laval)
Contact: nle_francois@ville.montreal.qc.ca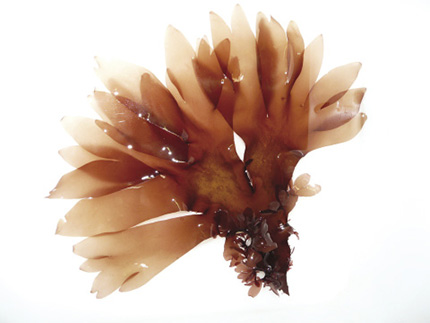 ANAEROBIC DIGESTION OF FISH OFFAL AND SAWDUST
Anaerobic digestion is an attractive option for manure/waste management because of its potential to digest agricultural and industrial residues, while reducing greenhouse gas (GHG) emissions, mitigating pathogens and odours, and increasing ionized nutrients in the material being digested. This study will test this option by investigating the digestion of fish offal and sawdust using 20-L digesters (microorganisms that break down biodegradable material) under two operational strategies. The digester studies will focus on optimizing biogas/methane production by changing organic loading rates, ratio of fish offal to sawdust, and feeding technique (batch vs. semi-continuous). The biogas/methane yields determined in this study will be used to assess the economic and performance feasibility of a full scale system.
Apr. 2011–Mar. 2013
Funded By: DFO – Aquaculture Collaborative Research and Development Program (DFO – ACRDP) Co-Funded By: Meeker's Aquaculture
Project Lead: Doug Geiling (DFO)
Project Team: Richard Moccia, David Bevan, Anna Crolla, Chris Kinsley (U Guelph)
Collaborators: Meeker's Aquaculture
Contact: Doug.Geiling@dfo-mpo.gc.ca
www.dfo-mpo.gc.ca/aquaculture/acrdp-pcrda/index-eng.htm
ESTABLISHING AN ECOTOXICOLOGY WET LAB TO COLLECT NON-TARGET THERAPEUTANT DATA FOR PHARMACEUTICAL COMPANIES AND REGULATORS
The Huntsman Marine Science Centre along with New Brunswick Department of Agriculture, Aquaculture and Fisheries (NBDAAF) recognized the need to develop a suitable research wet lab that has appropriate capacity to complete long-term ecotoxicology studies, particularly focused on American Lobster. These studies are required for new therapeutant approvals prior to use on fish farm sites in Atlantic Canada. This project upgraded an existing Huntsman building on its lower campus that has an isolated location and appropriate footprint to complete long-term seasonal studies involving representative populations of adult American Lobsters. Specific facility upgrades included preparation of all surfaces to receive multiple coats of an appropriate epoxy coating and new steel doors for entry to the wet lab space to provide additional security and weather proofing to the space. Adult American Lobster holding tanks were also purchased to facilitate the start of new projects. All of these upgrades add tremendous value to the Huntsman facilities and our service provision in environmental toxicology research to a global client base. As a result of this effort, several international pharmaceutical companies have engaged the Huntsman with plans to initiate non-target American Lobster research projects in the near term.
Required regulatory data collection includes the effects of novel sea lice treatment compounds on non-target American Lobsters before new therapeutants are approved for use in Canada. These facility upgrades allows the Huntsman to conduct such experiments in local environmental conditions.
Jan. 2014–Mar. 2014
Funded By: NB Department of Agriculture, Aquaculture and Fisheries Co-Funded By: Huntsman Marine Science Centre (HMSC)
Project Lead: Chris Bridger
Project Team: Les Burridge (HMSC); Mike Beattie (NBDAAF)
Contact: Chris.Bridger@huntsmanmarine.ca
BENTHIC CULTURE OF SEA CUCUMBERS: ASSESSING INTERACTIONS BETWEEN CULTURED AND WILD POPULATIONS AND THE MITIGATION OF ENVIRONMENTAL IMPACTS IN SHELLFISH CO-CULTURE
Expanding our knowledge of benthic ranching techniques for the California Sea Cucumber, Parastichopus californicus, and addressing issues such as containment of this species will be mutually beneficial to resource managers and industry partners.
High market demand has resulted in a great deal of interest in culturing P. californicus in British Columbia (BC). However, before these operations can proceed to full scale production, additional base-line data are needed to determine the viability and potential impacts of culturing sea cucumbers. The primary aims of this project are to determine: (1) the growth and survival of sea cucumbers in benthic culture; (2) the environmental impact of sea cucumber aquaculture; and (3) the potential interactions between wild and benthic-ranched individuals. Early results from this project are promising for sea cucumber aquaculture in BC. Juvenile individuals have shown good growth and survival when raised in benthic cages both on and away from an existing deep-water oyster farm. When co-cultured with oysters, the nutrient rich benthic habitat at these sites may allow for higher growth rates and stocking densities. High densities of sea cucumbers often found at existing aquaculture sites may help to ameliorate some of the nutrient loading and associated environmental impacts of shellfish aquaculture. However, seasonal changes in sea cucumber density at our study site suggest that if preventing mixing of wild and cultured stocks is desired, some form of containment may be necessary.
Apr. 2012–Mar. 2015
Funded By: DFO – Aquaculture Collaborative Research and Development Program (DFO – ACRDP) Co-Funded By: Fan Seafoods Ltd.; Klahoose First Nation; Pacific Sea Cucumbers Harvesters Association; Viking Bay Ventures
Project Lead: Chris Pearce (DFO)
Project Team: Dan Curtis, Nick Duprey, Claudia Hand (DFO); Scott McKinley (UBC)
Collaborators: Fan Seafoods Ltd.; Klahoose First Nation; Pacific Sea Cucumbers Harvesters Association; Viking Bay Ventures
Contact: Chris.Pearce@dfo-mpo.gc.ca
www.dfo-mpo.gc.ca/aquaculture/acrdp-pcrda/index-eng.htm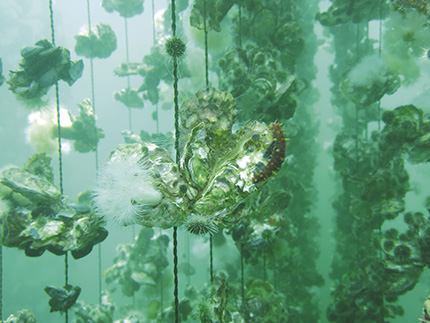 ISOLATION, CULTURE, AND GENOMIC ANALYSIS OF HARMFUL ALGAL SPECIES AFFECTING AQUACULTURE ON THE WEST COAST OF CANADA AND ANALYSIS OF THE HARMFUL ALGAE MONITORING PROGRAM HISTORICAL DATABASE
Harmful Algal Blooms (HABs) are responsible for considerable economic losses due to cultured finfish/shellfish mortalities and toxic harmful algae in shellfish can threaten human health. With the support of the British Columbia salmon aquaculture industry, the Harmful Algae Monitoring Program (HAMP) was established in 1999 as a community program to address the devastating effect of harmful algae on farmed fish. Researchers needed to identify certain HAB species, cultivate these species for study, and analyze previous HAMP data to investigate potential trends between HABs and environmental parameters.
Five harmful algal species (with 17 strains in total) were isolated and identified through microscope observation and genetic analysis. These species are in culture at the Pacific Biological Station (PBS), as well as archived with the Canadian Centre for the Culture of Microorganisms at the University of British Columbia, allowing for potential future studies on algal genetics, toxin production, and non-microscopic methods of harmful algae detection. Harmful algal identification posters were created to assist industry in identifying various HAB species. In addition, the analysis of the data collected by the HAMP over the last thirteen years has shown some correlations between various environmental variables and blooms of particular harmful algae species. The results of this research will aid the aquaculture industry in early prediction of HABs and their potential effects, allowing for the early adoption of suitable mitigation measures.
Apr. 2012 – Mar. 2014
Funded By: DFO – Aquaculture Collaborative Research and Development Program (DFO – ACRDP) Co-Funded By: Cleanwater Shellfish Ltd.; Creative Salmon Company Ltd.; Grieg Seafood BC Ltd.; Island Scallops Ltd.; Little Wing Oysters Ltd.; Mac's Oysters Ltd.; Mainstream Canada; Marine Harvest Canada Inc.; Nelson Island Sea Farms Ltd.; Taylor Shellfish Canada ULC.
Project Lead: Chris Pearce (DFO)
Project Team: Kristi Miller, Amy Tabata, Laurie Keddy (DFO); Nicky Haigh, Svetlana Esenkulova (Microthalassia Consultants Inc.)
Collaborators: Cleanwater Shellfish Ltd.; Creative Salmon Company Ltd.; Grieg Seafood BC Ltd.; Island Scallops Ltd.; Little Wing Oysters Ltd.; Mac's Oysters Ltd.; Mainstream Canada; Marine Harvest Canada Inc.; Nelson Island Sea Farms Ltd.; Taylor Shellfish Canada ULC.
Contact: Chris.Pearce@dfo-mpo.gc.ca
www.dfo-mpo.gc.ca/aquaculture/acrdp-pcrda/index-eng.htm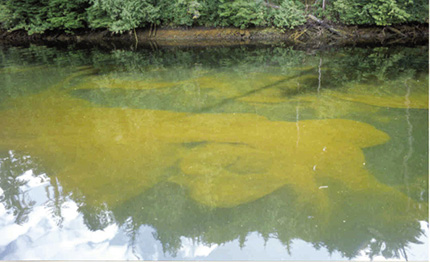 INNOVATIVE APPROACHES TO WATER TREATMENT FOR LAND BASED FISH FARMS FOR RECIRCULTION AND DISCHARGE
Land based fish farms are a rapidly growing aquaculture industry which brings tremendous benefits to Ontario. Concurrent with the growth of this industry is also an increase in the generation of waste-waters that have the potential to negatively affect natural receiving waters. The work undertaken within this project investigates treatment technologies that are common in high strength municipal and industrial settings to assess their efficacy for use with low strength aquaculture waste-waters. Project partners are investigating the use of ultra-filtration to determine its impact upon microbial populations within a recirculating aquaculture system (RAS) regime and whether change in carbon to nitrogen ratios will enhance or inhibit the development of autotrophic nitrifiers and thus influence the efficiency of the RAS. We are also investigating the use of an innovative fixed film membrane to determine how well it performs in the oxidation of carbon compounds and the transformation of nitrogenous wastes. Work is progressing on assessing the management options available for the use of phosphorus adsorptive media and the generation of a standardized dose for the ultraviolet inactivation of Flavobacterium psychrophilum and Saprolegnia parasitica using a collimated beam protocol.
It is believed this work will provide aquaculture managers additional options for the treatment of wastewaters and or the improvement of water quality within recirculating aquaculture systems.
Jun. 2012–Jun. 2015
Funded By: Ontario Ministry of Agriculture, Food and Rural Affairs Co-Funded By: NSERC
Project Lead: Brent Wootton (Fleming College)
Project Team: Bruce Anderson (Queen's U); Robin Slawson (Wilfrid Laurier U); Christopher Murray (Lakehead U); Rob Davis (Ecoethics); Stewart Hayes (Trojan UV); John Gillis (Measuremax); Karen Tracey (NOAA); Joe Garbin (Contech)
Contact: Brent.Wootton@flemingcollege.ca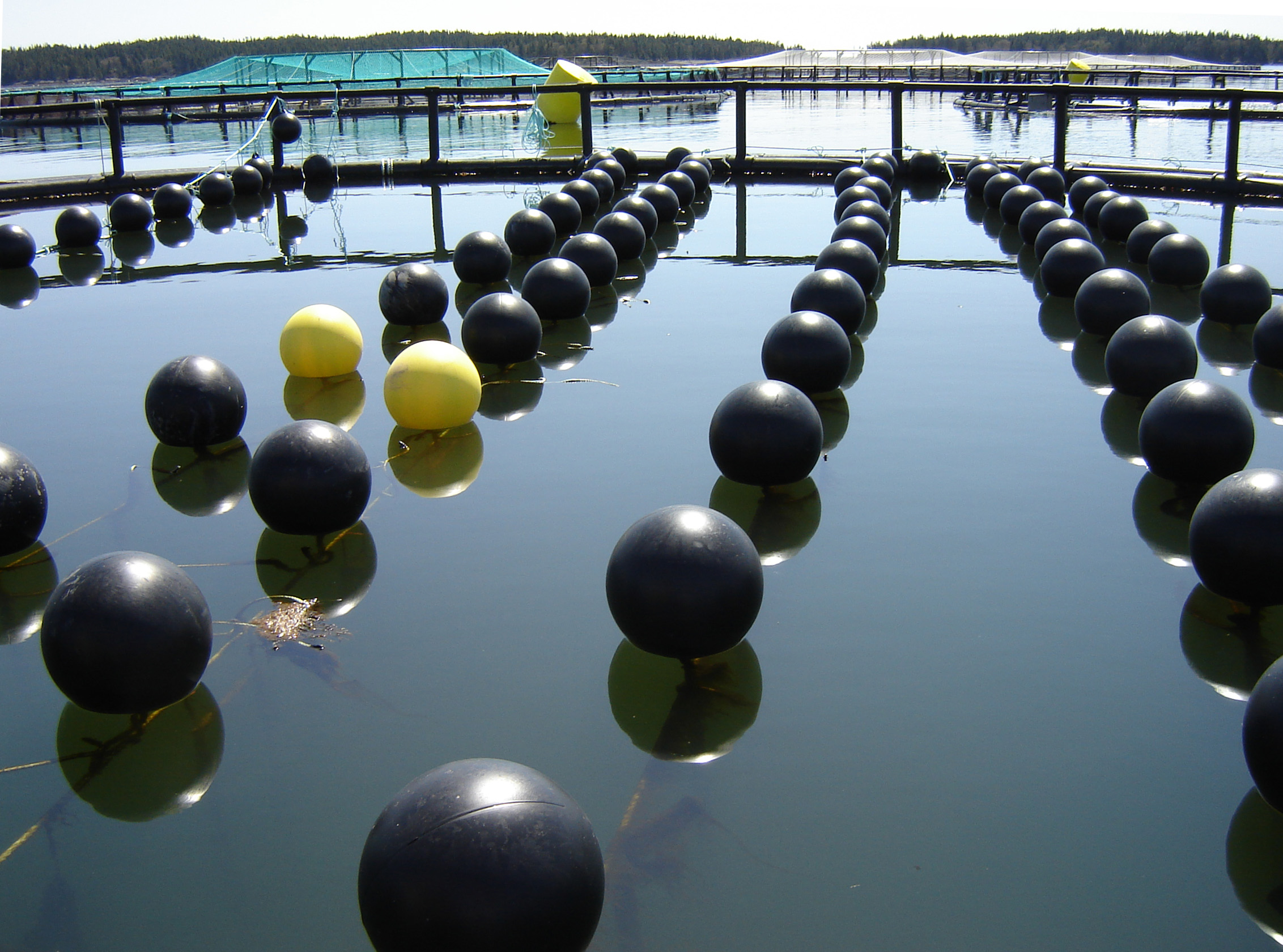 Date modified: